Veterans Affairs Trumps States Rights With Telehealth Expansion Laws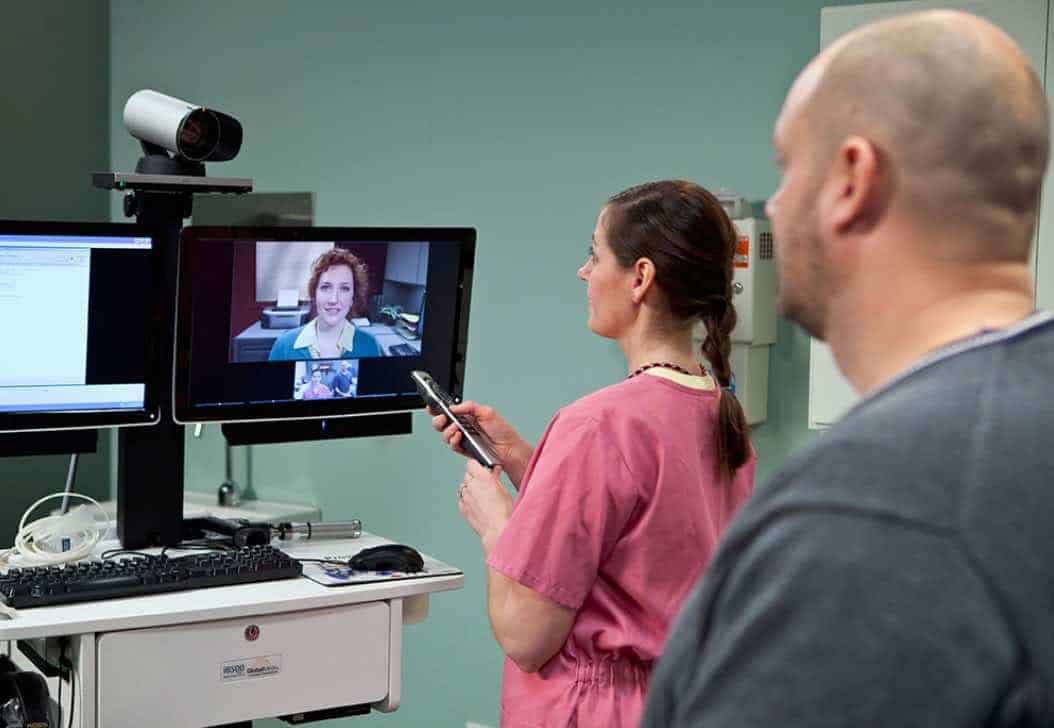 The Department of Veterans Affairs just passed a new federal regulation to allow its doctors, nurses and other health care providers to administer care to veterans using telehealth or other virtual technology to anywhere in the United States that trumps states rights.
The new regulation, 38 CFR § 17.417, is designed to support the Fall 2017 "Anywhere to Anywhere VA Healthcare Initiative" unveiled by former VA secretary David Shulkin.
"What we're really doing is, we're removing regulations that have prevented us from doing this," Shulkin said at an event attended by President Donald Trump. "We're removing geography as a barrier so that we can speed up access to Veterans and really honor our commitment to them."
The agency issued its final rulemaking May 11, 2018, and it will go into effect June 11, 2018. Not only does the law expand telehealth, but it preempts state laws on the subject. So, in the name of "helping veterans," the federal government is eroding a state's ability to protect their citizens.
RELATED: VA To Follow Failed DOD Plan With Cerner EHR Contract
Telemedicine Explained By Insurance Agent
So what exactly is telemedicine? Why should I care? And, who stands to make some money providing doctor-on-demand services or subscriptions in the private sector using telemedicine techniques?
Who better to explain this than an insurance agent? I found the below clip and thought some of you might find the explanation useful from a private sector view.
Regulation Excerpt
The following is an excerpt from the new regulation as written in the Federal Register. Apply what you just learned from that video to the new regulation language:
(b) Health care provider's practice via telehealth. (1) Health care providers may provide telehealth services, within their scope of practice, functional statement, and/or in accordance with privileges granted to them by VA, irrespective of the State or location within a State where the health care provider or the beneficiary is physically located. Health care providers' practice is subject to the limitations imposed by the Controlled Substances Act, 21 U.S.C. 801, et seq., on the authority to prescribe or administer controlled substances, as well as any other limitations on the provision of VA care set forth in applicable Federal law and policy. This section only grants health care providers the ability to practice telehealth within the scope of their VA employment and does not otherwise Start Printed Page 21907grant health care providers additional authorities that go beyond what is required or authorized by Federal law and regulations or as defined in the laws and practice acts of the health care providers' State license, registration, or certification.
[…]
(c) Preemption of State law. To achieve important Federal interests, including, but not limited to, the ability to provide the same complete health care and hospital service to beneficiaries in all States under 38 U.S.C. 7301, this section preempts conflicting State laws relating to the practice of health care providers when such health care providers are practicing telehealth within the scope of their VA employment. Any State law, rule, regulation or requirement pursuant to such law, is without any force or effect on, and State governments have no legal authority to enforce them in relation to, this section or decisions made by VA under this section.
Supports Of Expansion
The initiative was supported by many organizations, including the American Telemedicine Association, American Association of Family Physicians, AAFP, American Medical Informatics Association, Federal Trade Commission, the College of Healthcare Information Management Executives (CHIME), Teladoc, Oracle, the American Psychological Association, the Brain Injury Association of America, the National Association of Social Workers, the University of Pittsburgh Center for Military Medicine Research and Health IT Now.
"This proposed rule will be instrumental in breaking down geographic barriers that, for too long, have prevented our nation's heroes from accessing the care they need where they need it," Joel White, the group's executive director, said in a Sept. 29 blog post. "By allowing VA telehealth providers to more easily treat patients across state lines, we can ensure that recent advances in technology-enabled care reach the most deserved among us and spur better outcomes for the 20 million veterans in the VA system today."
How much do you think these organizations and vendors paid to lobby Congress and VA about expansion of telehealth?
"The VA's decision to allow veterans to access care from the comfort of, or closer to, their own homes is necessary to improving quality and timely care for the more than 200,000 veterans in Iowa, particularly those who are disabled or reside in rural communities," Sen. Joni Ernst (R-Iowa), a National Guard veteran, said last fall. "It is critical that we continue to create opportunities for veterans to receive the best care out there, including potentially life-saving mental healthcare. Improving the VA's telehealth program is critical, and I am thrilled to see this common-sense measure will be put into action to benefit Iowans and veterans across the country."
The Slippery Slope
Here is the rub with expansion of telehealth based on previous moves by VA to expand access to clinicians by lowering the bar for qualifications to serve as Primary Care Providers.
Last year, VA finalized its regulations that allow advanced practice nurses and clinical pharmacists to serve as Primary Care Providers (PCPs) asserting the lack of access to doctors results in veterans going without care. So, to counter this trend, VA simply wants to lower the bar to serve as a veteran's PCP.
RELATED: Clinical Pharmacists Can Be Your PCP
RELATED: Advanced Practice Nursing Push To Usurp Role Of MDs
The agency cites Clinton-era Federalism executive orders as granting authority to allow such clinicians to serve in that role even if their own state licensure may not provide or facilitate adequate oversight of the same.
In the long run, what we are seeing is a rush to the bottom by exchanging the practice of medicine with health care. Clinicians now follow algorithms using "evidence-based care" parameters without evaluating patients in the manner doctors of old used to.
As a result, many conditions and illnesses are falling through the cracks and overall medical care suffers.
There is mainly a financial incentive to lower the bar to serve as a PCP. It costs less to hire a nurse practitioner than it does a medical doctor. I suspect the Insurance Industry is behind pushes like this so as to lower the overall cost of health care in the US through gradual erosions of quality standards.
RELATED: Foreign Google-owned Company To Datamine Your Health Records
Now enter telehealth.
By lowering the qualifications to serve as a PCP, and coupling that with expansion of telehealth, anyone can serve as a PCP in any state regardless of the state's licensure rules so long as they were working inside VA.
Once the data on efficacy is massaged to support expanding this type of care to all Americans, the VA model will be the model of health care for the not-rich, nationwide.
Now, who decides what the standard of care should be in that instance? Could the standard of care in a particular state, say New York, be lowered to match that of another state, say Mississippi, if a federal standard seeking the cheapest effective care model of, say, England?
When I was stationed there, we had many friends in the community who were on national welfare waiting for basic surgeries like hernia repair for years and unable to work while waiting for their spot. Did these folks enjoy waiting? No. They wanted to earn a living.
The slippery slope problem I see is a rush to the lowest standards of care in the nation and adoption of that standard for everyone in the name of lower costs for insurance companies while medical device companies stand to make a fortune by supplanting real-life doctors.
RELATED: Facebook Algorithm Flags VA YouTube Video As Fraudulent Spam
As for the new VA language as highlighted in the below press release, the legislation is aimed at allowing virtual technology to facilitate the law. How long before we receive treatment from DARPA / Boston Dynamic designed robots presently being built to replace soldiers in combat?
Wait a sec. Didn't Google own Boston Dynamic?
RELATED: Google Buys Boston Dynamic, Sells It To Japanese Company
Remember Elysium?
Has anyone ever seen Lawnmower Man? What about Matt Damon in Elysium where the protagonist receives health care treatment from a robot?
"Please sign this to receive your medication…. Thank you for your service."
How long before this is your next VA PCP?
"Hello Veteran 0. Today, your doctor is Android 15 powered by IBM Watson."
Personally, I am concerned about the apparent race to the bottom and overall decline in American medicine. Please reach out with your thoughts on erosion of states' rights by the federal government by commenting below.
Below are complete articles from three VA publications about this next stage.
VA Expands Telehealth by Allowing Health Care Providers to Treat Patients Across State Lines
WASHINGTON — Today the U.S. Department of Veterans Affairs (VA) announced a new federal rule that will allow VA doctors, nurses and other health-care providers to administer care to Veterans using telehealth, or virtual technology, regardless of where in the United States the provider or Veteran is located, including when care will occur across state lines or outside a VA facility.
Previously, it was unclear whether VA providers could furnish care to Veterans in other states through telehealth because of licensing restrictions or state-specific telehealth laws. This new rule exercises federal preemption to override those state restrictions, paving the way for VA to expand care to Veterans using telehealth. VA worked closely with the White House Office of American Innovation and the Department of Justice for implementation of the new rule.
"This new rule is critical to VA's 'Anywhere to Anywhere' initiative," said VA Acting Secretary Robert Wilkie. "Now that the rule has been finalized, VA providers and patients can start enjoying the full benefits of VA's telehealth services."
By enabling Veterans nationwide to receive care at home, the rule will especially benefit Veterans living in rural areas who would otherwise need to travel a considerable distance or across state lines to receive care. The rule also will expand Veterans' access to critical care that can be provided virtually — such as mental health care and suicide prevention — by allowing quicker and easier access to VA mental health providers through telehealth.
VA first announced the proposed rule, titled "Authority of Health Care Providers to Practice Telehealth," at a White House event last August, during which VA and President Donald Trump launched the "Anywhere to Anywhere" initiative.
In the announcement, VA also unveiled VA Video Connect, a video conferencing app for Veterans and VA providers. Through this new rule, VA providers will be able to use VA Video Connect and other forms of telehealth to furnish care to Veterans anywhere in the country, including in the Veteran's home.
To learn more about VA's telehealth "Anywhere to Anywhere" initiative, visit VA's Office of Connected Care at connectedcare.va.gov.
###
New VA Video Connect Appointment App
The new VA Video Connect application connects Veterans with their health care team from anywhere, using encryption to ensure a secure and private session. The app makes VA health care more convenient and reduces travel times for Veterans, especially those in very rural areas with limited access to VA health care facilities, and it allows quick and easy health care access from any mobile or web-based device.
To access VA Video Connect on your Apple mobile device, you will need to download the free VA Video Connect iOS app from the App Store. If you previously connected to VA Video Connect through Pexip, you may need to follow these steps to be correctly routed to the new VA Video Connect app
Veterans and their health care providers jointly decide whether to use VA Video Connect for a medical visit. Please confirm with your provider that you can start scheduling appointments on VA Video Connect after the implementation date.
Note: To test whether your personally owned device is compatible with VA Video Connect, visit the VA Video Connect test site on your mobile device.
For guidance on how to access VA Video Connect when using an Android Device, visit the quick guide. For guidance on how to access VA Video Connect when using an iOS Device, visit the quick guide.
More information may be found below and on our FAQs page. For questions about and/or technical assistance regarding VA Video Connect, please contact the National Telehealth Technology Help Desk at (866) 651-3180 or 703-234-4483 on Monday through Saturday, 7 a.m. through 11 p.m. ET.
Telehealth Revolutionizing Veterans Health Care
The Department of Veterans Affairs is revolutionizing the use of new health care technology to deliver convenient, accessible health care to Veterans. VA's TeleHealth service is mission critical to the future direction of VA, and utilizes health informatics, disease management and telehealth technologies to care for and provide case management. More importantly, it helps Veterans to continue to live independently; in their own homes, local communities and stay out of the hospital.
"Technology is the tool the Veteran utilizes through TeleHealth Service to interact with their care coordinator, but the real key component to the success of the program is case management and personal connection," says Catherine Buck, National Home Telehealth Lead and Clinical Nurse Analyst. "The Veteran establishes a relationship with a go-to person that is essential for the Veteran's overall health care plan and personal health goals."
Ultimately, telehealth changes the relationship between patients and their health care team. Higher levels of patient satisfaction and positive clinical outcomes can attest to this.
"VA providers and patients discuss and decide together which telehealth care services are available in their location and clinically appropriate for the patient, said Bay Pines VA Healthcare System's Virtual Care Program Coordinator," Rod Miles.

Telehealth practitioner Dr. Paul Maas (foreground) is joined via video by Rod Miles, facility telehealth coordinator at Bay Pines VA Healthcare System.
There are many telehealth resources that are used to deliver care to a patient. However, VA's Video on Demand has been an important resource for providers and patients at the Bay Pines VA Healthcare System for the past three years.
"Veterans don't need to be at a clinic to speak with their provider thanks to VA Video on Demand. Providers refer appropriate patients to participate in this program. This telehealth tool is a secure, web-enabled video service, connecting Veterans with their providers using their personal mobile phones or computers, Miles said.

Veteran Katrina Pettus utilizing VA Video TeleHealth Technology to connect with TeleHealth Presenter, Demion Young
U.S. Army Vietnam Veteran David Miller has been utilizing VA TeleHealth services to assist with the treatment of his diabetes. "I've had nothing but the best experience. I think they saved my life. They made dealing with my diabetes much easier. They even gave me a Medtronic device which measures my blood pressure, blood sugar and weight. All I need to do is send my coordinator my results before bed. Telehealth has really helped me to stay on track."
Another benefit Mr. Miller receives from receiving telehealth care is that he is able to communicate with a pharmacist every couple of weeks to ensure that his medications stay up-to-date with his changing medical needs.
"The overall coordination of my care is more convenient. A pharmacist communicates with me about every three weeks. If there is a need to change what I'm taking, we do it. It makes me feel safe. I'm also about an hour and a half away from the closest VA clinic so; it helps to minimize the number of trips I have to take to see my providers.
"I'd recommend this program to absolutely anyone. They really go above and beyond in making sure that I am cared for and that my health care needs are met. They really know what they're doing," Miller said.