Veterans Targeted By Phone Scammers Before Holidays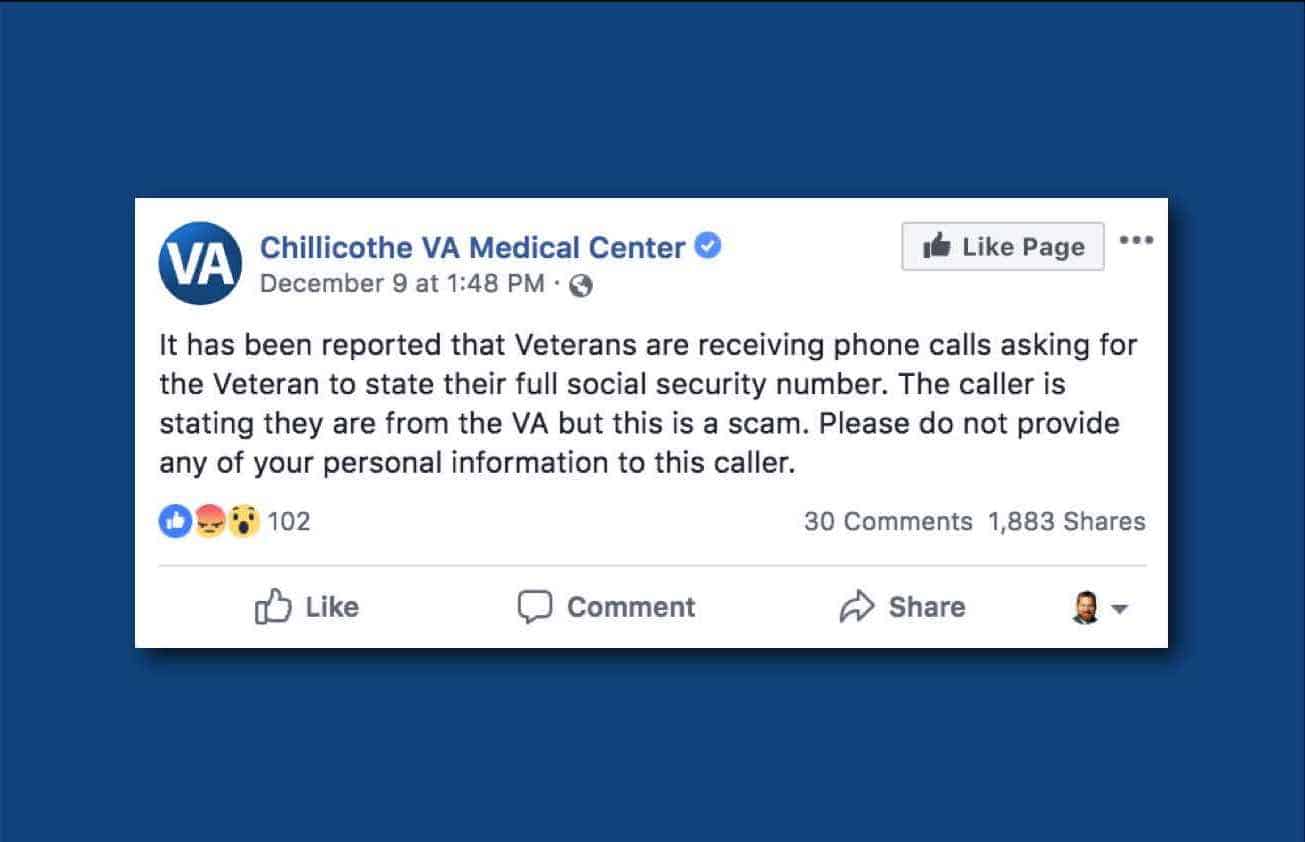 Officials at Chillicothe VA Medical Center reported multiple VA police calls from veterans claiming phone scammers are calling them.
The Chillicothe VA Police Department, located at the medical center, reportedly received multiple calls from veterans on December 9, 2018. The veterans stated the callers posed as VA officials asking them to confirm their full social security numbers.
"DO NOT PROVIDE the caller your social security number," says the Chillicothe VA website.
"And how did they get a list of veterans' information?" asked Bryce Phelps.
Another reader, Sharma Logan, responded, "Bryce Phelps good question, security at VA sucks."
The website does not mention how the scammers secured a list of veterans to call. While past data breaches were the cause of phishing lists like this one, today's social media database mega-companies like Facebook can provide lists like this using the right algorithms or scraping software.
This is not the first time a phone scam was reported by the facility. Last March, the Chillicothe VA posted on Facebook:
We have received a report of a phone scam recently attempted involving a Veteran and his family. The caller claimed to be from the "VHA Call Center" offering home improvement loans. This is a scam. Veterans should not give out any information.
Chillicothe VA Medical Center Phone Scam
Suicide… Or Death At Chillicothe VA
The facility was in the news recently following an IG investigation into the circumstances around a veteran falling out a hospital window.
Initially, the agency reported that a veteran committed suicide while institutionalized. A later investigation found that he accidentally fell out of a window that was unsecured. IG also concluded the agency failed to take adequate steps to notify the veteran's adult who could have taken legal action against the agency.