New Veterans Affairs PTSD Treatment Uses Off-Label Hyperbaric Oxygen Therapy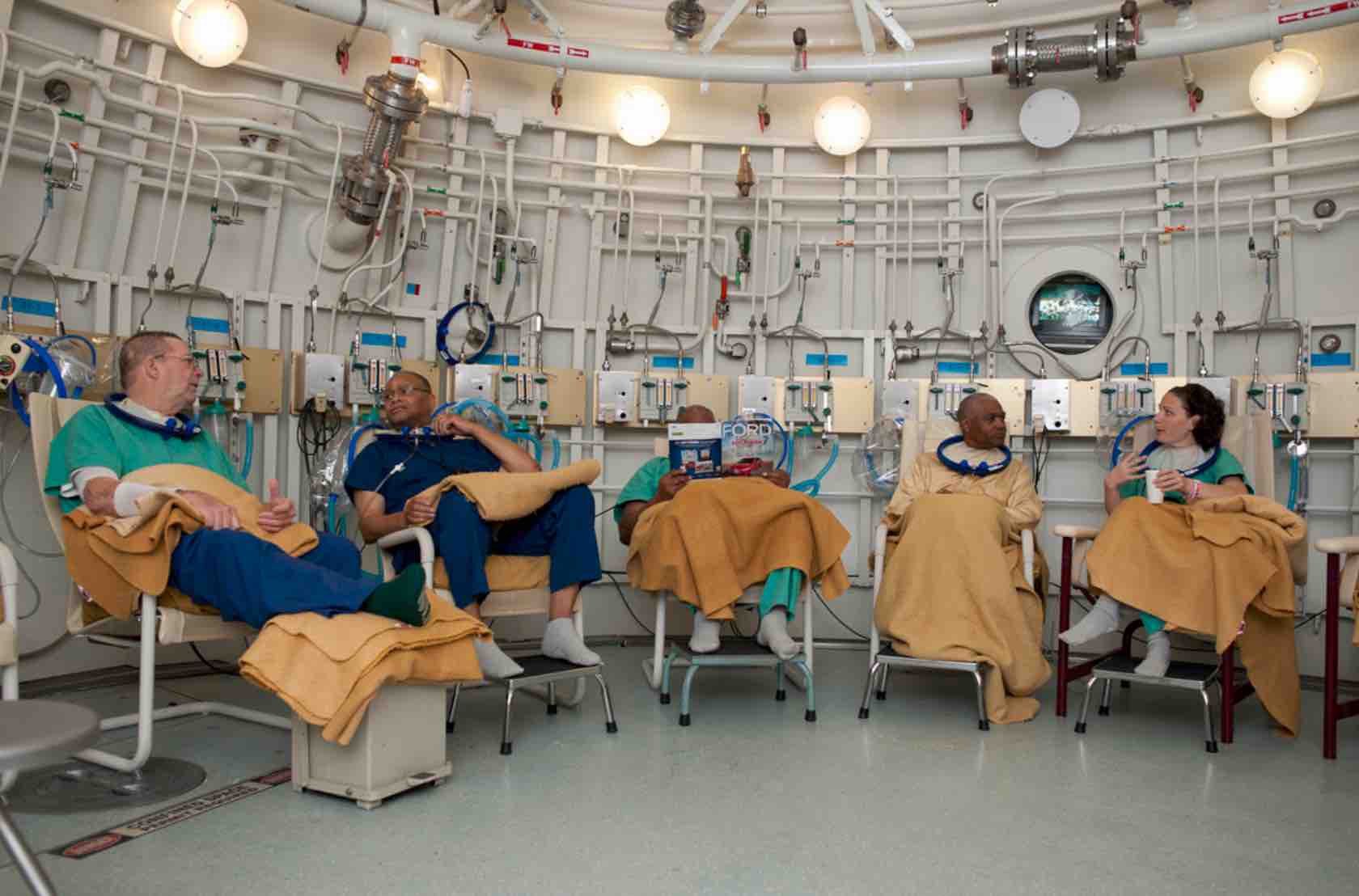 Veterans Affairs plans to start a new PTSD treatment using hyperbaric oxygen therapy (HBOT) to evaluate efficacy for nationwide use.
Use of HBOT to treat PTSD will be used on a small number of veterans through the VA Center for Compassionate Innovation (CCI). The agency will treat veterans at Oklahoma State Medical Center and the David Grant Medical Center on Travis Air Force Base located outside of Sacramento, California.
As stated, hyperbaric treatment for PTSD is off-label. This means the Food and Drug Administration (FDA) has not approved this type of therapy for PTSD. However, according to VA, health care providers can make use of HBOT if they believe it is medically appropriate. Right now, VA maintains some veterans with PTSD do benefit.
CCI played a role in coordinating the agency and community resources to use HBOT on a subset of veterans with persistent PTSD despite the use of two evidence-based treatments for the condition. VA is assessing the effectiveness of HBOT to evaluate using the therapy nationwide.
RELATED: Is Army PTSD Misdiagnosis Scheme A Fraud?
PTSD treatment is not the only off-label use of hyperbaric systems. Patients with the following conditions may also experience benefits from HBOT:
Autism
Cerebral Palsy
Lyme Disease
Migraine
Multiple Sclerosis
Near Drowning
Recovery from Plastic Surgery
Sports Injuries
Stroke
Traumatic Brain Injury
On-label uses of HBOT include treatment for burns and carbon monoxide poisoning.
VAntage Point Blog
From the VAntage Point Blog:
Exploring a Retro Solution to Reduce PTSD Symptoms
Dr. Jason Kelly, an active-duty physician and administrator of the Grant Medical Center Hyperbaric Clinic, said his team is excited about welcoming new Veterans to the treatment facility.
"My first and foremost concern is for the patients," he said. "The Veterans we expect to treat here will have struggled with other therapies. If we can reduce their symptoms, we will really be providing a boost to their overall health."
Hyperbaric oxygen treatments have come a long way since the 1930s. The treatments are now used to help wounds heal, treat carbon monoxide poisoning and provide care for other medical conditions. HBOT is a generally painless procedure that increases oxygen in the body, under pressure, to encourage healing.
The complex HBOT chambers are expensive to build, operate and maintain, and are in high demand for varied medical conditions. Hyperbaric chambers are often found on military bases, at free-standing community clinics and at larger medical research facilities. As such, the CCI-facilitated collaboration between VA and community clinics to provide this service was an easy choice.
The Travis clinic is unique in having two types of chambers: a chamber for a single patient, enclosed and tube-like with a large viewing window; and a multiplace chamber, capable of treating up to 40 patients at once.
Extending a Promising Treatment to Veterans
Dr. Kelly said his facility currently provides HBOT for 14 different conditions, including chronic wounds and radiation injuries experienced by patients undergoing cancer treatment.
"We are all aware that PTSD is extensive in our Veteran population," Dr. Kelly said. "For folks out there who haven't improved under traditional methods, we should really look at any other options we have — like HBOT — to help provide additional treatment."
CCI was established by VA Secretary Dr. David Shulkin to support safe and ethical innovations to enhance Veterans' physical and mental well-being. CCI is primarily interested in emerging therapies that address PTSD, traumatic brain injury, chronic pain and suicidality.
Source: https://www.blogs.va.gov/VAntage/43875/hyperbaric-treatments-offer-new-promise-veterans-chronic-ptsd/