Murray: 5 Million Vets face No Benefits on Nov 1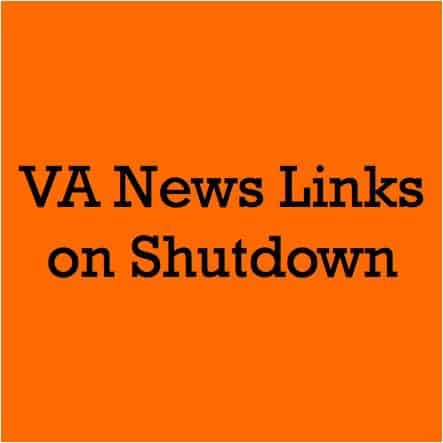 This Saturday I thought it'd be a good idea to forward along articles from VA. Every day, VA sends a list of newsy articles to VSO's across the country. The links below are what VA sent the past two days.
As you know, this week, the government shutdown is getting a lot of attention from veterans. The reason for the attention is because VA is allowing politics to interfere with benefits.
For three years, VA, the President, and Congress all knew a likely shutdown was coming. The Senate refused to approve a budget and instead allowed the President to spend by raising the debt ceiling.
As the shutdown approached, VA held a position and reported to VSO's that no benefits would be impacted.
On Friday, VA released a report to veterans on what to expect. That report said disability benefits would go on without impact. On Monday, the day before the shutdown, VA released a new report. The new report said VA disability benefits would be impacted if the shutdown did not stop after a few weeks.
Interesting, right? VA could have hired a guy with a $5 calculator to figure out which benefits would be impacted and when. They either decided not to do that or someone in the Executive Branch is playing politics by unnecessarily freaking out veterans.
When it comes to VA, I like to assume the worst. Let's assume VA failed to use a $5 calculator and in fact our disability benefits will get cut. This way, if they do get cut, we will be ready. If we focus on the notion of "playing politics," we may get caught with our pants down.
So, here are a couple articles VA has sent VSO's across the country this morning.
Murray: 5 million vets face no benefits on Nov. 1.
Hyperlink to Article Army Times: 
About 5 million veterans may not receive benefits "they earned and rely on" on Nov. 1 because of the partial government shutdown, the Senate Budget Committee chairman warned Friday.
American Legion: Lawmakers Using Veterans as Pawns.
Hyperlink to Article ABC News (AP): 
Officials at the American Legion are accusing the White House and members of Congress of using veterans in their efforts to win over the public during a partial government shutdown — and ask that they stop and get a deal done.
Hundreds of veterans descend on annual "Stand Down" services forum for military members.
Hyperlink to Article The Republican: 
Ninety-two-year-old Lloyd Askew, a World War II Army veteran, got his official discharge papers and a chance for discounted dental care. Thirty-year-old Shaheem Rochester, also an Army vet who left in 2011, was looking for a new lease on life. Organizers worked to help both, and many others, at the annual "Stand Down" forum in Springfield for veterans.
Shutdown Torpedoes VA Efforts to Cut Claims Backlog.
Hyperlink to Article NextGov: 
Before Tuesday, when agencies were forced to shut down unfunded operations or those otherwise exempt from the effects of the Congressional budget impasse, the Veterans Affairs Department had planned to continue mandatory overtime for claims processors until Nov. 16 and voluntary overtime until Dec. 31. But those plans have changed, a VA spokeswoman told Nextgov.
House passes shutdown exemption for VA.
Hyperlink to Article Army Times 
The government shutdown exemption for the Veterans' Affairs Department passed Thursday by the House of Representative does not resolve all of VA's potential problems.