VocRehab: Attorney Chris Attig Interviews Guru Benjamin Krause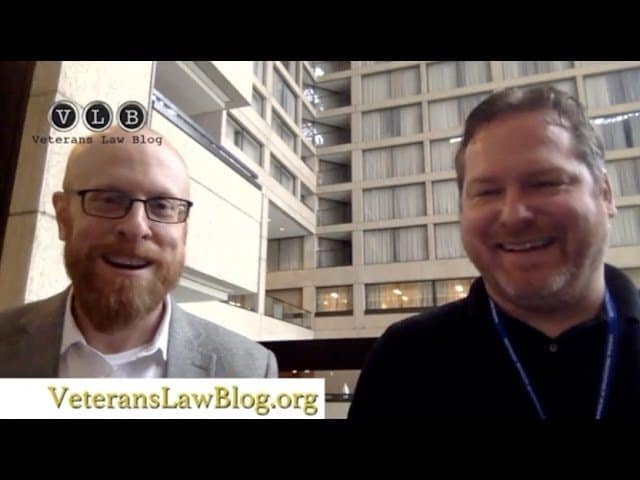 Three weeks ago, I had an opportunity to talk VocRehab shoptalk with fellow attorney Chris Attig while in San Antonio for a veterans advocacy law conference.
Chris Attig is a personal friend of mine and excellent attorney fighting for the rights of veterans nationwide. We met in 2011 while I was still a law student. We both shared a passion for vets and blogging, which led to both of us finding a kinship over WordPress and educating veterans using cyber technology in ways VA still fails to match.
Today, Attig sent me a link to the interview, and I wanted to forward that interview to my readers. Personally, I have hoped to start doing more video but time constraints have kept me in the shadows until right now.
RELATED: See Attig On Veterans Law Blog
So, while Veterans Benefits Administration employees are enjoying ice cream in honor of working for the federal government, maybe some of you would get some value out of this video and hearing a little bit about my advocacy story.
All my work exposing VA is funded by my legal clients and customers of this website, DisabledVeterans.org. And I appreciate all the support you have given me to this point by contributing your thoughts on VA through the comment section of each post.
Future Topics For Next Stage Guides Or Courses?
In the future, what would you like me to discuss on video?
Would you like to learn how to use VocRehab to increase your disability ratings?
How about using VocRehab to fund your start-up company?
What about effective ways of fighting an obstinate counselor?
These are platforms I have been working on behind the scenes for a while and hope to bring to the veterans community in the near future.
While I am always happy representing veterans in VocRehab for an hourly fee, I know a lot of vets just cannot afford that kind of solution. So, the much cheaper self-advocacy education platform seems to be the next best thing.
Here are a couple other things I've recently been working on behind the scenes regarding VocRehab.
No Insurance Coverage In College?
1) In 2012, I negotiated a policy change with VocRehab to start covering health insurance when it is required by a university. Previously, VocRehab thought VA health care was the same things as health insurance and told veterans to fraudulently place their Social Security Number in place of the insurance number on an insurance waiver form. This practice was stopped until some bean counter within VA reversed the position again in 2014. The matter was just brought to my attention, and we are working on straightening out the issue.
No Right To Personal / DRO Hearing?
2) The next issue is whether veterans are entitled to a personal hearing or decision review officer hearing after filing a notice of disagreement with the regional office VocRehab official responsible for their respective case. Presently, some VocRehab offices allow it while most do not. However, almost all regional offices provide a VA Form 4107 or VA Form 21-0958. Both of these forms indicate veterans are entitled to a local hearing before a VA official prior to the claim being certified to the Board of Veterans Appeals.
I have senior VA officials and Congressional staffers working the matters. Hopefully, they get it resolved before I file class action suits in the US Court of Appeals for Veterans Claims.