VR&E Veterans: 3 Things To Do Before Graduation To Avoid Getting Screwed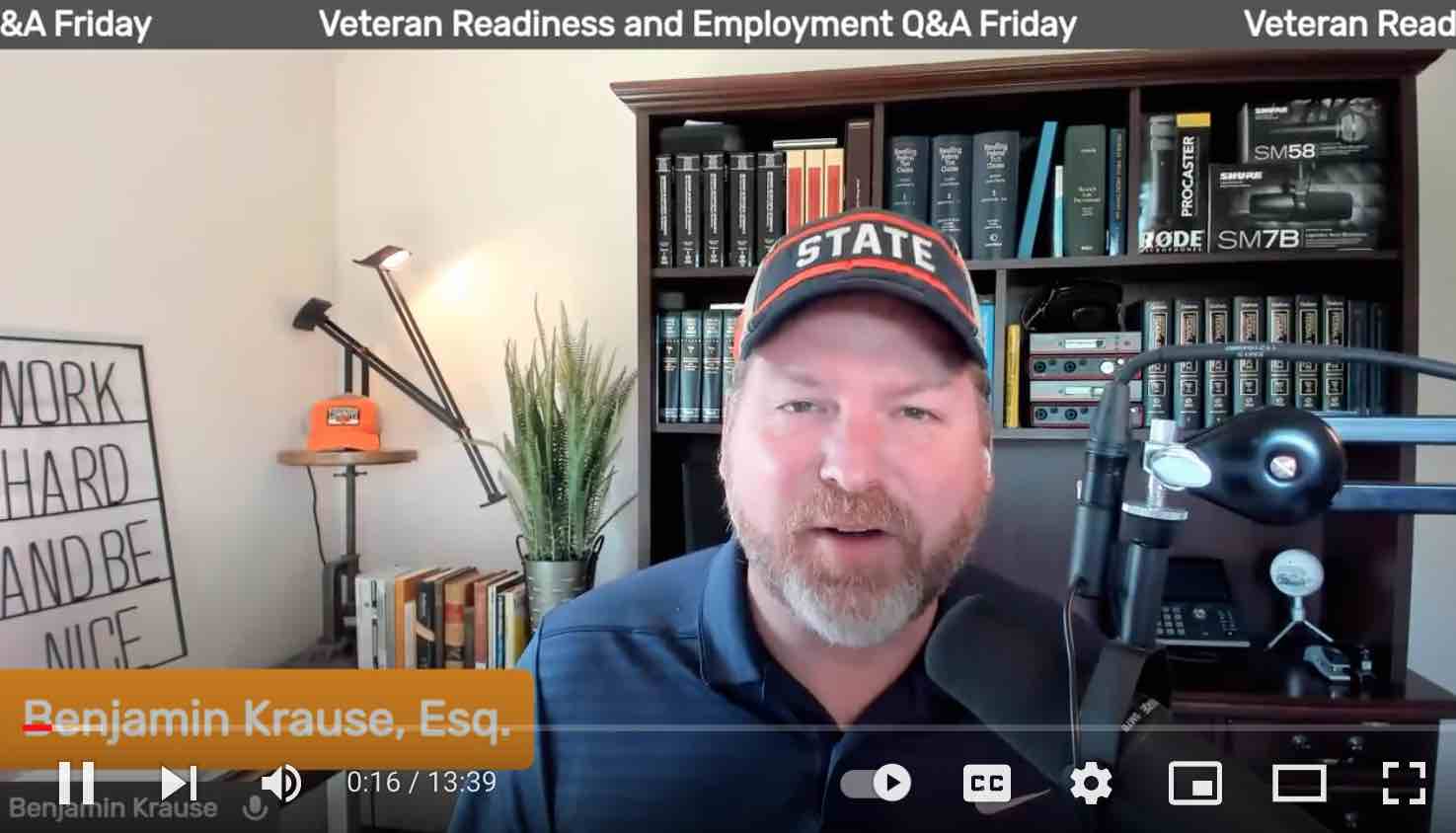 Ambitious veterans using Veteran Readiness and Employment (VRE) who want additional training after graduation need to take these three steps to avoid getting screwed. And, by screwed, I mean getting wrongly denied sponsorship of graduate training toward the job of your dreams.
Hey there. My name is Benjamin Krause. I am a veteran turned journalist turned attorney. I'm not just an attorney, I'm a disabled veteran who used VRE to pay for my undergrad, law school, and for start-up equipment for my law practice.
When it comes to VRE, there is one thing I see frequently. It is veterans trusting the Vocational Rehabilitation Counselor (VRC) to do what they say or trusting the VRC to provide truthful information.
Many veterans seeking a professional career like lawyer or doctor who use VRE during our undergrad tend to ask whether VRE will cover law school or medical school later. I know this because I was one of these veterans, and many of my clients also have this kind of conversation at some point.
The screw job comes when the VRC tells the veteran, you, to WAIT.
Possible Block And Tackle Tricks VRCs Use
Before processing such a request, a VRC might say, "We first need to see how you'll do in your undergrad. After you graduate, then we will look at approving your request."
Or, the VRC might say, "You cannot make that request now. We can only process that after you graduate."
In a third scenario, we will see veterans verbally approved for the additional training, but there is nothing written down in the record to show it was approved.
Regardless of the strategy employed by the VRC, the end result if frequently the same.
The veteran graduates. After graduation, the veteran mentions the prior conversation about going on for graduate training to become a lawyer or physician… and then?
The VRC tells the veteran additional training can't be approved.
The VRC then pushes the veteran into Job Ready status, which makes it harder to get back into a training program. Maybe the veteran finds a job they like. Maybe they self-fund the training.
Either way, the outcome is not ideal because the VRC did not adjudicate the matter properly.
Is Request Documented?
Here is what happened and how you can avoid getting screwed in case you find yourself in the same situation.
You may have noticed a common theme in each part of the transaction. The VRC did not provide the veteran with a written decision about the request. Instead, it almost seems as if VRCs avoid the work of documentation, proper evaluations, or formal adjudications whenever possible.
This has been a problem veterans face and have faced since well before my time, and I've been involved with VRE both as a client and later as an attorney for nearly two decades.
Sometimes the VRC will not write down. If there is a writing, sometimes the VRC will magically omit it from the VR&E file or CWINRS. And, other times, the VRC may mention it within a CWINRS note but do nothing.
Why does this happen and what is the VRC supposed to do?
Time To Get Smart
There are three culprits that allowed this kind of behavior to persist or cause it. VRC's have caseloads that are too high. The bureaucratic processing requirements for even the simplest of adjudications are very burdensome. When VRCs fail to provide veterans with notice, the accountability for such an oversight is weak at best.
It is unlikely these three culprits will get resolved any day soon, so it is up to us to get smart on the nuances of VRE benefits and those like it to not get screwed out of benefits.
What Should've Happened?
It is important to know what should have happened so you can tell if you were duped.
VR&E should have processed your request by helping develop the request and then adjudicate the matter by providing you with an administrative decision on VA letterhead explaining your rights.
Such a request should be processed as a change request (38 CFR § 21.94) to an existing plan because the veteran is likely seeking to change an inferior vocational goal with a more appropriate vocational goal. But, VRCs often fail to adjudicate the matter, at all.
If they do adjudicate it, the VRC might adjudicate it as if the veteran was simply seeking additional training as part of a new claim. The error is then compounded by a finding the veteran is qualified for employment based on completion of an undergraduate degree at some point in the future. But, the evidence of graduation does not exist because there has been no graduation. And without graduation, a person cannot be qualified for employment that one can only get through graduation, which was the point of the VRE vocational plan.
In the latter, the VRC often will fail to conduct an evaluation.
RELATED: Get Your Claims File
3 Steps To Preserve Your Change request
If you want to avoid getting screwed out of benefits in this scenario, there are three things you can do. These steps in no way guarantee that you will win.
Instead, the steps help to make sure you preserve your right to fight an adverse decision with proper documentation, which is a hell of a lot better than many veterans without this information.
Step One – Write It Down
Write it down. Make a decision to write down the claim. Do some research. Figure out what you want and the basic regulations you are trying to trigger. Be sure you include the vocational goal you want. The vocational goal you want is the actual job plus the training you need to qualify for that job.
Perhaps put this into a Word document to edit. An example of what I might write is, "I want to change my rehabilitation plan goal from [Goal X] to Lawyer to include sponsorship of law school."
Step Two – Use A VA Form
Over the past decade, VA has become much more formal and complicated through the use of lengthy and sometimes confusing forms. VRE recently rolled out the VAF 28-10212 to request assistance.
Since VA is constantly changing forms, be sure to check with your VRC or a Veteran Service Officer to ensure you are using the right form. For now, the VAF 28-10212 can be used to request help with a lot of things. If the thing you want help with is not listed in the check boxes, then you might want to select "Other."
If you use the wrong form, or you make the request verbally or in some writing that is not on the right form, VRE should help you by giving you the right form. But, be sure you follow up with your VRC right away to verify. If you wait too long, and you used the wrong form, you may run into problems.
Anyway, so the point here is to use a form. Make sure it is the right form at the time in case VRE changes its forms at any point after I published this article.
Step Three – Send And Confirm Receipt
The last key step here is to send the document in a way that will allow you to prove it was sent and received. Your options to send are through US Mail, electronic mail (email), or direct upload to VA.gov.
After you send it, send your VRC an email to tell him or her that you sent in a plan change request by whatever method. Ask that the VRC confirm the request was received. They usually will.
Next Steps For The Brave
I hope this helps. Year after year, I see the same issues that, despite supposed changes to VRE training, seem to persist. I suspect it has a lot to do with the three culprits I mentioned before. You just cannot train away the effects of poor staffing and lack of adequate accountability.
I have dedicated a large part of my law practice to helping veterans ambitious disabled veterans become leaders in law, medicine, and academia by maximizing their VRE benefits.
America wins when those who borne the battle are elevated into leadership roles in society.
There are a lot of resources to help with VRE issues. Your VRC may be able to provide answers or a VSO. You can also ask general questions here on the blog or elsewhere. Just be aware that information conveyed here is educational information and not legal advice.
If you are really in the weeds with a specific question on this complicated issue, feel free to send an email to my law practice at: [email protected].