VA Vocational Rehab To Use New Tele-Counseling Software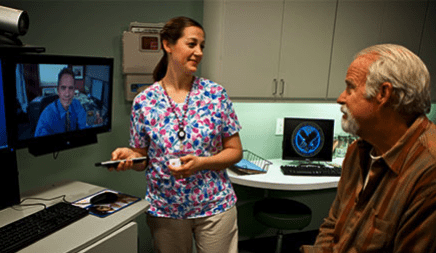 The Department of Veterans Affairs just announced it will now use new tele-counseling software to help provide VA Vocational Rehab benefits to disabled veterans.
The new software system was borrowed from Veterans Health Administration (photo above) to allow counselors to provide services to veterans who are unable to attend in-person meetings for initial evaluations and for other purposes. It will replace antiquated software the program used in the past few years with limited success do to usability limitations.
The move is one of many upcoming technological advancements the agency is rolling out for its vocational program in the next year.
Past Tele-Counseling Efforts
For years, VA Vocational Rehab has been plagued with outdated software systems and overworked counselors unable to provide the counseling services necessary to help veterans. While the agency would likely dispute that last statement, the fact remains many counselors had caseloads that were too high to allow the time required to actually counsel veterans needing rehabilitation support.
RELATED: Key VocRehab Definitions You Need To Know
The new tech should allow counselors more time to spend with veterans assuming the agency does not bog counselors down with additional duties based on project time savings gained through the software. Tele-counseling in particular should help veterans with impairments or difficulty in crowds or difficulty traveling.
Today, I spoke with Will Streitberger, VRE Service Director, about this and other tech improvements in the pipeline. The software fixes sound good if they work as advertised. And, they should free up counselors to work with their clients more than in the past, again, assuming the software works.
The addition of the software fixes could be a good thing for counselors and veterans, alike, assuming it works as advertised. Given the present glitches with the Forever GI Bill implementation, we need to remain vigilant but hopeful.
RELATED: Former VRE Service Director Ruth Fanning Retires
Here is VA's entire press release in italics:
VA announces fully capable Tele-counseling service within its Vocational Rehabilitation and Employment Program
WASHINGTON — Today, the U.S. Department of Veterans Affairs' (VA) Vocational Rehabilitation and Employment Program (VR&E) announced the ability for Veterans nationwide to meet with more than 1,000 Vocational Rehabilitation Counselors (VRC) via "Tele-counseling," or virtual communication.
Tele-counseling, which is accessible on any device with a webcam and microphone, increases VA's responsiveness to Veterans' needs, reduces travel costs and time for both Veterans and VRCs, and improves Veterans' access to necessary VR&E services.
"We strive to provide Veterans with access to personalized, interactive face-to-face care and services regardless of where they live," said VA Secretary Robert Wilkie. "VR&E's Tele-counseling service is another example of how VA continually modernizes in support of Veterans' needs."
Tele-counseling allows Veterans to meet with VRCs virtually through VA Video Connect without having to download specialized software or obtain unique usernames and passwords. Access to a scheduled counseling session is obtained through a unique link sent directly to the Veteran and is valid for that counseling session only.
Veterans participating in most VR&E rehabilitation plans of service may use Tele-counseling and are encouraged to speak with their VRCs about it. Participation is voluntary and not required.
VR&E's updated Tele-counseling application was developed through a partnership with Veterans Health Administration's (VHA) VA Telehealth Services. VR&E recently tested the ability to use Tele-counseling during initial evaluation appointments at six regional benefits offices. This test was conducted to identify how using Tele-counseling can reduce time Veterans wait for an appointment. Best practices were identified and incorporated into the rollout of the updated Tele-counseling application.
Since 2014, over 56,000 Veterans have either completed a rehabilitation plan, are employed, or have achieved a greater independence in living through VR&E assistance. The VR&E Program currently has more than 122,000 participants. For more information about VR&E, visit https://www.benefits.va.gov/vocrehab/.