White House Poaches VA General Counsel For Possible Impeachment Prep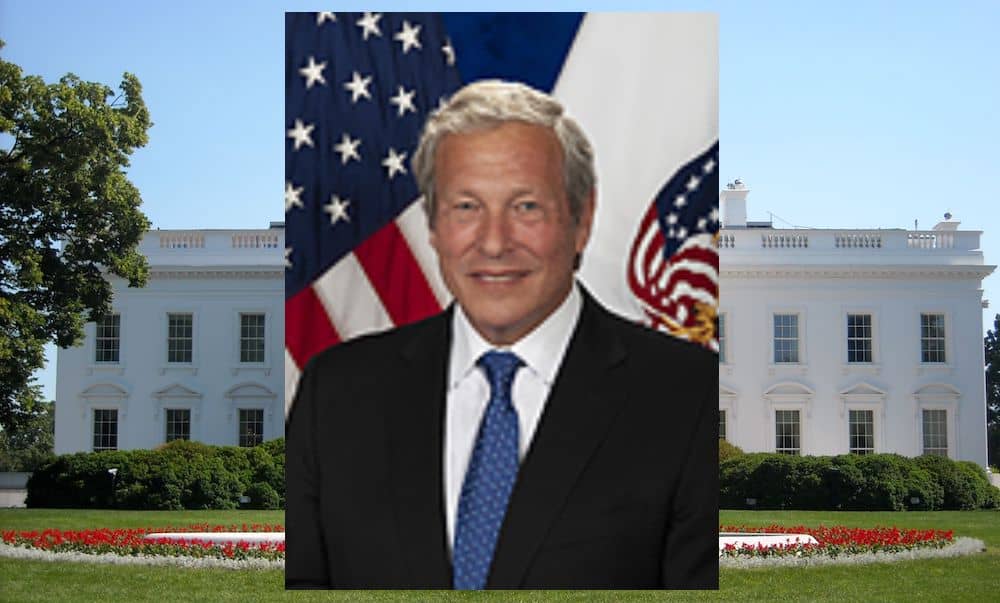 After barely a year on the job, VA General Counsel Richard Sauber was tapped to help White House fight again future investigations if Republicans win majority in midterm elections.
Sky News Australia noted President Joe Biden is building his team in anticipation of impeachment hearings after midterms based on a New York Times story. "President Biden has hired a top-rated defense lawyer Richard A. Sauber to help him with any future legal troubles as the Democrats brace for Republicans to take back the House and the Senate in this year's midterm elections." Sauber will reportedly be in charge of responding to subpoenas and other oversight efforts.
Officials confirmed to CNN various reports about Sauber's premature departure from the Department of Veterans Affairs. In the next few weeks, he will serve as "special counsel to the president."
"Dick is an excellent lawyer who brings decades of experience that will be a valuable asset," Ian Sams, a White House counsel spokesperson, told CNN. "As we have since the transition, we are ensuring the White House is prepared for the issues we are facing or will face in the future, and we have built and continue to build a strong legal team to conduct our work and serve the public and the President.
A White House official told CNN Saturday that the administration was not "making assumptions about the midterm election."
"We expect oversight no matter which party runs the House and Senate, and we are preparing for that," the official added.
Do you think the White House is really not making assumptions about the midterm election at this point?
Immediately prior to his confirmation at VA, Sauber was partner at Robbins, Russell, Englert, Orseck, Untereiner & Sauber LLP. VA's executive bio page indicated the law firm specializes in representing companies and individuals in connection with government investigations and enforcement actions.
Sauber has experience representing clients in Congressional hearings, government agency proceedings, grand jury matters, and corporate internal investigations. It looks like he is considered an excellent defense attorney on matters of national security, contracts, and potentially embarrassing matters with the press.
For some background, the majority of litigations involving the former K Street attorney appear to be defense actions defending against False Claims Act accusations. These law suits involve a whistleblower who levels allegations of fraudulent over billing against an employer who is a government contract. We see these kinds of litigations quite a bit involving the defense industry.
Now, that part may seem a bit boring, but I thought some context may be necessary for readers to get a better idea of how Mr. Sauber's background is unique.
What caught me on this CNN story was the sudden shift from VA General Counsel to help President Biden prepare for investigations and possible impeachment proceedings. Without knowing much else, it simply seemed odd.
While prior VA General Counsel have been fine, this is the first time I can recall that General Counsel being called on to develop the president's defense strategy for a potential impeachment.
Sauber's Very Particular Set Of Skills
If Sauber's expertise is vital to the White House, now, there are some additional quesitons worth asking.
For example, what kind of legal strategies and issues were at the top of the Biden Administration's worry list within VA that needed someone with Sauber's particular set of skills – to borrow from Liam Neeson?
The quickest way to get at this, at least in mind mind, was to conduct a brief survey of his press mentions in cases over the past thirty years to get a sample of the cases.
That is my take away, as I did not have time to dig through public court filings.
Below is a list of available matters and cases I could locate using Google and paid research databases. Some of the articles used as resources may not be publicly available.
Where available, I added a YouTube clip to help provide context since many of these matters are over a decade old. The clips may not correspond with the exact time of Sauber's representation, but they appear to provide context relevant to the matter.
Sauber Comments On Hunter Biden Laptop Disinformation
In 2020, Sauber served as a Biden campaign lawyer. When asked about the Hunter Biden emails said, "criminal investigations of Russian disinformation campaigns that include the witting participation of American citizens like Rudy Giuliani often involve investigation by the FBI of whether the American has received payment for these activities that would implicate the Federal Money Laundering statutes."
Sauber was nominated to serve as VA general counsel two months later, February 2021.
The Hunter Biden laptop and emails were since confirmed as legitimate by New York Times, in 2021, and the tactics deployed by the Biden team were, in itself, an example of a disinformation campaign.
Here is a recently clip from former Attorney General Bill Barr addressing the disinformation issue.
Las Vegas Sands Corp Chinese Casino Contact
In 2019, Sauber represented Las Vegas Sands Corp (owned by Sheldon Adelson) against Hong Kong businessman Richard Suen. Suen "helped the US company open its first casino in the Chinese gambling enclave of Macau."
Suen did not have a contract but he argued he was promised a $5 million "success fee" if Sands got a Macau license plus a percentage of the profits. "Las Vegas Sands now owns five lucrative properties in Macau." Suen argued he and his company, Round Square Co., "should get almost $347 million for introducing Adelson and Sands executives to key Chinese officials with influence to grant a coveted Macau gambling license."
Sauber initially countered the amount with a $3.76 million figure. Sauber accused Suen of abandoning Adelson and Sands well before the Sands Macau casino opened in 2004. It appears the amount settled was significantly higher than the $3.76 million offer based on statements from Suen.
This clip is from 2013, well prior to the settlement reached.
Secret Service Prostitution Scandal
In 2014, Sauber represented an attorney in a flap implicating Secret Service officers, a White House volunteer (the attorney), and prostitutes in Colombia that was reported on by Washington Post.
Sauber disputed the journalistic ethics and evidence relied on by Washington Post to publish the story.
"Operation Cotton Candy" Physician Opioid Drug Trafficking
In 2007, Sauber represented a pain-management clinic physician, William Hurwitz, who was original sentence to 25 years in prison for drug trafficking. The physician was accused of "prescribing massive doses of opiates." Sauber's team successfully reduced the physician's sentence to 5 years on appeal.
The physician doled out huge prescriptions including one patient who was given 1,600 pills in one day. The judge in the case stated, "The amount of drugs Dr. Hurwitz prescribed struck me as absolutely crazy." But after hearing testimony from both sides, "I totally turned around on that issue. The mere prescription of huge quantities of opioids doesn't mean anything."
The judge ultimately felt the defendant's case was undermined for ignoring clear signals that some patients were drug dealers per The Roanoke Times.
This one may remind some of you of the Candyland fiasco in Tomah, Wisconsin nearly a decade ago involving opioids.
Many years later, some news outlets resurrected the Hurwitz story when covering the opioid challenges surfacing over the past decade.
The Scooter Libby Scandal
In 2005, Sauber represented former Time reporter Matthew Cooper in his handling of confidential sources. Cooper wrote the article about war critic Joseph Wilson where his CIA operative wife Valerie Plume was outed by the reporter.
Wilson was critical of the now infamous yellow cake evidence from Africa. The supposed evidence of an Iraqi uranium deal was frequently cited in the news as justification to invade Iraq.
Do you remember that?
The argument pushed out by the entire Bush White House is now widely considered to be propaganda, not called disinformation.
Cooper named Lewis "Scooter" Libby as his source (Karl Rove was also implicated) who provided off the record comments about Plume that Cooper later published. Libby was the chief of staff of Vice President Dick Cheney and was convicted for revealing classified information. Cooper originally refused to testify but later shared his sources. Libby was later pardoned by President Donald Trump.
Here is a later clip of Wilson and Plume discussing their perspective on what happened.
False Claims Act For US Contractor Shell Companies In Iraq
In 2004, Sauber defended Custer Battles LLC against allegations of contractor fraud during the Iraq War. Whistleblowers alleged the company set up shell companies to inflate its prices in the costs plus contract without adequate receipts. Sauber argued there was no credible evidence. (St. Paul Pioneer Press article no longer available in Google)
East Germany Spy Conviction
in 1998, Sauber represented the husband of Defense Department lawyer Theresa M. Squillacote named Kurt A Stand. The Assistant US Attorney accused the two former campus radicals of espionage. They were allegedly dedicated communists who hated the US government. They were accused and convicted of spying for former East Germany, the former Soviet Union, Russia, and an FBI agent.
Sauber argued the sharing of information was not a crime because the information shared was not secret when it was shared. He argued the two shared political and economic intelligence, which was not illegal.
Squillacote was convicted of spying and sentenced to 21 years in prison. Stand was sentenced to 17 years.
Here is a 60 Minutes segments on the case.
Cruise Missile False Claims Act Guilty Plea
In 1990, Sauber represented Northrop Corp in a False Claims Act litigation. Northrop pleaded guilty to three dozen federal counts related to falsified testing for parties for the AV-8B Harrier jet and cruise missile components. The company agreed to pay a $17 million fine.
Source: https://edition.cnn.com/2022/05/14/politics/biden-white-house-richard-sauber-republican-investigations/index.html