WashPo Journalist Defies VA Story On Trump Appointee Removal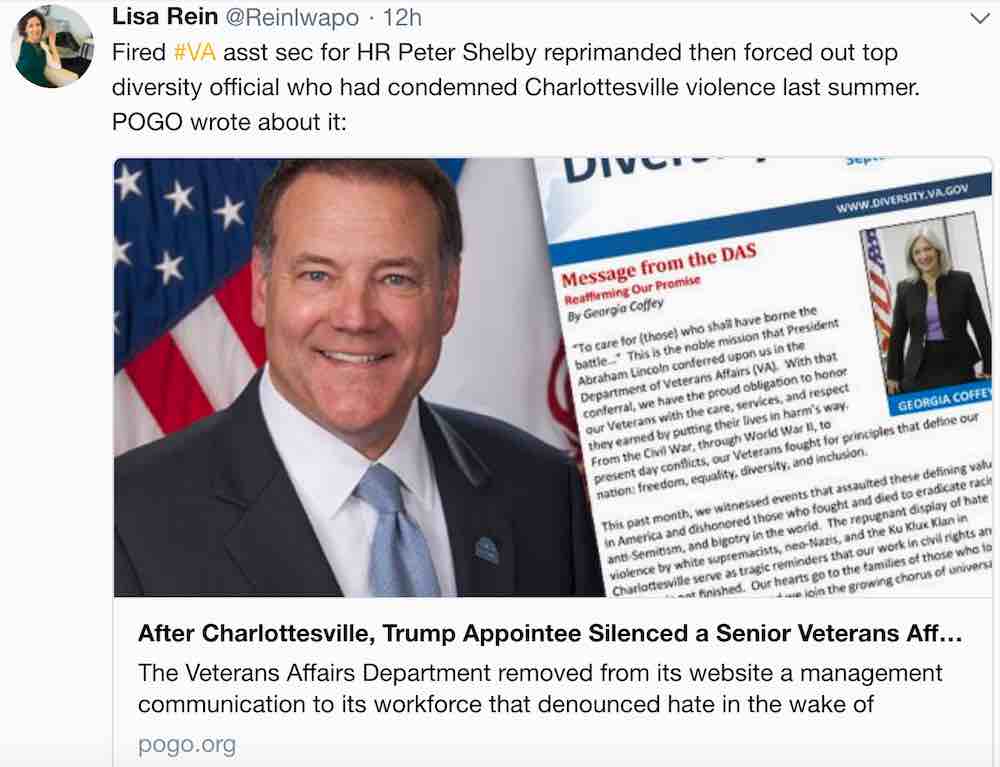 The VA official who advocated for increased hiring and pay for VA health care workers and administrators was axed this week according to multiple sources including Washington Post journalist Lisa Rein.
Sources within the Department of Veterans Affairs, both mine and those of Lisa Rein, say the head of Human Resources Peter Shelby was fired and removed from the building Tuesday. Meanwhile, a VA spokesman asserts Shelby "resigned and left the building on his own". Either way, VA is without political leadership at the helm of the most troubled branch of the agency – – its hiring, firing, and training of personnel within Human Resources.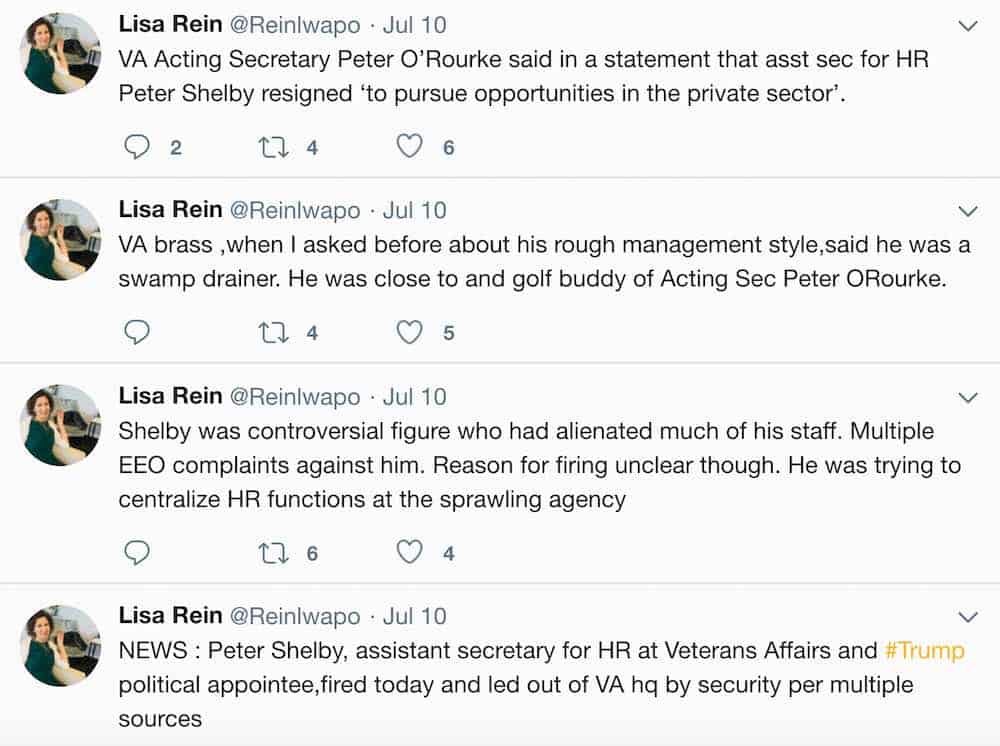 A Trump appointee, Shelby was the embattled assistant secretary of VA's Office of Human Resources & Administration who aimed to centralize the agency's spiraling hiring and firing apparatus. He helped stand up the Office of Accountability and Whistleblower Protection and reportedly is a friend and "golf buddy" of acting VA secretary Peter O'Rourke.
So why did he get the ax? And who made the decision? Not just anyone can remove a presidential appointee, after all.
Shelby Resignation Or Termination?
Shelby is now unemployed but apparently "left VA to pursue opportunities in the private sector." The agency asserts Shelby resigned, but that is probably not exactly how it happened in light of the insider accounts and common termination practice by the agency.
Given my experience as an attorney in employment law matters against agency leadership, the agency's story appears to be code to insiders. The agency, or White House, likely informed Shelby they would terminate his employment if he did not resign on the spot.
While the reason for his removal is yet unknown, the agency is reportedly purging top brass prior to confirmed Robert Wilkie taking over as head of the agency. Most brass on the tenth floor has reportedly been removed in the past month in a kind of purge.
When asked for comment on reports of an agency purge, a VA spokesperson failed to provide comment but instead fixated only on Shelby's resignation.
Shelby Acknowledges Pay Gap
Last month, Shelby also acknowledged that the agency was failing to hire an appropriate number of doctors and not paying administrators an appropriate salary following an IG report on the topic.
During a Congressional hearing, in response to the question of how much more hospital directors would need to be paid to be competitive with the private sector, "$600,000" was his assessment. Later into the hearing, Shelby qualified the statement saying administrator pay does not need to be as high as that of the private sector, "but we can't pay at the 5% or 10% level" compared with some other jobs.
Re-Centralize Human Resources
Previously, Shelby said it was his goal to re-centralize human resources.
"Many decades ago one of the secretaries said [we] need agility at the lowest level in [the] organization … so let's decentralize everything down to the lowest level and give them contracting authority, decision authority. We call that the spaghetti slide, and this is how it operates right now at VA," Shelby said on Agency in Focus. "So, I'm changing that. We absolutely have to change. There's no clear line of authority."
Shelby said the decentralized HR capacity created an impossible situation where the agency could not enforce standard leadership requirements.
"How can you do performance management if you have a thousand different standards for leadership? It's absolutely impossible," Shelby said at a human resources management event in December. "We're putting in place a core way of talking about leadership [and] human capital development. And everyone will go through it."
O'Rourke On Shelby Departure
According to acting VA secretary Peter O'Rourke:
After more than a year of tremendous service, Peter Shelby has voluntarily left VA to pursue opportunities in the private sector. His leadership has been instrumental during one of the most productive periods for VA reform in recent history. As assistant secretary of VA's Office of Human Resources & Administration, he helped grow the department's total number of positions by nearly 15,000, led the development of a direct-hiring initiative for critical vacancies and oversaw the successful implementation of major portions of the landmark VA Accountability and Whistleblower Protection Act. We thank Peter for his service to Veterans, the department and our nation, and we wish him the best in his future endeavors.
Shelby is reportedly a friend of O'Rourke, so his leaving the agency mid-stream certainly seems peculiar.
The Deleted Peter Shelby VA Biography
Immediately after Shelby's departure, the agency removed his entire biography. Luckily, the Wayback Machine provided this little gem, in italics below, from the cached VA website.
As Assistant Secretary of VA's Office of Human Resources & Administration (HR&A), Peter Shelby oversees a team that supports over 325,000 VA employees and 6,000 human resources professionals across the country. To meet the needs of the VA workforce, Mr. Shelby leads an HR&A team who provides professional assistance in the areas of Administration, Human Resources Management, Diversity and Inclusion, Resolution Management, Labor-Management Relations, Veterans Employment, Employee Development and Senior Executive Management.
Prior to assuming his current position, Mr. Shelby is Principal and Founder of Transcendent Performance, an HR and talent development consulting practice. Previously, Peter was a Senior Vice President with Related Companies in New York City. Prior to his work in the private sector, Mr. Shelby served in several human capital leadership roles in the Intelligence Community, including Associate Dean at National Intelligence University, Chief Learning Officer for National Reconnaissance Office (NRO), and Deputy for Learning and Development for the Defense Intelligence Agency.
Mr. Shelby retired from the Marine Corps as a Major after 24 years of non-commissioned and commissioned officer service. Peter holds an MBA in Human Resources Management from Northcentral University, and a Master of Arts in Adult Education from George Mason University. He received his Bachelor of Arts in English Literature (summa cum laude) from The Citadel. He is a certified Senior Professional in Human Resources, and SHRM Senior Certified Professional.