This Week's News Links: The shutdown is off for now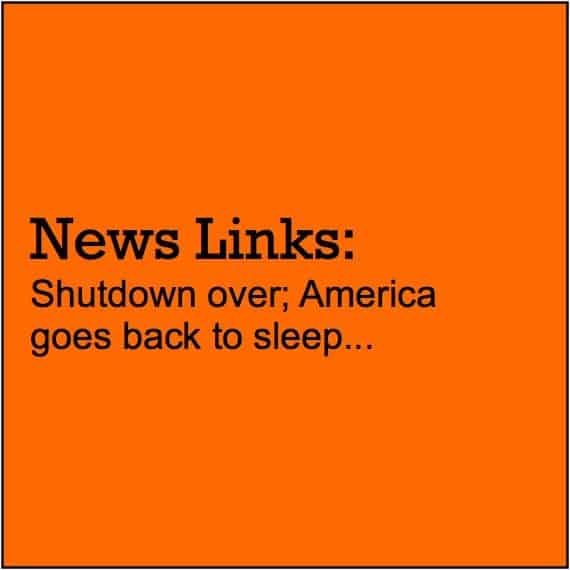 Time to get to work.
Here are some of the news topics I came across this week that I thought you'd find interesting now that the government is "on" for the next couple months. These links came from VA, NOVA, and Veterans Today.
Take a look into this information and see if you find anything worth writing about next week. Send me a note.
Click on the red linked title to read the full article.
Upcoming Congressional Hearings
October 24, 2013.  HVAC-DAMA will conduct a hearing entitled, "Focused issues on Dignified Burials: A National Cemetery Update."
November 6, 2013.  The Senate Committee on Veterans' Affairs has tentatively scheduled a confirmation hearing for Mr. Sloan D. Gibson for the position of Deputy Secretary of Veterans Affairs and Ms. Constance Tobias for the position of Chair, Board of Veterans' Appeals.
November 13, 2013.  The Economic Opportunity Subcommittee of the House Committee on Veterans Affairs will conduct a hearing on November 13, 2013 (originally scheduled for October 23, 203) entitled, "VA's Independent Living Program – A Program Review
From VA's VSO daily newsletter
Stars & Stripes – Military personnel and defense civilians still work under the cloud of budget sequestration. So first-year sequestration cuts continue to crimp military training and to freeze civilian hiring. And pressure is building on the services to curb military personnel costs.
Military.com – The government shutdown may be over, but veterans organizations are not relaxing their demand that Congress pass legislation to fully fund the Department of Veterans Affairs a full year in advance as a way to prevent future shutdowns from interfering with its mission.
The Daily Herald –  If you can read this, thank a teacher. If you can read this with hope that those who shut down much of the federal government indeed have sounded retreat on Wednesday, perhaps thank a veteran.
From National Organization of Veterans Advocates
U.S. News & World Report – Tuesday's event was organized by The Military Coalition. More than 30 other veterans advocacy groups, including the Veterans of Foreign Wars, the Wounded Warrior Project and New York-based Iraq and Afghanistan Veterans of America sponsored the event and contributed speakers.
Pittsburgh Tribune-Review – The incident triggered the VA's second-largest breach of protected data nationwide in three years, potentially compromising data for about one in 10 patients… Though the VA by law must disclose privacy breaches affecting more than 500 patients to the Department of Health and Human Services, officials there told the Trib that the VA failed to alert them.
Salisbury Post – Dealing with legal affairs can be a complicated process, but having the right advice on how to handle them can make all the difference. The W.G. (Bill) Hefner VA Medical Center is now offering veterans help in navigating the legal system by providing legal clinics on campus.
Richmond Times Dispatch – William Haneke signed up for the Army in 1961 and, back then, the deal seemed clear: Haneke would risk his life and health for the nation, and the nation would take care of him and his family if he was killed or injured on duty.
From Veterans Today
The American Legion, Student Veterans of America (SVA) and Veterans of Foreign Wars (VFW) have created an interactive map that will help student veterans decide which States provide them the best deal on college.
The Virtual In-State Tuition Map maps out the entire country and color codes each State according to whether it allows all veterans to attend state colleges at in-state tuition rates. The map will be updated regularly wh en new information and updates are verified. To find an SVA chapter near you, access SVA's chapter locator.
MAP click on State example Illinois https://veterans.illinois.edu/
It's an idea whose time has come. On October 13, China's official press agency Xinhua headlined "Commentary: US fiscal failure warrants a de-Americanized world."