When will the Chicken(hawks) Come Home to Roost?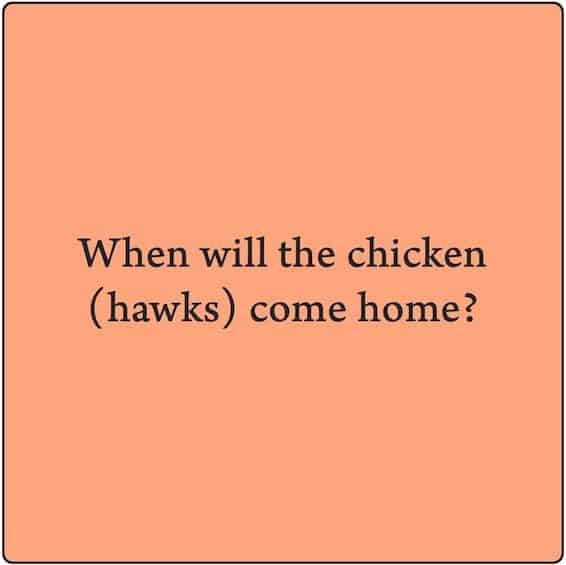 Or are they already here?
The past few years have seen a lot of changes with VA, and it looks like the game of cat and mouse is continuing with benefits.
I like to call it the good old game of hide the pea, shell game, whatever you like. What we are seeing is the federal government clamping down on veterans benefits and program like ours.
This is just a hunch, but I believe VA bean counters are figuring out ways on a daily basis to hide the pea in the form of writing regulations that are impossible to implement. The result is a total frustration of purpose.
For those who are naysayers, this is not the first time our government has tried to save money on the backs of veterans. It has been going on since the inception of our country.
After the Revolutionary War, veterans fought for Congress to honor its agreements to those who fought in the war. Luckily, back then, many of those in political office were also Founding Fathers and former servicemembers.
After every major period of war, America has been rather quick to forget her promises to those who served. Congress would in turn quickly start to forget their obligations and cut vet benefits.
The worst examples tend to follow periods of hard times. Following the Great Depression, President Roosevelt sought to fund his New Deal on the backs of veterans. Roosevelt thought it would be a great idea to change the laws to restrict benefit usage and payouts using an insurance model. The laws then reduced benefits by requiring a restrictive interpretations.
At that time, VA was just being formed from a melting post of numerous agencies into one, called the Veterans Administration. It was formerly the Veterans Bureau. And before that, it was called the Bureau of War Risk Insurance.
Tada! How about that? At least back in the day, America called a spade a spade. The Dept. of Veterans Affairs, at its root, was an insurance company. Today, while VA spends millions in ads attempting to appear benevolent, it is really just keeping benefits payouts at all time lows.
Today, I'll give you one guess as to how VA views your claims and how VA creates its regulations – it views them with the purpose of restricting benefits to save money for other purposes.
I know this because VA has been hiring many contractors who are insurance experts to revise how the disability compensation system works. The same company that helped Allstate make tons of cash by denying customers was hired to create the new system for VBA. That's right, McKinsey and Co. came to DC and created our DBQ system and the calculators your VA adjudicators are required to use when figuring out your complex claims.
At least now you know one more player who is taking your money, or at least keeping you from it.
If you are getting denied by your Vocational Rehabilitation Counselor or Disability Compensation, send us a note. I'd love to post your story.
Until next time, Good Luck!