Tone-Deaf DAV Recognizes Thomas Murphy For 'Outstanding' Veterans Advocacy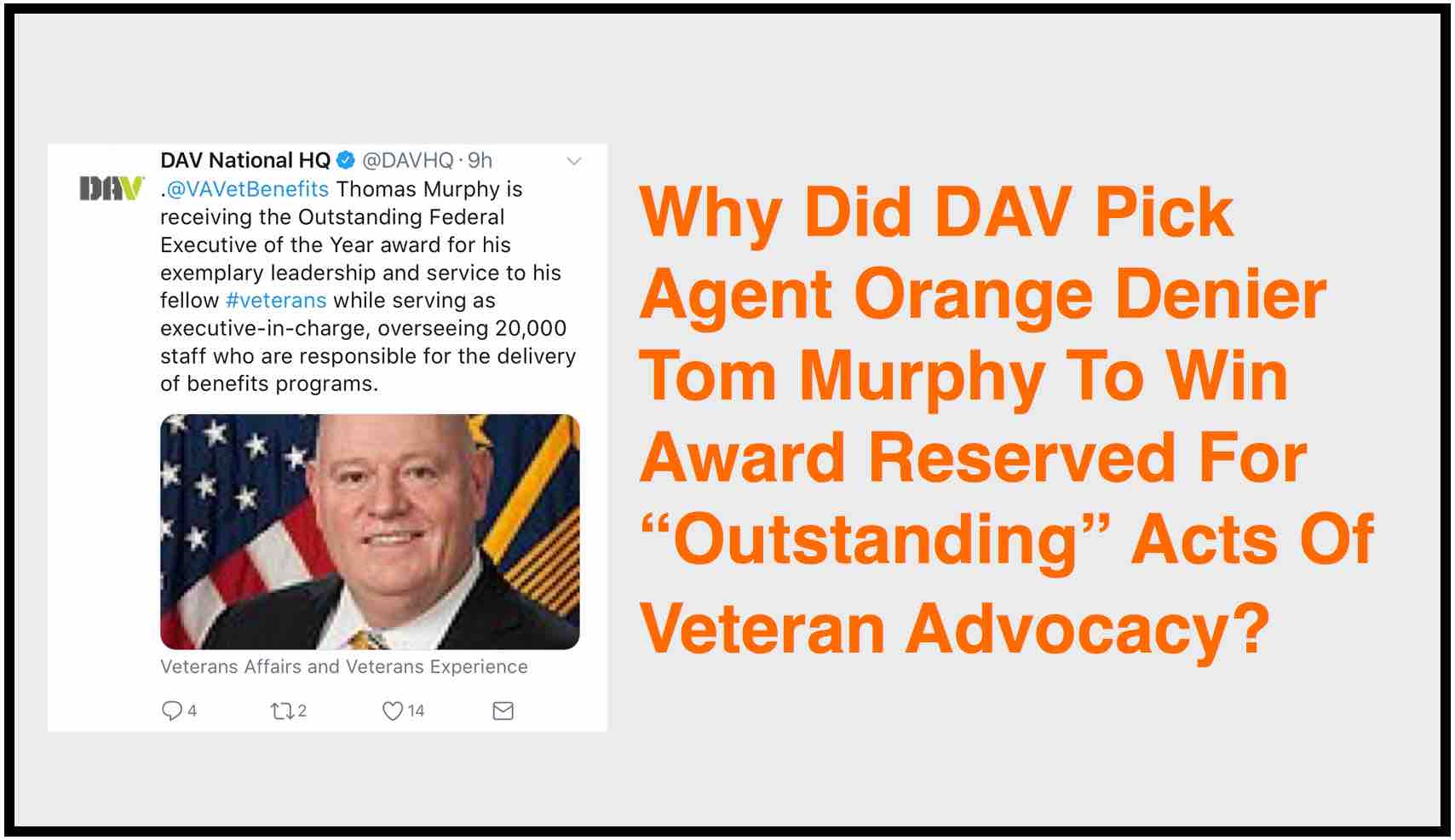 Thomas Murphy, the longtime acting chief of Veterans Benefits Administration, recently received the Outstanding Federal Executive of the Year award from DAV for his veterans advocacy.
"The recipients of this year's advocacy awards have demonstrated what it means to keep the promise to the men and women who served," said DAV National Commander Delphine Metcalf-Foster. "They each possess an unmatched dedication to fighting for the best interests of veterans and their families. It is a great honor to present these awards that recognize their critical contributions in the areas of veterans' health care, benefits, policy and legislation."
Thomas Murphy now joins the ranks of previous Outstanding Federal Executive of the Year awardees including Secretary David Shulkin, MD, and executive in charge of Veterans Health Administration Carolyn Clancy, MD.
I'd like to take a second to highlight a few things here.
For its upcoming awards ceremony, DAV (Disabled American Veterans) selected "dedicated veterans' advocates" from the public sector who are known to fight "for the best interests of veterans and their families." This year, nine recipients received the advocacy awards after demonstrating "what it means to keep the promise to the men and women who served."
Thomas Murphy, a known Agent Orange denier, won the award "for his exemplary leadership and service to ill and injured veterans while serving as executive in charge…" of Veterans Benefits Administration.
What? DAV, an agency employing and training thousands of veterans advocates considers Murphy an "outstanding" veterans advocate warranting receipt of the same award given Secretary Shulkin last year? Did DAV forget what an advocate does?
Generally, a veterans advocate is a person who fights for the rights of veterans, not a person who uses their position of authority to restrict the rights of veterans.
Nonetheless, Thomas Murphy's selection for the award, to be presented February 25th, came just days before the White House announced its nomination of Murphy's potential replacement, Paul R. Lawrence, PhD, a longtime economist and consultant specializing in public sector leadership. And not a second too soon, I might add.
Now, how can a person deny the toxic effects of chemicals in Agency Orange and related herbicides that disabled many thousands of Vietnam Veterans and still display "unmatched dedication" as a veterans advocate "fighting" for – – not against – –  veterans?
How can they also be responsible for legislation that curtails certain veterans' rights including due process guarantees and the duty to assist after appeal?
Great questions.
Questions Presented To DAV
I asked some questions of DAV directly, as a lifetime member of the organization, but the organization did not respond prior to publication:
I see your organization selected Thomas Murphy and referenced him as an "outstanding" veterans advocate who fights to advance veterans issues. Would you please describe the process of selecting nominees?
Murphy is considered an Agent Orange denier. Is DAV concerned that its members might see his award as pandering for organizational access rather than advancing the interests of members?
New rules pushed by Murphy to reduce the rights of veterans seeking appeals to reduce the appeals backlog his policies created seems self-serving in that he created the most recent backlog and now is receiving an award from DAV for the solution he created that revokes certain rights. How does DAV reconcile his actions with those of true veterans advocates pushing to advance veterans rights?
The selections this year make DAV appear tone deaf. Has DAV filed a disability claim for the organization's apparent hearing loss?
While DAV may not have an answer for us, veterans previously worked together on Change.org in an attempt to oust Murphy from his role in VA. The petition garnered 1,574 signatures. No one, including DAV, seemed to notice.
RELATED: Veterans Petition To Oust Agent Orange Denier
In 2016, real veterans advocates uncovered a covert 2012 policy decision where Thomas Murphy covertly blocked experts addressing the harmful effects of TCDD, a toxin in Agent Orange known to cause cancer and other diseases, and denied the toxic impact of the toxin, "In conclusion, there is no conclusive evidence that TCDD exposure causes any adverse health effects."
The denial's language was intended to block benefits for hundreds of veterans exposed to herbicides aboard C-123's. VA acknowledges the impact of TCDD, but Murphy chose to dismiss that position when covertly denying that group of veterans their benefits.
Other Awardees
The list of selectees for awards this year included Senators Johnny Isakson (R-Ga) and Tammy Baldwin (D-Wi).
At this point, I am sure many readers here have made a double take, not only at Thomas Murphy receiving an award for being an "outstanding" advocate, but also the selection of Baldwin following her roll in failing to timely clean up the opioid scandal at Tomah VA despite being in possession of an IG report acknowledging the scope of the scandal that led to veterans' deaths.
RELATED: Veterans Group Targets Baldwin Over Marine's Opioid Death
What did Baldwin do to receive her award as an "outstanding" veterans' advocate? Was DAV trying to be ironic?
DAV Gives Sen. Tammy Baldwin Award For Fighting Opioid Addiction
Sen. Baldwin received her award for her role in "combatting the opioid epidemic" despite allowing it to fester at Tomah VA Medical Center.
Her selection and the reasoning for her selection could not be more tone deaf, and it is an example of why more and more disabled veterans find DAV less and less relevant. Many veterans today believe the organization's leadership is run by sellouts functioning as an extension of VA.
RELATED: Baldwin Quietly Leaves Committee Investigating VA Opioid Scandal
As previously noted, Sen. Baldwin failed to act on an IG report that sat on her desk for years while veterans died from negligent and illegal prescriptive practices of opioids at the facility.
The matter sparked a national opioid scandal within VA for negligent prescriptive practices that led to many thousands of veterans being addicted to opioids and later heroine addictions once the agency negligently pulled veterans off the drugs without following standards of care for such drastic changes in prescriptive practices.
Needless to say, the award itself for all selectees carries with it a certain odor of irony, almost of satire, we would see from the spoof fake news source The Onion. DAV's selection of Baldwin was in poor taste, and almost as outrageous as the selection of Thomas Murphy, who singlehandedly is responsible for eroding veterans' rights as the acting head of Veterans Benefits Administration.
Murphy, Baldwin Create Problems, Receive Awards For Fixing Them Later
The unifying theme between both Thomas Murphy and Tammy Baldwin is their role in creating the crisis that DAV is now awarding them for fixing.
From 2011 to 2015, Murphy played a pivotal role in exacerbating the disability compensation backlog with poor policymaking decisions. Murphy promised outsourcing of adjudication systems and "going paperless" would be a magic bullet to fix that backlog, circa 2012.
By 2014, that backlog later became the appeals backlog when Murphy encourages adjudicators to quickly process claims without much concern over the accuracy of any decision. What resulted was a new backlog of appeals sitting at the Board of Veterans Appeals where VA employees in the field failed to correct veteran's contentions.
To fix the problem he created, between 2015-17, Murphy then proposed a regulatory framework that effectively reduces the rights of veterans but speeds up the process of adjudicating appeals. The regulatory changes eventually passed, but those same rules included revocation of certain due process rights including restriction of the duty to assist.
How convenient?
There is no telling how many DAV members will be adversely impacted by the policy bumble much less those same members who have fought against Murphy's backroom decisionmaking to deny benefits for those suffering from illness and disease from Agent Orange exposure.
Does DAV Need A Hearing Aid For Being Tone-Deaf?
All this aside, the Thomas Murphy award did not come without healthy skepticism making some thinking Americans wonder why Disabled American Veterans selected the federal executive for the award to begin with.
One need not look further than Rob Reynolds, the former National Commander for DAV, who is presently serving as the Deputy Under Secretary for Benefits and the longtime right-hand man of Murphy. He was recently promoted into the role after Murphy's team allegedly forced Curtis Coy out of the agency via false allegations of wrongdoing before Christmas.
Perhaps as a "thanks" for the promotion, Reynolds tapped his organization for a quid pro quo to his boss?
Thomas Murphy Award Skepticism
Numerous veterans advocates expressed concern over the selections for awards this year by DAV. One commented that the selections were clear-cut political pandering "under the guise of advocating for its members."
Military-Veterans Advocacy Founder
John Wells, head of Military-Veterans Advocacy, an organization specializing in helping Vietnam Veterans win disability claims for exposure to toxic herbicide levels in Agent Orange, expressed deep concern and reservation about DAV's selection of Thomas Murphy for the award.
"No other VA staffer has done more to resist the expansion of benefits to veterans," Wells stated. "From the Blue Water Navy to Guam to burn pits, Murphy has argued vociferously against providing benefits."
Murphy is a known close associate of Alvin Young, PhD, the hired gun Murphy pulled back into VA over the past decade to help the agency fight against veterans seeking benefits for Agent Orange exposure.
Wells asserted Murphy "was always ready with a disingenuous argument based on cherry-picked facts to prevent veterans from obtaining their earned benefits."
Wells' team has repeatedly gone up against Murphy and his staff concerning the rights and violations of those rights in seeking benefits for Agency Orange exposure while on Navy ships.
Wells was not the only person befuddled by DAV's selection.
Former VA Official
A former VA official familiar with Thomas Murphy, speaking under condition of anonymity, was disappointed to see DAV pander to officials like Murphy "under the guise of advocating for their members."
"Murphy is an Agent Orange denier, overtly resentful of Shulkin and the White House for passing him over for the job of USB, and he rarely hides his disdain of the Secretary or his appointed staff."
The former VA official continued, "DAV is woefully out of touch with the reality on the ground and apparently very willing to skip over the bodies who are casualties of his 'leadership'."
VA Is Lying Founder
Ron Nesler, a lifetime member of DAV and Founder of VA is Lying could not believe the words he was reading when assessing the merits of the award, "DAV calls Thomas Murphy an outstanding advocate for vets? Not so fast."
He continued, "Mr. Murphy is an open Agent Orange denier. He is on the record saying he does not believe A/O is harmful. He is no friend of Vietnam vets or our families."
In 2013, Nesler sought a refund of his membership dues after learning certain DAV leaders received over $300,000 in total compensation in 2011. That report was first published here on DisabledVeterans.org.
RELATED: DAV Executive Pay Shocker – Veterans Outraged
Nesler believed the high salaries despite numerous years of failing to resolve scandals within VA including the disability compensation backlog were signs the agency was not using its membership dues appropriately.
When he asked for a refund, DAV refused. Instead, the organization asserted it lacked a mechanism for refunding dues… such as apparently writing a check with the term "refund" on the memo line like any other company or nonprofit.
Nesler was not the only veteran dismayed by DAV's high salaries.
DAV Kicks Out Member For Investigating Exec Pay
Former DAV member and New Jersey commander Dave Gahary, a 70 percent disabled veteran, was kicked out of the organization after it became known he was investigating the high salaries of the organization's top executives.
"They sent me a letter saying I was suspended pending an investigation," Gahary said. At the next national convention, Gahary was kicked out of the organization.
DAV is now reportedly paying its Executive Director over $500,000 all the while veterans were dying from waitlist fraud, delays in health care, and going without timely adjudicated benefits claims.
The Gahary matter is not the only instance of the cash-flush organization displaying thin skin.
DAV Is Thin Skinned, Evades Accountability And Oversight By Own Members
Last May, I wrote about their lack of quick response to calls from the Trump Administration to cut benefits going to elderly, severely disabled veterans. The article received over 500 comments and was circulated far and wide in the blogosphere.
RELATED: DAV, Other VSOs Silent As Elderly Veterans Thrown Under Bus
As support for the article, I took a scene shot of the DAV Twitter feed proving they failed to timely respond on behalf of their members.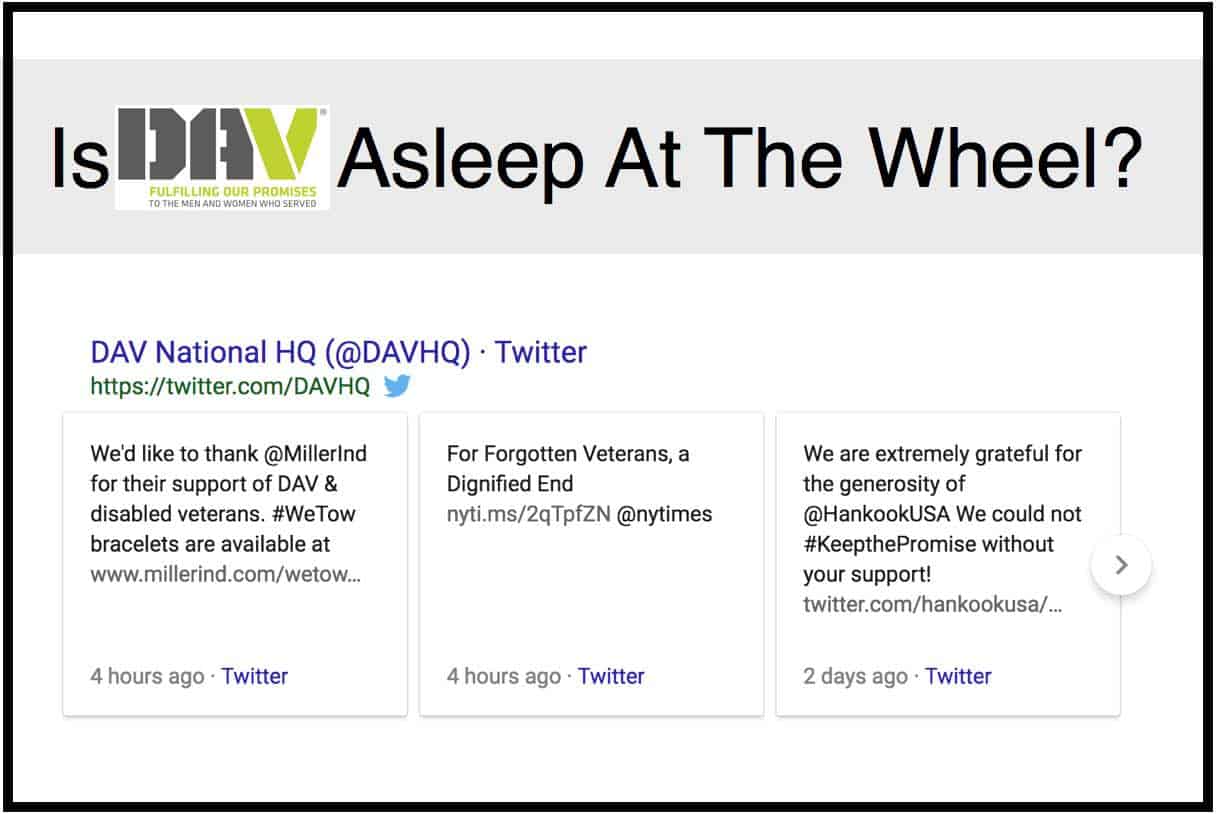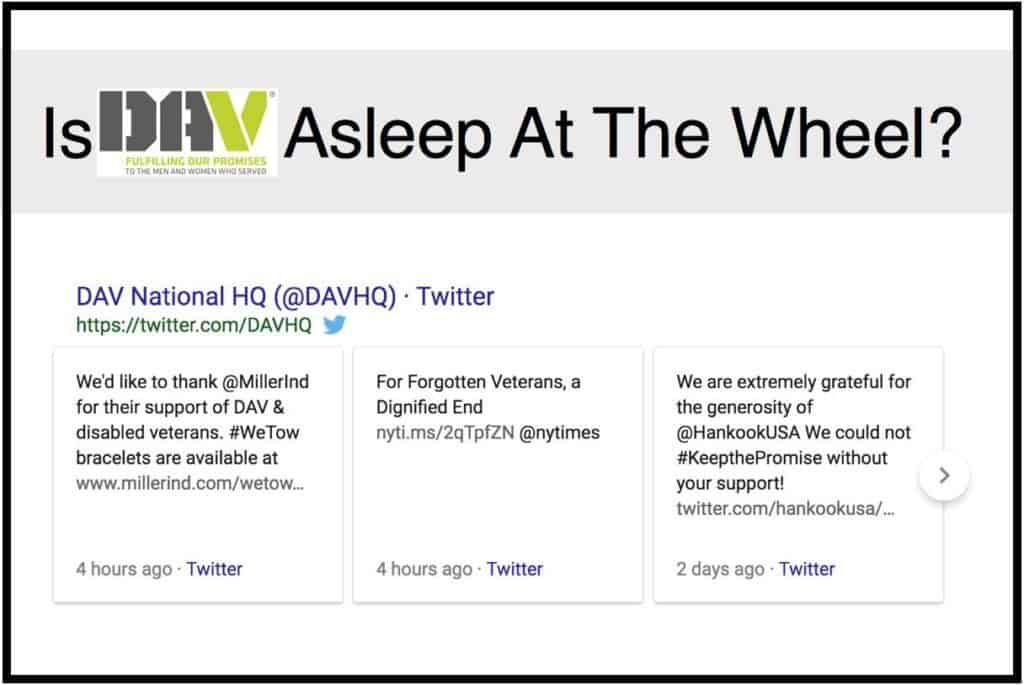 How did DAV respond to my allegations – – as a DAV lifetime member?
Like petulant children evading the watchful eye of their parents from SnapChat, DAV blocked me from seeing their tweets on Twitter. LMFAO.
Again, rather than encourage review of their policy and pay decisions, DAV went the route of blocking oversight rather than encouraging it.
Take Action Against DAV Tone-deafness
At this point, it seems like DAV is suffering from its own tinnitus and hearing loss. Perhaps they should file for a disability? Hope they don't mind waiting a few years.
Members of DAV upset about the selection of Thomas Murphy for the award should contact organization's leadership about the matter.
SEE: DAV Contact Page
Tell them your candid thoughts about the selection and how their decision reflects on the organization you paid to join. If you ask for a refund of your membership, report back to us with their answer.
DAV did not respond to a request for comment prior to publication.
Source: https://www.dav.org/learn-more/news/2018/dav-recognizes-outstanding-veterans-advocates-washington-2/