Facebook Friday – How To Dress For A VA Voc Rehab Appointment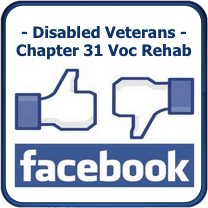 Every Friday, I'll pick my favorite Facebook conversation from a group I founded in 2009. It's called Disabled Veterans – Chapter 31 Voc Rehab and has over 1,200 members. My goal is to lend some insight from the group to those veterans without Facebook accounts or nonmembers to the group.
Check us out: https://on.fb.me/UVMhLA
Last week, Mike asked the following question:
"What's deemed appropriate clothing for a Voc Rehab meeting? Going to my first appointment on Tuesday and not sure what the protocol is."
A little background first: When it comes to dressing yourself, it helps to dress the part. You want the Voc Rehab Counselor to know you mean business. You also want the counselor to know that you know how to act in certain environments. This includes knowing how to dress appropriately. A suit is probably over the top. Wearing jeans and a flannel is too light.
Here's the feedback he got from our Facebook Community:
Mick: "Clothes…"

Liz: "I would think standard casual office attire would always be appropriate. A suit is not necessary but a pair of clean jeans or casual slacks and clean shirt is. Preferable not a offending graphic T-shirt. Now I need to caution that it also depends on your disability. In my case I knew I was going to end up in the Independent living track. I have trouble dressing myself and my normal attire is sweats, diabetic socks, tennis shoes with elastic kid's laces so I can just slip my shoes on. Then I wear a big roomy comfy shirt. So that is what I wore. I also brought a pillow for my back and asked for an extra chair so I could raise my legs to prevent swelling since I would have to be sitting so much. Do wear something comfortable as one usually is there half a day to watch a video and take some written tests. Your appt to speak with a consular may or may not be the same day. As Ben Krause has pointed out: anything in your visit/interview can be used against you to deny you Voc Rehab so be very careful on what you say and do."

Benjamin Krause (Me): "I suggest slacks and a button down shirt – iron both prior to the meeting. A pair of leather shoes, polished. Matching belt."

Tom: "You never get a second chance to make a first impression."
Stop by the group some time and check us out: https://on.fb.me/UVMhLA.