300,000 Veterans May Have Died Waiting For Care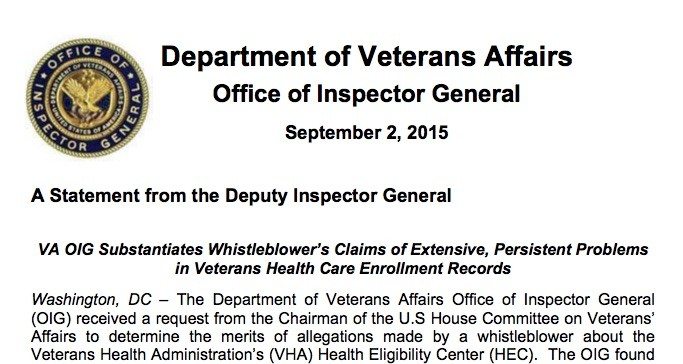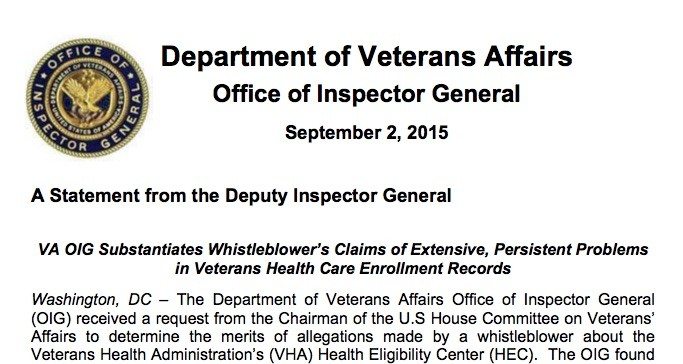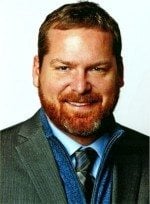 The IG investigation focused on Veterans Health Administration's Health Eligibility Center. This is part of the Chief Business Office that also manages fee basis, non-VA health care. The reported concluded the Chief Business Office has no effectively manages its business processes and data systems to ensure accuracy of data within the Enrollment System.
This failure resulted in 307,000 entries for pending requests for health care where Social Security showed that the veteran died. Due to convenient limitations with how VA tallies various numbers, VA OIG was unable to conclusively determine if those 307,000 claims were also waiting for health care benefits
The VA OIG press release reads in part:
OIG also substantiated that pending records included entries for over 307,000 individuals reported as deceased by the Social Security Administration. Again because of data limitations, we could not determine how many pending records represent veterans who applied for health care benefits. We also substantiated that employees incorrectly marked unprocessed applications as completed and possibly deleted 10,000 or more transactions over the past 5 years. Information security deficiencies, such as the lack of audit trails and system backups, limited our ability to review some issues fully and rule out data manipulation. Finally, we substantiated that the HEC identified over 11,000 unprocessed health care applications and about 28,000 other transactions in January 2013. This backlog developed because the HEC did not adequately manage its workload and lacked controls to ensure entry of its workload into the enrollment system.
Source: https://www.va.gov/oig/pubs/press-releases/VAOIG-WhistleblowerClaimsExtensivePersistentProbVetsHlthCER.pdf