Agent Orange Denier Thomas Murphy Promoted To VBA Chief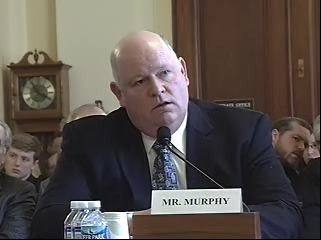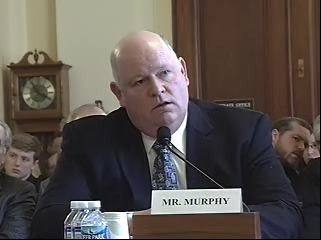 Disappointing news last week as the newest acting VBA chief is Thomas Murphy, a confirmed Agent Orange denier who thinks the herbicide is harmless.
As head of Compensation in 2012, Thomas Murphy blocked expert opinions supporting service connection for veterans exposed to Agent Orange herbicide on C-123 aircraft despite regulations and other evidence supporting the determination.
I wanted to highlight this issue not just because of the huge injustice you are about to read, but also because the story and documentation about what Thomas Murphy did has effectively been buried on Google.
As a side note, I am in the upper right of the picture where Murphy provided the testimony in question to Congress that we discuss below. I am literally whispering to a buddy, "I have never seen such a large man tap dance before, much less before Congress."
RELATED: Thomas Murphy Named Acting VA Under Secretary For Benefits
After his testimony, I met with him a few times at different conferences around the country. He even drove me around San Diego at a NOVA conference in his rental car. Not a bad guy in person.
Unfortunately for him, this policy decision is a real shameful spot on his public record. Murphy now joins a smug group of bureaucrats as an Agent Orange denier.
I am wondering to what extent his political contributions in 2008 to the Obama Campaign played a role in his climb to power within VA. I have feedback on this at the end of the article.
THOMAS MURPHY AGENT ORANGE DENIER
According to an article from C123k Cancer article:
In 2012 Mr. Murphy wrote his denial of a C-123 Veteran's Agent Orange exposure claims, "In conclusion, there is no conclusive evidence that TCDD exposure causes any adverse health effects." He wrote that to dismiss expert input from the CDC confirming the Veteran's exposure.

TCDD, the toxin in Agent Orange, is recognized by science to be the most toxic of the toxins, and definitely causes "adverse health effects." VA itself (but not Mr. Murphy) understands that it is a highly toxic substance.

This was no mere typo. Mr. Murphy's three-page denial blocked compensation and medical benefits to a Veteran C-123 aviator. Four years later, VA itself conceded that Veteran and other C-123 Vets actually had been exposed to Agent Orange and could receive benefits.
Yes, you read that correctly.
Thomas Murphy, a non-doctor, denied a compensation claim by refuting the medical opinion of an expert on the subject. His denial essentially included a denial that Agent Orange (TCDD) causes "any adverse health effects."
His opinion was also a spit in the face to CDC input that confirmed the exposure and input from the National Institute of Environmental Health Services, the NIH, and numerous other scientists.
Is Murphy smoking crack cocaine? No adverse effects?
No doubt, Thomas Murphy went on to tell Congress that his denial was not a blanket denial but that he would review each case on a "case-by-case basis".
He deceived Congress by leaving out that each review would result in a denial because he already concluded Agent Orange did not cause injury, which would result in a 100% denial rate.
This leads me to one question. Who or what is Tom Murphy covering for at this point? Who is behind the great curtain hiding Agent Orange truths from the public?
Murphy does not pay the amount out of his own pocket. Taxpayers want these veterans compensated. Congress is on board. The science is there. What is the hang up?
Oh, the hang up is that VA will fight against every subset of veterans exposed to Agent Orange who did not have boots on the ground in Vietnam.
It gets worse. According to documentation cited by the same article that I have also uploaded here:
A note: if Mr. Murphy's 2012 claim denial letter was written by a staffer for his approval, the staffer was most likely Mr. James Sampsel, manager of VBA's Agent Orange desk and liaison to the Joint Services Records Research Center (JSRRC) in DOD. Mr. Samsel was also the staffer who drafted Secretary Shinseki's error-laden letter and deceptive C-123 Fact Sheet.
Here is where we see the typical pattern of "yes" men / women being promoted within the agency. If they are willing to screw veterans over, they will get promoted. Do you wonder what new swanky position Sampsel will hold now that his boss was promoted?
The C123 article continues:
Mr. Sampel, a Vietnam veteran himself, had his perspective was made clear in a related email to Mr. Murphy. Mr. Sampsel wrote that "the real problem" in denying C-123 veterans' claims is the amount of evidence confirming those exposures.

Get it? VA's "real problem" is that the veterans' proofs have to be ignored by VA so as to deny the C-123 exposure claims. Mr. Sampsel, labeling CDC, NIH, US Public Health Service as "the real problem" in his email to Mr. Murphy, insisted VA had "an overwhelming preponderance of evidence" against the vets, citing input from the VA consultant and VA's own web site, as if somehow VA putting their policy statement online was "overwhelming evidence" sufficient to ignore the other federal agencies that came to the veterans' defense.

Even the DoD had tried to tell Mr. Samsel it had credible evidence from many sources supporting the veterans, but were told in return that VA put blinders on and was being selective about what evidence it would acknowledge, and that VA would not request a JSRRC finding on C-123 veterans (note: this violates procedures described in VA's own regulation VAM21-1MR, as well as the Veterans Claims Assistance Act.)
That really is the typical game.
Personally, I was unclear why VA continues to game play with these old veterans. I guess now I understand.
VA will fight against certain groups of veterans with certain similar injuries to avoid payouts to numerous vets when deciding one issue.
This probably explains why VA is fighting against service connection for burn pit veterans when they make claims for certain cancers.
VA is an insurance company, except it plays with tens of billions of taxpayer dollars and holds back payment even when the American public endorses the payout.
So what do you think is behind Murphy's assent to VBA chief and why do you think he is an Agent Orange denier?
Let's keep in mind, when VA wrongly denies benefits for those exposed to chemicals like Agent Orange, they may also be denying that veteran access to VA health care where the cancer linkage might be Agent Orange.
OUR AGENT ORANGE DENIER & POLITICS AS USUAL
I should probably also mention a rumor on the subject of Thomas Murphy.
Four years ago, I asked a DC insider how Thomas Murphy was selected for the role of Director of Compensation, in 2010. I was told Murphy was a noted contributor to the 2008 Obama Campaign.
Some of you may recall he worked under then VBA Under Secretary Allison Hickey and is now the third person to hold the position in the past year after Hickey stepped down.
This contribution was prior to Murphy being selected to be the Director of Compensation under then VBA Under Secretary Allison Hickey.
If true, and there is a linkage between the contributions, these moves certainly indicate Washington DC is still operating under – politics as usual – regardless of which party is in power.
In his 2010 VA biography, it shows Murphy managed the disability and survivor benefit programs that provided more than $45 billion annually in benefit payments to four million Veterans and their families. That biography explained his background as of 2010 being:
Murphy had been the Director of VA's San Juan Regional Office since August 2009, overseeing benefits for 151,000 veterans living in Puerto Rico, Vieques, Culebra and the U.S. Virgin Islands.

Murphy retired from the military as a Major after serving 15 years in the Colorado National Guard and six years in the Marine Corps Reserve.

Murphy joined VA from The Home Depot, where he was a Director of Merchandise Planning and oversaw more than 1,950 stores, with more than $8.5 billion in annual sales.

Murphy previously was a Senior Tactical Planning Manager for Qwest Communications and worked for 10 years at the Department of Defense in a variety of positions.
So we know Murphy retired from the National Guard after serving 6 years as a Marine. He also worked at Home Depot and Quest in an executive capacity.
I guess I would wonder what government contractors he is closely aligned with during his tenure at either company prior to quickly moving up the ladder within VA.
When considering his overall career development, his tenure at VA looks as though his career at the agency was closely managed and planned for a very intentional purpose.
Source: https://c123kcancer.blogspot.com/2016/06/new-acting-va-benefits-undersecretary.html