Audit: VA Spends $1.9 Billion On Annual Research, Earns Only $316k In Royalties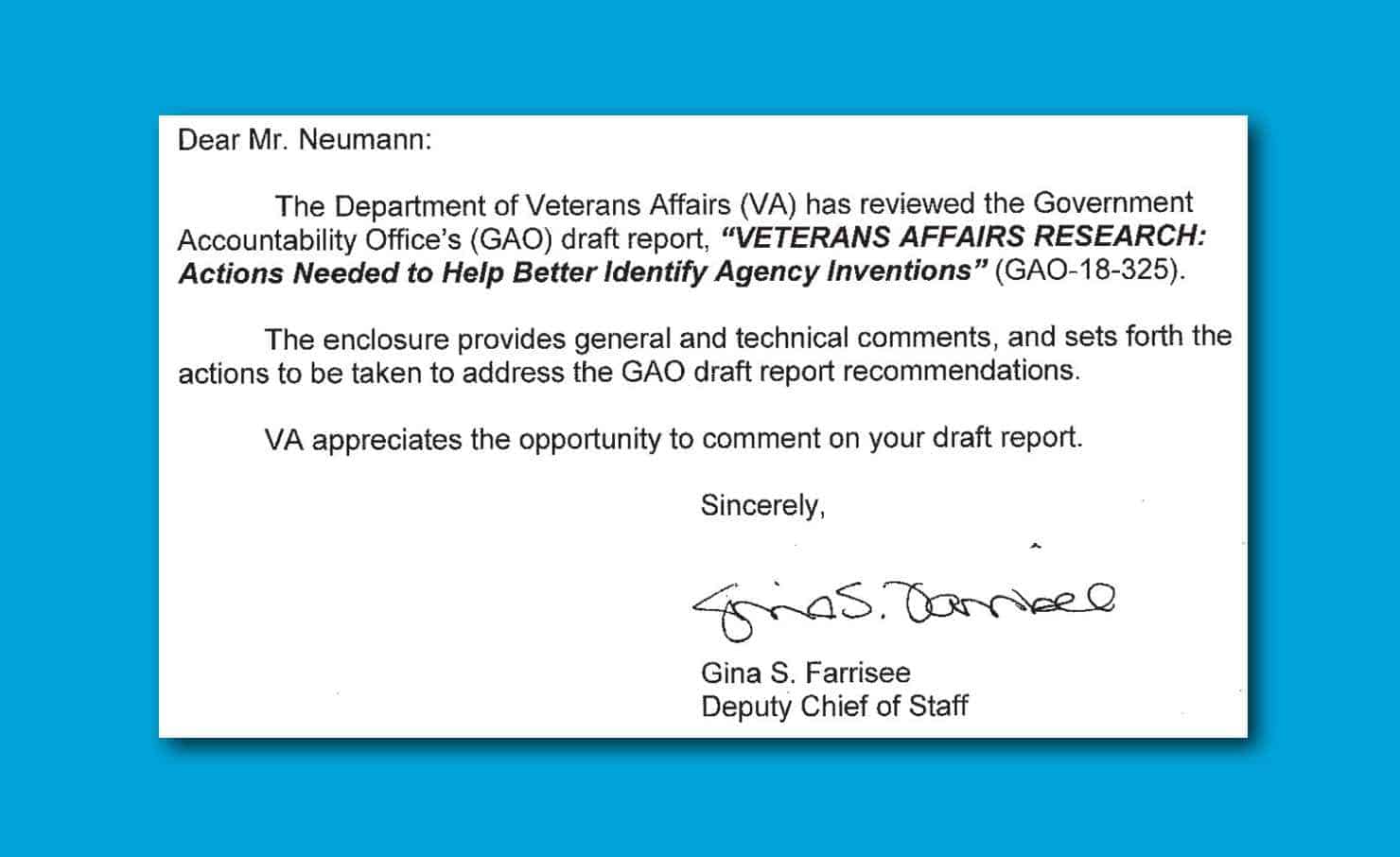 A new GAO report shows VA is investing $1.9 billion annually on research but is only earning $316,000 in royalties and licensure. Research universities failed to inform VA 75 percent of the time about research resulting in commercialized patents and related products wherein the agency could earn more revenue.
In 2000, the Department of Veterans Affairs created a VA Technology Transfer Program with 79 universities to negotiate following earlier breakthroughs like the development of the pacemaker and CT scan machines. The transfer program allowed the agency to transfer ownership of research to the private sector in exchange for royalties and license fees.
Under the agreements, research universities take the lead on patenting and commercialization while VA retains joint ownership of the invention. Participating universities would have right of first refusal to apply for and managed patents, market the technologies, negotiate licenses and collect royalties to be shared with VA.
Per the report:
Today VA oversees a research program that spends $1.9 billion annually and employs more than 3,000 researchers focused on health issues such as cancer, diabetes, traumatic brain injury, and other conditions affecting veterans. In fiscal year 2016, VA patents from such research resulted in 45 licenses providing the agency about $316,000 in royalties, according to VA officials.
Remember Schinazi Hep C Cure?
Some of you may remember Raymond Shinazi, a VA pharma doctor who simultaneously founded a company called Pharmasset while also leading a VA team to work on cures for conditions like hepatitis C… while he also enjoyed an Emory University appointment.
Shinazi broke headlines a couple years ago when he sold his company Pharmasset and its inventions to Gilead, a massive pharmaceutical company. That firm then marketed the hep C cure back to VA on a discount, if you can call it that, charging only around $500 per pill.
When interviewed by CBS, Shinazi unapologetically explained his massive windfall and explained away any potential conflict of interest or agency ownership in the invention by asserting he worked at his company that owned the patent of the drug. He said he only worked at VA 7/8 time, and that the agency should have no ownership or rights to the drug invented and then sold back to the agency for billions.
His massive $400 million windfall had its genesis from this kind of program.
Shortly after the news broke about his earnings, I filed a FOIA with VA that is still pending full release of the documents I sought. Many of the names were redacted of VA doctors who selected Shinazi for an award based on the hepatitis C invention.
History Of Program From GAO Audit Report
Just after World War II, VA developed affiliations with medical schools to improve acute care and physical and mental rehabilitation for veterans. As part of the relationship, VA medical centers have contributed to the education of medical students and residents. Besides medical students and residents, other dual appointees—clinicians and researchers—spend either a full 40-hour week or a fraction of the work week at VA and other time at the affiliated university.
On January 23, 1950, Executive Order 10,096 established that the government shall obtain the entire right, title, and interest in and to all inventions made by government employees during working hours; with a contribution by the government of facilities, equipment, materials, funds, or information, or time and services of other government employees on official duty; or which bear a direct relation to or are made as a consequence of the employee's duties. Since the early 1980s, the federal government has taken several actions related to technology transfer from federal laboratories.
Technology transfer is the process of transferring scientific findings from one organization to another for the purpose of further development and commercialization. In this regard, federal agencies are authorized to issue licenses to outside entities granting rights to make, use, or sell government owned inventions. One of the first technology transfer laws, the Stevenson-Wydler Technology Innovation Act of 1980, articulated the need for a strong national policy supporting domestic technology transfer. The law requires federal laboratories to establish an office of research and technology applications and devote budget and personnel resources to promoting technology cooperation and the transfer of technologies to private industry and state and local governments. In addition, the act requires federal agencies that operate or direct federal laboratories to report information on technology transfer performance annually to the Office of Management and Budget, as part of their annual budget submission. Copies of those reports should be transmitted to the Secretary of Commerce who must submit a summary report to Congress and the President.
For many years after the Stevenson-Wydler Technology Innovation Act of 1980, VA waived ownership rights to inventions generated by its researchers, leaving the responsibilities for patenting, marketing, and licensing with the inventor and the VA medical center's university partner. As a result of this practice, according to former VA officials, some VA research was not commercialized because VA did not have a technology transfer program or other means to promote commercialization.
In 2000, VA created the VA Technology Transfer Program to facilitate the commercialization of VA inventions to benefit veterans and the American public. VA developed technology transfer agreements with universities to help facilitate technology transfer. Under the terms of the agreements, the universities can take the lead on patenting and commercialization, and VA can retain joint ownership of inventions. Among other things, the original agreements gave the universities the right of first refusal to apply for and manage patents, market the technologies, negotiate licenses, and collect royalties to be shared with VA.
As of November 2017, the VA Technology Transfer Office, located in Washington, D.C., employed five technology transfer specialists responsible for all technology transfer activities for VA's solely owned inventions. These inventions may come from more than 3,000 VA researchers at over 100 VA medical centers, as well as from VA employees at other VA locations. In addition, the technology transfer specialists are responsible for coordinating with universities on inventions made by dually appointed researchers. According to VA officials, VA relies on affiliated universities for most of the technology transfer efforts connected with such inventions, since the universities have their own offices with expertise in technology transfer and are usually willing to take the lead.
Under a Veterans Health Administration 2002 policy on invention disclosures, which was revised in January 2017, VA employees who invent something are directed to disclose those inventions to VA using a disclosure form and complete a certification form to certify whether VA resources were used. VA employees are to disclose inventions to VA even if they were not created with VA resources. Affiliated universities may also require dually appointed researchers to disclose inventions to the university. Under agreements between the universities and VA, universities are required to disclose a dually appointed researcher's invention to VA, as an additional assurance to aid VA in capturing relevant inventions. Similarly, VA is to notify the university when a dually appointed researcher's invention comes to its attention.
Where Is The ROI?
Given the history, and universities continued failure to disclose inventions to VA, coupled with the pathetically low return on investment, is American getting a return worthy of the $1.9 billion annual investment?
Now, as an aside, you may notice the signature on agency's response to the GAO draft report as being none other than that of retired general Gina Farrisee. She was implicated and reprimanded for her role in covering up the friendly fire death of Pat Tillman.
RELATED: General Reprimanded In Tillman Scandal Now Heads VA Human Resources
Later, she was responsible for Army management during the massive PTSD fraud where the military intentionally misdiagnosed soldiers with personality disorders rather than PTSD to avoid paying disability compensation.
After the Army, she slid into a role in VA running human resources under former VA secretary Eric Shinseki during the run-up to the wait time scandal and accountability problems with agency leadership. Obviously, accountability was a flop, and she has since maneuvered herself into a role as Deputy Chief of Staff.
All good things come to those who tow the party line. And if you are really good, maybe the agency will let you invent a multi-billion dollar cure and keep all the profit.