Biden backs Park Ranger, Not Ashamed of Blocking Memorial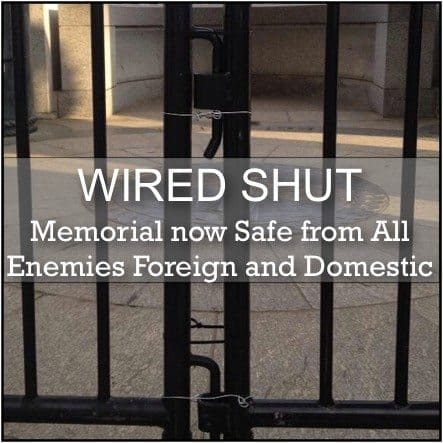 A video surfaced of a confrontation between a Congressman and a Park Ranger. In it, Rep. Randy Neugebauer chastised a park ranger for doing what she was ordered to do.
The ranger replied, "I'm not ashamed." https://bit.ly/17BlQ1j. Nor should she be. While there are no criminal penalties for not following orders for civilians, the buck here stops with the White House and Congress.
Vice President Joe Biden called that park ranger to congratulate her for the great job she's doing after the video made its rounds.
It looks like the issue has progressed to using wire ties to secure the barricade from future visitors to the WWII Memorial.
Here is a little background. Tuesday, NPS employees were setting up the barricade around the memorial.
Usually, NPS workers are not at the National Mall & Memorial Parks. It stays open 24 hours a day with no fence or gate to keep it safe from veterans or vandals. You would see beat cops on occasion.
That same Tuesday, an Honor Flight of WWII veterans requested access to the memorial but were denied by the White House. They went through the barricades anyway.
Later, the National Park Service reversed its position, stating the ceremony for the Honor Flight was a First Amendment activity. For that reason, the ceremony was to be allowed.
Today, journalist John McCormack reported the White House is continuing to hold the WWII Memorial hostage from visitors and veterans. Now, instead of just barricades that can be easily moved, the barricades are also wired together.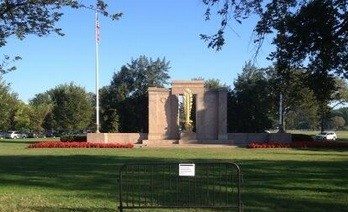 Curiously, the WWI Memorial has no blockade around it. Perhaps the reason is that no one is living from the Great War who can also be transported to the memorial.
It seems like the lesson here is that all war memorials that people want to go to see will be blockaded and wired shut.
Readers curious about the parks will not be able to read about them from the NPS. Normally, the NPS has a website for the National Mall & Memorials. However, it has shut them off by directing all web viewers to a new landing page for the shutdown.
This prevents school kids from doing research, at least from getting their information from the government. It prevents future tourists from making plans based on hours. It impedes on future First Amendment activities.
<< see it: https://www.nps.gov/ >>
The contracts have likely already paid by the Administration for the websites. So it should cost nothing more to keep them up. In fact, it takes more work to shut off the website than to just walk away from the computer terminal.
They had to build the shutdown page and redirect the servers to it.
Source: photos from John McCormack's twitter feed.