Union President 'Spin' On Broken VA System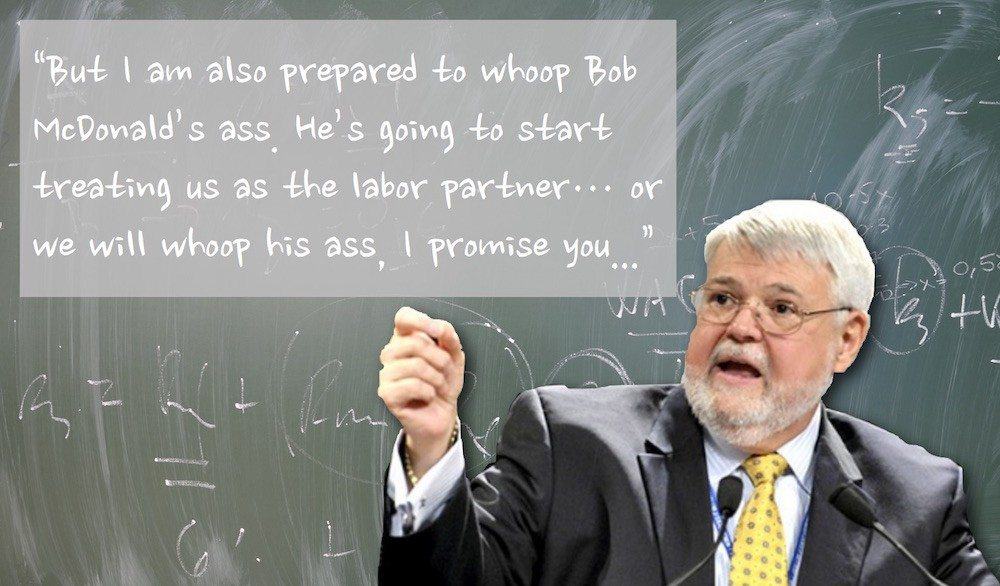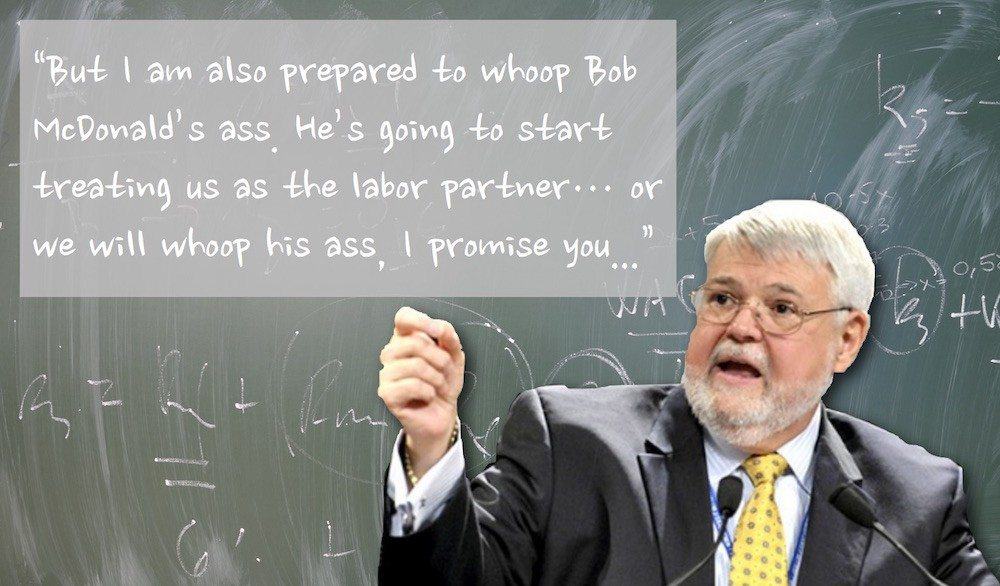 Yesterday, one union president decided to try his hand at "spin" claiming current reports of a broken VA are based "political hot air" and "minor" imperfections.
David Cox Sr., national president of American Federation of Government Employees (AFGE) wrote a spin piece for The Hill that is little more than hot air itself.
The hit piece made hay with old time, pro-VA rhetoric, that most Americans have heard before. Hopefully, anyone reading this will realize it is nothing but spin from a highly paid public relations firm on K Street.
UNION PRESIDENT THREATENS CABINET OFFICIAL
You may recall that Cox is the same guy who threatened to "whoop" VA Secretary Robert McDonald's "ass" if the Secretary did not get on board with AFGE's desires and whims. His position certainly reflects that of a bully.
RELATED: AFGE Union President To 'Whoop' VA Secretary's 'Ass'
Given what I know about the Federal government, I found it surprising that Cox's threat of physical violence against a Cabinet member would go without arrest. What would happen if any average veteran made the same threat?
One AFGE insider said Cox is delusional and that his newest spin in the op-ed shows AFGE, as an organization, is "out of their minds!"
Cox's use of bully pulpit has numerous Senators running scared. He threatened revolt if the present Senate accountability bill contained teeth, so a bipartisan panel of Senators swiftly removed said teeth. Yet, those same spineless Senators still claim the bill would hold bad VA employees accountable.
RELATED: AFGE Union Prez Beats Back Senate Firing Bill
Of course, the language of the bill suggests the only employees who will now be accountable if AFGE gets its way will be SES employees who are not members of AFGE.
AFGE PRESIDENT VA NOT BROKEN
In his op-ed titled, "No, the VA is not broken", Cox waxed poetic about how veterans love VA and how those Americans crying foul are merely doing so for political gain.
This claim is an immediate red flag for me.
It was the same false assertion mimicked by Hillary Clinton to Rachel Maddow last October. Clinton claimed the negative reports were from political hacks who were taking swipes at an otherwise solid health care system.
Maybe Hillary is also out of her mind? Maybe the K Street public relations firm that wrote this piece of filth is the same who wrote Cox's op-ed?
RELATED: Clinton Denies Problems At VA, Says Vets Love VA
Back to the point, in The Hill op-ed, Cox made the usual assertions that, in reality, highlight that VA is using the "too big to fail" rhetorical angle rather than truth.
VA IS HUGE, TOO BIG TO FAIL
Like most aspersions of this ilk, throwing mud at whistleblowers and lawmakers alike, they focus on how huge VA is:
"The VA is the largest integrated health care system in the country, offering services to veterans unmatched in the private sector. It is a network of 160+ medical centers and 1,000+ affiliated health care sites across the country that serve 5.8 million veterans each year at 707,000 inpatient and 92 million outpatient appointments."
Cox then shifts gears telling America that VA has hired its way out of the wait list scandal. In case you have been sleeping for the past two years, that is the scandal where schedulers were encouraged to fraudulently manipulate wait times for sick veterans, some of which died.
VA FIXED WAIT LIST PROBLEM
Cox said that since 2014 VA hired 14,000 more health care workers. On its face, this number is useless because it does not tell us whether the hiring pace was higher than normal or if it was merely replacing employees who left the VA system. He further claims fixes to the scheduling system that now resulted in "timely appointments."
That is right, folks, Cox claims the wait list has essentially gone away.
But how does that reconcile with recent reports (2 days ago) from liberal PBS showing the wait list has actually gotten worse? Is PBS merely spouting political hot air of the political right as the AFGE president claims? I doubt it.
RELATED: PBS – Despite $10B 'Fix', Veterans Are Waiting Even Longer
VETERANS AS LAB RATS, TEST DUMMIES
Cox's distorted argument then focuses on all the training and inventions that come out of VA health care. Cox says VA is "vital" for "residency training", "inventions", and "seamless access to quality care" through use of the electronic health record system.
While VA may be vital for such training, why is that the case? Are people not equally as sick in non-VA facilities? Or, is it because working at VA as a federal employee buffers those same employees from individual liability if a veteran is harmed?
As for the claim about seamless care, I personally would never call my VA health care "seamless" after moving from Oregon to Minnesota, but maybe my problems were an anomaly?
As for inventions, this is where the inventor (VA employee) makes millions on the backs of research on veterans, we only need to take a short look into the recent past. In light of the Hepatitis C cure rationing, I fail to see how this argument supports the call for growing VA health care while denying choice.
There, one VA employee invented the cure while working at VA full time, made $400 million, all the while veterans with Hepatitis C were not receiving the cure because it is too expensive. Each pill as part of that 12-week regimen costs $1,000.
RELATED: VA Doctor Invented Hep C Cure, Sold It For $400 Million Profit
How many veterans do you think were killed or injured while that VA employee conducted experiments at VA facilities in Georgia? It is worth an inquiry.
Cox also says the VA's use of the "innovative patient team approach" is saving lives and helping create "custom-tailored treatment plans."
As a medical malpractice attorney, I have seen a few of these treatment plans and certainly cannot conclude they were "custom-tailored" to meet the needs of my dead or near dead clients.
Personally, as a VA health care user, I cannot say anything done by any team I have seen was "innovative". Instead, my experience led me to conclude that VA uses many centers of excellence for research and if you do not fit the data point for said research, you get bumped out of the treatment program.
Instead, my own experience has seen a more "Lord of the Flies" approach where the nurses run the show; the staff doctors are replaced by residents, and veterans' choices related to their own health care are ignored.
If you demand to see a staff doctor and happen to raise your voice after being told 'no' time and again, you get stuck in front of a disruptive behavior committee.
RELATED: Going Hostile – VHA, Disruptive Behavior Committees And You
I do not recall ever having a problem selecting my staff doctor at a civilian health care facility. Do you?
SURVEYS, THOSE DAMNED SURVEYS
As Cox rounds third base in his diatribe, he highlights numerous surveys that conveniently show "two-thirds majority of veterans oppose privatizing the VA" and that "80 percent say they do not want it replaced with a voucher system."
Where are these veterans who were surveyed? Who did they survey? Are they surveying all veterans or only a selected part? Are they surveying the same VSO's who support VA and have a convenient vested interest in seeing VA propped up at all costs?
DISSENT AGAINST VA IS 'HOT AIR'
Last, Cox hits a foul ball disparaging whisteblowers and those brave enough to highlight serious problems that still exist within the agency:
"We all know that no human endeavor is perfect, and the VA is no exception. But no amount of rhetoric can change the fact that the VA offers the best health care available for our veterans. It is the only system equipped to offer them the type of treatment and healing they have earned through their sacrifice. If we continue to ignore the facts and let the fleeting headlines and political hot air drive the conversation, we could see the VA stripped for parts and auctioned off to the lowest bidder. We cannot let that happen. We must not break our promise to our nation's veterans."
Apparently Cox still believes VA provides the "best health care available." Of course, any organization would have to try really hard to not be the best when they are the only player in any system. VA still retains its monopoly on VA health care and AFGE wants it to stay that way.
He also goes on to reference whistleblower and OIG headlines as "fleeting headlines" but given the rapid pace with which these came out, one could not call those same headlines "fleeting." The Phoenix VA wait list sham happened. Veterans died due to the fraud.
MY TAKE ON CHOICE
But in a bigger picture, why is it that in this day and age of consumer choice, veterans are still not afforded that same liberty? Should it be a constitutional right for veterans to get health care wherever they choose? What are AFGE and VA and VSOs afraid of if most veterans truly want VA care, anyway?
Or, are the only veterans who get choice the same ones who want to choose VA? IE no choice?
It stands to reason that if AFGE's surveys are correct, no one within those organizations have anything to fear. Instead, these Chicken Little rants by the bully pulpit union head are little more than political hot air themselves targeting the interests of veterans.
The timing of this op-ed seems conveniently pointed at both the Senate and at Trump's recent position on VA health care. Trump believes that veterans should be allowed to use their VA ID card to get health care wherever they choose. Personally, I am not a Trump supporter. But one thing he has said that makes sense is for veterans to have a choice when seeking health care.
Why not allow us to use our VA ID cards like Medicare cards to get health care wherever we choose?
And if AFGE is not spinning us a line of BS, and if 80 percent of veterans oppose health care choice for veterans, AFGE and VA and VSOs will have nothing to worry about.
Source: https://thehill.com/opinion/op-ed/280085-no-the-va-is-not-broken