Hearing Reveals VA Illegally Spied On House Committee Staffers, Wrote Harassing Notes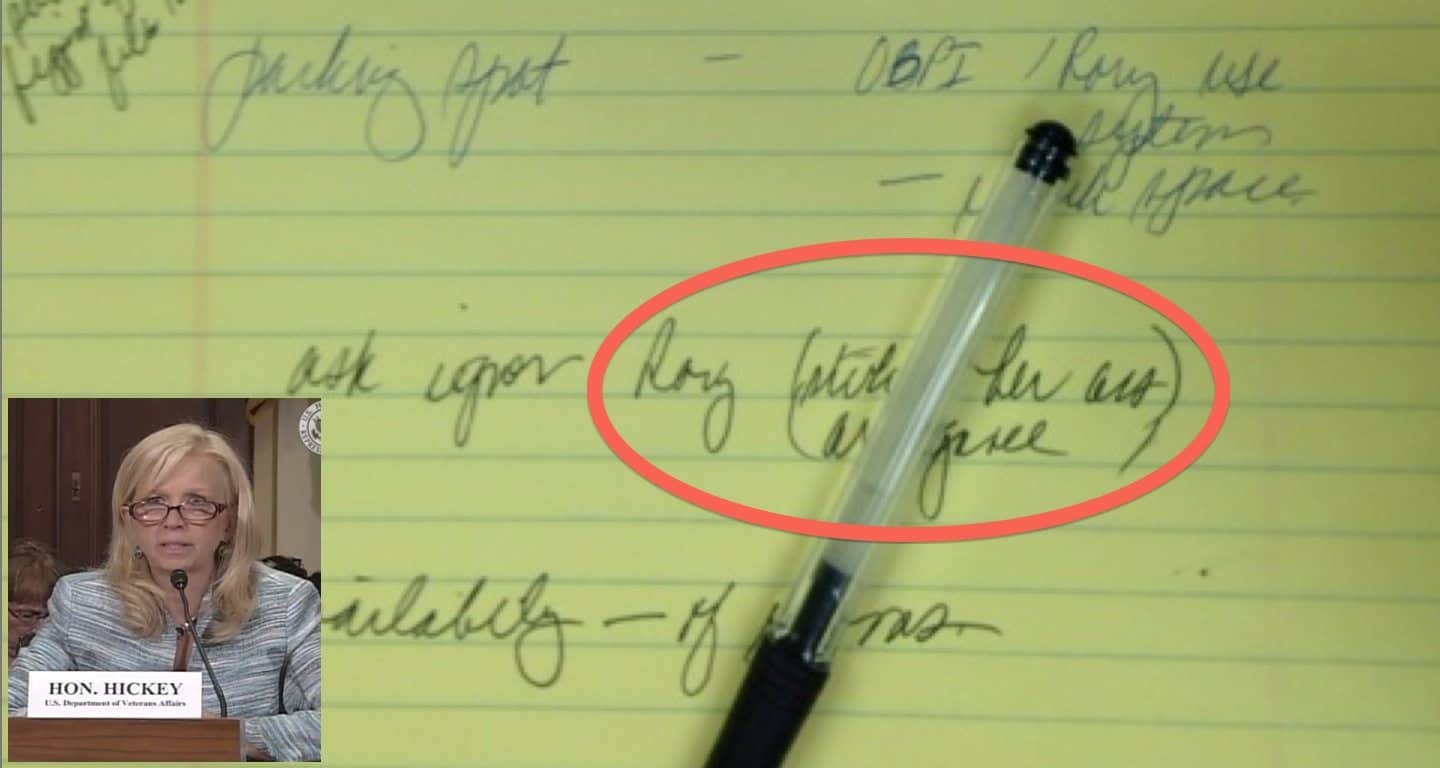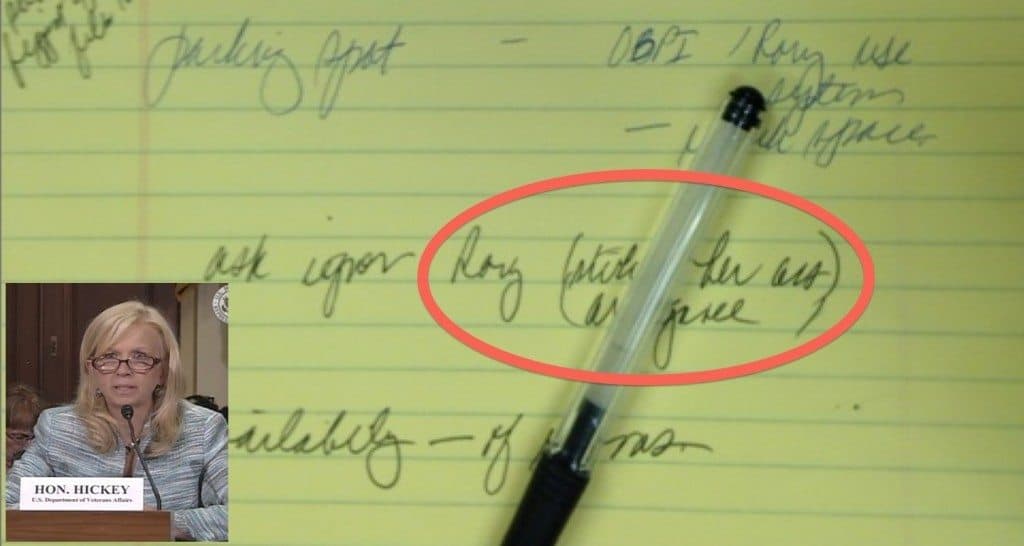 During last night's Congressional hearing, VA employee whistleblowers reported harassment and House Committee staffers reported being spied and harassed during VA investigations. One staffer found a note written by a foolish Philadelphia VA administrator who left it in the bathroom saying the same staffer has a "stick up her ass." Under Secretary Allison Hickey excused her employee's behavior, but did not seem too terribly upset about it when questioned.
[see the full VA notepad "stick up her ass" letter here]
[watch the VBA hearing on CSPAN here]
This leads me to ask the only question that makes sense. What new bread of idiots do we have running VA now?
The hearing was called, Evaluation of the Process to Achieve VBA Goals. The shortcoming of the hearing was that no one identified the big premise that can only be brought to the forefront by answering the following questions:
Is VA an insurance agency for the DoD?
Or, is VA an agency that is designed to honestly and accurately help veterans?
The answer is important, and I am sure the answer is as follows: VA is an insurance company and anyone who says otherwise is lying. It used to be called the Bureau of War Risk Insurance, and the policies of the current VA can be traced to that time in the 1920's. The duties were later transferred to the Veterans Bureau.
FIRST HALF OF HEARING – WHISTLEBLOWERS
The hearing identified that VA employees in Philadelphia were jigging filing dates on claims to create the fraudulent appearance that claims were adjudicated in a timely manner. Thousands of instances of claims dates were changed. Attorney and whistleblower Kristen Ruell reported not only fraudulent claims manipulations but also shredding of numerous files without following VA protocol. She stated 96 boxes of claims mail from veterans and numerous other files were destroyed and/or misplaced by other VA employees.
Employees as St. Petersburg Regional Office were repeatedly harassed and threatened when asking questions about policies that encouraged VA employee fraud. VA employee Javier Soto was fired after blowing the whistle on bad practices requiring that VA employees falsify records.
Ronald Robinson, VA employee and retired First Sergeant, reported a culture that would rather save itself than help veterans get the benefits they deserve at the District of Columbia office.
All in, the first half of the hearing was the dicey, but the second half was a gem of justice thanks to Congressman Jeff Miller, who recently started to swear in VA employees.
VA EXECUTIVES COVERING UP – SECOND HALF
The second half, which was focused on VA executives, was a real slam-dunk started off with a notepad that contained derogatory statements about a House Committee staffer written by a VA assistant director. VA employees were told to ignore Congressional staff. That same assistant director later lied to Congress about the matter, and Congressman Miller hammered Under Secretary Allison Hickey on the subject.
While at the office, VA demanded Congressional staff to work in a conference room that was wired with listening and video recording devices that were on. When Congressional staffers objected, they were reassigned to an abandoned OIG room.
The hearing confirmed that the VBMS system is a huge failure. It confirmed the Fast Track Claims process is also a failure. In all, all the silver bullets that I said would fail have failed. VA employees know they are a failure. Only VA executives mindlessly support the programs that have yet to produce tangible results. In the end, veterans were better off with the paper system.
Attorney Ruell stated, "If VA had computer systems like Apple then maybe we can process claims quicker. I can do more on my iPhone than [at my VA computer]." Ruell was harassed and the victim of retaliation after stopping fellow employees from shredding files and falsifying numbers.  She took action by reporting VA employees directly to Under Secretary Hickey after it became clear that local managers were to corrupt to ensure proper processing.
Despite the enormity of the problems, Congresswoman Brown focused on the patently absurd questions, "Has St. Pete's improved over the past four years?" to a recently fired whistleblower. That whistleblower, Javier Soto, responded, "No."
Last night, Congresswoman Brown insulted the integrity of veterans by diminishing the impact of this crisis on veterans by placating to her VA supporters. Meanwhile, VA OIG confirmed VA is underplaying the numbers and not following common sense recommendations. OIG specifically stated, "No, we cannot trust those numbers."
In an effort to drive women's rights into the stone ages, Congresswoman Brown (D-FL) chastised Congressional staffers for reading the notepad that said one of the staffers, Attorney Rory Riley, head of the DAMA subcommittee, "has a stick up her ass."
The notepad also indicated VA employees ignore the staffers during the Congressional investigation. Clearly, Florida voters should question the sincerity of Ms. Brown in her clear soft shoeing of questions to Under Secretary Hickey.
SYNOPSIS ON TESTIMONY OF UNDER SECRETARY ALLISON HICKEY
As the hearing droned on, Under Secretary Hickey sounded more like a kid looking for a great congratulation for cleaning her room… or a southern cheerleader.
Under Secretary Hickey repeated disproven statistics to bolster VA's reputation despite obvious reports that the statistics are falsified or irrelevant in light of the significant problems. She also indicated VA will seek another IT fix despite repeated failure of VA's problems.
Under Secretary Hickey needs to get a clue – her employees are lying to her. It has been proven. Fire them. If a person is on a boat, and a sailor starts shooting holes in the ship, getting another computer system will not fix the fact that your employee is shooting holes in your ship. It will sink.
Under Secretary Hickey, your ship is well on its way to being dubbed the Obama's Titanic. If you ignore reality and fail to fire employees that lack integrity, you will fail and your legacy will follow.
For those reading this, I have met Under Secretary Hickey before. She is very kind and probably too trusting of the staff under her. It is time she wake up.
Read More: https://veterans.house.gov/hearing/evaluation-of-the-process-to-achieve-vba-goals