Blue Water Veterans Stalled? VA Vehemently Opposes New Legislation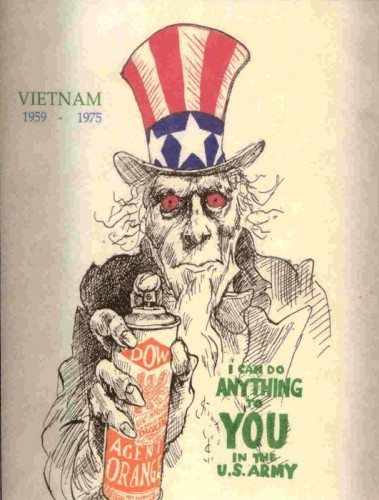 Paul Lawrence, Undersecretary for VA Benefits, recently unleashed a blistering attack against the Blue Water Navy Vietnam Veterans Act (HR 229), which would extend disability benefits to at least 70,000 Vietnam vets suffering from dioxin-related ailments.
Agent Orange, commonly used as a defoliant in the thick jungles of Vietnam, causes these ailments, and there is clear and convincing scientific evidence that these 70,000 veterans were also exposed to this chemical.
These soldiers were shipboard personnel who generally patrolled about 12 miles off the coastline, but precedent does suggest that this distance does not preclude Agent Orange exposure. Also, Congress does not differentiate between levels of exposure among land-based Vietnam vets, only whether they were exposed or not.
And yet…
VA is raring to go, citing "lack of sufficient scientific evidence" to grant these benefits, urging Senators to worry about "uncontrolled demands" for future VA benefits.
He specifically urged the Senate because this bill has already passed the House. UNANIMOUSLY. How rare must it be, in this age of polarized parties, that the House passes a bill unanimously?
As the former, doomed VA Secretary David Shulkin said of this legislation, "these veterans have waited too long and this is a responsibility that this country has."
Now, after blasting the bill, Blue Water veterans may end up with nothing as the bill is stalled in the Senate Committee on Veterans Affairs.
As it turns out, it is possible to be a discerning and conservative political official who is concerned about fiscal responsibility… and advocates for this legislation, given the evidence at hand. Shulkin was. At the very least, he refused to oppose Blue Water outright.
The House and Senate VA Committees have worked on this bill in close coordination and even started to figure out how to pay for it. That not only shows the extent of their commitment to Blue Water but their relative certainty that it eventually WILL be funded.
All $7 billion of it.
A massive 2011 study conducted by the Australian government shows ample evidence that shipboard personnel were, in fact, exposed to Agent Orange and similar dioxins, entitling them to disability benefits under that government.
Lawrence dismissed the impact of that study entirely.
RELATED: DOD Blows Off Burn Pit Hearing
He also stated that VA home loans, the aspect of VA's budget that would be cut most to pay for this initiative, are too important to raise even minimally, evoking predatory lenders as the only possible alternative for veterans who would otherwise pay a VA home loan normally.
In other words, "We will claim scientific uncertainty, as long as it helps us. You have evidence, but we have decided that it does not count for enough. We will prioritize deterring hypothetical predatory lenders over helping the real injured veterans."
RELATED: Tone Deaf DAV Gives Tom Murphy Award
Regardless of party lines, this sort of conduct is not reasonable. It is not governed by facts or logic. It is tribalism, and it is money. Our guy said to oppose this, so we will. It would be expensive, so we automatically do not want it. We will say anything we believe will make us look good, and nothing else.
This is what post-truth, "alternative facts" government really looks like.
A majority of Senators continue to support this legislation, so the immediate impact of this testimony is unclear. That said, it would be wise to expect months of further turmoil in the Senate about this.
What is your take on the agency's flip on the Blue Water issue?
Source: https://www.pnj.com/story/news/2018/08/04/va-rips-blue-water-agent-orange-bill-urges-senate-sink/889367002/