AFGE Union On Ropes Over Veterans Choice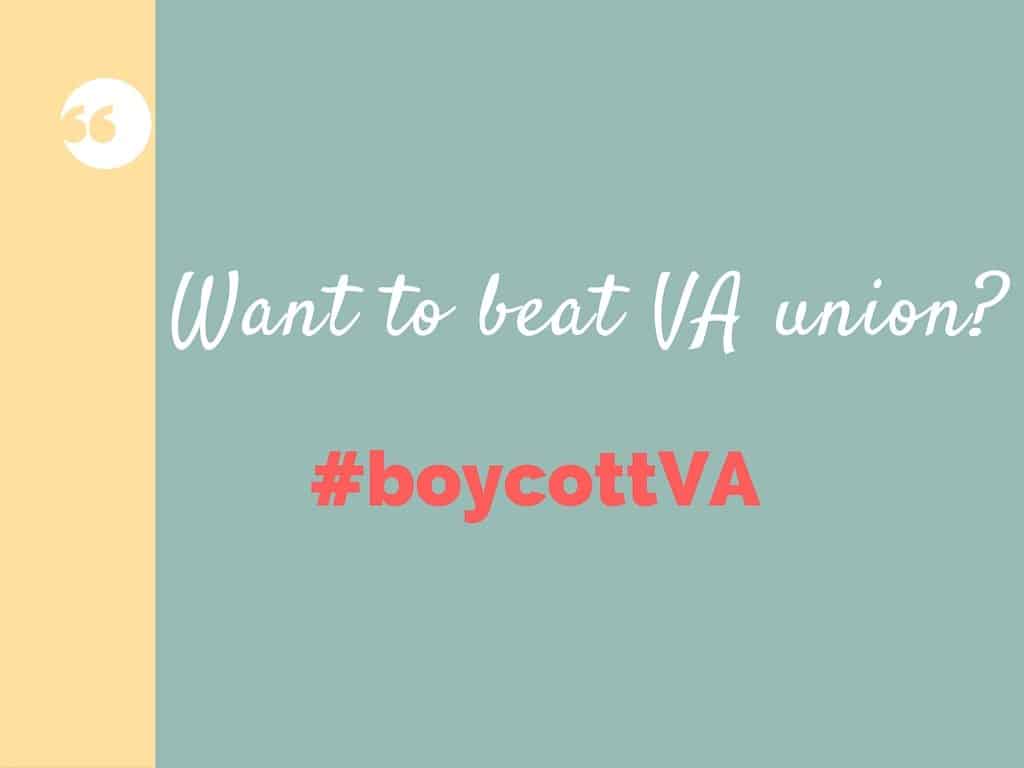 The AFGE union at Tomah VA is holding a rally to scare off competition and stave off the impending erosion of union control of VA under Veterans Choice.
The American Federation of Government Employees (AFGE) Local 0007 has scheduled a rally for Thursday at 1:00 PM called "Rally to Strengthen the VA and Keep Our Promise to Veterans."
I can think of a couple of immediate questions.
What promise was not fulfilled before that the union believes it can fix now? What kind of strengthening do they propose? And since the union basically controlled VA with its monopoly before, how did they allow the problems to persist?
AFGE UNION ATTACKS VETERANS CHOICE
Ever since Veterans Choice was signed into law and funded, AFGE leadership has attacked the program. The irony here is that the only reason Veterans Choice was created is because union members committed widespread fraud and veterans died as a result.
In my estimation, it takes some balls for federal employees to obstruct a new law created by Congress because one group (AFGE union) grossly failed to perform its duties. That same group (AFGE union) then shames anyone for fixing the program their own slothful and deceitful members created.
That is what we are seeing here. People died. AFGE union members lied. So did many VA executives, and no one will really pay the price except the dead or injured veterans.
Now, the AFGE union claims the move toward Veterans Choice is all about privatization of VA for profit. Nothing can be further from the truth since VA has already been largely privatized for decades.
IS AFGE REALLY FIGHTING AGAINST PRIVATIZATION?
Still, according to the AFGE flier as cited by Watchdog.org:
"Congress must not sell out veterans to for-profit health care corporations or shut down VA hospitals," the rally flier states. "Dedicated VA workers know that the only way to deliver on the promise America has made to veterans is to strengthen the VA by hiring more doctors, nurses, and support staff."
RELATED: AFGE Union Beats Back Senate Firing Bill
First thing – VA has been sold out many decades ago. Democrats participated. Republicans participated. Private corporations did make a lot of money to provide services that work and services that did not work. These private corporations gave money to both parties.
I am personally more concerned about Hillary Clinton selling out more and destroying the lives of veterans more than any possible Trump presidency.
So what the hell is AFGE talking about? Why are they diddling around? If VA is already privatized well before the Veterans Choice Program was created, what is the real story?
We all know VA health care, VA information technology, VA infrastructure, and practically all parts of VA that require heavy intellection lifting are all run by private corporations.
For example, VA medical records are run and managed by a company called DSS, Inc. Booz Allen Hamilton runs a lot of the IT projects. Xerox does a lot of the scanning. VA does not make its own training manuals or education programs.
RELATED: Contractor Announced Plan To 'Fix' Non-VA Fee Basis Program
RELATED: Xerox Sells Veterans Affairs Contractor To French Firm
RELATED: Why Won't VA Track Performance Of Its Contractors
RELATED: Why Is VA Choosing Corrupt Contractor Over Veteran Jobs?
WHAT DOES VA DO?
These days, just what does VA do, exactly?
VA gums up the works for benefits adjudication. They restrict funding for health care. They demand that union employees cut corners to save money regardless of how it affects veterans. When they get caught, few employees or leaders get punished.
And even if they get punished, the punishment gets reversed.
We now know VA will not enforce fast-track termination, likely because it would also force VA to fire or reprimand senior employees who are also implicated in wrongdoing. It thusly destroys the good ole boy network, and for that reason, the White House via DOJ told VA to stand down.
What a great deal? No accountability. No protection for the rights of veterans.
I am a firm believer that VA is broken on purpose. I believe and have believed for some time that veterans are under attack by insiders of certain deceptive groups to keep us distracted from getting involved in our local communities and local politics.
Instead, we are fixated on fixing a disgraceful agency that will never change.
AMERICA WILL NEVER FORGET
Back to the morons at Tomah VA fighting for their own union jobs, their ship has sailed. America will never believe the same old song and dance unions and VA sold the American public. No amount of public relations and propaganda will get it done.
That horse has left the building.
Veterans are not safe. They get screwed out of their benefits. Veterans receive inferior care administered by many corrupt bureaucrats. Why? How has our country of well-intended Americans resulted in shirking the responsibility to care for those who pay the biggest price.
THINK ABOUT #BOYCOTTVA FOR A SECOND?
My fix for now? #boycottVA if you can.
If you cannot, then do your best to document the hell out of the actions of local employees and leaders.
What is weird about this for me is that I support the unions so long as they do not behave like corrupt thugs. I have family members whom I love and respect deeply who are well involved in the union past or present.
Workers rights are a good thing. But veterans rights and veterans lives are more important that proving a point by the AFGE union.
But veterans rights and veterans lives are more important that proving a point by the AFGE union.
J David Cox is a douche supreme who gets away with threatening heads of the government while the White House sits on its hands like cowards.