Senior VA Employees Retaliate Against Sick Veterans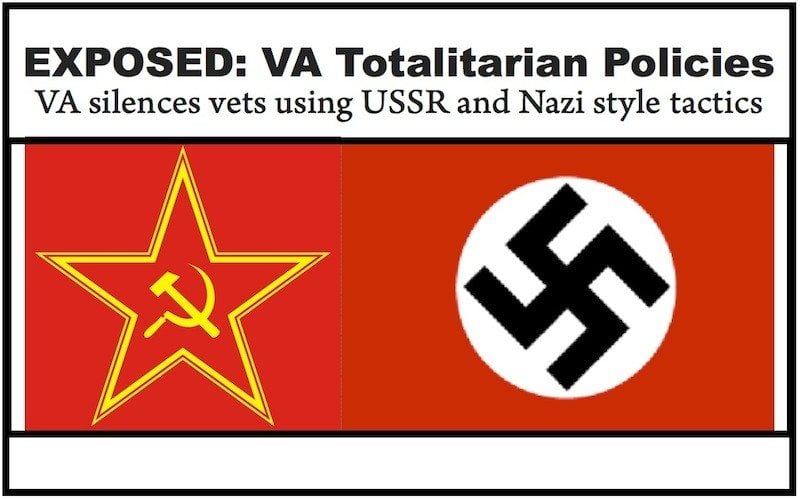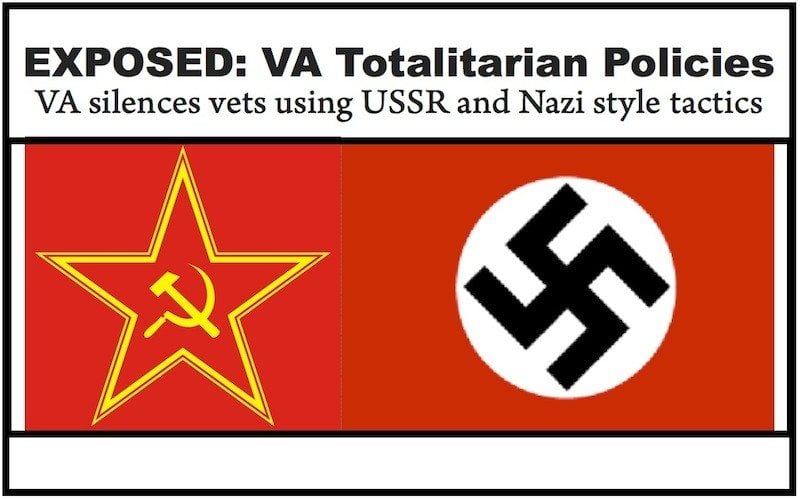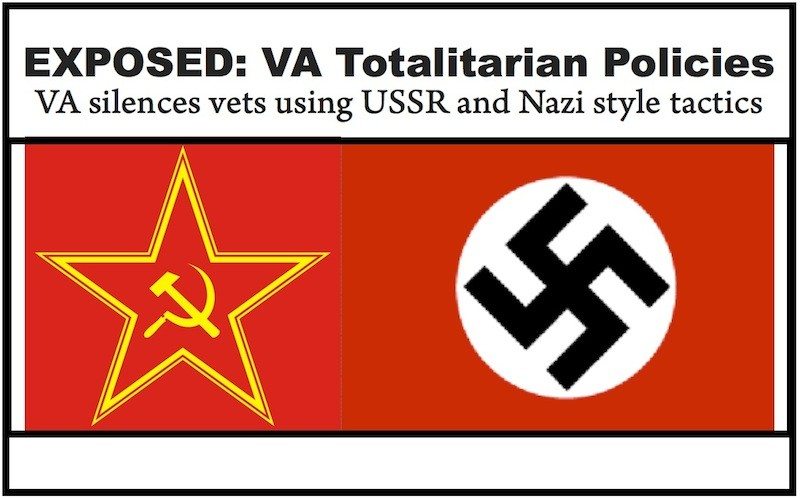 How would America respond if it knew the Department of Veterans Affairs was using totalitarian policies reminiscent of the USSR and Nazi Germany to silence veterans complaining of deficient health care delivery?
A totalitarian government occurs where the government attempts to control all aspects of its citizens lives, both publicly and in secret, with little to no 'just' accountability. In the mind of many veterans, current VA policies are not a far stretch from those exploited by these evil regimes in their day.
Yesterday, Journalist Angela Rae chose to interview me on DC Breakdown about our coverage here on VA's secret Disruptive Behavior Committees, where reports indicate senior VA employees retaliate against sick veterans behind closed doors.
The interview should air on her show today, Tuesday, July 29, 2014. UPDATE: Here is the interview.
Angela Rae is a sharp journalist, and I will hand it to her for covering this issue. Many in this professional have chosen to back off VA police policies and how they harm veterans after area Directors plea with reporters about how shedding light on the harmful policy.
They cry that it will hurt VA in light of the current scandals…
[Read our earlier coverage on Disruptive Behavior Committees]
VA is now penalizing what should be considered protected speech by misrepresenting it as disruptive behavior, according to the reports I have received and analyzed.
Its authority to make regulations that governs "conduct" falls under 38 USC 901. Somehow, VA has gone from basic authority to govern conduct to the creation of secret committees without a single publication that shows the Disruptive Behavior Committees are working and/or justifiable. In fact, a recent OIG report concluded the committee rules are too vague to be properly applied across VA nationwide. OIG further reported statistics that indicate local administrators are abusing the flexibility of the program granted by the Secretary to manage local issues, much like the wait list scandal.
[Download VA OIG Report on Disruptive Behavior Committees]
How Disruptive Behavior Committees Work In A Nutshell
The reality is that VA has implemented a health care flagging system that illegally restricts the liberty of many veterans without trial. The restriction prevents veterans from easily accessing their right to health care whenever the need arises. Only after a secret committee hearing does the veteran find out whether or not they are "guilty" of disrupting business at VA by complaining.
If VA determines you are disruptive, they will send you an ambiguous letter that does not indicate the law, evidence or who the judge and jury were. The penalty may go on for a year or longer, so in many ways it resembles probation for criminals. However, at least criminals are given a chance to defend themselves prior to being found guilty through a trial.
Usually, the veteran then is required to check in with VA police, and he/she is only able to step on VA property if they have an appointment. There are no emergency services for these individuals, and further no access to veteran organizations housed within the VA facility since they do not take appointments, either. Some veterans are flatly prohibited from seeking VA health care all together without being given any other option.
In many instances, these secret hearings curiously occur after a veteran complains about poor VA health care. In the instances I have covered, a sick veteran first makes a complaint against a VA director or doctor for failing to treat. If VA determines the complaint is angry and hostile (the veteran is usually sick and/or in pain when the complain is made), they will likely flag the veteran by filing their own complaint rather than using common sense to assess the situation.
What we have here is a situation where VA senior managers abuse their police power in retaliation against sick veterans seeking care who file complaints after being victimized by VA, much like agency whistleblowers.
These veterans get none of the privileges and rights afforded common criminals. VA health care professionals have bragged that "This is not your father's VA," but just what kind of new VA is this exactly?
An answer can be found in recent headlines. Secret trials. No rights. Illegal wait lists. Retaliation against dissenters. Ballooning bureaucracy. No accountability. Rampant criminal behavior that kills and injures veterans…
This "new VA" resembles nothing less than Stalin's secret committees in the USSR and Hitler's tribunals in Nazi Germany. There was no oversight and victims of the policies had no chance at a fair shoot at getting justice.
Here, in many instances, the same veterans who are persecuted for speaking out are the same soldiers credited with taking down those oppressive regimes and the criminal tactics they used to silence dissenters. How ironic?
One Real World Example From A Veteran Victimized By Bay Pines VA Medical Center
Take a look at one real sample Disruptive Behavior Committee letter to a veteran found "guilty" of speaking out from Bay Pines VA Medical Center. This veteran gave me permission to publicize his story, but I did opt to remove some specific identifying information from his DBC letter.
The veteran lodged a complaint after being denied care for seven months and after being denied an opportunity to meet with the director of the facility to lodge his complaint directly. He wrote me saying:
I was speaking to the Primary Care Nurse Brenda Williams, I requested talking to the director. She informed me the director (Ms. Suzanne Klinker) did not meet with veterans at the VA. I was amazed. I told the Nurse I would meet her for breakfast, lunch of dinner, at Waffle House, McDonald's, my house or her house.

I guess this is why the agents came to my residence and I was flagged.
After he said this to the nurse, the veteran reported that VA police stormed his home. He recorded the event on his cell phone, but the police then came over to him, took the phone, and deleted the evidence of their intrusion. They told the veteran he may be arrested and that his claims moving forward would all be "slow walked". Apparently, "slow walked" is a common term used by VA against veterans who stand up for themselves.
Now, a competent professional would be able to determine that seven months of denials of health care was likely behind the veteran's offer to meet the director wherever she would meet him since she refused to do her job at VA. Thus, the veteran was not a threat to anyone but merely desperate for health care.
Since the police action, the director did agree to speak with the veteran directly and he lodged a complaint with her. Only later did the veteran learn he was flagged after he filed the complaint.
Toward the middle of the first page of his flag letter, it reads, "VA staff members, and other veterans, have a right to expect to be treated with respect and courtesy in a safe environment." It also indicates the veteran was flagged in the past, though he denies knowledge of this. Now, why does VA not apply their own rules their own employees? If what the veteran has reported is accurate, it is a clear violation of his right to free speech and to a fair evidentiary trial to ensure his speech was truly threatening, at all.
[Download PDF Disruptive Behavior Committee letter]
Questions About Disruptive Behavior Committees
And what about veterans? Are bad doctors flagged so that veterans can know if their doctor has received complaints? Or, is this a one way mirror scheme like at a cop shop for interrogation purposes?
Can you believe it? After your sacrifice, you are now squaring off against the same oppressive totalitarian policies you fought to destroy merely by complaining at a VA health care facility?
And this flagging scheme is not the only one out there. Another lawyer told me he is aware of a few different flagging systems VA uses that could result in harm to a veteran if they speak out or sue VA after an adverse event.