Controversial 'VA is Lying' Billboards Come To Chicago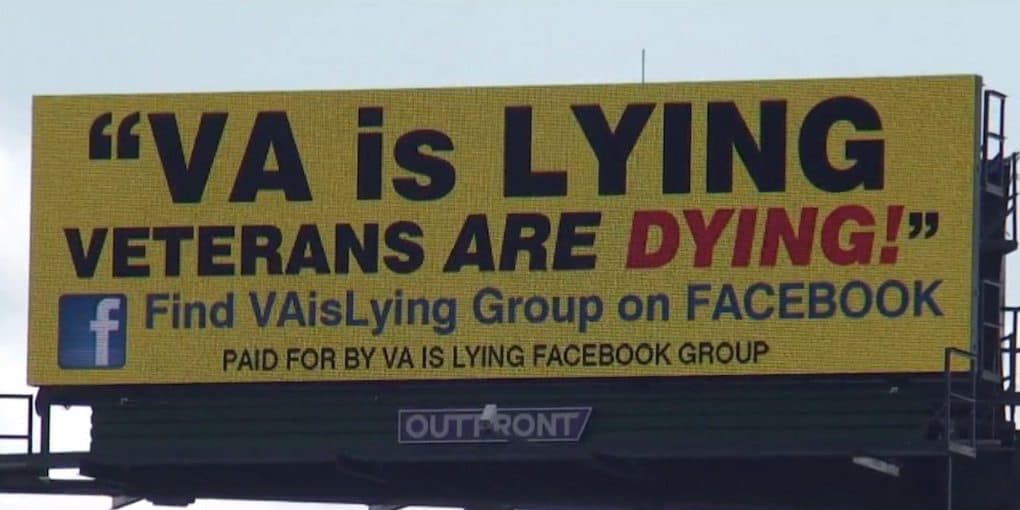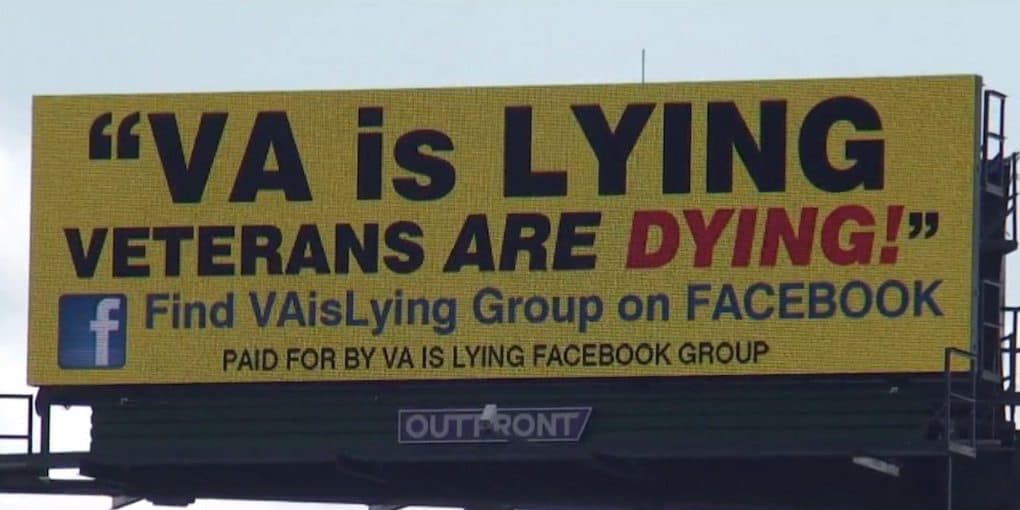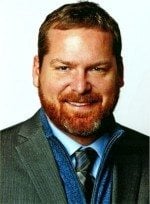 CHICAGO – Starting Monday, citizens in Chicagoland driving down the Eisenhower Expressway will likely see two controversial billboards saying, 'VA is Lying' along their commute. Chicago now joins a growing list of cities where 'VA is Lying' billboards have been erected, including Phoenix, Minneapolis, Albuquerque, Tampa, and Indianapolis.
Since August, Ron Nesler, founder of VA is Lying, has created a national grassroots campaign to counter false claims against whistleblowers and veterans coming from the Department of Veterans Affairs ("VA") executives with billboards. Those billboards express exactly what Nesler and other supports see as a growing crisis within VA, "VA is lying, Veterans are DYING!"
The most recent 'VA is Lying' billboards outside Edward Hines, Jr. VA Hospital ("Hines VA") are financially supported by an ever growing collaboration including current VA employees, current union members, past VA employees, VA Truth Tellers and VA is Lying.
VA Truth Tellers is a group for VA whistleblowers comprised of current and former Federal employees of the agency. The group was founded in response to persistent agency retaliation against whistleblowers. Its primary goal is to ensure veterans get the quality health care and services they are promised by increasing transparency and oversight at facilities nationwide, including Hines VA.
According to Germaine Clarno, co-founder of the group, "We have joined forced with the VA is Lying Facebook group to increase local awareness of problems at the facility." Clarno is a social worker, VA employee, and president of the American Federation of Government Employees (AFGE) Local 781 at Hines VA Hospital. She is supporting all the union members that have come to her with issues of being retaliated against. One of these past employees is cardiologist, Dr. Lisa Nee.
Last year, Hines VA was noted among a list of VA facilities in Illinois as having problems related to the VA wait list scandal. According to Clarno, the wait list problems persist, "Schedules are still being manipulated and the data that the agency puts out is still not reflective of the veteran's experience."
In June 2015, the VA Office of the Medical Inspector ("OMI") confirmed allegations that veterans received substandard care at the facility and that Hines VA doctors falsified records to boost performance numbers.
On July 30, 2015, Dr. Nee provided testimony to the Senate Committee on Veterans Affairs about shortcomings in health care quality at Hines VA and whistleblower harassment. In her testimony, Dr. Nee indicated many veterans received substandard care at Hines VA, and that Hines VA leadership retaliated against her for trying to improve care.
In August 2015, Illinois Senator Mark Kirk wrote an editorial that called for increased whistleblower protection. "Reports of patient abuse, manipulated wait times and whistleblower retaliation are rampant at Hines here in Illinois and at VA hospitals across the country. Our nation's heroes deserve better than mistreatment and neglect at the hospitals and clinics whose mission is to provide them quality care."
Nesler believes the billboard in Chicago is significant, "The Chicago sign shows Americans this issue is not just about disabled veterans. It is about the full sail failure of a Federal agency to conduct business in a safe and honest manner." He says the 'VA is Lying' billboards are part of a nationwide grassroots campaign to raise public awareness about problems in the Department of Veterans Affairs including lying to the public and lawmakers.
Route inquiries to the local contact Germaine Clarno at [email protected] or at (630) 258-5489.
* * *