Did Clinton Administration Create Current Veterans Affairs Dysfunction?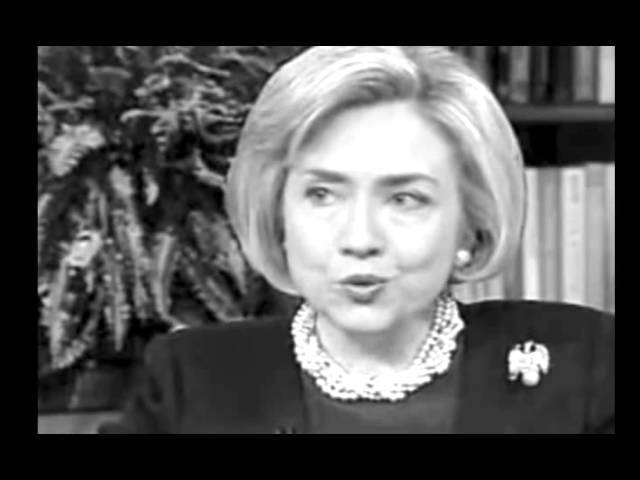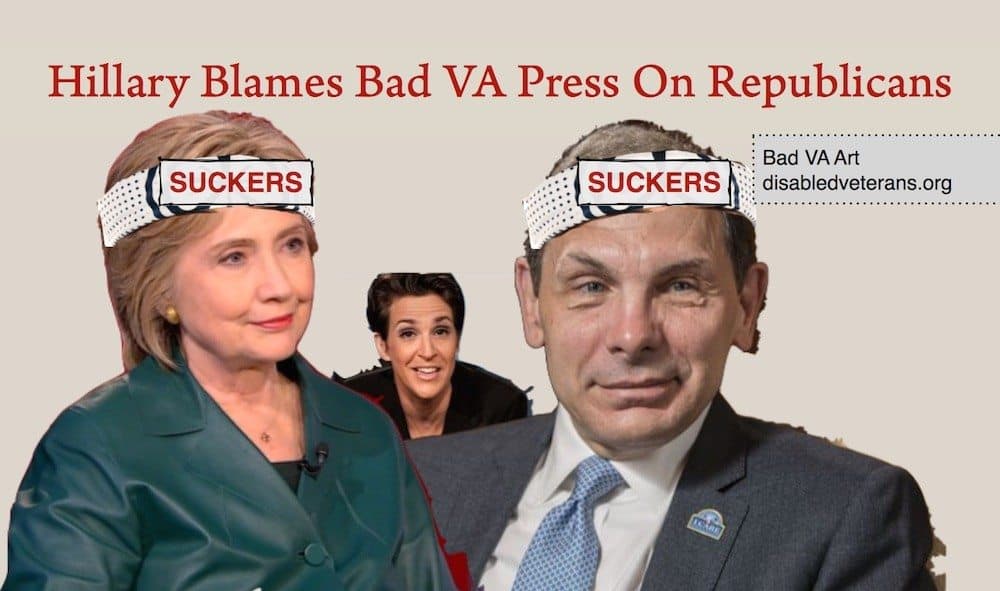 On Friday, Hillary Clinton behaved like the parent in denial that she raised the schoolyard bully on the Rachel Maddow Show. She failed to admit to the real problems facing the agency while pointing the finger at some Republican conspiracy.
Nonsense.
The real story here is that reforms originating in the Clinton Administration are at the core of the problems within VA right now.
Will a Clinton Administration Part II provide the firm discipline the agency needs?
Clinton's Shocking Denials
Yesterday, CNN called out Hillary Clinton for her extreme and shocking denials of reality on the Rachel Maddow Show.
When interviewed about the Department of Veterans Affairs scandals, Hillary Clinton refused to plainly acknowledge the core problems behind proven wrongdoing by agency employees that caused deaths of many veterans.
WATCH: Hillary Clinton's Interview With Rachel Maddow
There is no accountability and corruption is rampant while veterans are dying, but Clinton did not want to talk about that. She instead made numerous accusations against Republicans and made vague suggestions at what she might do if elected, but Clinton said nothing of real substance.
Instead, her interview made me think back to all those kid movies where the parents deny that they raised the bully. And it is always everyone else's fault that her kid is the mean kid.
VA And The Clintons
Most fascinating here is that the Clinton Administration implemented radical reforms we see today. The reforms changed how VA conducted business starting in 1993 that included significant policy changes, layoffs, and reliance on computers over people. It included rules based computing for disability claims and diminishing appeals. The overarching goal was to replicate processes and procedures of large businesses to emulate entities like Disney, circa 1993, at lower cost.
RELATED: A History of VA During The Clinton Administration 1993-2001
Using the Executive Order system, President Bill Clinton created what we have today.
This is a reality I wish Maddow would have researched before the interview given that numerous policies her husband created now need to be undone including those within VA.
Do you know they still have not fully implemented the plan that grew out of the Clinton mandate? The VBMS virtual VA and numerous similar plans all started back then. That plan was put into motion before cell phones were invented, just to give an idea of the duration.
VA is still plodding ahead to implement 20-year-old project management theories based on budgetary realities that no longer fit today's lean society. Crazy, right?
What will Hillary Clinton do that is different from Bill Clinton? Is Bill Clinton really to blame for the current problems resulting in the wait list?
Clinton And The Wait List
The problem certainly appears to have existed and was caused by tying certain bonus structures to performance numbers that resulted in the current wait list scandal that was noted to be a problem as far back as 2002 (taken from VistA Electronic Waitlist Manual).
RELATED: Is Fixing VA Wait List Like Boxing A Glacier?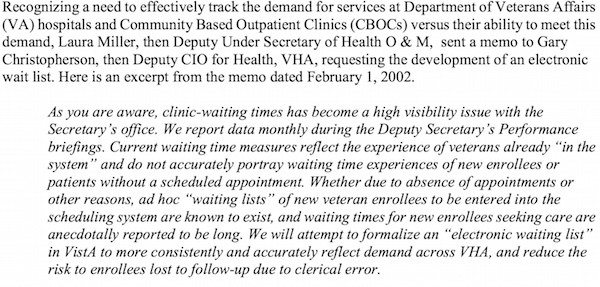 Back To Maddow Interview
On Friday, Clinton had a lot of blame to fling at Republicans without clearly acknowledging agency employee fault for record falsification, whistleblower retaliation, and flouting of the law. She further evaded admitting that the Obama Administration has failed to take any reasonable steps to ensure accountability while veterans were (and still are) dying due to substandard or rationed health care.
Clinton falsely claimed widespread scandal within VA did not truly exist as they are portrayed to the public through the media, "It's not been as widespread as it has been made out to be."
Really?
The interview led me to wonder if Hillary Clinton believes the current scandals within VA are artificial creations of some vast Right Wing conspiracy… Wait a second. I seem to recall her talking about a vast Right Wing conspiracy back in 1998 to evade accountability for a myriad of scandals not limited to the Monica Lewinsky scandal.
So, on that comparison, are the wait list scandal, executive fraud and whistleblower retaliation on par with the Monica Lewinsky scandal? None of the other things matter, and it's all part of some behind the scenes Republican charade? Is there a truly a full Republican assault against VA and its VA employees?
Back To "Vast Right Wing Conspiracy"
Apparently, for this interview, her advisors thought they would dust off the old 'vast Right Wing conspiracy' mantra, update the verbiage a little, and trot it out for a test run on the backs of dead veterans.
Shame on you, Hillary Clinton.
So how can her views be so divorced from reality? What about Senate Democrats calling for major agency reforms due to numerous scandals just this month?
Didn't Senator Richard Blumenthal (D-CT) call for a full DOJ investigation into all pay schemes for all VA executives? Didn't Senator Patty Murray (D-WA) call for major reforms to the Veterans Choice Program because agency employees were still making it hard for veterans to get access to timely care? Didn't President Barack Obama admit that the problems in VA were widespread?
Despite these recent confirmations of widespread scandals and challenges within VA, Hillary Clinton has chosen to take a pass by ignoring reality and blaming the Republicans.
Can you ignore veterans in this manner and expect to win? Let's hope not.
Instead of being intellectually honest, Clinton claimed it was part of a Right Wing ideological attack against VA. And by VA, she is likely referring to AFGE union employees and not the veterans intended to be served by the agency or its employees.
Yes, that is the reason for the majority of the bad press. Clinton claims it is some Right Wing ideological conspiracy to take down and dismantle VA.
In response to her false claims during the interview, CNN decided to spend some time digging in, which makes some sense since CNN was the first major news network to cover the wait list scandal starting at Phoenix VAMC.
Clinton's Plan Via CNN
When confronted by those ignorant of reality who support Clinton's position on veterans, here are some counter arguments published by CNN:
A recent CNN investigation found problems are getting worse
A $67 million report conducted by leading research consultancy companies concluded the VA health care system is "plagued" with problems
Almost in the same breath, Clinton admitted the VA bureaucracy is not working
Clinton said she would use a "SWAT team" to enforce accountability
At the end of the day, Clinton seemed convinced the current level of public outrage aimed at VA is artificial and the fault of misguided Republicans.
I'll call a spade a spade on this one. If Clinton is elected, the union will grow in power and scandals will be swept under the rug. Fundamentally, the status quo will perpetuate and likely get worse. If you allow corruption to fester, it will grow. Those who commit evil and unlawful acts that harm veterans will be emboldened with no accountability.
Of course, there is obviously a movement to dismantle the VA, but it is not a purely Republican creation. It is not new. It is only growing momentum because the President refuses to rein in his minions within VA and other agencies.
PERHAPS OUR NATION IS MATURE ENOUGH FOR A GROWNUP DISCUSSION ABOUT DISMANTLING ALL OR PART OF ANY AGENCY UNWILLING OR UNABLE TO FOLLOW THE LAW OF THE LAND?
Does Choice = Republican?
Now, because I just wrote that, does it mean I am a Republican? Can I be a VA watchdog without being a Republican? Truth be told, I do not want to dismantle VA, but I think I am mature enough to have that kind of grown up conversation about a dysfunctional Federal agency that seems to be more about its employees and its internal research than serving its original purpose.
Eisenhower's Warning
The situation reminds me of Eisenhower's famous speech at the end of his presidency where he warned the American public of two evils. He first warned us against the growing Military Industrial Complex. Lesser known is the second half of his speech were he warned against the evils of the public policies of the academic elite.
This is at the end of the clip above in case you have never heard it:
"Partly because of the huge costs involved, a government contract becomes virtually a substitute for intellectual curiosity…. The prospect of domination of the nation's scholars by Federal employment, project allocations, and the power of money is ever present – and is gravely to be regarded…. We must also be alert to the equal and opposite danger that public policy could itself become the captive of a scientific-technological elite."
Was he warning us against agencies like the Department of Veterans Affairs, where researchers are dependent upon the veteran population for research? Does this research come at the expense of quality health care? Is the public policy elite in control ahead of our courts and the rule of law?
Source: https://www.cnn.com/2015/10/26/politics/veterans-group-va-hillary-clinton/
(DISCLAIMER – I am not a Republican. I am not a Democrat. I am a Veteran.)