Veterans Divided On Hickey Resignation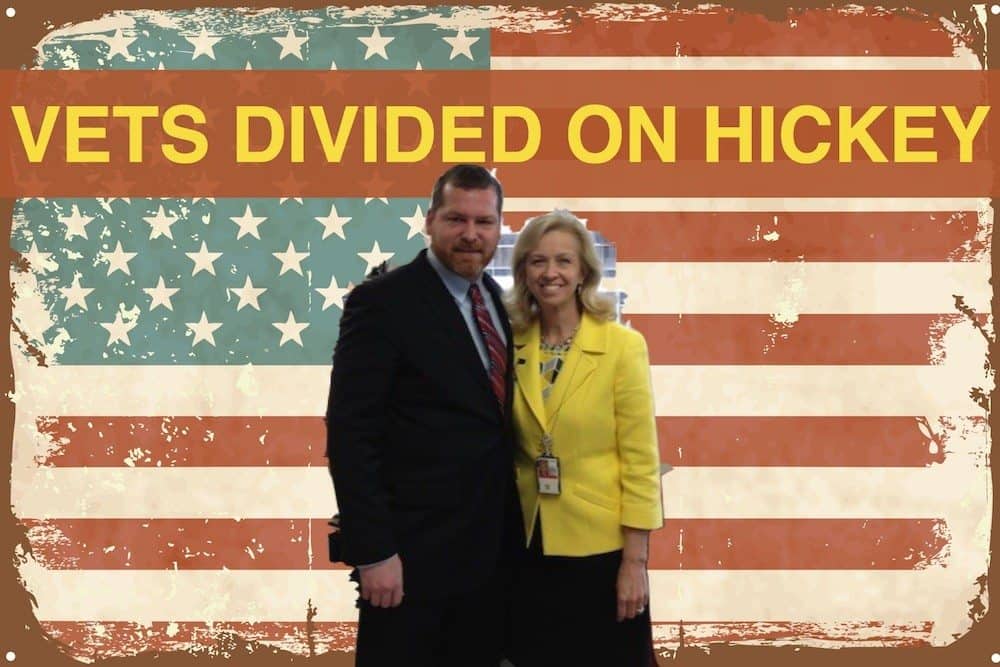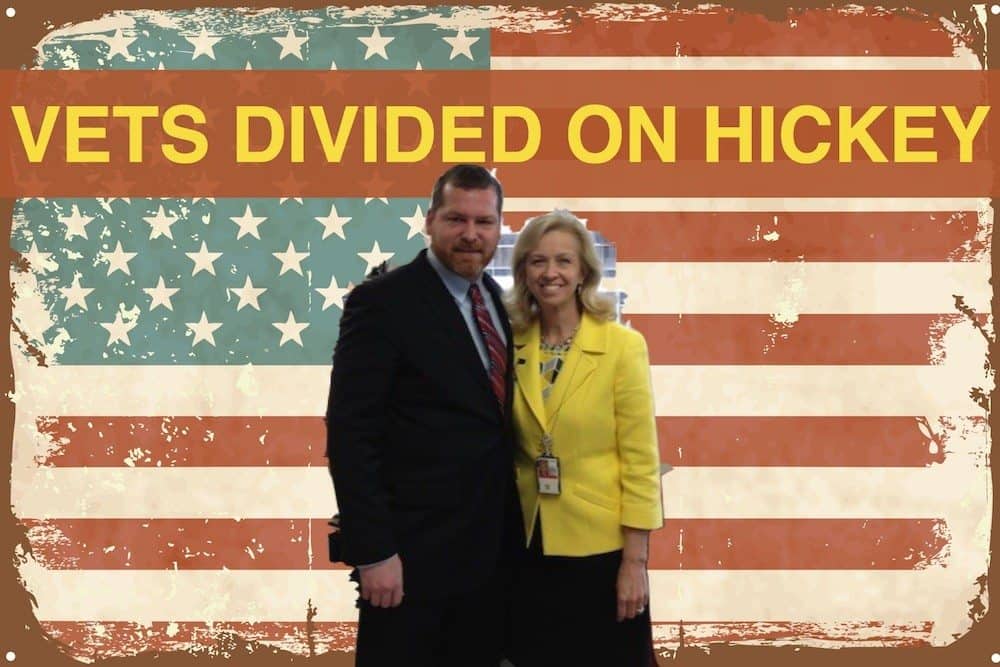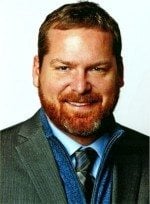 Veterans are clearly divided following the Allison Hickey resignation last week. Some veterans are certainly supportive of her work and direct help with a variety of disability compensation issues. Other veterans felt ignored and are generally dissatisfied with either her performance or involvement in the recent scandal that led to her resignation.
What do you think about her now that she has departed?
RELATED: Diana Rubens Mocks Congress Over Fraud Investigation
Last week, Allison Hickey resigned following revelations that she helped director Diana Rubens circumvent legal checks to secure extra move-pay incentives by ousting a two tour Iraq War veteran from his post as director at Philadelphia Regional Office. Hickey resigned days prior to a House Committee hearing where her presence was requested.
I wanted to take some time to write about my own experiences with Hickey and to include statements from others in the veteran community including my friend Jim Strickland. Some of you may know Jim by his website VAWatchdog.org. He is a longtime friend and the person who got me started writing to help veterans online.
[NOTE: The picture above was in 2013 while I was in law school.]
MY THOUGHTS ON ALLISON HICKEY
I met with Allison Hickey in 2013. She invited me to meet with her in DC to discuss this website and my work on behalf of the veteran community. Allison struck me as a very engaging person with a lot of energy. This energy was contagious for her employees to whom she was devoutly committed. I like her as a person and so do a lot of other veterans.
I warned her during that meeting that she was being misled by her higher level executives about the problems within VA facilities across the nation.
Over the past two years, she clearly reached out directly into the community to refer veterans to those who could help. Sometimes it worked out and sometimes it did not. What I will say is that despite me being quite out spoken on the failures of her department staff, she still even tried to help me twice with my own benefits.
Clearly her decision related to Diana Rubens was questionable and I'm disappointed that her decisions resulted in a blemish on her career. Nonetheless, there is no question that she was one of the only high level agency executives who would reach out to individual veterans in trouble on a weekend.
Immediately after her resignation, VBA announced its new policy that they will no longer allow three way video hearings for veterans getting formal hearings at regional offices. Does this sound like a problem?
This means veterans will be stuck with only local representation instead of being able to find the best attorney across the country, which is what was allowed up until immediately following Hickey's resignation. Instead, they will only be able to be represented by local attorneys or local veteran service officers. In places where no attorneys represent veterans, this will clearly be a problem.
Perhaps this was already in the works?
RELATED: My Meeting With Under Secretary Allison Hickey (2013)
JIM STRICKLAND ON ALLISON HICKEY
The following was written by my friend Jim Strickland, at my request, for the purpose of this article and may not reflect my views or those of the DisabledVeterans.org community:
"I'm in a distinct minority when it comes to General Hickey. I have a lot of respect for her work and I like her personally. I've communicated directly and off the record with her any number of times and she's always been professional and engaged.

"She took on a brutal job that had been run by a career interim USB for ages. People around her were soon picked off one by one as she stayed the course. She had one goal… modernize the antique computer system at VBA. Everything else rode the back of that mission. I believe that she had mission focused tunnel vision and ignored most everything else. That's always a mistake and didn't make her popular.

"When Petzel sandbagged Shinseki, she just kept working on her job and tried to avoid the flak.

"She set up an on-line system to file for benefits. It more or less works fairly well considering it's the VA. That bypassed the veterans service organizations and their infamous VSO recruiters. In DC you just don't ignore the VSO's. Congressional politics as usual is ongoing so no progress has really been made on either the VHA nor the VBA front. The BVA is being crushed and that won't become terribly apparent for 2 more years. The really big show is yet to come.

"She's being pilloried over 2 employees who took what were apparently legal and not unusual executive bonuses. In my civilian career, I'd had my employer purchase my home, provide me with more than reasonable relocation expenses and so on. It's a lot of money but it's relocation SOP in executive circles. Should it be? I won't argue that, I'd say that if it's the common practice, it should be looked at as an ethical or financial debate. That doesn't make it illegal or even immoral. Bonuses and relo expenses are just business as usual.

"The veterans I've talked with about her resignation didn't blink. Most veterans don't pay that much attention to who is in charge, they just want the system to work. Ultimately who runs the show at VA day to day is a sort of whack-a-mole game, isn't it? Blamecasting is a science at VACO.

"I polled a few VA employees to see how they thought this would affect them. Interestingly, I got, "The folks who I work with could care less who the boss in DC is." That's from a trusted high-level employee at a VARO and was pretty typical of other responses. Career VA employees have seen so much turmoil that another senior executive head rolling isn't at all unusual or even newsworthy. Anybody want to talk about Nicholson? Principi? Peake?

"I think that losing her will set the VBMS program back months, maybe years. What was beginning to show promise is lost. Chaos will reign once again…worse than today. We now have another temp in charge and only a fool would want that job permanently. The word SNAFU seems to have been coined just for the VA."
RELATED: VAWatchdog.org
FACEBOOK COMMENTS ON ALLISON HICKEY RESIGNATION
Here are some Facebook comments from veterans in response to my articles about Hickey's resignation this last week. The feedback from the community on my Benjamin Krause Facebook page and the VA is Lying Facebook group is certainly mixed. The following quotes do not necessarily reflect my views:
Roger L Cochran I will say she sent blanket emails out on a regular basis talking about the "progress" being made. So this final email is in keeping with her routine. She may not have been able to say anything about the VAOIG report that recommended disciplinary action against her for involvement with senior executive relocation fraud and unethical misconduct. Congress may still decide to subpoena her.
Barbara Carter Congress should investigate themselves.
Karen Stern Why not? I worked for Brig Gens and Maj Gens, they always had kind word for us, that's what made us work hard to them. She's a woman. We love, don't judge. She made the ROs jump for many of us!
Barbara Carter General Hickey will be known for her advocacy for veterans.
Barbara Carter How she chooses to write her emails is a personal choice. It reflects the mood she may have been in. If the OIG investigated every manager within every government agency, we would have to restaff all agencies. KUDOS General Hickey.
Barbara Carter I just read the OIG investigation report. The two managers should repay the monies received from their moves, General Hickey is guilty of signing off on a request for travel pay. She didn't disburse the funds. Their should have been a checks and balances…
Amber Leonard My head just spun. I thought this was the woman supposed to be helping veterans. Did this lady really do something terribly wrong or is the VA just going after her for helping veterans?
Ryan Grone Hundreds of Thousands of dollars for moving expenses while wounded Marines wait for medical care for injuries suffered in a war fought on false pretenses? I think we can find someone better than that to do Hickey's job.
Karen Stern Hickey is the scapegoat.
Steven Eppley Regardless of the legal issues surrounding her, we should remember her for the many good things she did for so many veterans. I will always remember her in my heart for her assistance in finally receiving my 100% p & the tdiu. Contacting Phoenix and making them do there job. 2 days later last October I was approved. I wish I knew her current e mail. So I could thank her again. If she is reading this, thank you from the bottom of my heart. Most of my time is spent in bed or a recliner chair as I can't get around easily anymore.
Jaina Bledsoe I don't care if she sprinkled the office with magical pixie dust while wearing a yellow tutu, as she moon walked right out the front door. If I were her, I'd be happy to be gone and no longer have to beat my head against the same brick walls. Maybe she'll turn whistleblower now that she's gone… hope so!
Barbara Carter I still commend Mrs. Hickey for her advocacy. She should kick her feet up, have a drink and try to forget the VA nightmare. I am sure the good outweigh's the bad. Kudos Mrs. Hickey.
Thomas Clement I know a lot of vets might disagree with me but Hickey and McDonald were just buying vets favor during do time of massive scandal and corruption. Sure they pushed through a few claims but in the end she did nothing to fix the system. I personally sent her proof my RO was pressuring vets to close old claims and she did nothing. Good riddens.
Robert Stahlnecker All i can say for sure is. Rubens , Fillopov and service center manager Ms. Paul fucked my world up and hickey did zero to get it in the open. My life simply doesnt matter when the va gets paid instead… the entire philly ro needs another turn over… corruption runs rampant there… Maureen Kent could also be part of veterans abuse cover up…
Gary Bass "One Hand Washes The Other." nothing will change until laws are passed and some of these criminals go to prison for their juvenile and bullying behavior. We are talking about human lives at stake here. This is not a who gets to join the Country Club moment. The VA has been ran like a Private Club for VA SES "civil SERVANTS" for far too long. Shut down the mafia.
Brian Lewis I suggest looking backwards to see what connections are lurking in their pasts.
Ronald Nesler These people truly believe that their glowing "success" is totally unrelated to any form of service to the veteran. They are down the rabbit hole, where VA is LYING and Veterans are Dying, while they posture for the media and heap phony accolades upon…
Reuben Castro Acosta VETS WHAT DID YO EXPECT FROM HICKEY I GIVE RATS REAR ABOUT VETS ????????????????????????????????????????????
Kevin Rapier A true VA employee that actually cares about veterans would not look for or want any recognition. They would know their is another vet that they could be helping and just move on to the next. Time spent on "glorifying" there "accomplishments" is just grand standing for themselves. It does absolutely nothing for the Vet standing on the sidelines waiting for help.
Chris Kyalo There is nothing wrong with speaking about accomplishments after all, when God finished creating the world. He said, it is good and then he rested. It's human nature. Something isn't being put in light but I am sure it will come. I stick with Hickey to the end.
Ronald Nesler Chris Kyalo I have interacted extensively with Gen Hickey, she is NOT any worse than most government officials, but she isn't a goddess either. She was directly behind the end of informal claims, which did devastating harm to many veterans. She supported it, and she wouldn't even discuss it.
Roger L Cochran She also pushed for rapid implementation of the EZ forms and use of online apps which REQUIRE the claimant to acknowledge they are waiving the duty to assist rights under VCAA. The VA underbelly (all those upper level useless management people who seem…
Chris Kyalo I did not know that. Working for her at one point her emails were; "approve all claims where you can prove. Do not deny any veteran compensation". Her words and she always would really up morale. I remember VSR's were needed and only could be afforded on temporary basis. While she might be to blame the Congressional members did not make it easy for her and the institution was used as a battling ground.
Vicky Katzenberger Olson I think, in Hickey world, that patting herself on the back makes her feel less like a piece of crap. How many claims became backlogged under her watch & how many blanket denials are waiting on appeal. Yep, you did a great job for the government – not the Veterans
Roger L Cochran Another sore spot is the imaging of c-files and then destroying the file. Why in the world would you want to destroy those records without making multiple repeated attempts to give it to the veteran? As negligent as the VBA demonstrates on a daily basis, I can only imagine how many crucial pieces of evidence are being destroyed.
Calvin Winchell When they won't show you your c-file, medical records, or anything else is because they are concealing facts they do not want you to see! Freedom of information is a crock of warm shit!
Randy Van Geest It is a sad day
Shawn Smith Amazing the results you can claim when you just toss some in the shredder and stamp denied on the rest.
Kevin Michael Phelps I guess I thought she was on our team all this time she helped me and other Vets here. Guess the truth is out and makes me look foolish for sending her other Vets and telling them she would help quickly.
Debbie Hess Why haven't I seem this on the news? ???
Kevin Olivera I was just about to share with General Allison Hickey, a summarized account of the issues and errors that occurred in my VA claims. Who should I send this information to if not her? My VA claims have been heavily affected by what appears to be gross mishandling due to apparent whistleblower retaliation, that has continued from military service to present.
Barbara Carter General Hickey is a true advocate for veterans in spite of allegations, she was a true advocate for veterans.
Brian Lewis Maybe she was scared of her staff touching all that paper because it could have caused paper cuts creating a dangerous work environment. grin emoticon.
What do you think about Hickey and her work for veterans?
Check out more veteran comments about Hickey on Facebook:
https://www.facebook.com/benjaminlkrause