Why Won't VA Track Its Government Contractors?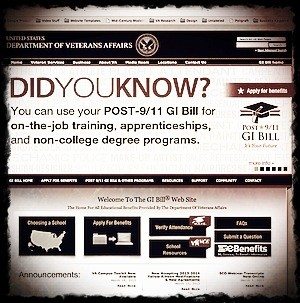 At double previous estimates, the price of the new Post 9/11 GI Bill software platform will cost American taxpayers big time.
It will cost Americans in lost revenue. It will cost veterans in lost benefits. It will cost everyone in a further loss of confidence in our elected officials and in the Dept. of Veterans Affairs.
Initially, Congress was not warm to the idea of developing a new software platform for the processing of the new GI Bill claims. Many Congressman asked, "Why, the old one works, right?"
To this, Dept. of Veterans Affairs said that a new platform would really benefit veterans using the GI Bill by increasing processing speeds. The also said it would only cost around $130 million.
That was 5 year ago. So far, VA has yet to deliver.
This past February, Roger Baker, VA CIO, had to sit before Congress to explain why the GI Bill platform does not fully work yet and why it was over budget.
After 5 years, the GI Bill software platform cannot fully process even half of the Post 9/11 GI Bill claims. To make matters worse, it is not complete and has already cost taxpayers over $263, more than double the initial estimate from VA.
Improvements to the plan are on hold for 2013 while the Veterans Benefits Administration is busy chasing its tail while working on paperless disability claims.
Oh, and let's not forget the electronic medical record debacle. VA and DoD have collectively spend $1 billion of the $4 billion budget, only to learn that the agencies need more data to continue. They had yet to develop a strategic plan after spending $1 billion on planning and government contractors.
That is the background to this post.
After watching Roger Baker testify to Congress, I decided to find out for myself what in the hell is going on. So, like any good Samaritan, I filed a Freedom of Information Act (FOIA) request with the VA Central Office.
Here is what I found out yesterday after VA called me.
VA still does not have a list of government contractors who work on the GI Bill software program. There is no document that contains all the names of the government contractors who have overbilled American taxpayers by more than double.
Does this seem odd to you?
Just one month after a Congressional investigation by the House Committee on Veterans Affairs, the VA has yet to compile a simple list of the government contractors and subcontractors.
To make matters worse, the FOIA official who contacted me did not even know what I was talking about in my FOIA request – "list of GI Bill contractors? Why would we have that?"
Instead, he sent me an email link about the paperless medical record DoD/VA debacle. Way to go. Equally as bad, but that's for a totally different part of the VA.
The problem is really with the VA and how it fails to manage its government contracting operation.
Six months ago, I asked for a contract on a company called Affiliated Computer Services. Affiliated Computer Services failed to have its contract renewed. The contract was for the VBMAPP program, which relates to the whole "going paperless" process.
Affiliated received a $50 million contract to process many of the new disability claims coming in the door. For undisclosed reasons, VA refused to renew the company's contract after one year.
When I asked VA's FOIA office if they had a list of all contracts Affiliated was involved with, they said "no." When I asked for the list VA keeps of all contractors that could be considered "bad contractors," the FOIA office told me they do not have to make records for things they do not already track.
In September 2012, W. Scott Gould told Congress that they do have a list of bad contractors, well, kind of. His statement was more of a spin, so it was hard to tell exactly what he was saying to Congressman Marlin Stutzman. Let's suffice it to say that Scott Gould at least implied such a list does exist.
Now, my FOIA request was in November 2012. Here is what the VA FOIA officer told me. He said that, because they do not already have such a list, that he is not required to make one for me. And then he got off the phone.
Keep in mind, I was asking for exactly what Congressman Stutzman was told existed two months earlier.
Interesting, right? The VA has no list of contractors who do not perform within the specifications of their contracts.
So, it should go as no surprise that the VA would not have a list of government contractors who have overbilled and under delivered the new Post 9/11 GI Bill software system.
I guess when it comes to veterans' claims for benefits, the VA does not need to waste its time tracking things like company names and bad performance.
Next election cycle, I think it is time as Americans that we move away from our dual political systems. Both the Bushites and the Obamacrats have failed veterans.
I think it's time that we grow up, and set up a part of only veterans for political office that will actually take action for the people and the Constitution we all swore to uphold and protect.
________
My Post 9/11 GI Bill FOIA Request
For those curious about what a FOIA looks like, and curious to see VA's initial response back to me, I have included the emails below. Use this as a template if you like.
VA's response to me had nothing to do with my request. I even included a link to the Congressional hearing I had referenced, so that they would know exactly what I was talking about.
Instead, they sent a link to the electronic health care records program that is not defunct. I have no idea how they could get these confused. Maybe there are just too many zeros once a program eclipses $100,000,000.
Here is my FOIA request to VA:
Mr. [blank],
I hope you are doing well. As a journalist, I would like to make a Freedom of Information Act request for the following information.
1) The list VA maintains of the primary Contractors who were part of the $263 million GI Bill software platform initiative.
2) The list of approved subcontractors who worked on the same program.
This is a link to particulars of the program referenced during a Congressional subcommittee hearing that should help you identify my request:
https://democrats.veterans.house.gov/press-release/subcommittee-examines-post-911-gi-bill-claims-processing
Thank you,
Benjamin Krause
________
Here is VA's response:
Mr. Krause-
I'm unclear about your request.  Are you looking for a specific contract title?
Here's the most recent news available regarding the software platform initiative. https://www.healthcareitnews.com/news/dod-va-expedite-iehr-rollout
Please let me know in greater detail what exactly you're looking for.
Regards,
VA FOIA Guy