DHS Talks With VA To Divert VA Health Care Resources To Border Have Ended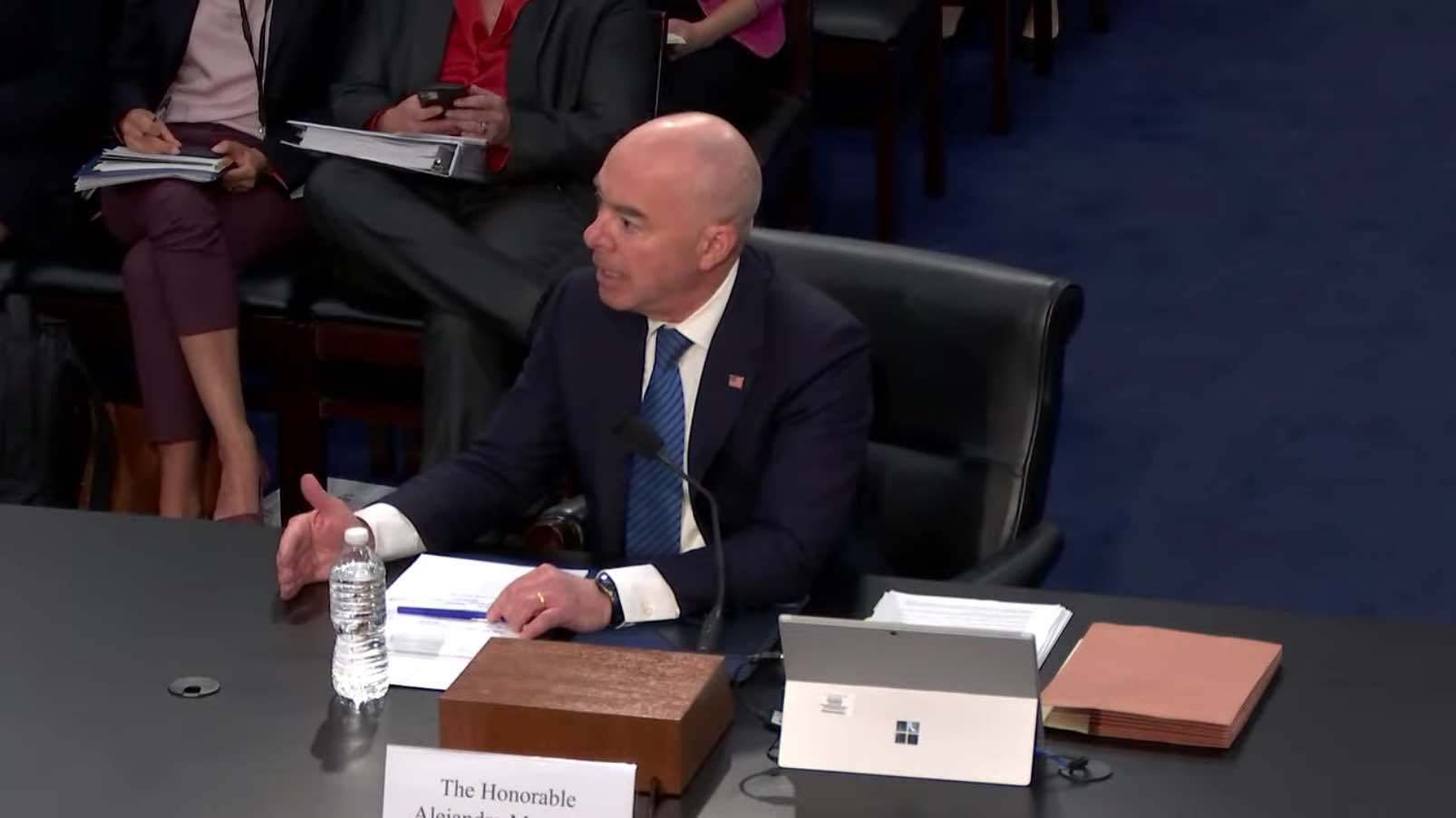 DHS walked back its admission that talks were underway to divert VA health care resources to the border to care for illegal immigrants.
In case you missed it, VA has a fourth mission since it's done such a bang-up job on its other three missions – that fourth mission is to care for the public – and it apparently includes helping illegal immigrants and a variety of other people and entities who are not veterans.
Some of you may be about as surprised as I was to learn DHS and VA were in talks to divert VA resources to help with the border crisis. Given that VA lacks sufficient resources to properly care for its veteran population, the proposition to now also care for illegal immigrants seems patently absurd.
But "absurd" is the world we live in right now. Up is down. Left is right. Good is bad. Bad is best. That is where we are at as a country.
Two weeks ago, DHA head Alejandro Mayorkas confirmed his agency was in talks to diver VA resources, doctors and nurses to help care for illegal immigrants. The admission came during a House Appropriations Committee hearing. Rep. Ashley Hinson, R-Iowa pressed Mayorkas.
"We've heard that the administration is considering removing health care providers from the VA, for example, doctors and nurses whose taxpayer dollars and their intent is to help care for our veterans," Hinson began. "So my question to you today is yes or no: Is the Department of Homeland Security planning to reallocate resources, doctors and nurses from our VA system intended to care for our veterans to help care for illegal immigrants at our southern border?"
Following multiple attempts to evade answering the question, Mayorkas admitted members of his team were in talks with VA to do exactly that.
"Congresswoman, the resources that the medical personnel from the Veterans Administration would allocate to this effort is under the judgment of the secretary of Veterans Affairs, who prioritizes the interests of veterans above all others for very noble and correct," Mayorkas responded.
Key in on his use of "resources that the medical personnel from the Veterans Administration would allocate to this effort is under the judgement of the secretary…"
After being pressed a another time by Hinson, he coughed up the goods.
"I have not personally. But of course, our teams, our personnel have. And I'd be very pleased to follow up with you," he responded.
Veteran Access To Care Not Affected, Sec VA Says
According to GovExec, Secretary McDonough stressed to Congress that the agency's "fourth mission" deployments – now dubbed providing care to the public – would not require any sacrifices from veterans.
"In no case does the 4th mission come at the expense of veteran access to care," the secretary said, adding that he would consult with Congress on any potential new assignments in that category.
The secretary's denial of the impact of the Fourth Mission on veterans is becoming less shocking.
Every day, veterans are underserved nationwide. Does the secretary think America will believe that when money is spent on non-veteran related activities that veterans missed out on support?
It reminds me of the hearing he testified in likely the same day in April. There, when discussing the troubled EHR transition, the secretary promised that he would not continue the rollout if it put veterans' lives at risk.
During the same hearing, lawmakers in both parties provided the secretary with example after example of veterans whose lives were at risk. Even the IG confirmed veterans are at risk due to the lack of stability and predictability of the new health record system that mysteriously crashes during software updates.
The secretary kept repeating the obvious Jedi mind trick right to the face of Congress – these are not the droids you are looking for.
Everyone knows dysfunctional health record systems put people at risk of injury or death in any hospital, but McDonough simply kept talking around it.
Likewise, when you have a limited budget, as with adding a Fourth Mission, perhaps, when you take funds from Mission 1 and place them in Mission 4, the First Mission has less funds.
3 minus 1 is not 4.
It would seem the secretary would have us believe 3 minus 1 is 5.
New math.
It reminds me of the time one of our past presidents landed on an aircraft carrier to announce the end of the Iraq war in 2005 that lasted another five years (give or take).
Or, how about the time VA tried to diminish, downplay, and outright lie about the scope of the wait list scandal where many veterans were killed by bureaucratic bungling and gaming of the health care system in 2014?
Does anyone notice any similarity in the messaging from 2014 and now? Do we know what officials were in positions of authority in 2014 and now that might explain the similarities?
RELATED: McDonough Bio
RELATED: A Fatal Wait: Veterans Languish And Die On A VA Hospital's Secret Wait List
RELATED: Over 100,000 Veterans Affected By Wait List Scandal
RELATED: National Media Coverage Of The Veterans Affairs Wait List Scandal
Lawmakers Move To Block
Republican lawmakers moved to block the attempt to remove resources from veterans by introducing a bill to "prohibit the use by the Department of Veterans Affairs of funds to provide emergency assistance at the southern border of the United States resulting from the repeal of certain public health orders, and for other purposes."
During a later hearing, Mayorkas indicated the agency is no longer seeking VA support for its border health care scheme. "We are not making that request of the Veterans Affairs Department. And the Veterans Affairs Department will not be allocating resources to the border."
The reversal came after Republican lawmakers raised holy hell over the news.
House Republicans demanded DHS not divert VA health care resources to work on the border in a letter submitted to the Secretary.
"Moving VA medical staff away from our veteran's healthcare needs to examine illegal immigrants is a recipe for disaster," the letter states. "Wait times for a veteran to see their doctor can average 22 days and reach as high as 42 days. This is unacceptable mismanagement of federal government resources by the Biden administration."
"Moving resources away from serving the needs of our veterans to supporting a foreseeable and avoidable crisis at our southern border is unacceptable," Sen. John Boozman (R-AR), who introduced the Senate bill, said in a statement.
The Biden administration did send VA workers to the border to provide vaccine shots to immigrants during the pandemic build up.
Recent DHS and VA History
Last summer, DHS and VA first announced an initiative to work together at the border "to support our Nation's noncitizen service members, veterans, and their immediate family members of service members."
"The Department of Homeland Security recognizes the profound commitment and sacrifice that service members and their families have made to the United States of America," said Secretary Mayorkas. "Together with our partner the Department of Veterans Affairs, we are committed to bringing back military service members, veterans, and their immediate family members who were unjustly removed and ensuring they receive the benefits to which they may be entitled. Today we are taking important steps to make that a reality."
"It's our responsibility to serve all veterans as well as they have served us – no matter who they are, where they are from, or the status of their citizenship," said secretary McDonough. "Keeping that promise means ensuring that noncitizen service members, veterans, and their families are guaranteed a place in the country they swore an oath – and in many cases fought – to defend. We at VA are proud to work alongside DHS as to make that happen."
As a purely strategic move, to justify expanding VA health services to illegal immigrants at the border, it seems plausible that VA could create messaging around its focus on deported veterans. From there, if a crisis were to suddenly get worse, it would be easy to justify VA stepping in as medical heroes… since they were there anyway helping deported US veterans get health care.
Seems legit, right?
As a point of reference, per NBC, a 2019 GAO report suggested ICE deported 240 veterans in the past 5 years.
Fact Check Spin
I noticed a fact check spin attempt by the Independent Record to move the narrative from DHS talking to VA about allocation of resources to the border.
"No. Medical specialists at Veterans Affairs facilities, including Montana's, aren't being deployed to the Mexican border."
But that was not the issue being debated, which included DHS confirmed talks to use VHA resources at the border under direction of Sec McDonough.
The issue was whether VA would allocate resources to the border, not whether it was currently deploying medical specialists to the border.
As you read the article, you'll notice the subtle bait and switch.
Sen. Jon Tester (D-Mont) asked VA head of human resources Gina Grosso about it.
"So the question is this, have you or any VA representatives had conversations, or plan to have conversations, with the Department of Homeland Security to deploy VA personnel at the border to address issues resulting from the repeal of title 42?" Tester said.
"We have not been in any direct discussions with DHS on sending our employees to the border," Grosso said. She went on to say the VA has given vaccines to U.S. Custom and Border Patrol staff, as well as U.S. Immigration and Customs Enforcement employees. "I would like to share that we are very proud of the work we've done helping other federal agencies that are on the border."
The Independent claimed the exchange showed, "Grosso confirmed there were no such plans."
Given my experience AS AN ATTORNEY dealing with some rather stealthy liars and spin agents within VA and elsewhere, the spin deployed by the Independent was rather pedestrian, but it likely did convince a few readers who only read headlines.
First, there can be no debate DHS was talking with VA about using VA personnel for purposes other than caring directly for veterans.
Now, focus on what Grosso said to the senator.
No "direct discussions with DHS". Were the VA – DHS discussions, perhaps, indirect discussions with DHS as suggested by Mayorkas remarks to Congress? It is obvious some kind of talks were going on involving use of VA personnel at the border.
And why are VA personnel giving vaccines to employees of other agencies? Is that consistent with your understanding of what VA is supposed to be doing?
It appears VA is pushing to expand its mission beyond what was originally contemplated by the legal framework that is now dubbed the Fourth Mission.
VA Fourth Mission Is Real
VA does have a Fourth Mission, and the pandemic opened the door to it to rollout in full glory under President Donald Trump at the beginning of the lockdown in March 2020.
For some background, certain members of certain political and policy spheres have aspired for the Department of Veterans Affairs to become the model for America's 21st Century socialized health care model.
That dream was largely nuked in 2014 when the country learned the emperor had no clothes.
Due to corrupt bureaucrats and budget shortfalls, VA employees gamed the system by forcing veterans to go without desperately needed health care for years. The agency allowed shadow wait lists and other strategies to game the books.
In the end, the scandal that started in Phoenix became a national scandal. Veterans died. Obama administration leadership and the former IG team white washed the scandal. It's worth noting the current Secretary of Veterans Affairs was the White House chief of staff at the time.
The scandal resulted in VA losing its grip on the dream leading to the current community care model enjoyed by at least some veterans.
Suddenly in 2020, we started to see the rollout of the Fourth Mission:
VA is starting to execute its fourth mission of supporting the national COVID-19 response, VA Secretary Robert Wilkie said March 30 during a radio interview.

The department recently announced it opened 50 beds to non-Veteran, COVID and non-COVID patients to help New York City.

The decision came after the state of New York requested federal assistance from the Federal Emergency Management Agency. Wilkie said VA also received a request for assistance from New Jersey.

Wilkie said as governors make requests for assistance, VA stands ready to respond.

The secretary said VA is also helping on the national level. VA received an order from FEMA to take over the pharmaceutical purchase and supply system. VA will be the "central supply station" of medicine and oxygen during the COVID-19 response for FEMA, the Department of Homeland Security, the Department of Defense and the Coast Guard.
Wilkie promised that veterans would still come first, and that services to the public would only be available if there were excess capacity.
The Fourth Mission was supposedly created with the VA/DOD Resources Sharing and Emergency Operation Act (Public Law 97-174). VA basically is a backup to DOD for health care services in the event of a war or national emergency.
Those curious about VA's current policy on its role should read up on VHA Directive 0320.04.
On May 9, 2022, after the dust up with Congress, VA published a notice, "As of May 9, 2022, there are no new missions."
Mission accomplished.
What do you think? Is this the best use of agency resources? If VA ever were to do it, would the VA personnel treat the illegal immigrants the same way as veterans are treated?
Is this a secret 4D chess move to actually scare illegal immigrants into leaving if given the inadequate care many veterans complain of year after year?
RELATED: VA Did Not Clean Endoscopy Equipment Properly Before Reuse (thanks Elf)
Sources:
https://www.foxnews.com/politics/biden-mayorkas-veterans-affairs-resources-southern-border-migrants
https://www.washingtonexaminer.com/policy/administration-ditches-plan-to-send-va-staff-to-help-at-border-after-gop-outcry