Federal Government Shuts Off Google Adwords Campaign For VA.gov After 'Blatant Mismanagement'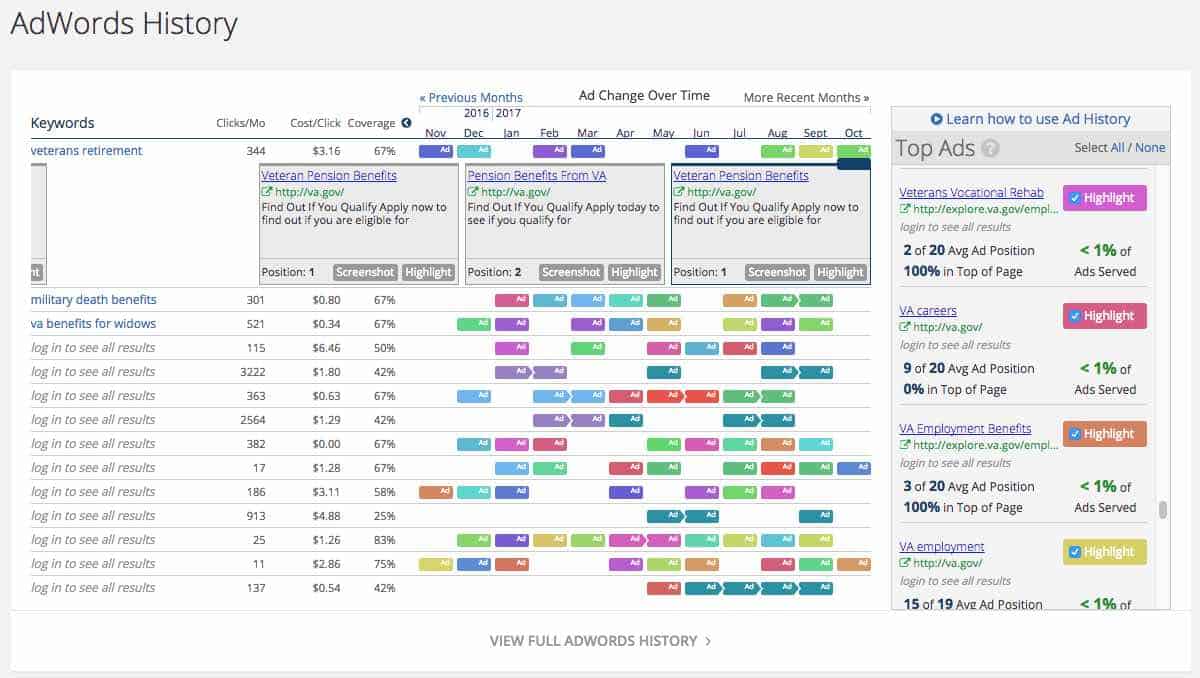 One federal agency has apparently shut off the VA.gov Google Adwords campaign after the "blatant mismanagement" was exposed by DisabledVeterans.org.
Yesterday, I exposed that the Department of Veterans Affairs is using tens of millions in taxpayer money to fund its propaganda and public affairs operations directly and through its government contractors.
RELATED: VA Spends Millions On Spin-And-Stonewall Machine
The federal government's use of messaging in this manner allows VA to manipulate and control messaging and consistency of message. As an example, I highlighted where VA and its VA Public Affairs arm, called Office of Public and Intergovernmental Affairs, spent an estimated $24,000 per month on Google Adwords to drive traffic to their own website without public scrutiny.
Today, one day later, all VA.gov ads on Google Adwords were apparently shut off.
VA was asked but did not provide immediate comment for this story.
RELATED: How To Beat Veterans Affairs SEO And Advert Machine At $24k Per Month
How Should VA Spend Its Money?
Ask any American where they would rather have their taxpayer dollars allocated: to the direct care of a disabled veteran, or to the known tax dodger Google, a multinational corporation that avoids paying taxes by moving to Bermuda?
How many advertising firms are on VA's payroll right now rolling out online media campaigns? The information is not public. Meanwhile, we do know how many veterans still commit suicide each day after five years of VA spending over $20 million on pretty online advertising campaigns. The number is still about twenty, which is about what it was over a decade ago. Twenty veterans kill themselves each day.
So where is the return on investment after five years?
RELATED: Forbes – Google moves to Bermuda to avoid paying taxes… again
One government official, commenting under condition of anonymity to DisabledVeterans.org, stated,
"I find it troubling that after years of scrutiny and scandal, VA leaders would still trade off direct services to veterans for ceremonial campaigns and social media attention. The focus needs to be on delivering on the mission, not pretending to. This is blatant mismanagement of taxpayer dollars on objectives that lack oversight or evidence of a return on investment."
This official is not only referencing the Google Adwords campaign but also the numerous suicide awareness campaigns and related costing taxpayers big bucks while VA has an active shortage of doctors and psychologists.
JR Reingold And Its MakeTheConnection.net, VeteransCrisisLine.net
Two examples are MakeTheConnection.net campaign and VeteransCrisisLine.net programs that cost taxpayers tens of millions, neither of which have substantively reduced veteran suicide from about 20 suicides per day, which has been the general average for years.
According to a partial FOIA release, MakeTheConnection.net cost taxpayers $6.3 million the first year and $3.6 million and $3.7 million each year between 2013 to 2016. This included advertising design work, website design, and video work.
Likewise, the VeteransCrisisLine.net cost taxpayers over $3 million in the first year to create the campaign and millions in subsequent years to update and maintain. It probably cost the same for each subsequent year, too.
The company providing these advertising campaigns is JR Reingold, an advertising company located in Washington DC. USA Spending indicates JR Reingold was awarded $102 million in contracts, mainly for services to VA, from 2013 to 2017.
Did these projects for VA make a dent in veteran suicide? How do we know? Why are the measurable results not public with that kind of investment?
RELATED: Veteran Commits Suicide By Fire Outside New Jersey VA
It is worth noting the VeteransCrisisLine.net campaign lacked the funding and/or permission to set up its own phone line, and had to share a line with another agency that sometimes resulted in veterans calls going to inappropriately trained operators. In one instance, one distressed veteran's call was allegedly routed to India.
Was VA too strapped to set up its own phone line for suicidal veterans?
Online Campaigns Are The Easy Wins For Bureaucrats
Bureaucrats' search for easy wins to give VA a facelift has created a vacuum filled by Beltway Bandits capitalizing on the desire to generate those wins through "clicks" and "likes" on social media at a cost. When you set the arbitrary goal, this is easy to measure.
But how did "clicks" and "likes" help stop veteran suicide after $20 million in spending to government contractors getting rich while veterans eat lead?
This approach of the quick win takes the form of tens of millions of dollars allocated for veterans being directed away from direct services to these online campaigns that result in a lot of bells and whistles without a measurable return on investment or oversight.
These campaigns confuse the public by creating a picture of veterans and their suffering and their need for services when in fact they are redirecting funds away from the direct services these same veterans desperately need.
Further, these social media and online media campaigns have been going on for years under the Obama Administration, and taxpayers have been fleeced by advertising firms promising great outcomes without directly improving conditions such as veteran suicide.
How many countless lives would have benefited had VA used its millions to hire psychologists instead of Mad Men style advertisers?
Veterans need doctors, not Mad Men.
.@realDonaldTrump @PeteHegseth @JakeLeinenkugel - #Veterans need doctors, not #MadMen advertisers, millions wasted
About Federal Government Use Of Google Adwords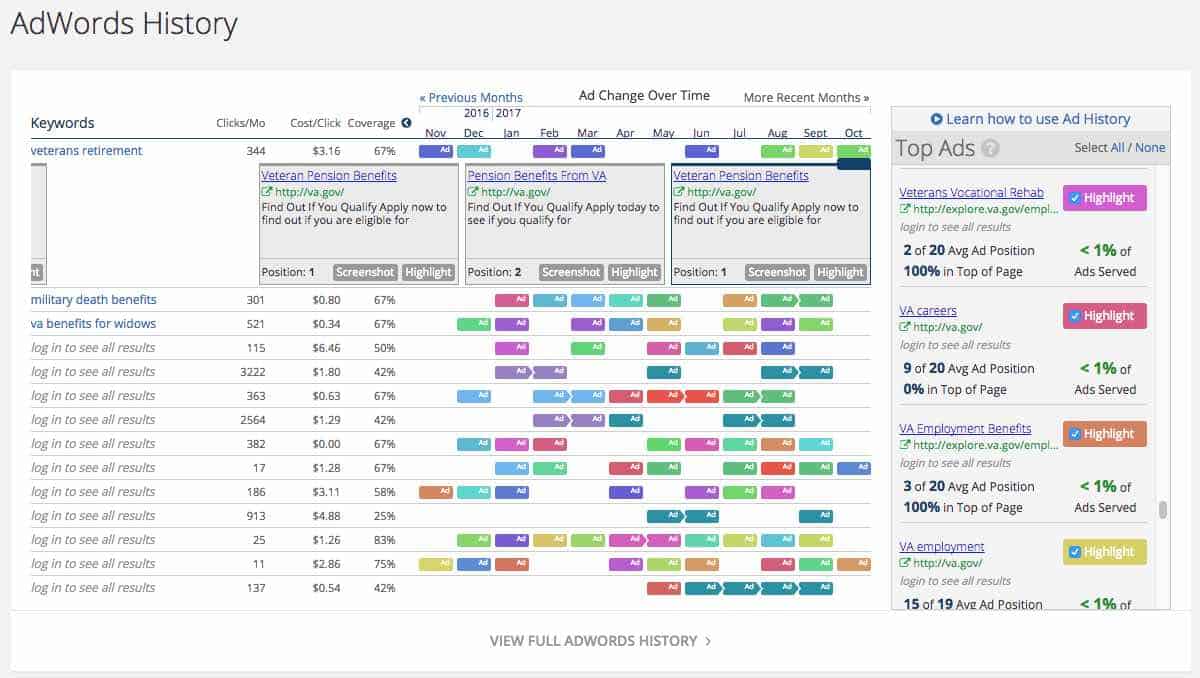 This type of overt advertising by the federal government, VA.gov specifically, impacts small publishers like DisabledVeterans.org, VeteransLawBlog.org, and others from gaining the same recognition and space on Google whenever a disabled veteran searches for a topic like Veterans Benefits, Veteran Vocational Rehab, or Veterans Disability.
It is important to note that both small publishers noted above are owned by disabled veterans who became veterans rights attorneys after separating from the military. In an overt way, VA is competing against small businesses created to serve veterans VA fails to serve well – the disenfranchised and denied veterans many inside VA consider the fringe.
RELATED: VA Secretary Admits 'Adversarial' Treatment Of Veterans
Search Term "Veterans Benefits"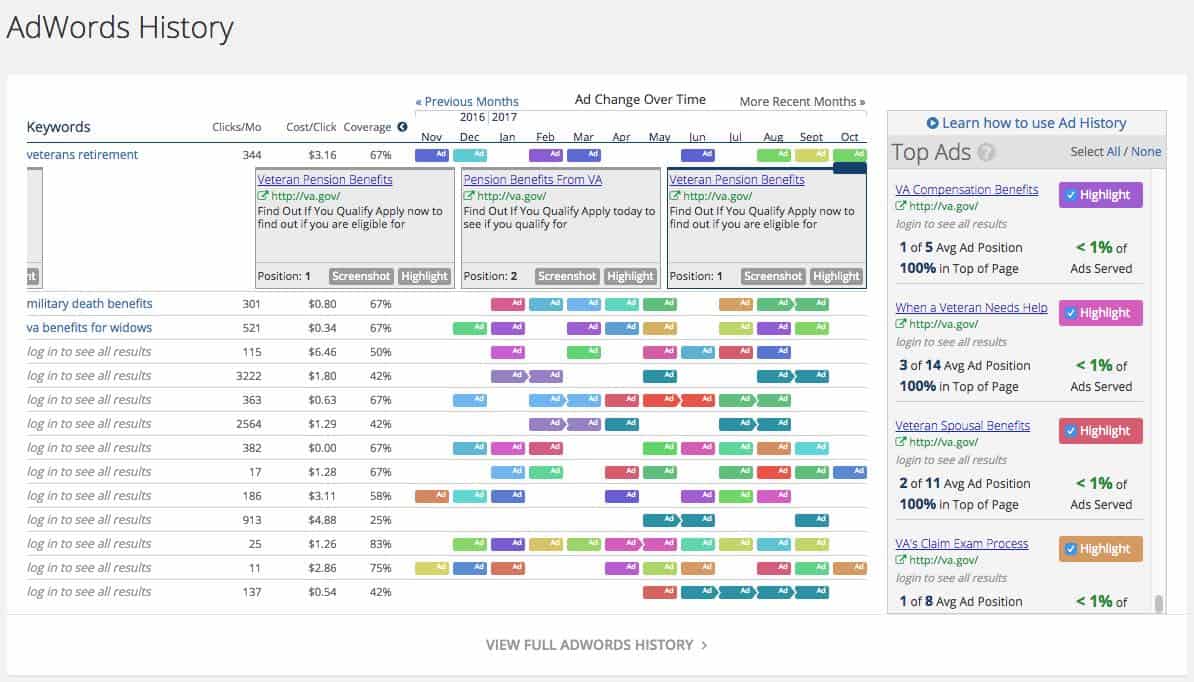 Take the example of the linked search above for "Veterans Benefits". When you do a search for this term, you will see numerous nonprofit organizations showing up at the top 4 positions as an advertisement.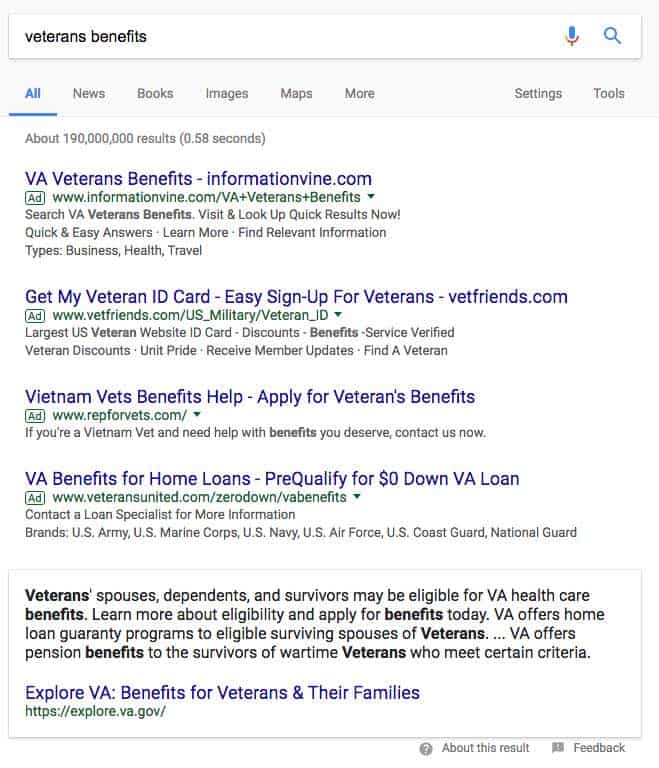 Search Term "Veterans Vocational Rehab"
When we looked at a normal keyword VA paid to advertise for, "Veterans Vocational Rehab," all VA.gov Google ads were removed from the search in their entirety.
I first noted VA dominated searches of that and a similar search term for the past couple months. Now, VA.gov ads do not show up, at least for now. If you note the top image of this article shows that VA was advertising for "Veterans Vocational Rehab," which is a term my website DisabledVeterans.org already ranks for in the top 10 because of the overall quality of the content I write.
For the past couple months, VA.gov's advertising dominated that search and those like it involving VA's program called Vocational Rehabilitation and Employment.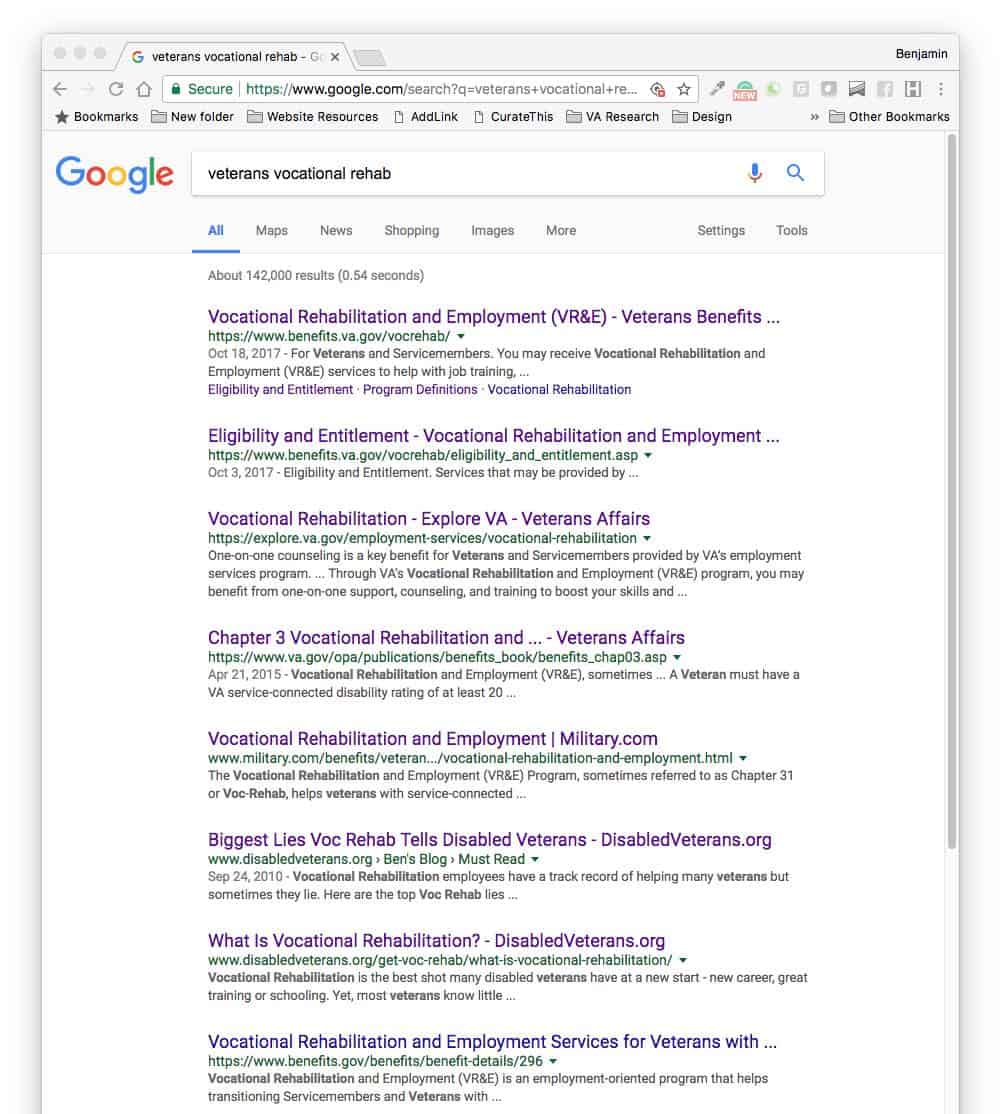 Statistics And Readership With Lower Rankings For Search Terms
Statistically, most readers do not review past the top three search returns on the first page and only a few readers read on to the second or their page of results. The higher a website ranks, the more likely readers are to review the material there.
Generally, Google prides itself on using standard but specialized algorithms to filter through millions of web pages to funnel results to any reader based on the quality of the material there. Publishers try to publish high-quality content to ensure a higher ranking on Google.
To shunt this process, publishers with deeper pockets pay Google through Google Adwords to include its advertisement at the top of a particular search with a particular keyword or term.
As you can see from the limited view of what Google was being paid directly from VA, the agency was paying $24k per month to land at the top of the Google searchers as an advertisement.
We also noted Paralyzed Veterans of America, too, paid an astonishing $50k per month. Below is an example of one of those ads. Unlike VA.gov, PVA is still running its ads.

(Both numbers courtesy of Spyfu, an advertising intelligence company.)
Notice To President Donald Trump
This administration has an opportunity to pull every social media campaign being paid for out of the budget of those agencies to evaluate their value by their metrics, evidence of success, and the value of the trade-off being made in funding it.
Let's start with VA.gov. While VA.gov could turn its advertising campaign back on tomorrow, but I hope the Trump Administration takes a deeper look at where this money is being spent.
And who knows, maybe they will clean up some corruption along the way.