Disabled Veterans Get Full Student Loan Discharge
Good news, disabled veterans might qualify for a full student loan forgiveness of federal loans.
For many college students, student loans are a necessary evil that require many years of repayment.
For some disabled veterans, the Department of Education has created a waiver called, "student loan discharge." Disabled veterans who have a 100 percent Total and Permanent disability rating or disabled vets who received a rating of Individual Unemployability (IU) will usually qualify for the student loan discharge.
This means a lot of things for disabled veterans in numerous situations, whether using Vocational Rehabilitation, the GI Bill, or other avenues for attaining their college degrees.
For more information, click here to get the full student loan discharge.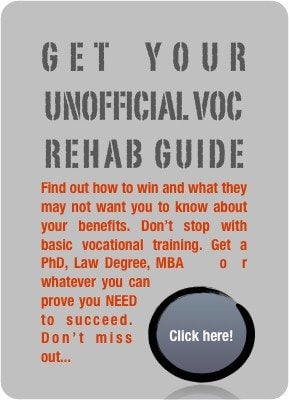 What this means. For disabled vets struggling with their VA Vocational Rehabilitation Counselors or struggling to get an advanced degree covered by a VA Benefits program, you may have a solution with student loan discharge if you've taken out student loans already.
Here is what I mean. Many times, Vocational Rehabilitation Counselors will tell veterans they are "too disabled" be rehabilitated. If this happens, some veterans will qualify for a rating to Total Disability Individual Unemployability.
If you meet the requirements for the federal student loan discharge option, you could essentially pay for your degree via student loans, apply for the benefit, and have the loans totally discharged.
While this doesn't apply to all forms of student loans, disabled vets may be able to successfully have their federal student loans forgiven.
If you qualify, look into the program to apply. Most operators do not understand much about disabilities with the Dept of Veterans Affairs. For that reason, you'll need to do your research.