Get Over $300,000 For College Education
It's true. VA Chapter 31 Vocational Rehabilitation and Employment will pay up to $300,000 or more to retrain veterans that qualify for additional benefits beyond 48 months. How do I know this is true? Great question.
I first used VA Voc Rehab to get an undergrad degree at a "high cost" university. High cost means the tuition is more than $25,000 per year. Now, I am working to complete a law degree. I recently added up the total benefits I will receive by the time I'm finished with law school: over $300,000. I'm not alone. There are a few of us out there who have received great degrees and training after pushing through the system to get the benefits we deserve.
How do I know this? Searching through many, many Board of Veterans Appeals rendered over the years will shed light on your situation. For me, I had to learn the hard way and read through my file before realizing VA counselors had misled me over the years.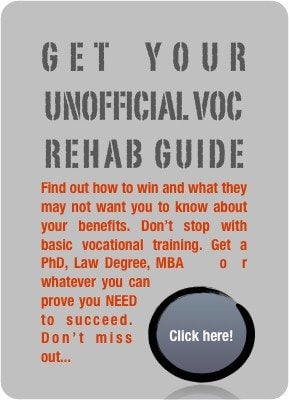 How did I get my file? Simply request your file under the authority of the Freedom of Information Act (FOIA). I called VA a year ago with questions about requesting documents and other information from VA Voc Rehab. The operator's response to me was shocking. She was unaware VA was responsible to US veterans! To her, disabled veterans are responsible to put up with the authority of VA. Request your file… What? Point being, you are in charge of your case. If you want your file, send a request to your regional office via Certified Mail with Return Receipt. Include a letter claiming your FOIA rights and request a copy of your file. They will usually send it within 60 days. This is where your claim or appeal will begin if you're unhappy with your claim's progress, or lack there of.
What are the possibilities? You can receive anything ranging from an Associated Degree to a PhD. I have personally spoken with disabled vets who have been approved for medical school, flight school, and the like. These are not cheap degree programs. Like law school, medical school can be very costly. If you can get VA funding, you'll be in great shape post residency. It really depends on your specific needs, aptitudes and situation. There exist specific rules your case must fall within to qualify. And, it must be presenting in a way that is friendly and cooperative. Just asserting that you think you deserve something will usually land your case in the round file.
Email questions to: [email protected].