Free Speech Of Pro-Veteran VA Counselor Prohibited By Administration On Facebook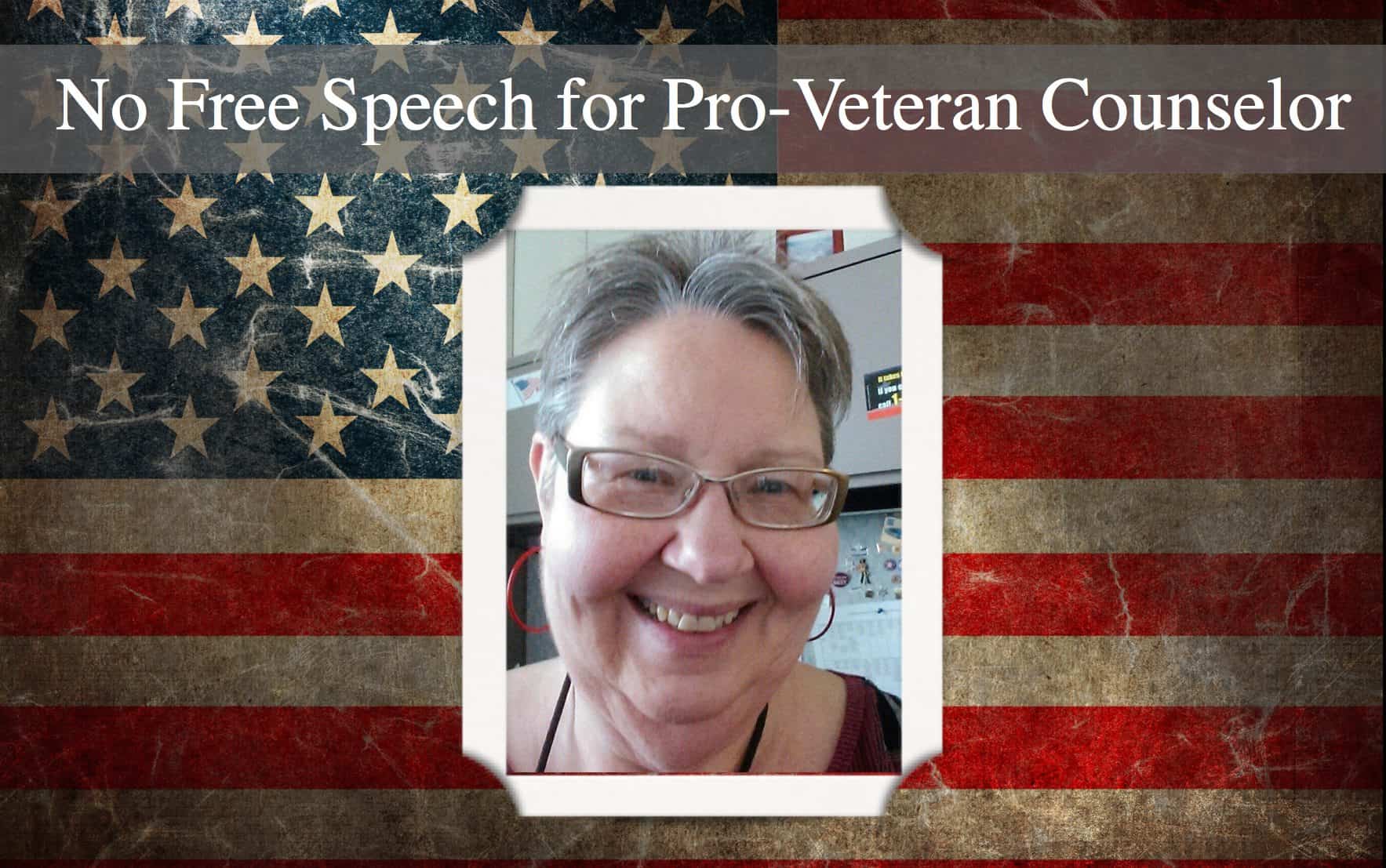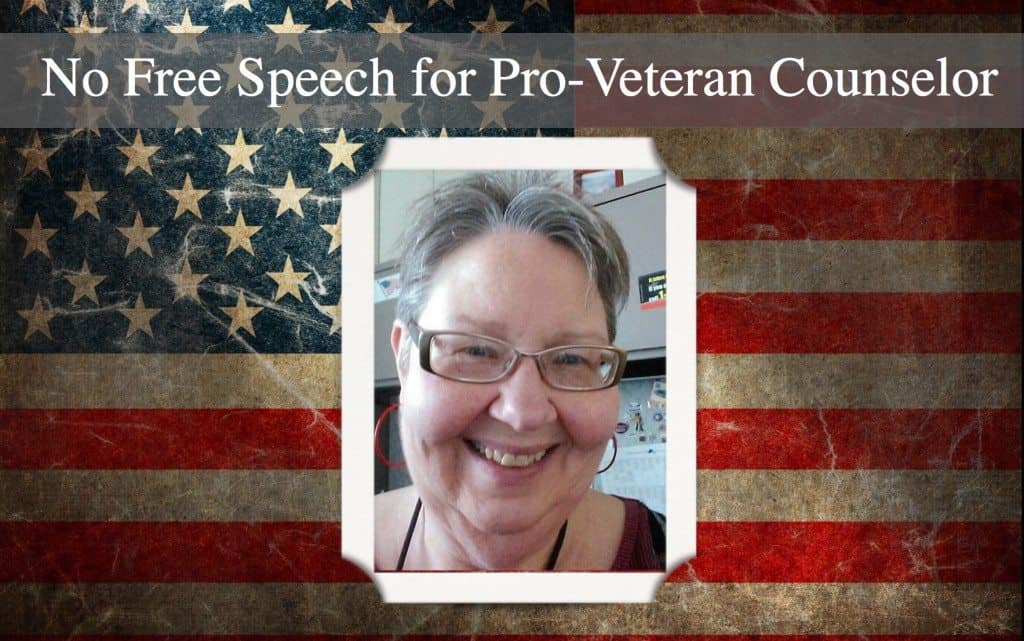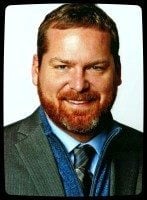 Administration of VR&E Service unlawfully prohibited pro-veteran VA counselor Merri Busch from observing her right to Free Speech off-duty by forbidding her contact with disabled veterans she helped on Facebook as a private citizen. The order is in violation of her First Amendment right to Free Speech and raises a lot of questions within certain circles.
Since when was Free Speech a privilege you could lose in America while helping vets?
Concerned disabled veterans immediately took to Twitter using #FreeMerri. The Facebook group Disabled Veterans – Chapter 31 Voc Rehab now speaks out on social media against the unlawful treatment of Busch. How can VA fully restrict her both on and off duty under threat of punishment without fear of lawsuit?
What an ironic position? The group Busch sought to help, disabled veterans, is the same group that fought to protect our right to Free Speech for Americans. Guess what. We won and we continue to win. Meanwhile VA managers in VR&E Service seek to restrict her speech to prevent her from providing insight about vocational rehabilitation, a concept VA has no ownership over no more than owning health care. It is no different than prohibiting doctors from talking about health care with sick people while not at work.
This policy move is absurd, but there is more to the story about VA Vocational Rehabilitation and Employment (VR&E).
ANTI-FREE SPEECH ORDER BACKGROUND
On Facebook, Busch repeatedly disclaimed her activity. Busch repeatedly indicated she was there as a private citizen with specialized knowledge on the subject of vocational rehab. This is no different than a doctor talking to sick people about the flu on Facebook. VA managers apparently did not care about her right to communicate with people wondering about vocational rehabilitation and banned her off-duty activities citing inapplicable internal rules they believe revoke her right to Free Speech as an American citizen.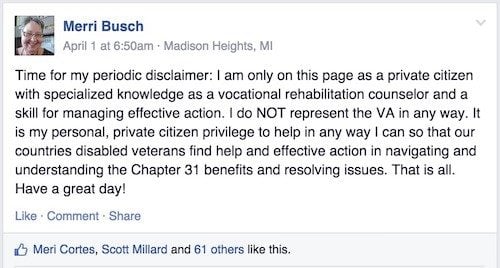 SEE: Merri Busch Private Citizen Facebook Disclaimer
The unconstitutional order to cease and desist followed a request to Under Secretary Allison Hickey to provide an official liaison to the Facebook group Disabled Veterans – Chapter 31 Voc Rehab. The Facebook group focuses on helping veterans navigate the minefield of VR&E.
SEE: Emails to Under Secretary Allison Hickey
Following the request to Under Secretary Hickey, Robin Cooper of VA Public Affairs signed onto the group claiming she was just there to help veterans. According to group admin Ramona Alys, Cooper never commented on a post nor liked any comments.
UNCONSTITUTIONAL DEMAND FROM VR&E SERVICE
Weeks later, senior managers at VR&E Service, the department in charge of VR&E, chastised Busch and forbid her from interacting with any veterans Friday the walls of the Detroit Regional Office.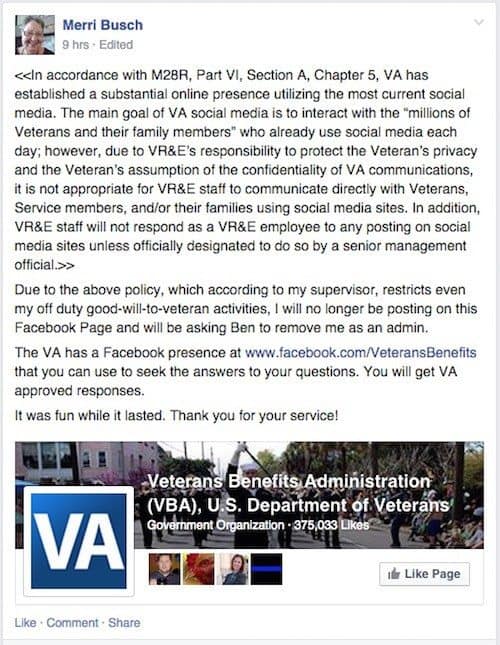 How is that for transparency and helping veterans? Why are pro-veteran VA employees restricted in helping veterans while off-duty, while callous and careless VA employees can harm vets with no ramifications?
VETERANS AFFAIR SOCIAL MEDIA POLICY
VA policy shows a contradictory position stating VA employees are "highly encouraged" to use social media tools like Facebook to increase information sharing, "within and outside of VA."
Former VA CIO Roger Baker passed VA Directive 6515 Use of Web-Based Collaboration Technologies to facilitate greater agency openness and communication with the Americans.
VA Directive 6515 continues,
"To increase accountability, promote information participation by the pubic, and create economic opportunity, the presumption shall be in favor of openness."
In particular, the policy even delineates between public and private use of social media websites like Facebook:
"VA personnel represent a rich source of information for Veterans. As such, VA employees are encouraged to interact with the public online as long as that interaction does not interfere with the employee's performance of his or her official duties. However, such activity comes with responsibility. When interacting with the public online, VA employees must draw a clear distinction between their personal views and their professional duties. Employees who are not officially authorized to speak on behalf of VA must never state or infer their communications represent VA's official position. Similarly, employees should discourage Veterans and associated participants from seeking official VA determinations or adjudications via social media. In these cases, employees must be clear that these requests must be submitted through the designated official channels to ensure proper protection of personal information and for an official response to be provided."
It further prohibits spying, such as that apparently conducted by VA public affairs specialist Robin Cooper, on such groups while individuals exercise their First Amendment rights unless expressly authorized by statue:
"Social media websites must not be used to monitor an individual's exercise of his or her First Amendment rights unless expressly authorized by statute or by the individual about whom the record is maintained or unless pertinent to, and within the scope of, an authorized law enforcement activity."
VOC REHAB FACEBOOK GROUP
Members of the group, Disabled Veterans – Chapter 31 Voc Rehab, joined together in outcry over the unlawful and unconstitutional restrictions placed onto Merri. They wrote letters to numerous VA executives like Under Secretary Allison Hickey.
Admin Ramona Alys was shocked at the prohibition, "Merri Busch should be encouraged and applauded." Alys continued, "Instead, her basid rights are being silenced for fear of termination if she continues to observe her basic rights to speak her mind and help vets. It is shameful."
SEE: Voc Rehab Group Members Speak Out
What do you think can be done to push back against VR&E Service? Are you outraged VR&E would silence to pro-veteran vocational counselor? Do you think VR&E Service is imprisoning counselor Merri Busch and limiting her Free Speech by preventing her from speaking with veterans outside the walls of Detroit Regional Office?
We as veterans need to stand strong and support our advocates within VA who are willing enough to stand up for us and brave enough to become whistleblowers when VA breaks the law to silence helpful souls.
Support Merri Busch. Tweet #FreeMerri right now and tell the world why this matters. If Merri is silenced, how far will the administration push the line on Free Speech?