DOD Day: Veterans Can Change Political System
Monday QB: Veterans Benefits and Things that Do Not Help
Good day to you readers. I just came back from a family fiesta down in Chicagoland.
On my return, I was greeted with a slew of articles slamming on the Department of Defense. I decided to chime in with my two cents since I'm a cynic when it comes to these things.
If you aren't a cynic yet, my goal is to make you one by the end of this post. Why do I do it? In order to fix a system, we need to understand what works and what doesn't. In order to succeed at fixing the system, we need to put the pride aside to seek out solutions.
Here is our line up in this post:
DOD, Army just figure out women are different than men

Report uncovers DOD and VA unable to track PTSD treatments

VA claims use of paper files by DOD adds to disability backlog

IAVA founder caught with false medals

Chicago should allow Citizens to enjoy 2nd Amendment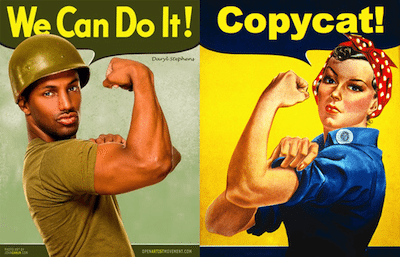 Introduction to this week's QB and Stats
I want readers to take away two things after reading this. First, you need to realize the system has huge systemic problems that bureaucrats have been unable to fix for 60 years. Second, I want you to do something about it. Whether you volunteer to write and research for us (or any other blog), get into politics in your community, or just get active in the election, we want you to DO SOMETHING.
Your responsibility to the country did not end when you took off your uniform. I decided to help veterans get the most out of their benefits so they can impact politics for change. I built this online community to do that. You can do the same.
Quick stats:
Salaries: veterans earn $10,000 more than nonveteran counterparts per year
Business owners: veterans own 9% of all US businesses
Business spending: veterans businesses helped generate $1.2 trillion in receipts in 2010
Veterans make up 10% of the voting population of the US. That's just veterans. Veterans and their family members make up around 25%.
If everyone in that 25% dedicated themselves to voting and being active in politics, we would fix our country.
Compensation & Pension Backlog
Claims pending: 919,460
Pending over 125 days: 609,545
Percent over 125 days: 66.3%
The backlog appears to be growing.
Monday Quarterback
Start reading:
DOD, Army just figure out women different than men
The Department of Defense and US Army finally announced plans to make combat armor for women after it discovered that the two are different. Yes, after 11 years of combat service in Afghanistan and Iraq, and 60 years of service in the regular Army, the Department of Defense and US Army realized women are different from men.
This is not a spoof from the infamous Onion, where writers make fun of politicians by coming up with the ridiculous. Unfortunately, here, the headline is true and an example of how insane and lacking complete common sense that our nation's leaders have become.
The Army made the announcement last week after conducting numerous anthropomorphic studies. The studies discovered that women have narrower shoulders and waists than men. Starting next year, women will receive female specific body armor.
Currently, women wear armor designed for men. This means the shoulder sections are broader and the torso is longer. Now that the Army has realized women are different, new armor will be shorter and take into account other factors that make women different.
Source: www.army.mil
Report uncovers DOD and VA unable to track PTSD treatments
Despite millions of dollars, law suits and public outcry about failures within the DOD and VA to treat military and veterans with PTSD, the agencies are unable to track treatments.
Taxpayers have spent millions to build the DOD and VA the most robust electronic medical delivery system in the world, and they still cannot track treatments for PTSD. The DOD has no knowledge of how many PTSD programs are being used to provide services. It also does not have knowledge of what treatments work. It further does not know how much money is going to pay for successful PTSD treatment programs and programs that are ineffective.
The report, Treatment for Post-Traumatic Stress Disorder in Military and Veteran Populations, tells us why it seems the DOD and VA cannot get the job done on PTSD: "no single source within the DoD or any of the service branches maintains a complete list of such [treatment] programs, tracks the development of new or emerging programs, or has appropriate resources in place to direct service members to programs that may best meet their individual needs."
Like the difference between women and men, the DOD and VA have been aware of PTSD and its impacts for decades. The Vietnam War caused many veterans to endure the social impacts of PTSD for 40 years. The VA has been treating it since then.
We have been in another theater of war for 11 years, and during that time the DOD and VA have developed even more expensive computer systems for medical tracking. But, the DOD and VA just cannot seem to track treatments given to military and veterans for PTSD?
It makes me wonder how much money is going to undocumented contractors and being siphoned out of the VA and DOD budget – into areas unrelated or unknown by taxpayers.
Nonetheless, here is another example of why veterans need to stand up. The system is not designed to work for the people. Instead, it is designed for the bean counter to keep as much money going to special projects as possible.
Source: Nextgov.com
VA claims use of paper files by DOD adds to disability backlog
For the past few years, the VA has been touting one main savior for fixing the disability backlog for veterans, going electronic. But since the VA and DOD cannot even track PTSD treatments with the world's largest electronic medical system, why would "going electronic" help.
At a recent hearing of the House Oversight Committee, Under Secretary Allison Hickey pointed the finger at one of numerous sources for the backlog, the DOD just won't give us electronic documents. Specifically, Hickey said that the VA gets "virtually no information from the DOD electronically."
In a perfect world, the documents would be able to be teleported from one agency to another, like Star Trek. In reality, agencies have to learn how to communicate with each other.
Here, it appears the VA forgot that it needed to coordinate with the DOD to help veterans get their disability compensation. Instead, they just assumed DOD, the largest agency in the US, would change how they do business to accommodate the VA.
This is a typical case of the tail wagging the dog.
Maybe their hopes were a little overly optimistic to say the least. Why would the DOD change its policies to match the policies of another agency? Especially since the VA cannot seem to get things right to save its life.
Here is the bigger point. The DOD and VA cannot get things right when it comes to issues important to the American voter. This year, a lot of pressure is on the DOD and VA to get things figured out for veterans. Why? Because President Obama wants and needs the veteran vote.
Going back to our initial stats, veterans make up 10% of the voting population of the US. That's just veterans. Veterans and their family members make up around 25%.
If everyone in that 25% dedicated themselves to voting and being active in politics, we would fix our country. I firmly believe this and hope you get involved.
Curious quotes and articles from last week:
Paul Rieckhoff's embellished record?
I was reading the blog, thisainthell.us and stumbled across this post from last week and then today. They have a running disliking for Rieckhoff since 2008 and the website exposes people who falsify claims of military service.
Paul Rieckhoff is the founder of IAVA.
Rieckhoff was found in a school photo wearing a Special Forces ribbon and a Bronze Star Medal – neither was awarded at the time of the photo. Neither has been awarded since that point, either. The photo is 8 years old.
In response to an inquiry, Rieckhoff wrote, "Since the photo in question, I have not worn or claimed the BSM – as you have noted." So while he addressed the allegation of a ribbon, he did not talk about the noted Special Forces ribbon. Odd.
Source: Paul Rieckhoff and needless embellishment
Cure for Chicago Crime: Let Citizens Own Guns
I know it sounds odd to look at what works and suggest something time tested: allow gun ownership.
Over the weekend, I traveled to Chicago.
I took my girlfriend to see Millennium Park. Amazing. People were watching a performance. It seemed safe from a distance, but a closer look revealed something new since I moved from there in 2007.
A crowd control fence surrounded the park. Security guards were stationed all over the event. I felt safe, but was I?
Chicago is an amazing city. City fathers have spent millions to increase the city's attraction to the world for tourists and businesses.
Meanwhile, more Americans have been killed in Chicago this year than American soldiers in Afghanistan.
I just saw an article titled, "Prosecutor: Teens killed man in 'knock 'em down' game."
"Three teenagers accused of killing a 62-year-old father-of-12 in West Rogers Park were playing a game called "Pick 'em out and knock 'em down" when they videotaped themselves punching him in the face, prosecutors say."
"Malik Jones, 16, Nicholas Ayala, 17, and Anthony Malcolm, 18, were caught after the video of Jones fatally punching Delfino Mora was posted on Jones' Facebook page, according to authorities."
"The three were playing a "game where the offender picks an innocent victim and knocks him out by striking him and likely robbing him as well," Assistant Cook County State's Attorney Terry Clancy told Judge Israel Desierto in court Monday."
While this is just one example of crime in Chicago, it's just not a safe city because of the economic problems related to jobs for the lower classes.
This struck me because I used to feel completely safe traveling in Chicago. I used to tutor kids in Cabrini Green. Now, city businesses are begging Mayor Rahm Emanuel to "do something."
I suggest one thing. Maybe criminals would be less likely to attack others if Chicago did not prohibit gun ownership.
In Florida, a 71-year-old man with a concealed carry permit chased two armed robbers out of a casino. Response time for cops would have been 15 minutes.
Perhaps, if the victim of the above crime in Chicago were armed, he would have survived the attack. Or, if criminals thought the man might be armed, they would not have conducted the attack to begin with.
Let's call a spade a spade and admit that we need citizens to step up and keep their own streets safe.
Criminals will never give up their guns, and forcing law-abiding citizens to give up their weapons is nothing more than paternalistic hoop dreams. Chicago cops are understaffed and outgunned.
Video of 71-year-old gun owner: https://newstotalk.com/71-year-old-web-surfer-chases-robbers/
Monday QB Summary
The veteran population could be much more powerful than it is. Given our voting numbers and ability to run businesses, veterans should be able to oust ineffective lifetime politicians from office and fix the country.
Looking at fixes posed by bureaucrats, the electronic conversation of the VA will not solve the disability backlog. Historically, the DOD and VA have not used electronic health systems to track more straightforward things like treatments they pay for to treat PTSD. How could the conversion fix the disability backlog? Answer: it cannot.
Look at the mess bureaucrats have made. They finally realized women are different then men. They cannot track where they spend money. They lie about their records. They increase crime by outlawing the Constitution.
This is what we, as veterans, get when we do not stay involved in the political process. It used to be that 70% of all legislators in DC served this country. Now it's closer to 20%. It's time to rise up and fix the country.