Veterans Affairs Unveils New VA Hospital Prototype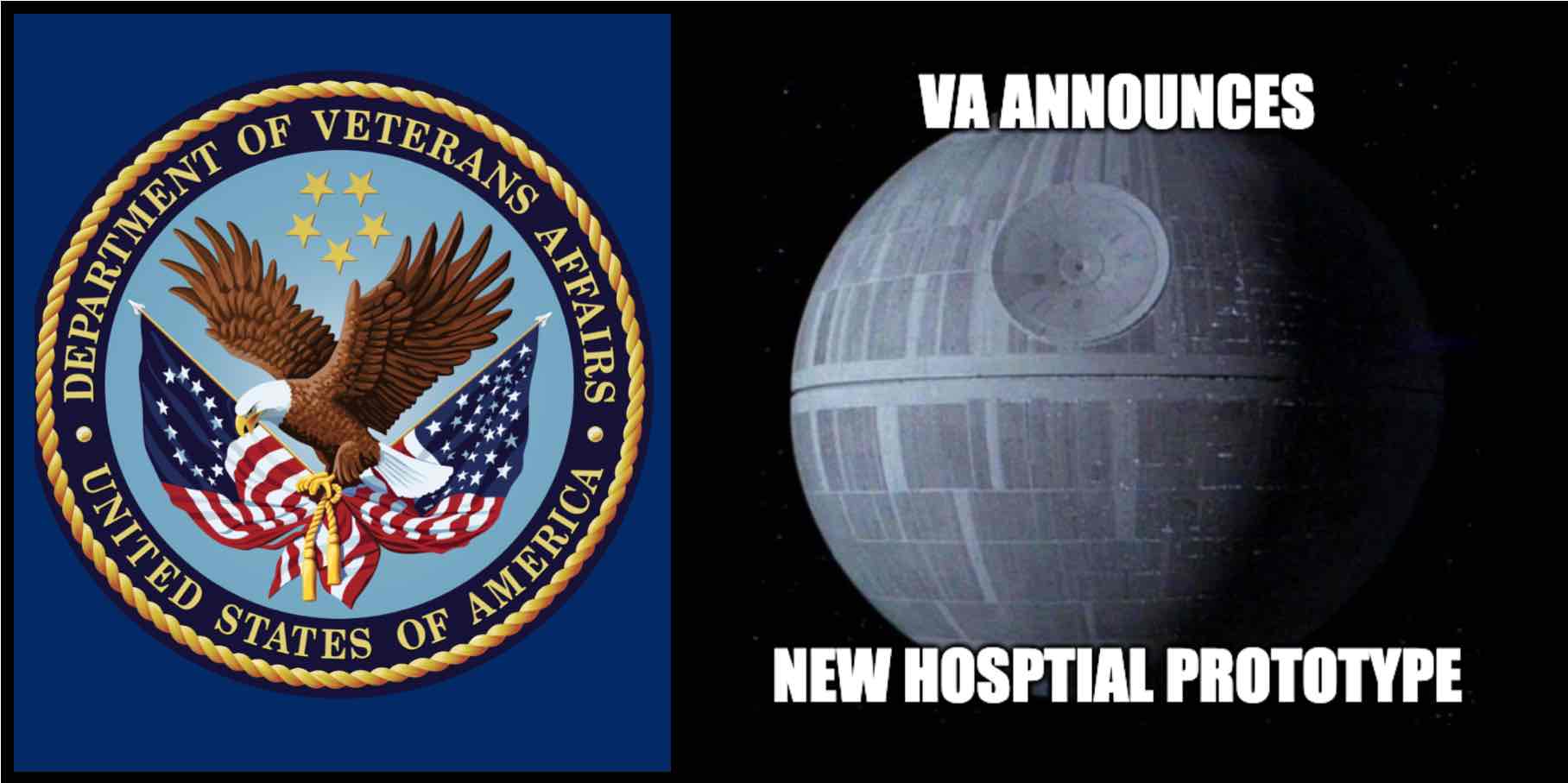 Not really. This is a parody. VA would never publish something so accurate. After we published a meme prompt for a new VA slogan on Christmas Day, we created this based on what one adventurous veteran posted.
Hey there and thanks for checking in this January 1, 2020.
On Christmas, I published a meme contest to readers on Facebook and on the website. We received almost 200 comments, which says a lot about how readers feel about the services they receive from the VA at the moment.
Now, we know VA really does not care what we think unless we hit them over the head with some kind of wooden club. My website, DisabledVeterans.org, is one of those clubs since VA knows Congress pays attention to it.
RELATED: VA Knowingly Violated Privacy Rights Since 2016
We also know VA is continually restricting access to my content by filtering out newsletter emails to employees seeking those emails even though that act of blocking emails, in itself, may be a violation of the 1st Amendment.
And that is where social media shares get involved. The more we share, the more likely it is this meme might show up on someone's iPhone.
So share the hell out of the image at the top. At least a few veterans will tell you it is closer to the truth than any real press release from VA.
Hit VA Pressure Points
Let's remember, VA does not care unless we have yet to hit the pressure points.
So many veteran readers are trained in methods of infiltration and influence of ideas (i.e. public affairs, journalism, etc) while forgetting to implement those same methods against our Communist-run Department of Veterans Affairs. (I guess those Ruskie won despite our best efforts.)
RELATED: Soviet-Style Flagging Of Veterans Still A Thing
Why are we not writing and researching more about what is going on within VA from the disenfranchised veterans' perspective, not the perspective of the chosen favorites?
Anyway, now it's 2020.
We know VA has fully implemented the shutdown tactics created and published by the OSS to undermine Nazis within its manual for Sabotage.
RELATED: CIA Manual On Simple Sabotage
These tactics are what stalled VA adjudications of disability benefits adjudications resulting in a claims backlog that led to the current appeals backlog. Read that manual closely.
While it was published in the '40s, it is markedly similar to what we all have experienced and struggled through when fighting for compensation and healthcare.
Surveillance Capitalism
One part of a broader campaign could be to embarrass VA leadership for continuing to put third party corporate profits ahead of the interests of the veterans the agency is supposed to serve.
Should they be proud of how our health information is being harvested, scanned, and prostituted to marketing companies and social media firms? Methinks not.
RELATED: VA Not Protecting Data Against Surveillance Capitalism
VA Slogan Ideas
We have our own fun slogan thanks to one of our readers that led to the slogan derivative at the top of this article.
I would like to thank all the readers who participated including Jason Howard, David Graham, and Carolyn O'Connor. Here are their versions that led to the version above.
In case you did not see it, the original prompt was of a semi-truck wedged under a bridge overpass. Below are the different images some veterans presented that I thought were worth mentioning and particularly amusing for different reasons.
The Prompt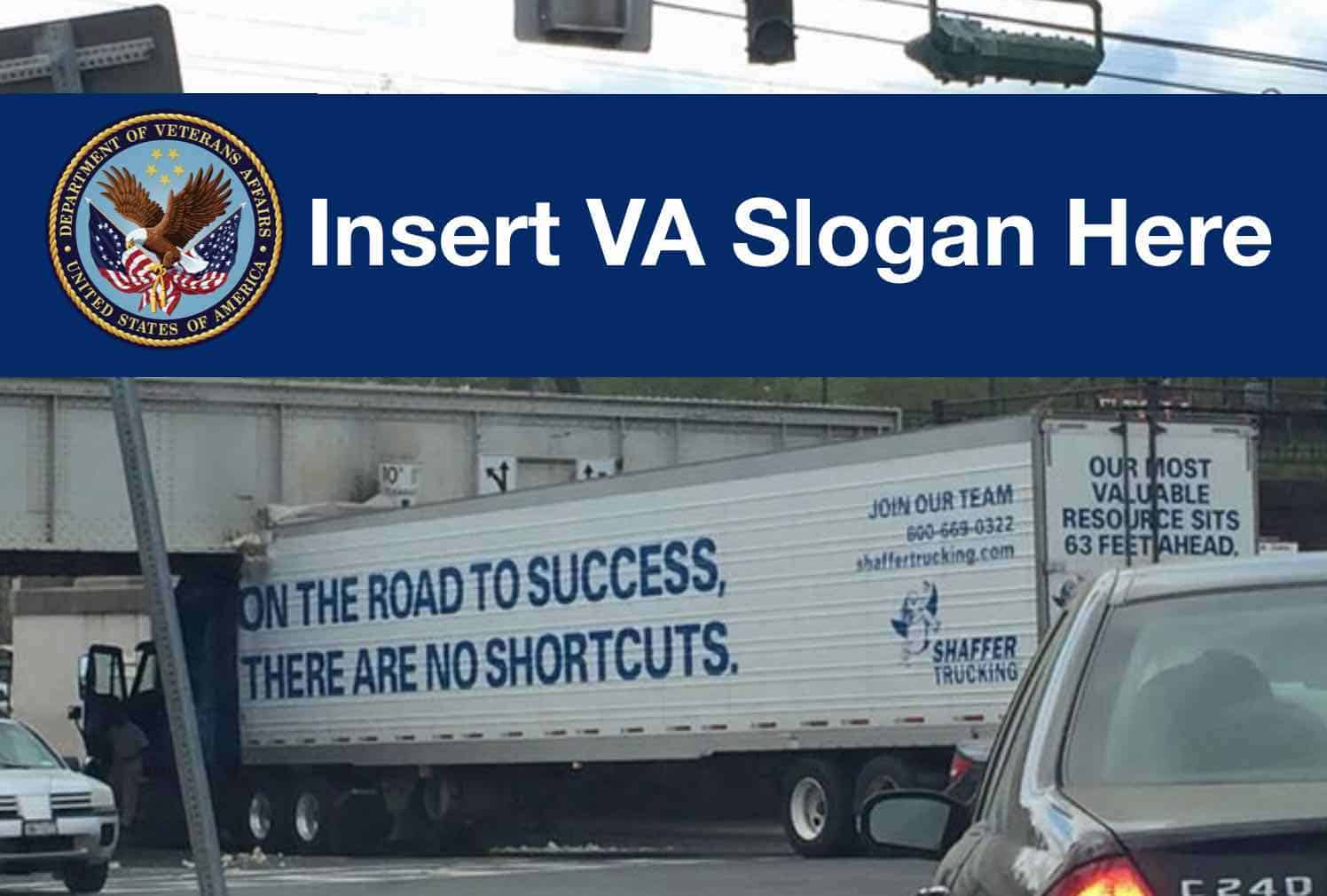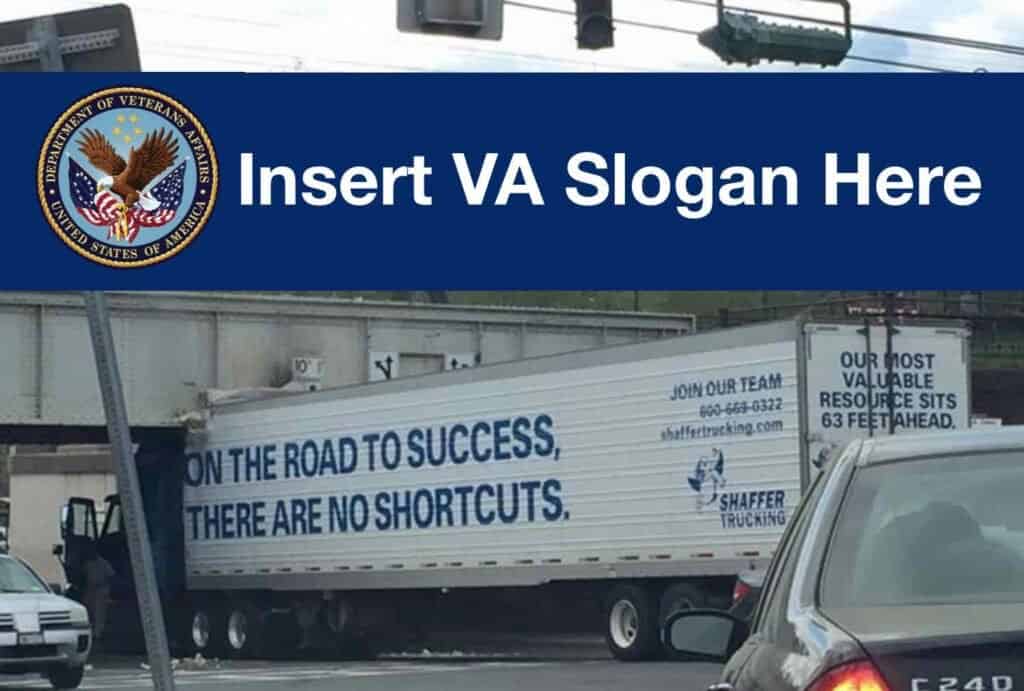 Carolyn O'Connor
This is hilarious for a thousand reasons.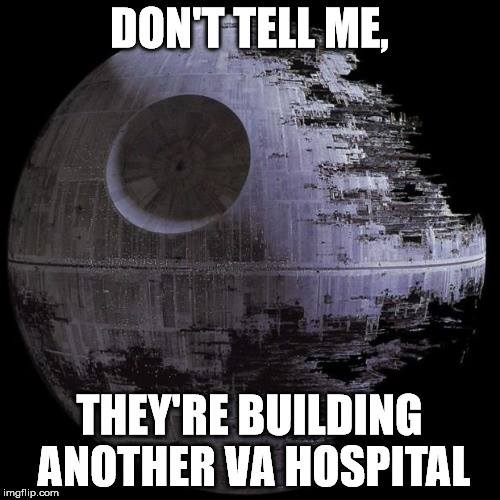 David Graham
David did a great job lifting the original content off the truck and imposing his own version of a VA slogan onto the vehicle.

Jason Howard
Most veterans will likely think this is true. Meanwhile, thanks to massive spending on propaganda and press, the American public is intentionally ignorant.