What If All VA Officials Attended The Hunter S. Thompson School Of Leadership?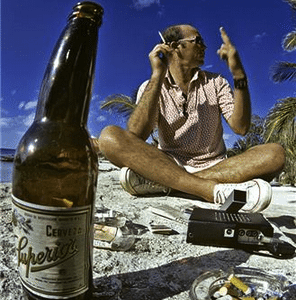 Do you want to be like them?
Life as a VA executive was glamorous circa 2011. Relax at the Venetian Hotel in Las Vegas. Get flown to Orlando for HR meetings. Star in $50,000 production videos. Get paid $1,000,000 to plan events halfway across the globe. VA executives were living like rock stars waiting for their next big gig.
It reminds me of one of my favorite veterans of all time, Hunter S. Thompson. Learning the trade of journalism from the US Air Force, Hunter S. Thompson was swiftly asked to leave before causing too much trouble. He even wrote about it in one of his first books.
Hunter S. Thompson was an iconoclast who changed journalism for the better. He created the inclusion of personality with profession. Every story dripped of his essence, which was little more than a brilliant manic who on multiple occasions drank just enough and enjoyed every substance a guy could get his hands on. Mixing overindulgence with profession was his trademark.
Enter the VA. Everyone except the VA has realized that our country is on a tight budget. While the rest of us veterans were unemployed, disabled and hungry, the VA let their personalities shine through.
With no budget set, VA spent over $100 million in 2011 on conferences in places like Las Vegas, Orlando and Europe. American taxpayers picked up the bill. When questioned during House Congressional Hearings, VA spin-doctors masterfully diverted attention from the action and instead played the sympathy card. "We're so big. We're so overworked. We need your sympathy."
"Amazing," I thought. "These cats are either totally insane, or they have realized the US Congress cannot hold them accountable for their actions without swearing them in." Since there is a "gentlemen's" agreement between he VA and Congress to not swear in the VA officials, they get to tell Congress whatever they feel like at the moment and not follow through with anything.
Watching the hearings from 9/20/2012 and 11/28/2012, I realized one thing; regardless of reality, these folks are letting their personalities shine, shine, shine. If I were a psychologist, I would conclude that the VA has Borderline Personality Disorder. "Look at how great I am; look at how much work I'm doing; never mind that I just blew $100 million on touchy feely conferences and totally lost the record of all those transactions."
It's like watching Fear and Loathing In Las Vegas. You go into the movie thinking it will just be about a couple guys getting wasted, and you come out of it having watched the most depraved acts imaginable – Godzilla tail and all.
The only difference here is that what we see in Congress is reality, and not fiction. These VA officials are spending our tax dollars to actually live out the Hunter S. Thompson dream.
Which brings me back to my point. Having been living in academia for 10 years now, I can imagine what a "Hunter S. Thompson School of Leadership" would have been like. Be yourself no matter what. Do what feels good. There are no consequences. When the ride is over, feel free to punch out whenever.
I put together some highlights of the hearings here to give readers an understanding of how the VA works and how they avoid answering questions during Congressional hearings. I hope you can understand that if they treat Congress like this, why should it surprise any of us that they refuse to do their jobs correctly or timely when deciding our disability claims?
One bad apple ruins the bushel. When it comes to Hunter S. Thompson, he was a great writer, and an independent leader in his own way. However, his style would not have resulted in good outcomes for disabled veterans who need real solutions. But, when you watch the reactions of the VA to questions by the House Committee on Veterans Affairs, it would appear that the VA comes to an opposite conclusion.
After these videos, I have included the discharge papers Airman Thompson wrote about himself. It's a good read.
Part I VA Conference Spending Hearing
Part II VA Conference Spending Hearing
At 19, Hunter S. Thompson was was promoted to Sports Editor at Eglin Air Force Base. The year was 1956. He was probably ahead of his time. Within a year, Thompson was relieved of his duty. He wrote up the following discharge papers in response – a fictional news story – and had it published in the The Command Courier, the base's paper.
HEADQUARTERS
AIR PROVING GROUND COMMAND
UNITED STATES AIR FORCE
Eglin Air Force Base, Florida
ADDRESS REPLY
ATTN: Base Staff Personnel Officer
Personnel Report: A/2C Hunter S. Thompson
23 Aug 57
1. A/2C Hunter S. Thompson, AF 15546879, has worked in the Internal Information Section, OIS, for nearly one year. During this time he has done some outstanding sports writing, but ignored APGC-OIS policy.
2. Airman Thompson possesses outstanding talent in writing. He has imagination, good use of English, and can express his thoughts in a manner that makes interesting reading
3. However, in spite of frequent counseling with explanation of the reasons for the conservative policy on an AF base newspaper, Airman Thompson has consistently written controversial material and leans so strongly to critical editorializing that it was necessary to require that all his writing be thoroughly edited before release.
4. The first article that called attention to the writing noted above was a story very critical of Base Special Services. Others that were stopped before they were printed were pieces that severely criticized Arthur Godfrey and Ted Williams that Airman Thompson extracted from national media releases and added his flair for the innuendo and exaggeration.
5. This Airman has indicated poor judgment from other standpoints by releasing Air Force information to the Playground News himself, with no consideration for other papers in the area, or the fact that only official releases, carefully censored by competent OIS staff members, are allowed.
6. In summary, this Airman, although talented, will not be guided by policy or personal advice and guidance. Sometimes his rebel and superior attitude seems to rub off on other airmen staff members. He has little consideration for military bearing or dress and seems to dislike the service and want out as soon as possible.
7. Consequently, it is requested that Airman Thompson be assigned to other duties immediately, and it is recommended that he be earnestly considered under the early release program.
8. It is also requested that Airman Thompson be officially advised that he is to do no writing of any kind for internal or external publication unless such writing is edited by the OIS staff, and that he is not to accept outside employment with any of the local media.
W. S. EVANS, Colonel, USAF
Chief, Office of Information Services
————————–
NEWS RELEASE, AIR PROVING GROUND COMMAND, EGLIN AIR FORCE BASE, FLORIDA
EGLIN AFB, FLORIDA (November 8)–S/Sgt. Manmountain Dense, a novice Air Policeman, was severely injured here today when a wine bottle exploded inside the AP gatehouse at the west entrance to the base. Dense was incoherent for several hours after the disaster, but managed to make a statement which led investigators to believe the bottle was hurled from a speeding car which approached the gatehouse on the wrong side of the road, coming from the general direction of the SEPARATION CENTER.
Further investigation revealed that, only minutes before the incident at the gatehouse, a reportedly "fanatical" airman had received his separation papers and was rumored to have set out in the direction of the gatehouse at a high speed in a muffler-less car with no brakes. An immediate search was begun for Hunter S. Thompson, one-time sports editor of the base newspaper and well-known "morale problem." Thompson was known to have a sometimes overpowering affinity for wine and was described by a recent arrival in the base sanatorium as "just the type of bastard who would do a think like that."
An apparently uncontrollable iconoclast, Thompson was discharged today after one of the most hectic and unusual Air Force careers in recent history. According to Captain Munnington Thurd, who was relieved of his duties as base classification officer yesterday and admitted to the neuropsychological section of the base hospital, Thompson was "totally unclassifiable" and "one of the most savage and unnatural airmen I've ever come up against."
"I'll never understand how he got this discharge," Thurd went on to say. "I almost had a stroke yesterday when I heard he was being given an honorable discharge. It's terrifying–simply terrifying."
And then Thurd sank into a delirium.
Source: The Proud Highway, via Self Made Hero