False Claims Prevention: VA Seeks Fraud Detection Software For Non-VA Healthcare Providers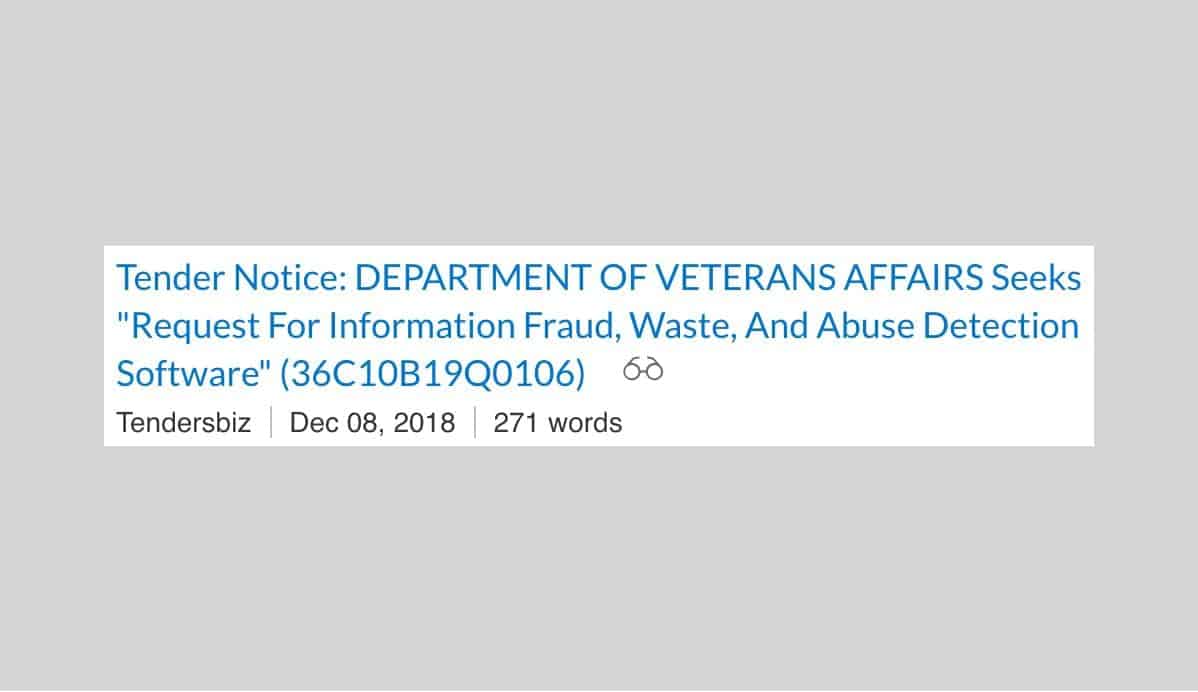 VA just put out a tender notice seeking information on software to support fraud, waste, and abuse detection to prevent false claims by non-VA healthcare providers.
The announcement came one week after the agency looked foolish explaining its numerous software problems administering disability and GI Bill benefits. Agency leadership was largely unable to explain away numerous software deficiencies.
Perhaps the software inquiry is a first step to detect where the breakdown occurred. But, more likely, the agency is seeking some AI software to data mine. The performance work statement indicates the software is to combat false claims from non-VA healthcare providers.
VA shows the following:
This COTS configurable software will serve with the VA-FSC's healthcare claims adjudication enterprise solution, eCAMS HCE. The Contractor, acting independently and not as an agent of the government, shall furnish all the necessary services, qualified personnel, material, equipment, supplies, and facilities except as otherwise specified herein, and otherwise do all things necessary for or incident to performance of requirements described in this work statement, also referred to as the Contractor's Performance Work Statement (PWS).
The intent of the software is to eliminate false claims. The False Claims Act (31 U.S.C. §3729), allows American citizens, whether affiliated with the government or not, to file actions against federal contractors claiming fraud against the government.
The False Claims Act was passed by Congress to prevent the United States Government from paying federal funds for fraudulent claims involving goods and services. For VA, this would include submitting false information in order to receive a higher reimbursement. Examples of this include upcoding (i.e., coding a higher DRG than the documentation support), lab unbundling (i.e., charging separately for procedures usually charged as one procedure), billing for services not actually rendered and duplicative billing.

From Performance Work Statement
Here are some specifics from the publication that may reveal possible records to FOIA for research in the future.
The inquiry publication shows VA is seeking detection software using "predictive analytics based" software that will using the following tools:
Predictive Analysis
Link Analysis
Surveillance and utilization review system
Importantly, the software must be capable of identifying and learning from fraudulent patterns and scenarios to reduce false positives and adapt predictive algorithms against emerging schemes.
The system shall track the original source of alerts as well as the ultimate resolution of alerts and pass this information back to VA-FSC. The data collected shall provide for results reporting such as:
False Positive rates
Return on Investment and Cost Avoidance
Alerts and scoring results
Number of revocations, payment suspensions, claims denials, claims rejections or other actions.
[documentcloud url="https://www.documentcloud.org/documents/5485234-VA-Fraud-Waste-Abuse-Detection-Software.html" responsive=true]