VA Social Worker, Local VFW Commander Resigns After 'Stolen Valor' Allegations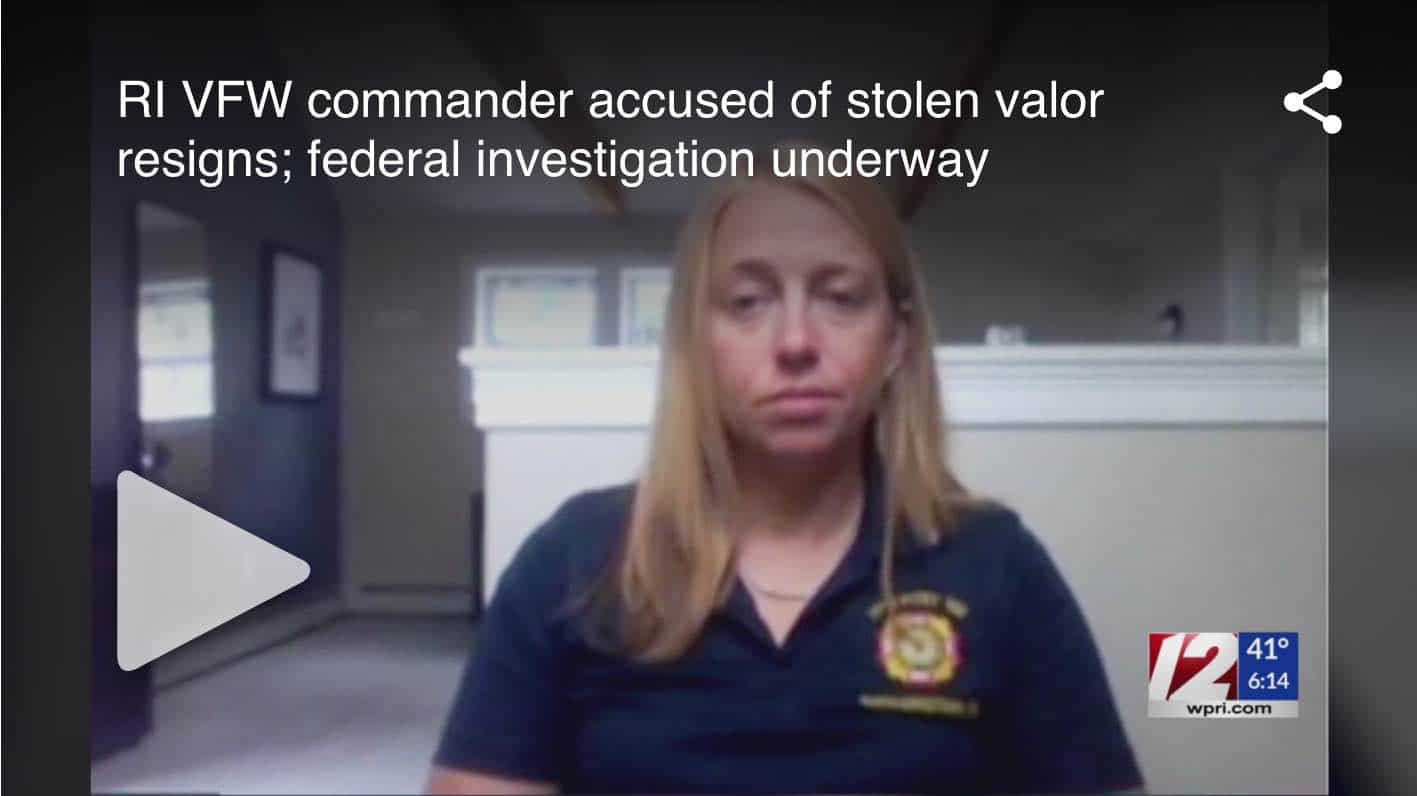 A local post VFW commander in Rhode Island and Providence VA social worker may be in hot water following allegations of "stolen valor."
Sarah Cavanaugh recently served as the Local Post 152 commander for the VFW in Rhode Island until resigning last month after stolen valor allegations surfaced concerning her military service.
Cavanaugh had reportedly long held herself out as a combat veteran and Purple Heart recipient of the US Marines. She allegedly received a medical retirement at the rank of Staff Sergeant.
The problem with her background to serve as a local post VFW commander is that she may not be a veteran, at all.
Cavanaugh reportedly served as commander of VFW Post 152 for more than a year before resigning after some veterans started to question her background.
The U.S. Marine Corps told local Channel 12 News they were unable to locate a record for "Sarah Cavanaugh," under that name, or for the Social Security Number on the military document she provided.
Cavanaugh disputes the Marines' findings.
Tom Schueman, president of Patrol Base Abbate, told Channel 12 that Cavanaugh told him she was suffering from injuries form an IED blast and burn pit linked lung cancer.
"She told me about her injury recoveries; how she was medically retired as a staff sergeant, and then how a couple of years ago she said she was coughing and that she started to cough up blood, so she went to the doctor, and that she had had Stage IV lung cancer and that it spread to her bones and her brain and that she had anywhere from one to two years left of life, based on the timeline that the doctor gave her, because it was not curable at that point, only treatable," Schueman said.
Schueman was incredibly moved by her story and began the process to try to hire her. Apparently, her story began to unravel after Shueman and his organization looked into her credentials.
Cavanaugh told him her twin brother was killed in Iraq and buried at Arlington National Cemetery.
These are two details that would be easy to verify.
When someone from Patrol Base Abbate went to Arlington to verify, the gravesite was for a Marine killed that was not related to Cavanaugh.
"She said: 'Oh, I was court-martialed before I got out of the Marine Corps because I was being sexually assaulted by my commanding officer on ship and I shot him as he attempted to sexually assault me,'" Schueman said. "And I'm like 'OK.' So, she said: 'I got reduced two ranks.'"
A DD-214 that she reportedly circulated as being hers contained the SSN of a different Marine who happened to be a male corporal.
Channel 12 news reports there is an ongoing federal investigation into the matter.
In an interview with Task & Purpose, Cavanaugh denied many of the allegations and disavowed her association with VFW's Local 152. However, photographs of her in regalia suggests otherwise.
The Providence VA told Channel 12 it is now reviewing Cavanaugh's hiring documentation.
Sources: Task & Purpose, Channel 12 WPRI News