Google To Fix Department Of Veterans Affairs?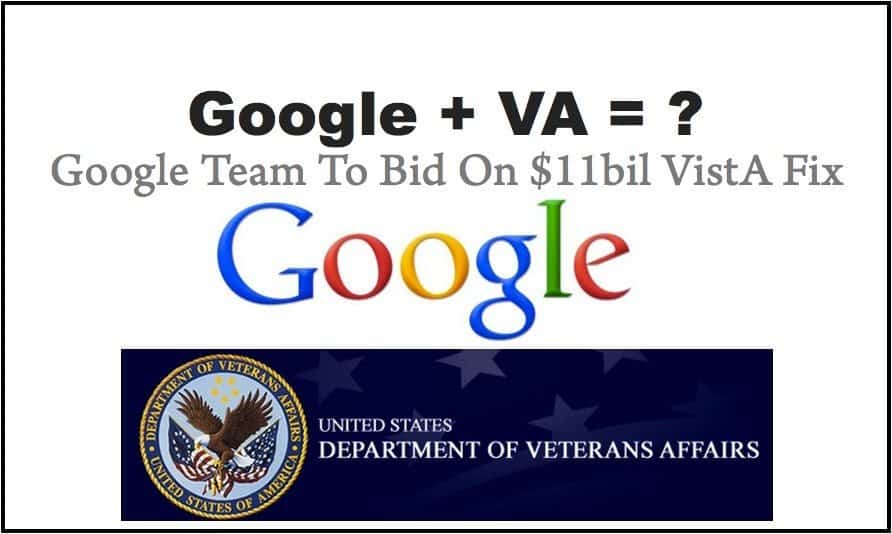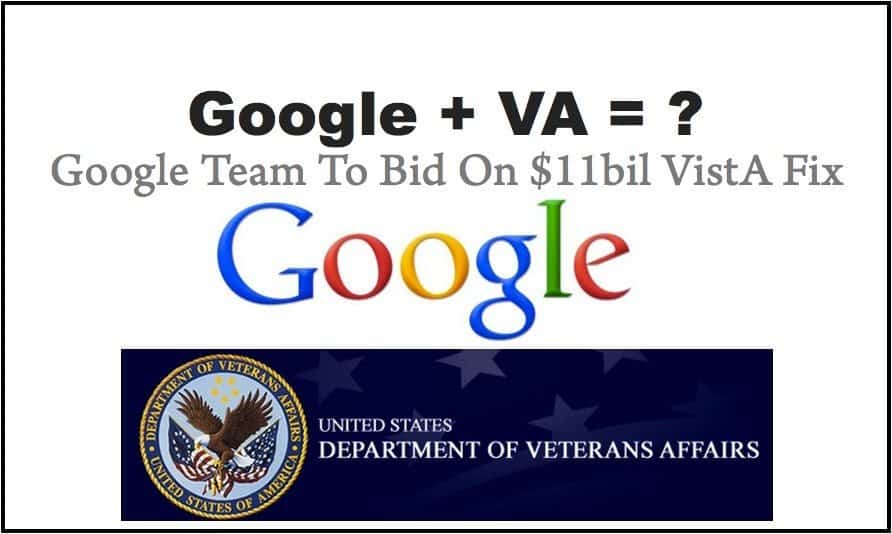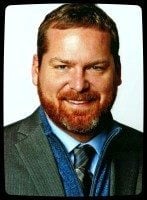 Google is squaring off against three competitors for a contract to fix Department of Veterans Affairs electronic medical record platform for VA hospitals. Well, the program is actually to help resolve the seemless medical records problem between DoD and VA. Google plans to team up with PricewaterhouseCoopers to bid on the $11 billion Pentagon contract. Part of the contract is to help integrate DoD's secure platform with VA's "VistA".
RELATED: DoD, VA medical record integration debacle, $1bil spent, no plan
But do we really want Google to have our health care data? They already have so much information about all of our search traffic, psychometric information, and behavioral data, should we add our health care and disability data to the mix?
Google would have access to lots of information. Let's not forget that just a year ago VA Health Administration teamed up with Kaiser Permanente to collaborate on population management research. With Google added to the mix revamping the medical records systems, it seems plausible that a lot of data will be collated very quickly into the hands of very powerful companies.
The four bidders on the program are:
ModernHealthcare thinks the Google combo will succeed in the bidding war. Here is a little context on how government contracting for these huge tech programs is working out:
According to data from S&P Capital IQ, Google generates a whopping 23% operating profit margin from its operations. That's a good 2.5 percentage points more than next-most-profitable operator Cerner — and 27 percentage points ahead of Allscripts, where operating profit margins are negative.

So if winning this contract comes down to a bidding war, Google's got the most room to sacrifice profit margins in order to underprice the competition. Anyone trying to undercut Google's price may find itself operating at a loss.

There's also Google's sheer size to consider and its ability to ramp up rapidly to capture new markets. Three years ago, Google won one of its most significant battles for a government IT contract, beating out Microsoft  (NASDAQ: MSFT  ) for the right to revamp the U.S. Department of the Interior's email systems with its "Google Apps" software suite. Back then, the win was small potatoes for Google — about $35 million over five years. Since then, however, Google's abilities in government IT have grown.

Last year, CIO magazine reported that Google and Microsoft were already in a "2-horse race" when it comes to bidding for government cloud computing contracts. Google has rolled out software ("Google Apps for Government") specifically tailored to government use, won clients in the General Services Administration and National Archives, and underpriced Microsoft's Office 365 product by about 16%.
Despite the huge pricing benefit from hiring Google, I am somewhat concerned about my private data being misused. Google already knows so much about me including my likes and dislikes.
Do I really want Google knowing all my health history and my disability background? No.
What do you think about Google having immediate access to all your health care data? Does this Department of Veterans Affairs fix sound good to you?
Source: https://www.fool.com/investing/general/2015/02/01/jon-stewart-says-the-veterans-affairs-department-i.aspx