Gulf War Illness Caused By Sarin Gas Exposure, Researcher Says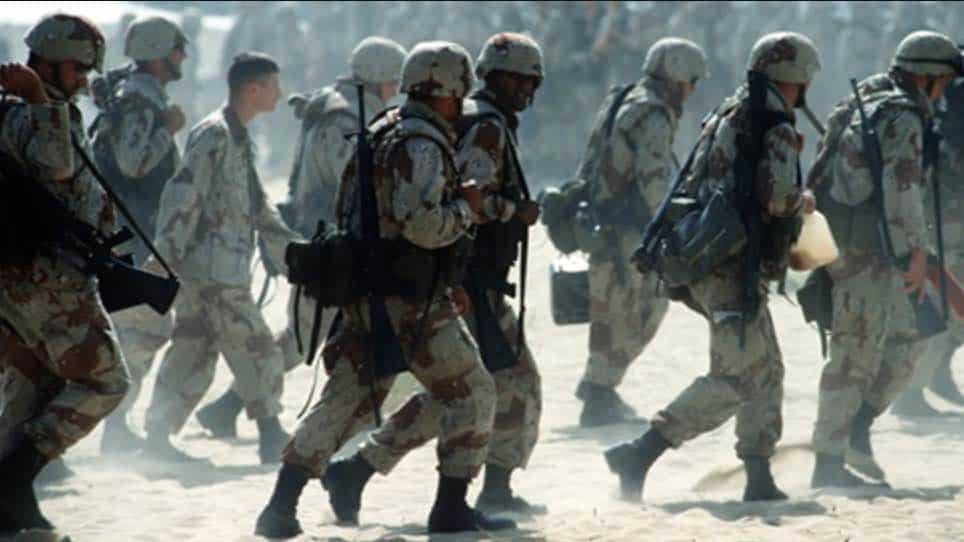 Veterans suffering from Gulf War Syndrome were exposed to sarin gas according to research findings that "prove" the connection.
Variants in genetics between veterans resulted in difference of effect from the exposure, not malingering, personality disorder, or some other psychosis.
Exposure to sarin gas was responsible for sickening roughly 250,000 US troops who served in the 1990-91 Persian Gulf War. After 30 years of federal agencies treating Gulf War veterans as crazy for their mysterious conditions repeated the same sins as those same federal agencies after Vietnam. And shame on them.
What caused the exposure?
US destroyed a bunker housing chemical weapons at the Khamisiyah Ammunition Storage Depot located in southern Iraq. The explosion created a plume of toxins that spread across a 25-mile radius. Thousands of coalition troops were likely exposed to sarin and cyclosarin.
Who may be linked to the exposure?
Newsweek published a story in 2015 linking former VA chief of staff John Gingrich to the nerve gas demolition impacting thousands of troops for decades:
Bunker said that when troops first became ill, his battalion commander, Col. John Gingrich, radioed headquarters to find out what was happening. He was told: "It's the heat."

"We knew this wasn't true," Bunker said. "It was only 85 degrees, and we'd trained in over 100 degrees—without people getting sick like this." The next day, division commander Maj. General Thomas Rhame and Col. Michael Dodson came to their base. "They told Gingrich to be quiet about the men's symptoms," Bunker said.
READ NEWSWEEK: US Nerve Gas Hit Own Troops
According to a report from Military.com about the newest study:
Following the Gulf War, nearly one-third of all who deployed reported unexplained chronic symptoms such as rashes, fatigue, gastrointestinal and digestive issues, brain "fog," neuropathy, and muscle and joint pain. Federal agencies spent years broadly dismissing the idea that troops may have been suffering from exposure to chemical agents, with many veterans experiencing symptoms sent to mental health providers.

But a study published last week in the journal Environmental Health Perspectives used genetic research and survey data to determine that U.S. service members exposed to sarin were more likely to develop Gulf War Illness, and those who were exposed and had a weaker variant of a gene that helps digest pesticides were nine times more likely to have symptoms.

"Quite simply, our findings prove that Gulf War illness was caused by sarin, which was released when we bombed Iraqi chemical weapons storage and production facilities," said Haley, director of the Division of Epidemiology in the Internal Medicine Department at University of Texas Southwestern Medical Center.

"There are still more than 100,000 Gulf War veterans who are not getting help for this illness and our hope is that these findings will accelerate the search for better treatment," Haley said.
Treatment from VA over the next 2 decades focused on psychiatric symptoms without properly addressing the environmental exposure.
In 2013, VA whistleblower Steven Coughlin reported the agency had buried or obscured research findings linking physical ailments to military services.
The criminal obfuscation against our veterans was in an effort to deny veterans needed health care services and benefits.
Coughlin's charges were later confirmed by an email sent to staff from former Undersecretary for Benefits Allison Hickey expressing concern that changing what the VA still calls "chronic multisymptom illness" to "Gulf War illness" might "imply a causal link between service in the Gulf and poor health which could necessitate legislation for disability compensation for veterans who served in the Gulf."
Seems like a fun bunch, right? Imagine how many veterans suffered without compensation and without health care services. VA couldn't provide adequate health care because that would prove the link. Instead, they opted to treat many of the sick veterans as malingerers or crabby loons.
What other disabilities from exposures is VA trying to cover up? How long with the deception last?
We know VA will fight you to the death. So that answers that question. What is the remedy when a federal agency fights you to your death?
Read the full Military.com article to learn more about the science behind the revelation.
Source: https://www.military.com/daily-news/2022/05/17/researchers-think-theyve-found-cause-of-gulf-war-illness.html