GI Bill & Chapter 31: What Veterans Need To Know About Non-Standard Semester Hours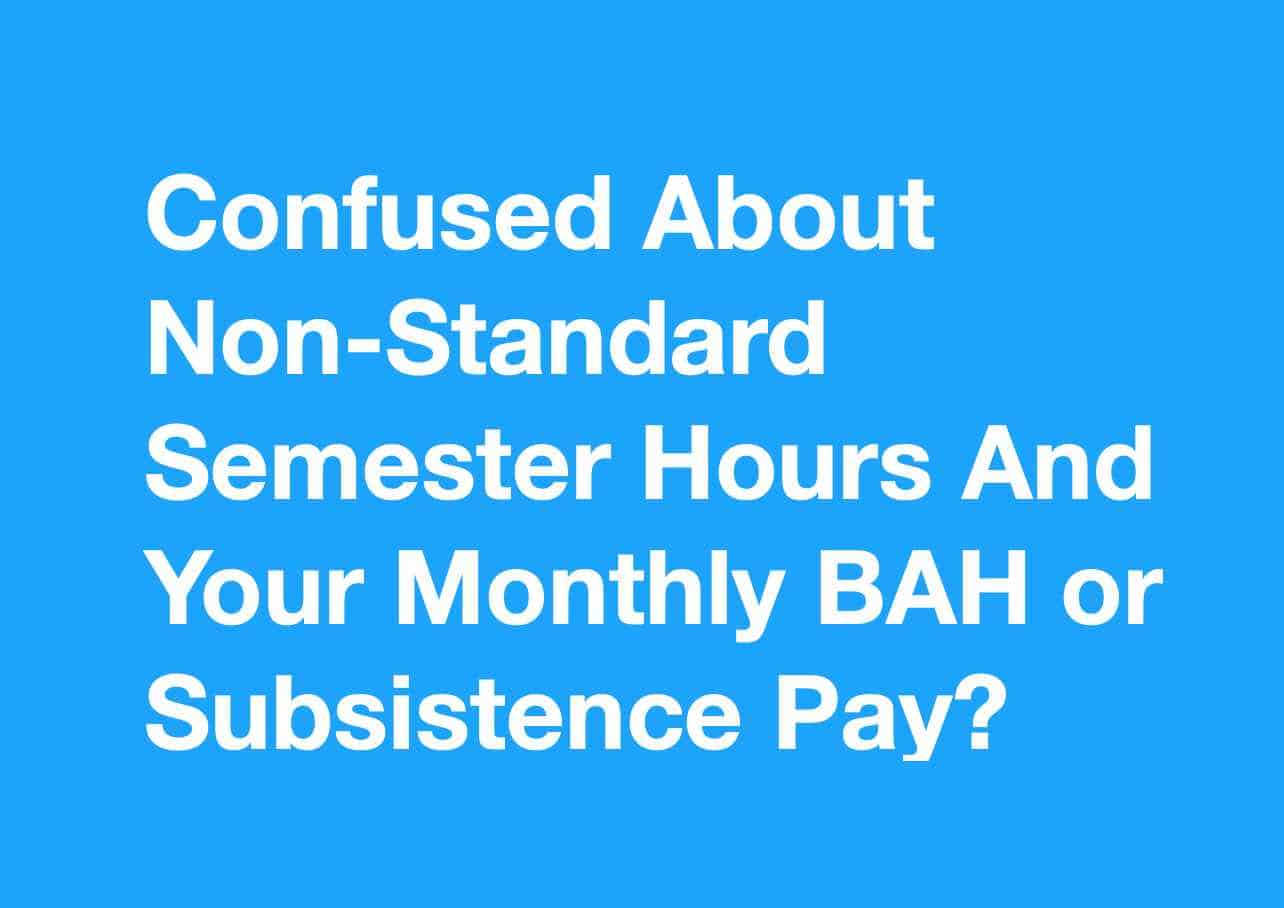 Whether you are using the GI Bill or Veteran Readiness and Employment, if you are thinking of taking courses in a program with non-standard semesters, you need to know if you will be considered part time or full time for your monthly subsistence payment.
Veterans constantly write into our Chapter 31 Voc Rehab Facebook group about how to know if they will be paid subsistence payments at full or part time.
The issue is complicated when veterans attend institutions with nontraditional schedules.
One of our Facebook group members provided a copy of the M28C Appendix AM from his Veteran Readiness Counselor that provides a full breakdown of attendance requirements for each type of classification. This should help both GI Bill and VR&E students evaluate their options if the regulation is too confusing.
Training Time Equivalency Table For Full Time (12 Or More Semester Hours)
The appendix provides a breakdown in addition to the regulation: 38 CFR § 21.4272(g).
Here is what the regulation subpart states:
(g) Course measurement; nonstandard terms.
(1) When a term is not a standard semester or quarter as defined in § 21.4200(b), the Department of Veterans Affairs will determine the equivalent for full-time training by:
(i) Multiplying the credits to be earned in the term by 18 if credit is granted in semester hours, or by 12 if credit is granted in quarter hours, and
(ii) Dividing the product by the number of whole weeks in the term.
(2) In determining whole weeks for this formula VA will –
(i) Determine the number of days from the beginning to the end of the term as certified by the educational institution, subtracting any vacation period of 7 days or more;
(ii) Divide the number of days in the term by 7;
(iii) Disregard a remainder of 3 days or less, and
(iv) Consider 4 days or more to be a whole week.
(3) The quotient resulting from the use of the formula is called equivalent credit hours. VA treats equivalent credit hours as credit hours for measurement purposes.
(Authority: 38 U.S.C. 3688(b))
How To Use Equivalency Table
To determine whole weeks in the course, disregard fractions of 3 days or less, and consider fraction of 4 days or more as a full week. Determine training time by reading across the credit hour line to the number of weeks per term column.
The appendix gives this example: 5 semester hours in 10 weeks is 3/4 time. This is the same result obtained from using the formula specified in 38 CFR 21.4272(9): 5 X 18 = 90 divided by 10 = 9 semester hours which is 3/4 training.
Number of Weeks Per Term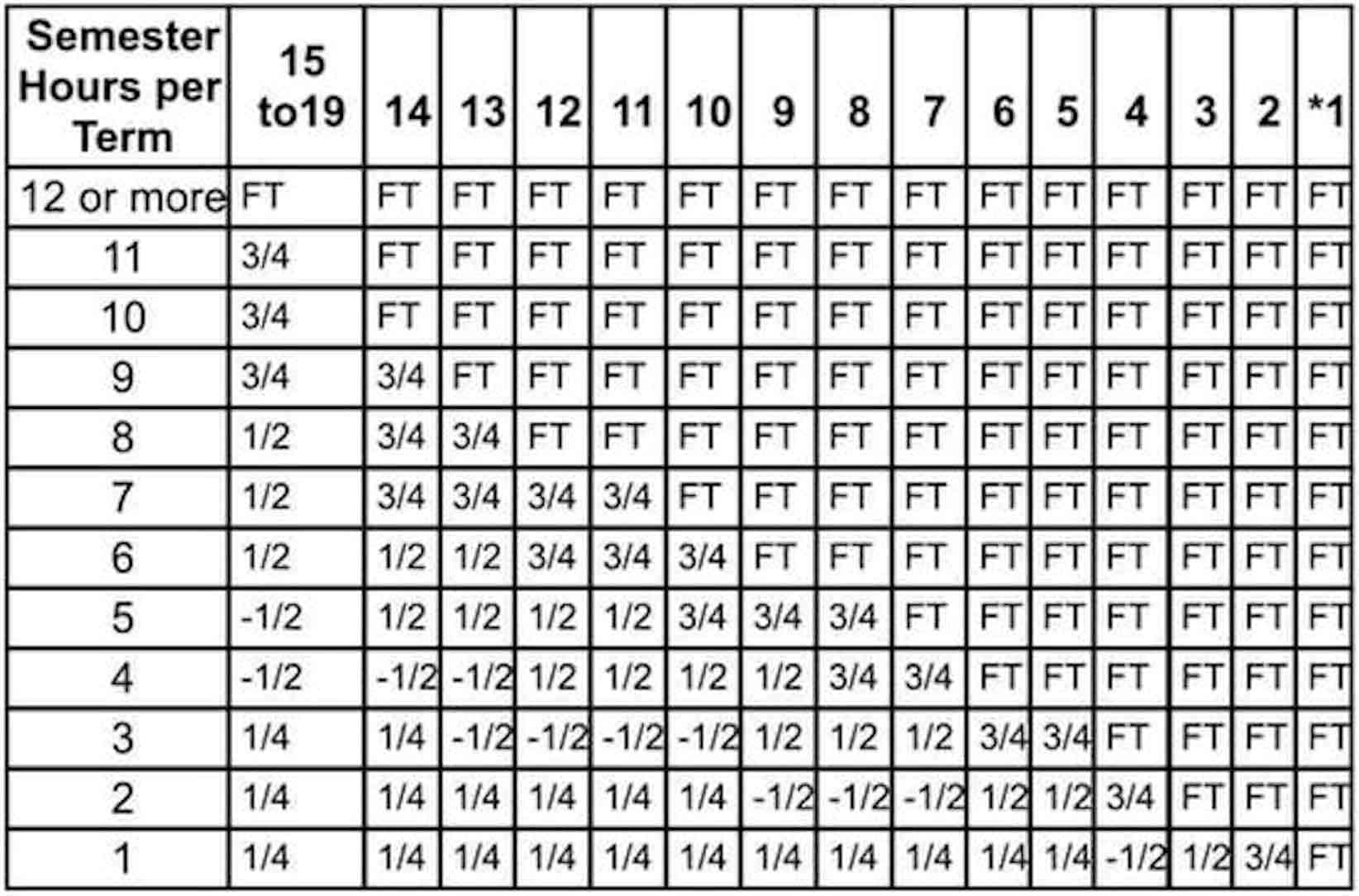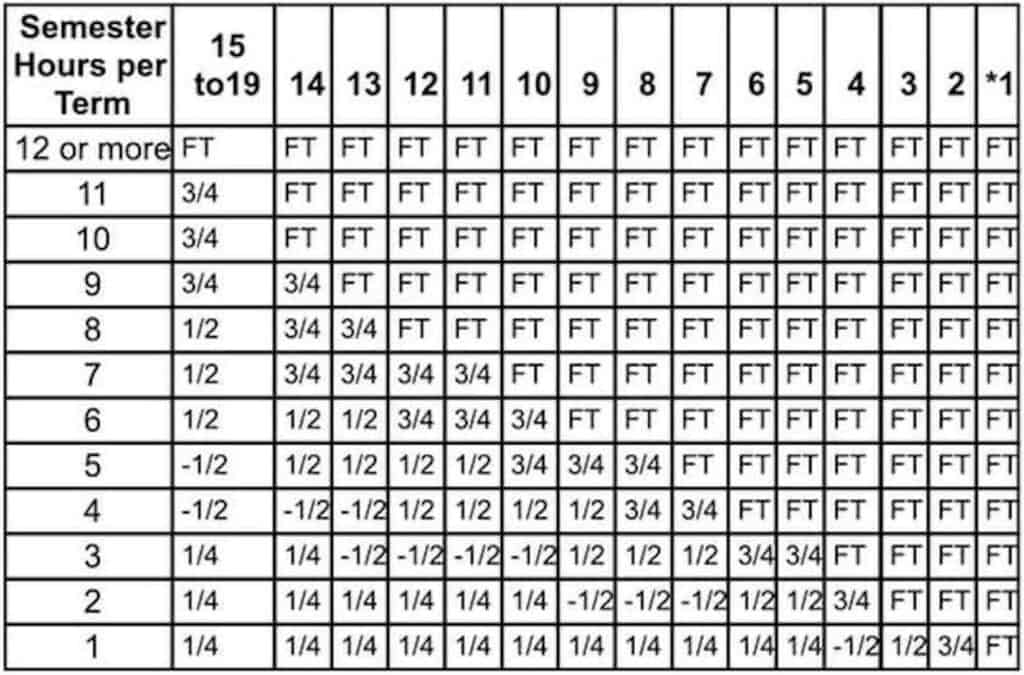 *This column represents one week or less.
Training Time
FT = Full Time
3/4 = Three-Quarter Time
1/2 = One-Half Time
-1/2 = Less than One-Half, More than One Quarter Time*
1/4 = One Quarter or less
*Less than 1 /2 Time – Chapters 32 and 106 do not have less than one-half time, more than one-quarter time. Less than 1 /2 time is treated as 1/4 time.
Veterans with questions should reach out to the veteran liaison at their respective college or university. Those veterans in Veteran Readiness and Employment should be able to get information from their counselor.