MMQB: Massive Cover-up of 40 Deaths at Phoenix VA Medical Center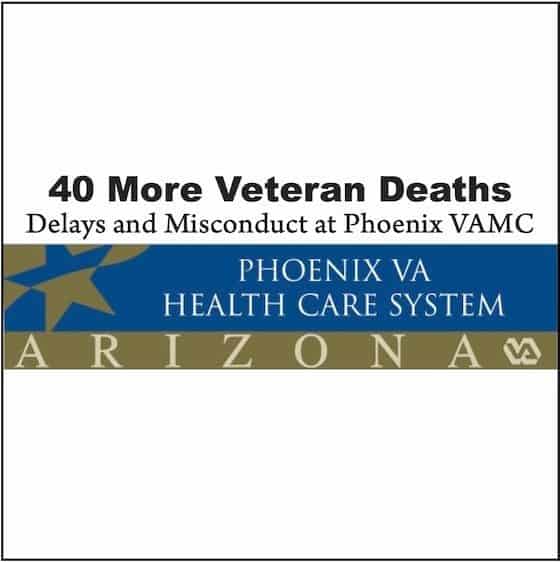 Senator McCain and other lawmakers demand action following deaths of up to 40 veterans connected to delays in health care services and misconduct at the Phoenix VA Medical Center.
In other news, two veterans' multi-million dollar lawsuits against VA see some recent success. As examples of VA malpractice spreads across the blogosphere, we can rest assured that more suits against VA will be hitting the news.
Hi, and thank you for checking in for another edition of Monday Morning Quarterback for Veterans. My name is Benjamin Krause, creator of DisabledVeterans.org. This is where I give a short report on pressing matters affecting veterans across the country.
Today, I focus on medical malpractice and veteran lawsuits.
40 Veteran Deaths at Phoenix VA Medical Center
PTSD Vet gets $3 million med mal award against VA
Marine widow suit against VA moves forward
Veterans react to VHA report spin
40 Veteran Deaths at Phoenix VA Medical Center
"Gross mismanagement of VA resources and criminal misconduct" are cited as the cause by a recent Inspector General investigation into deaths linked to the facility.
A VA-whistleblower, Dr. Sam Foote, came forward with documents alleging medical-care failures and administrative misconduct that led to the investigation. Foote stated that investigators confirmed reports he made about problems at the facility, but that no Arizona VA administrators were removed while "patients are still dying."
Numerous lawmakers highlighted investigations into the deaths of up to 40 veterans due to delays at the Phoenix VA Medical Center. US Sens. John McCain and Jeff Flake held news conferences last Friday that revealed their support of further investigations and action into the deaths.
According to the House Committee on Veterans Affairs, investigators concluded that up to 40 veteran deaths may be the result of delays in getting medical care at the facility. Current wait times at the facility are now averaging 55 days.
Foote and other employees alleged a variety of other institutional breakdowns in Arizona's VA, including:
• Medical record-keeping so backed up the system is 250,000 pages behind, and millions of records reportedly are missing.

• A compromised mental-health system where patient suicides doubled in the past few years, while staff ­suicides also emerged as a serious concern.

• A swamped emergency room that becomes the last resort for veterans who cannot get appointments with primary-care doctors or specialists. In some cases, VA health system employees have told the newspaper, vets with life-threatening conditions have waited hours without diagnosis or treatment because nurses are overworked and undertrained.

• Discrimination, cronyism and security breakdowns in the VA police department that endanger the safety of patients and employees.

• Hostile working conditions that caused an exodus of quality doctors and nurses, producing backlogs in specialty areas such as urology, where bladder cancer and other serious diseases are detected. Patients reportedly are referred to out-of-state VA centers or private physicians for treatment.
"They (administrators) just don't respect any rules at all," Foote said. "They just don't care. … They beat me to the ground. I retired just exactly so I could do this."
Read More: https://www.azcentral.com/story/news/politics/2014/04/10/deaths-phoenix-va-hospital-may-tied-delayed-care/7537521/
PTSD Vet gets $3 million med malpractice award against VA
Stanley Laskowski III of Carbondale just received confirmation that his $3+ million award will go through for medical malpractice committed by VA.
Stanley Laskowski III of Carbondale and his wife, Marisol, filed suit against the U.S. Department of Veterans Affairs in 2010, alleging medical officials at the Department of Veterans Affairs Medical Center in Plains Twp. improperly treated his PTSD for years, causing it to worsen.

The case went before Senior U.S. District Judge James Munley for a nonjury trial in September 2012. In a 69-page ruling issued in January 2013, the judge agreed doctors made numerous errors in treating Mr. Laskowski, 36, and awarded him $2.4 million for past and future lost earnings and $1.2 million for pain and suffering. Mrs. Laskowski was awarded $140,615 for loss of her husband's companionship.
Attorneys at the US Department of Justice are still challenging $600,000 of the total $3.7 million reward, claiming the addition amount should not be awarded due to Mr. Laskowski's disability compensation check.
Mr. Laskowski receives disability based on his PTSD. The government argues the value of those future benefits over his projected lifetime should be deducted from the award. Mr. Brier said he opposes that because there is no guarantee Mr. Laskowski will continue to receive the benefits as disability determinations undergo periodic review and payments could be halted in the future.
Regardless, this spells a huge success for veterans across the country that suffered at the hands of VA failures to treat PTSD properly. This is especially true for veterans and their families where the veteran runs into legal problems due to failures of VA to properly treat.
Read More: https://m.thetimes-tribune.com/news/vet-with-ptsd-to-receive-3-1-million-from-government-1.1671207
Marine widow suit against VA moves forward
The lawsuit of a widow against a VA Medical Center is being allowed to proceed against VA according to the US 6th Circuit Court of Appeals.
Widow Tiffany Anestis sued VA for over $22 million after it refused to treat her husband twice after he threatened his life and attacked her. Marine Cameron Anestis was turned away from two separate VA Medical Centers over two days during a suicidal spell. The second facility gave Anestis some forms he needed to fill out prior to getting care. He was unable to fill out and became frustrated and hostile. He attacked his wife and then took his own life as a result of the frustration.
According to VA policy, no veteran should be turned away if he/she is deemed to be a danger to himself or in need of immediate help. The attorney for Ms. Anestis states they are suing VA for negligence when it turned away Mr. Anestis, twice.
VA attorneys claimed they could not be sued for the decisions of its emergency room intake personnel when they turned away the Marine for care. VA claimed it was shielded from suit because the decisions were discretionary.
In the appeal, the US 6th Circuit concluded the decisions of staff to treat or not to treat were not the equivalent of policy decisions. That kind of claim by VA, if upheld, would make VA impervious to lawsuits for medical malpractice. Luckily, the 6th Circuit saw through the smoke screen VA was using and decided in favor of the widow.
When they do turn away a veteran in need of immediate care, or if the veteran threatens harm to others or self, the agency must provide care. If VA officials fail to care, the agency could incur liability.
Read More: https://bigstory.ap.org/article/court-reinstates-lawsuit-over-marines-suicide-0
Veterans react to VHA report spin
Last week, we reported on VA using its spin machine to defray harm to its public image cause by back to back to back to back VA Health Care scandals.
In Veterans Health Administration Fights Back, I cited two reports VA released last week about surprising satisfaction numbers of veterans using VA medical services.
The bias in the reports is clearly that they only survey veterans using VA medical services. They likely do not include feedback from the 80 percent of veterans not using VA medical care. They likely also do not include feedback from veterans and their families who were killed through VA malfeasance.
This would be referred to as selection bias meaning that those surveyed were also most likely to conclude a positive experience. Thus, the survey is not useful as a measure beyond merely attesting to the number of veterans happy with VA health care who use the health care.
In light of the timing issue related to the scandals, I asked veterans whether the timing was "Good Timing" or "Shameful Timing." The vast majority of veterans found VA's public affairs timing to be "shameful." In fact, all 100 percent of veterans who answered the survey agreed that VA was not using "Good Timing."
Here is what some veterans had to say:
J. Edward Vernon jr. says:
THIS IS "FRIGHTENING". WE ARE WORLD "LEADERS" IN FREEDOM, HEALTH CARE, HUMAN RIGHTS, ETC., AND THIS IS HOW WE TREAT OUR "VETERANS". HEAVY IS THE HEAD THAT WEARS THE "CROWN".
American Veteran says:
No surprise here, really. Obama's choice to lead the VA, Suckup Shinseki, refuses to defend military veterans from the recent insane editorial at the New York Times that deliberately attacked military veterans as prone to be domestic terrorists. It is disgusting that our war heroes are being demonized by Obama and his liberal demagogues. This also should leave a bad taste in every military veteran's mouth!
Lawrence Kelley III says:
There are a few key facts about these so-called unbiased surveys VA has done to show that veterans just love what VA does for them in healthcare.

First, these VA satisfaction surveys are based on direct mail solicitations with an average response rate of about 5-7% at the very best. That means that 93%+ of all veterans who were sent the survey actually responded. Funny thing happened on my way to 2014: The VA has never sent me any of these new surveys since my last one that blasted poor VA care in 2009. I would urge everyone to read the parts of the these surveys — the actual report and not take VA's press releases — and look for the section titled, "Empirical Methodology." There you will see that the facts stated above are quite true. The VA satisfaction percentages are based on survey samplings just like other opinion polls. But other serious exceptions prevail since they are more telling of the truth.

Second, many veterans who are younger and just out of the service have never had the good fortune to experience private sector healthcare. The same actually applies to just as many older veterans who have had nothing but VA to rely for healthcare since their discharge or disability rating. The point here is that since such veterans have never experienced great private healthcare, such persons have no valid basis by which to make comparisons on the better value of the two. That is simple deductive logic.

Third, as Ben Krause points out here in this post, VA does NOT survey all those veterans who are outside the VA-VHA healthcare group to see WHY they do not use VA for their healthcare services — since its as great as they claim?

The fact is that there are over 26 million veterans alive — and only about 6 million use the VA for healthcare. Ask yourself why, IF VA healthcare is so great, that over 80% of all veterans choose not to use it?