Is fixing the VA Wait List like boxing a Glacier?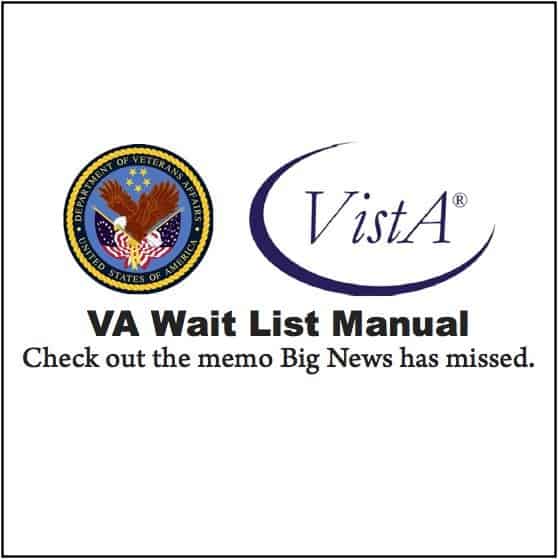 No. At least you least you can run away when boxing a glacier. As veterans, we are stuck with VA incompetence spanning decades.
Check out this VA wait list memo that major news outlets have overlooked. It came from the then VA Deputy Under Secretary of Health in 2002. The scope of the wait list problem was then confirmed by VA OIG in 2005. That information was then passed on to the Obama transition team in 2008. VA was cited as addressing it around 2010 without any substantial improvement until CNN broke the story in 2014. That is one hell of a long chain of inaction.
Judging from the language of the quoted memo below, it seems plausible to suggest the wait list problem probably predates even the Bush Administration. This means a person would have better luck boxing a glacier than changing VA procedures that harm veterans. Thanks to our friends at VeteransWarriors for brining this buried wait list memo to my attention. To give you some background, in 2002, VA published a manual in response to problems with VA employees cooking the books on wait times.
That manual contains a memo that is a missing link between present and earlier problems. The manual is titled, Electronic Wait List (EWL) for Scheduling and Primary Care Management Module (PCMM). On page 1 of the EWL manual, it cites a memo from then Deputy Under Secretary of Health O&M, Laura Miller. In that memo, dated February 1, 2002, she highlights the fact that wait times have become a major problem. At the center of the problem was the creation of "ad hoc" wait lists at each clinic due to extensive delays in care. Ms. Miller's goal in the memo was for the Deputy CIO of Health, Gary Christopherson, to create an electronic waitlist system so that central office could monitor wait times across the country.
Here is what the memo said:
As you are aware, clinic-waiting times has become a high visibility issue with the Secretary's office. We report data monthly during the Deputy Secretary's Performance briefings. Current waiting time measures reflect the experience of veterans already "in the system" and do not accurately portray waiting time experiences of new enrollees or patients without a scheduled appointment. Whether due to absence of appointments or other reasons, ad hoc "waiting lists" of new veteran enrollees to be entered into the scheduling system are known to exist, and waiting times for new enrollees seeking care are anecdotally reported to be long. We will attempt to formalize an "electronic waiting list" in VistA to more consistently and accurately reflect demand across VHA, and reduce the risk to enrollees lost to follow-up due to clerical error. 
[Read page 1 of the VA Electronic Wait List Manual here.]
This means the problem had surfaced likely much earlier than when the memo was written. If true, then the problem of delays in care and "ad hoc" wait lists likely originated under President Bill Clinton when the agency underwent substantial changes to incorporate a more corporate business model.
Though, Vietnam veterans would beg to differ. From their perspective, the wait list has been systemic since before their time. If true, this issue has been buried for decades and will likely not change until veterans solve the problem, ourselves.
So why are politicians and major media outlets hyping this up if they have known the truth all along? It is an election year.