Here is the List of the Top 100 VA Employee Salaries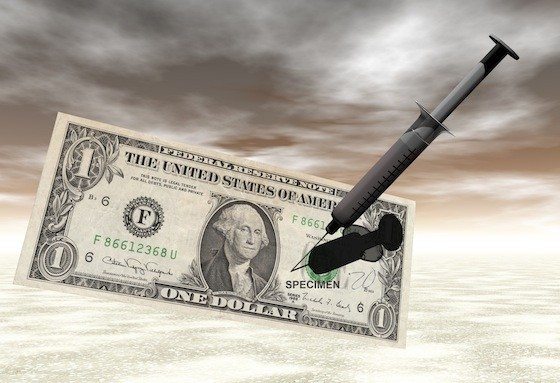 VA is always quite secretive about VA employee salaries. That is, until now.
We have been scouring the web looking for data on VA employees and finally found a resource on fedsdatacenter.com, brought to us by FedSmith. This article falls into my, "If the Fed will not hold you accountable, I will," category. Smile, 100 VHA employees are about to become "veteran famous".
I'd like to thank my good friend Ron Nesler for the reference note. Mr. Nesler is founder of the fastest growing veteran group on Facebook right now, called VA is Lying. If you want to keep current on things VA is lying about at any given moment, that is the first place to look.
Fedsdatacenter.com allows you to find the salary and bonus amount of any federal employee including VA employees on the VHA and VBA sides of the house. Mr. Nesler sent us a link to this tool two days ago and I decided to run a little analysis of my own to see how much our scandal plagued VHA employees are being paid.
Keep in mind, VHA employees are the highest paid VA employees across the board, so that is why I titled this, "Top 100 VA Employee Salaries".
Come to find out, VHA employees are among the most well paid federal employees of all agencies. VHA houses 1,274 employees earning at least $300,000 per year, as of 2013. The top earner, from the infamous Pittsburg VHA, falls within the top 1 percent of earners within the United States, at $401,589. At that price tag, he makes more than the President of the United States.
All the high earners, $300,000+, are classified as "medical officers" within the database, in case you would like to replicate my search. We will call these doctors "highly paid doctors" through the rest of this analysis.
To provide context, some of these doctors in the list are Internists. According to O*Net, the national salary average for an Internist is $186,000 in the private sector. Many of these doctors also have concurrent research positions with universities in the community. Many of the doctors listed are also foreign-trained doctors.
The wait list scandal-linked Durham VHA has the highest number of these highly paid doctors of any VHA facility. Richmand VHA is a distant second, with Minneapolis VHA close on its heals in third place.
Here is how the top 10 facilities size up against each other by total salary and # of doctors who are highly paid:
Top 10 VHA Highly Paid Employee List
| | | | |
| --- | --- | --- | --- |
| Location | Sum Salary | Sum Bonus | # Doctors |
| DURHAM | $21,936,153 | $0 | 66 |
| RICHMOND | $14,605,240 | $0 | 44 |
| MINNEAPOLIS | $14,290,742 | $77 | 43 |
| HOUSTON | $12,529,005 | $3,500 | 39 |
| TAMPA | $10,186,430 | $5,000 | 32 |
| PALO ALTO | $9,239,292 | $6,000 | 28 |
| SAN DIEGO | $8,879,671 | $15,000 | 28 |
| DALLAS | $8,056,223 | $0 | 25 |
| PITTSBURGH | $8,408,423 | $10,000 | 25 |
| PORTLAND | $8,032,825 | $3,000 | 25 |
Durham VHA was recently linked to the wait list scandal where two employees were placed on administrative leave prior to the Shinseki-inspired audit. Based on these numbers, I am troubled that Durham would have any problem scheduling veterans for appointments. In fact, I am outraged.
Top 100 VA Employee Salaries
Below is the full listing of all employees paid over $300,000 by VA cut off at the Top 100. As previously mentioned, this is also the top paid employee list for VHA. While the numbers might be popular in Forbes, after this current wait list scandal, being a high paid VA employee may be less popular than previously thought.
NOTE: I organized this with the location column arranged in second order to highlight possible payment schemes that may be in place. You will notice a few location have numerous employees pegged at exactly the same salary meaning they may be part of the same research program or a facility head of some kind. You will notice a pattern with Durham and Minneapolis. On the full list of 1,274 employees, the pattern pops up numerous times.
Type Cont + F to see if your VA doctor made the list below.
[Download the list of 1,274 Top Paid VA Employees spreadsheet here.]
| | | | | | |
| --- | --- | --- | --- | --- | --- |
| Rank | Last Name | First Name | Salary | Bonus | Location |
| 1 | CACCIARELLI | THOMAS | $401,589 | $0 | PITTSBURGH |
| 2 | BURDON | THOMAS | $398,055 | $0 | PALO ALTO |
| 3 | DAS | MITHILESH | $391,534 | $0 | INDIANAPOLIS |
| 4 | LEWIS | NEIL | $391,534 | $0 | RICHMOND |
| 5 | HARPOLE | DAVID | $388,267 | $0 | DURHAM |
| 6 | SONEL | ALI | $388,267 | $2,000 | PITTSBURGH |
| 7 | AGARWAL | RAKESH | $388,267 | $0 | RICHMOND |
| 8 | HOLLOWAY | KATHRYN | $388,267 | $0 | RICHMOND |
| 9 | MAQBOOL | FEROZ | $387,767 | $0 | OKLAHOMA CITY |
| 10 | ITANI | KAMAL | $386,267 | $5,500 | BOSTON |
| 11 | FANN | JAMES | $385,550 | $0 | PALO ALTO |
| 12 | SKIRBOLL | STEPHEN | $385,000 | $0 | PALO ALTO |
| 13 | HA | JONATHAN | $385,000 | $0 | RICHMOND |
| 14 | KHAN | MUHAMMAD | $385,000 | $0 | RICHMOND |
| 15 | ROBINSON | HARRY | $385,000 | $0 | SAINT CLOUD |
| 16 | JACOBS | RICHARD | $385,000 | $0 | SAINT LOUIS |
| 17 | LISTER | JAMES | $383,534 | $0 | GAINESVILLE |
| 18 | TRACHIOTIS | GREGORY | $380,000 | $5,000 | WASHINGTON |
| 19 | SALLOUM | JOSEPH | $379,675 | $0 | NASHVILLE |
| 20 | EHNI | BRUCE | $378,821 | $0 | HOUSTON |
| 21 | VALDIVIA | VALDIVIA | $378,267 | $500 | ANN ARBOR |
| 22 | CARSON | WILLIAM | $378,267 | $0 | BECKLEY |
| 23 | GLOWER | DONALD | $378,267 | $0 | DURHAM |
| 24 | WEKSLER | BENNY | $378,267 | $0 | PITTSBURGH |
| 25 | BROADDUS | WILLIAM | $378,267 | $0 | RICHMOND |
| 26 | MALLOY | PATRICK | $377,257 | $2,500 | NEW YORK CITY |
| 27 | STAPLES | EDWARD | $375,058 | $0 | GAINESVILLE |
| 28 | KIM | CHARLES | $375,000 | $0 | DURHAM |
| 29 | MILLER | MICHAEL | $375,000 | $0 | DURHAM |
| 30 | PABON-RAMOS | WALESKA | $375,000 | $0 | DURHAM |
| 31 | SMITH | PETER | $375,000 | $0 | DURHAM |
| 32 | SMITH | TONY | $375,000 | $0 | DURHAM |
| 33 | SOPKO | DAVID | $375,000 | $0 | DURHAM |
| 34 | BARI | NAVEED | $375,000 | $0 | MINNEAPOLIS |
| 35 | BRAHMBHATT | NAISHADH | $375,000 | $0 | MINNEAPOLIS |
| 36 | ENKER | MARK | $375,000 | $0 | MINNEAPOLIS |
| 37 | JANJUA | TARIQ | $375,000 | $0 | MINNEAPOLIS |
| 38 | LONCHYNA | VASSYL | $375,000 | $0 | MINNEAPOLIS |
| 39 | MBEKEANI | KAMANA | $375,000 | $0 | MINNEAPOLIS |
| 40 | NARAYAN | TAMARISA | $375,000 | $0 | MINNEAPOLIS |
| 41 | PATEL | SUBHASH | $375,000 | $0 | MINNEAPOLIS |
| 42 | SRIRAM | KRISHNAN | $375,000 | $0 | MINNEAPOLIS |
| 43 | TOLINS | JONATHAN | $375,000 | $0 | MINNEAPOLIS |
| 44 | WOOD | MAUREEN | $375,000 | $0 | MINNEAPOLIS |
| 45 | THARIN | SUZANNE | $375,000 | $0 | PALO ALTO |
| 46 | SHAKIR | AHMED | $375,000 | $0 | SAN ANTONIO |
| 47 | KIM | SAMUEL | $375,000 | $0 | TUCSON |
| 48 | SUBRAMANIAN | SREEKUMAR | $375,000 | $0 | TUCSON |
| 49 | THOMPSON | JESS | $375,000 | $0 | TUCSON |
| 50 | DEMARCO | JAMES | $374,400 | $0 | CLARKSBURG |
| 51 | WERA | GLENN | $373,267 | $5,000 | CLEVELAND |
| 52 | ZHOU | WEI | $373,267 | $0 | PALO ALTO |
| 53 | KANG | PREET | $373,129 | $0 | CLEVELAND |
| 54 | BANDI | RUPAL | $373,129 | $3,000 | PITTSBURGH |
| 55 | QUAGLIANO | PETER | $372,677 | $0 | RICHMOND |
| 56 | HOM | MARK | $372,466 | $0 | RICHMOND |
| 57 | FRAZEE | JOHN | $372,334 | $0 | LOS ANGELES |
| 58 | BANERJEE | SUBHASH | $371,943 | $0 | DALLAS |
| 59 | ROTTMAN | JEFFREY | $371,483 | $0 | NASHVILLE |
| 60 | YAW | KENNETH | $370,000 | $0 | ALBUQUERQUE |
| 61 | BHATIA | SAMEER | $370,000 | $0 | BIRMINGHAM |
| 62 | TURNER | DENNIS | $368,634 | $0 | DURHAM |
| 63 | CROSBY | LYNN | $368,628 | $0 | AUGUSTA |
| 64 | BREALL | JEFFREY | $368,617 | $0 | INDIANAPOLIS |
| 65 | HALL | BRAD | $368,570 | $0 | SAN ANTONIO |
| 66 | HAGAN | MICHAEL | $368,395 | $0 | RICHMOND |
| 67 | MCGUIRE | PHILIP | $367,982 | $0 | NASHVILLE |
| 68 | WUKICH | DANE | $367,788 | $0 | PITTSBURGH |
| 69 | GIORI | NICHOLAS | $367,281 | $0 | PALO ALTO |
| 70 | AMSTUTZ | PAUL | $366,258 | $1,000 | SALT LAKE CITY |
| 71 | JIMENEZ | ERNESTO | $366,067 | $0 | TAMPA |
| 72 | BRILAKIS | EMMANOUIL | $366,021 | $0 | DALLAS |
| 73 | OBEL | OWEN | $366,021 | $0 | DALLAS |
| 74 | SMITH | JOSEPH | $365,715 | $82 | BIRMINGHAM |
| 75 | YOUNG | TIMOTHY | $365,361 | $0 | AUGUSTA |
| 76 | MELDRUM | RUSSELL | $365,361 | $0 | INDIANAPOLIS |
| 77 | CHANSKY | HOWARD | $365,361 | $0 | SEATTLE |
| 78 | AMIDI | MORTEZA | $365,350 | $0 | PITTSBURGH |
| 79 | WHEELER | GREG | $365,000 | $0 | LEXINGTON |
| 80 | BARTH | KLEMENS | $363,390 | $0 | WASHINGTON |
| 81 | TYE | GARY | $363,348 | $0 | RICHMOND |
| 82 | CALLAHAN | DENNIS | $363,267 | $0 | SAINT CLOUD |
| 83 | KIM | HUBERT | $363,267 | $0 | SAN FRANCISCO |
| 84 | TOBLER | HARMON | $362,270 | $0 | LITTLE ROCK |
| 85 | GELFENBEYN | MIKHAIL | $362,267 | $0 | SEATTLE |
| 86 | CHRISTENSEN | KEVIN | $362,181 | $0 | HONOLULU |
| 87 | CORPE | RAYMOND | $362,094 | $0 | AUGUSTA |
| 88 | SHALABY | ALAA | $361,534 | $0 | PITTSBURGH |
| 89 | SWAMY | NARAYANA | $361,403 | $0 | MATHER AFB |
| 90 | SHERIGAR | RATHNAKARA | $361,322 | $0 | SALEM |
| 91 | MYERS | SCOTT | $361,267 | $0 | GAINESVILLE |
| 92 | SAWHNEY | RAJIV | $361,267 | $0 | SAN FRANCISCO |
| 93 | WEBSTER | MARK | $360,843 | $0 | INDIANAPOLIS |
| 94 | CETAS | JUSTIN | $360,767 | $0 | PORTLAND |
| 95 | MCCARRON | JESSE | $360,767 | $0 | PORTLAND |
| 96 | MONEIM | MOHEB | $360,258 | $0 | ALBUQUERQUE |
| 97 | LARSON | PAUL | $360,000 | $0 | SAN FRANCISCO |
| 98 | DUNTON | ROBERT | $360,000 | $0 | SYRACUSE |
| 99 | ADLER | GRIT | $360,000 | $0 | TAMPA |
| 100 | HOMAN | EDWARD | $360,000 | $0 | TAMPA |