Is VA Playing Politics With Its Suicide Prevention Dollars?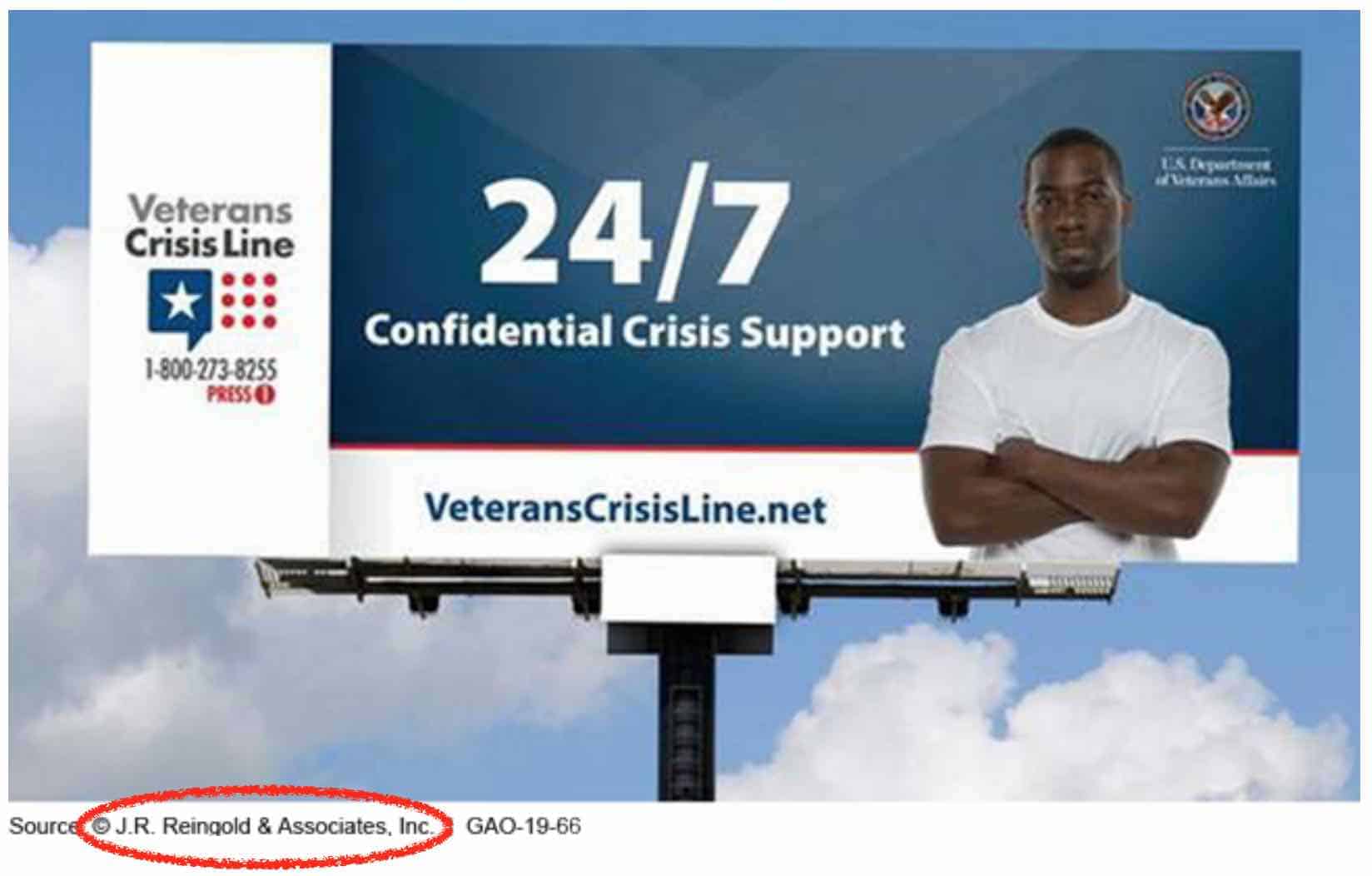 Last week, a great deal of press coverage discussed the GAO finding that VA stopped spending its money on suicide prevention advertising, but little talked about why VA stopped those programs.
RELATED: See GAO Suicide Prevention Advertising
Since it's Christmas week, I will keep this topic light. Drilling down into the bigger question, was the drop in advertising funding due to politics or just common sense?
On the one hand, headlines abound chastised VA for not spending its tens of millions per year on just suicide prevention campaigns – – these are basically expensive advertising campaigns.
At first glance, one might conclude the lack of spending is simply connected with Republicans' perceived lack of consideration for preventing the suicide of veterans. VHA spending dipped significantly on its social media campaign from 2017-2018:
VHA had a total budget of $17.7 million for its suicide prevention and mental health media outreach for fiscal year 2018, of which $6.2 million was obligated for suicide prevention paid media. As of September 2018, VHA said it had spent $57,000 of its $6.2 million paid media budget.
Why did VA stop spending on Facebook ads or other forms of social media related to suicide? Was VA running its own advertising campaign, or was the money actually going to contractors who were performing the service? Was VA getting what it paid for?
Were they paying for lower veteran suicides? Well, after almost one decade using this same strategy while the suicide rate remained largely static at 20 suicides per day, anyone with a brain would conclude the advertising was not reducing anything, right?
Imagine how many psychologist VA could have hired using that money. Would the increased counselors have reduced the suicide rate more than ads on Facebook?
It seems clear that someone made a decisive decision to curtail spending on ads at Facebook through well-paid government contractors. But why?
Meat Of GAO Report
The meat in the report is that GAO found problems with the media campaign against suicide that implicates ongoing problems we now see coming to the surface across VA.
The agency's Information Technology systems and practically anything dealing with technology is a complete mess. No major program is meeting its goals. The Caregiver software is delayed a year or more. The GI Bill update was a no-go. The update to VHA's electronic health records system is struggling to get off the ground. Lots of problems.
Enter suicide prevention ad campaigns. Usually, with an ad campaign costing tens of millions, the client would have substantial expectations related to outcomes. For VA, they have no idea what that could mean related to suicide prevention.
According to GAO:
VHA officials reported not having leadership available for a period of time to make decisions about the suicide prevention media outreach campaign. GAO found that VHA did not assign key leadership responsibilities or establish clear lines of reporting, and as a result, its ability to oversee the outreach campaign was hindered. Consequently, VHA may not be maximizing its reach with suicide prevention media content to veterans, especially those who are at-risk.
VHA evaluates the effectiveness of its suicide prevention media outreach campaign by collecting data on metrics, such as the number of people that visit the VCL website. However, VHA has not established targets for the majority of these metrics. Officials said they have not established targets because, apart from one industry-wide target they use, they lack meaningful targets for evaluating the campaign. However, VHA could use information about how its metrics performed in the past to develop reasonable and meaningful targets for future performance. Without established targets for its metrics, VHA is missing an opportunity to better evaluate the effectiveness of its suicide prevention media outreach campaign.
The campaign had been ongoing for years prior to 2017, which is the year the press has focused on to show the Trump Administration does not care about suicide prevention.
But what about the GAO recommendation?
Now, GAO's recommendation follows:
VHA should (1) establish an approach to oversee its suicide prevention media outreach campaign that includes clear delineation of roles and responsibilities, and (2) establish targets for its metrics to improve evaluation efforts. VA concurred with GAO's recommendations and described steps it will take to implement them.
The GOA conclusion illustrates yet another example where the agency continues to fail veterans and taxpayers by not providing targets or metrics to measure success.
From 2008 to 2016, I cannot even count on my hands how many times VA was chewed out by Congress for blowing millions or even billions of dollars on IT projects without having a clue what they were doing or how to measure success.
Trump Playing Politics In Veterans Law Judge Selection
Recently, President Trump was criticized over his refusal to approve all eight selected Veterans Law Judges (VLJ) who were approved by Board of Veterans Appeal for the position within VA.
To become a VLJ, the attorney must work in the arena of Veterans Benefits Law many years, pass a series of performance assessments, and possess the kind of qualities admired at the Board. The Board put forth 8 candidates for approval, but the White House refused to approve 4 of the candidates allegedly based on political affiliations of the candidates.
RELATED: Trump Administration Playing Politics In Judge Approval
Washington Post and Stars & Stripes covered it, and I addressed those findings. According to the Washinton Post:
The rejections came after the White House required them to disclose their party affiliation and other details of their political leanings, according to documents viewed by The Washington Post.
The judges could have been great judges. In fact, most left-leaning VA employees tend to be more veteran-friendly when adjudicating benefits than right-leaning, as has been my experience and research. Either right or left, we know President Trump is not above filling positions with individuals, and perhaps organizations, friendly to conservative issues.
Politics Behind Suicide Campaigns Or Common Sense?
If you take a look at the photo used by GAO on its website of the JR Reingold billboard. I included it at the top, and you can see Reingold circled.
This company was a major vendor responsible for the development of the ad campaigns and received around $100 million from VA for certain ad campaigns including the Make The Connection suicide prevention campaign.
RELATED: VA Shuts Off Obama-era Google Adwords Campaign
(Note: I have a lot of campaign information yet to post about Reingold and this program including contracts.)
Take a look at 2015-2016: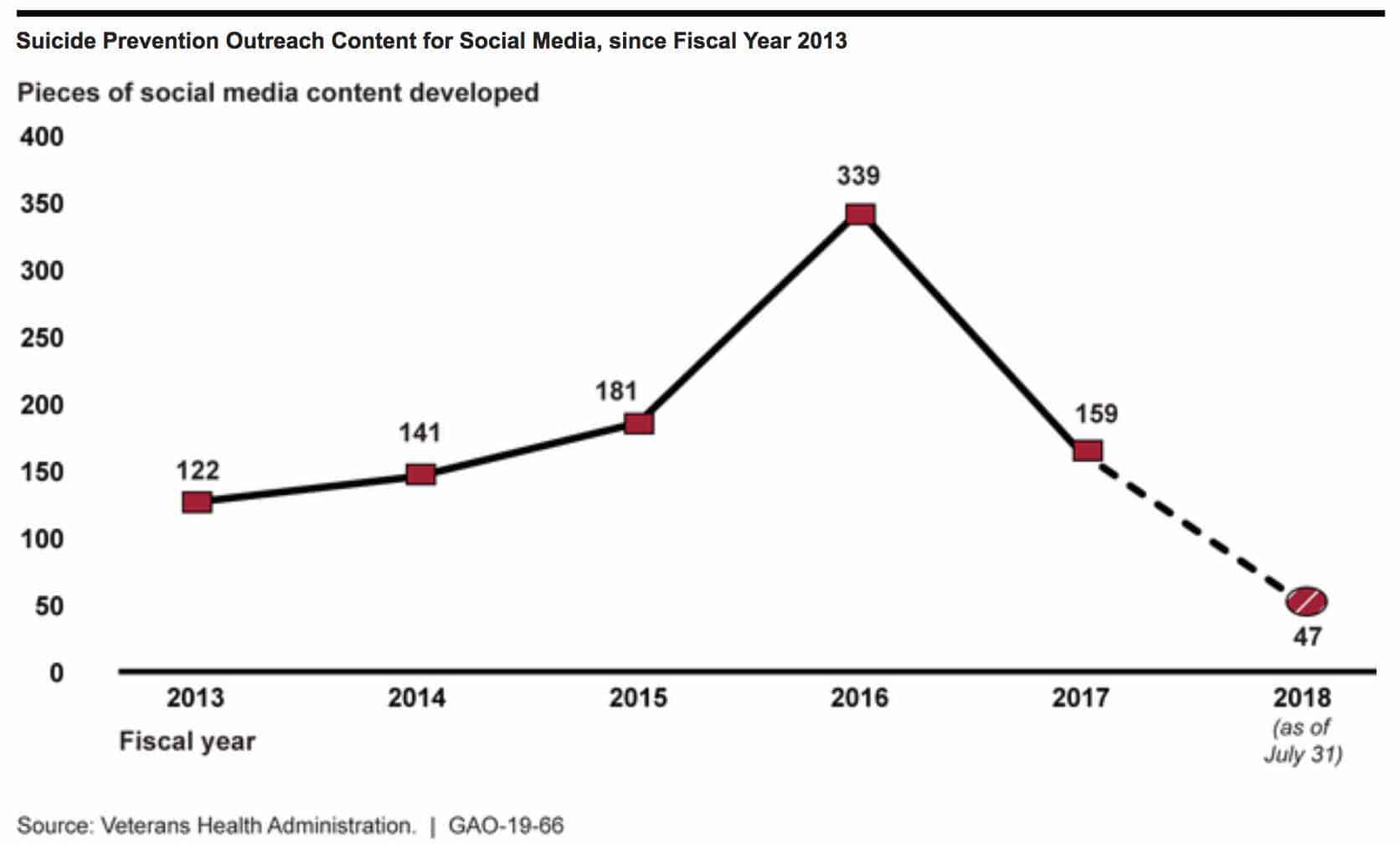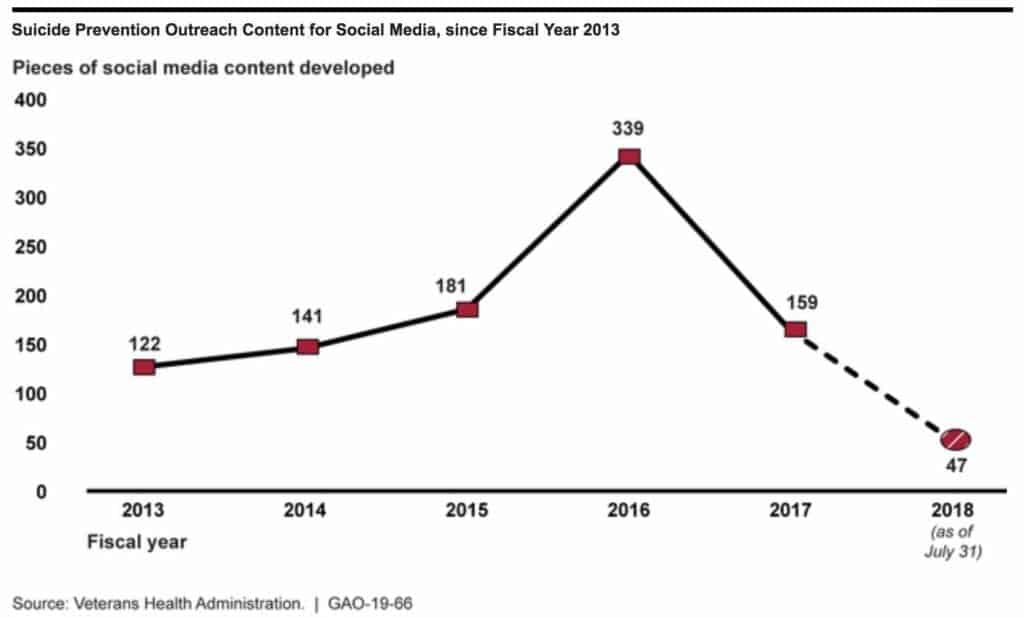 Spending on the campaign increased substantially in 2016 going into the election cycle. It may just be a coincidence, but Rosemary Freitas Williams, the then head of VA Public and Intergovernmental Affairs (i.e. VA propaganda), was a former VP for JR Reignold prior to taking the top spot running VA propaganda.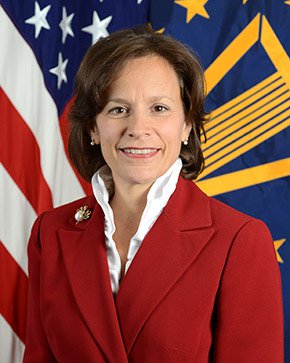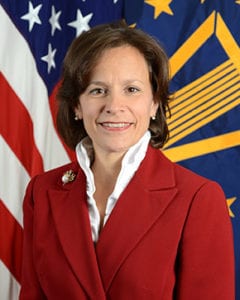 While the VA press release on her appointment mentions all of her accolades except mention of her time at Reingold, her DOD biography provides the following:
Williams served as a vice president at Reingold, Inc., a social marketing and strategic communications firm where she was responsible for the strategic direction of media relations and oversight of the agency's public awareness campaigns, with a particular focus on issues affecting the veteran and military communities.
Was she responsible for any increased spending for this ineffective program that benefited her former employer? I guess we could ask her, but Williams no longer works at VA.
Williams gave me good info in the past on Flow Health, but she also chastised me for exposing VA suicide prevention failures that, coincidentally, could show the Reingold campaign was ineffective at the time.
Aside from that, there is no question Williams was a political appointee and an Obama supporter. As far back as 2009, she provided the following comment on Obama's selection to win the Nobel Peace Prize, "Obama's election inspired the world. It was the first step in restoring people's trust and respect for the United States and its government."
RELATED: VA Cancels Flow Health Agreement After DisabledVeterans.org Exposes It
Did Obama restore the public's "trust and respect" for the government? Most certainly not. Did politics play any role in increased spending toward Reingold that coincided with the run-up in campaign spending for politicians during 2016?
VA Contracting And Political Favors
There exists solid intel on certain former senior leaders using VA contracts as vehicles to move money between political operatives in exchange for favors.
One example are certain Wikileaks emails from John Podesta that suggest a tie in with VA contracting favors. I discuss the emails and contacts in an earlier article, Podesta Emails Tied To VA Contract Steering. This was a bad move, and its exposure through Wikileaks revealed to many that politics are at play within VA and money moves to political operatives, or at least it did.
Insiders at the time did report that certain VA leaders were affiliated with the Democratic Party and selecting or funding contracts based on certain political affiliations. I will leave it at that.
Even if Reingold is not linked to the Democratic Party in any way, Reingold's connection to Williams and the sudden spike in spending to that company could be enough of a connection in the eyes of the Trump Administration to stop funding for that contract vehicle.
Or, the answer could be more simple. Maybe the contract ran out and was simply not renewed. No motive necessary.
My opinion on this follows.
Regardless of the motive for withholding the spending, the money was not well spent prior to that point. Everyone knows VA needs more mental health doctors, not more spending on advertisements supporting VA messaging on certain topics to control its narrative.
The agency should fund doctors, not propaganda.
Suicide prevention using social media this way did not result in fewer suicides as far as we can tell. VA failed to implement standard metrics and goals to show the use of social media and the internet, in the way VA used it, would result in changing behavior related to suicide.
Money Well Spent?
Even if no above theory answers the question, we do know that VA is very short of mental health providers, and $18 million per year that was going to Facebook and Reingold could pay for many counselors.
Regardless of whether politics was a motivator, common sense seems to win here. The money was not well spent. We did not see a significant impact on veteran suicide and the number of mental health resources including doctors is still lagging.
We may never know the precise reason for VA not spending the money, but hopefully, upcoming FOIA requests from yours truly will shed at least some light on these questions.
Btw, I plan to post FOIA information concerning the suicide prevention campaign in the near future. Be sure to check back in for that if you are wondering.