Like Rats Fleeing The Titanic, More VA Executives Jump Ship This Week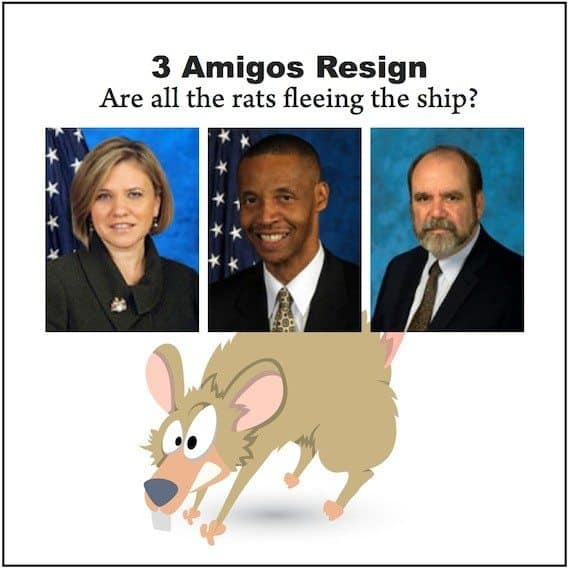 In what must be a new record, three VA executives announced they were stepping down this week. TIME Magazine reported that the most recent decisions were, "aimed at accelerating Veterans' access to quality health care and rebuilding the trust of America's Veterans."
Veterans Affairs has been put into a state of reboot after CNN broke the story on the VA wait list scandal in April. Since then, VA Secretary Eric Shinseki resigned as did Dr. Robert Petzel, head of VA Health Care. VA OIG is investigating criminal allegations across the country related to the manipulation of appointment times for veterans. The FBI is reportedly involved. Now, three more VA executives are ending their careers at VA to build "trust" with America's veterans.
On Monday, Assistant Secretary for Congressional and Legislative Affairs Joan Mooney suddenly retired – though she does not seem old enough to have retired, at around 50 years old, and it smells a lot like a resignation. Previously, Congress hammered Joan Mooney over her refusal to answer straightforward questions about VA's lies during wait list scandal Congressional hearings. Mooney is credited as being behind the obstruction of Congress's access to VA wait list data.
By Thursday, two more VA executives announced they were stepping down effective almost immediately. Will Gunn, head of VA's General Counsel, will resign effective July 3. Will Gunn was credited with redefining the wait list files as "interim work product" to justify their illegal destruction. Dr. Robert Brown, current Acting Under Secretary of Health, will resign effective July 2.
Florida Republican Rep. Jeff Miller, who chairs the House Committee on Veterans Affairs, commented:
"The only way today's VA personnel actions can be viewed as positive developments is if the department fills the vacancies with leaders who put veterans first—not the VA bureaucracy—focus on solving problems instead of downplaying or hiding them, and understand that taxpayer funded organizations such as VA have a responsibility to provide information to Congress and the public rather than stonewalling them."
Former VA Secretary Eric Shinseki used to compare changing course within VA to turning a ship in the Chesapeake Bay. Perhaps the ship he was talking about was the Titanic, and like all good rats, these VA executives are hitting the road to K Street just before the VA sinks to the bottom.
#####
Benjamin Krause is an award winning investigative reporter, Veterans Benefits Law attorney, and disabled veteran of the US Air Force, where he served in its Special Operations Command. He attended Northwestern University and  the University of Minnesota Law School using VA Vocational Rehabilitation.
While in law school, Benjamin won his decade-long fight for full disability benefits and now helps others do the same with this website and his guide, the Voc Rehab Survival Guide for Veterans. Since its first publication in 2011, the guide has helped the veteran community receive millions in untapped benefits through the VA Chapter 31 Vocational Rehabilitation & Employment program. 
Connect with Benjamin on  Google+,  Twitter,  Facebook and LinkedIn.