MAILROOM: How VA Shutdown Impacts Your Claim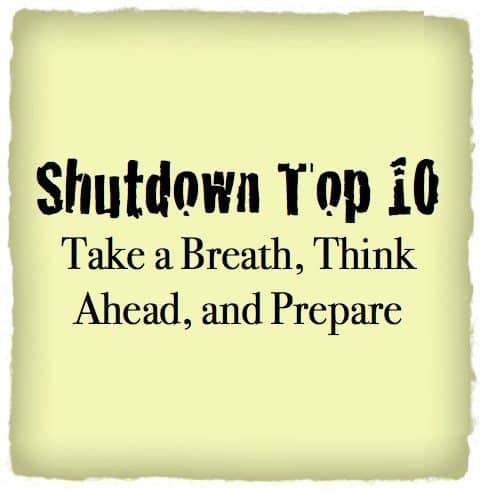 With the shutdown, veterans are busy doing one of three things: 1) planning; 2) freaking out; or 3) yelling at other veterans who are planning because it freaks them out.
I'm sure if you are reading this you have already read over some other articles about VA's Benefits shutdown. Since no one else is writing much about this issue, I thought it'd be important to write something useful.
I created an update of what is going on followed by a Top 10 list of things veterans can do to prepare. At the bottom of the post is another list of freebies and discounts veterans can take advantage of during this potential hardship.
As of this second, unconfirmed reports are circulating that VA on the Veterans Benefits Administration side is out of money. Veterans Health Administration does have money for this fiscal year.
A hearing is scheduled tomorrow in the House Committee on Veterans Affairs. Secretary Eric Shinseki will speak to Congress about the issues. We will know then if VA is out of money or at least when the money will run out. More on the hearing is below.
In short, it sounds like VA may be all over the map on what day the money runs out. Here in St. Paul, VBA furloughed a lot of employees yesterday. It was reported by another VA employee that all the backlog claims adjudicators were furloughed today. More on this below.
Here's the post-shutdown announcement problem
VA and big VSO's have not provided veterans with any information on what to do during the shutdown. Instead, they all seem to rely on the VA pamphlet to give vets all the information they think we need to know.
In the main pamphlet, they have told us all the services that will be or are shut off. In their "lapse" pamphlet, they explain what is being shut down with a little more depth.
Here are the pamphlets:
If you are like me, you have concluded that the pamphlets are pretty much useless. You have probably also concluded that there isn't a whole lot of data online to help inform you of what to do.
Here is the situation as of today
This week, VA told us they are also shutting off all communication with few exceptions for Capitol Hill.
The House Committee on Veterans Affairs is holding a hearing tomorrow to more aptly discuss how the shutdown will impact veterans.
VA Secretary Eric Shinseki is the only witness scheduled for the hearing. You can watch it live here at 10:30 am EST: https://1.usa.gov/1ctnxBx
We also know VA will shut off the benefits at some point. Reports have surfaced that "some point" is actually this week.
VA Regional Offices have largely been shut down. VA is claiming its claims adjudicators are still working on the backlog, but one VA employee claims the St. Paul VARO furloughed its claims staff today. My guess is St. Paul VARO is not alone.
This is not to be confused with VA Health Care. VHA has received funding one year in advance. VBA on the benefits side is the side we are discussing here.
Now what?
Contact your favorite VSO for specific advice on your claim.
If they are located in a VA Regional Office that has been closed, you may have a hard time reaching them. If that is the case, send an email to them or contact their national office.
Generally speaking, for any benefits claim, VA will probably not process it right now. If St. Paul is not the only RO that has totally shut down, it is likely that no one's claim will get through. This likely includes claims for the following veterans benefits:
GI Bill
Pension
VA Voc Rehab
VA Home Loan
Disability Compensation
I'm trying to find out what veterans can do about VA Health Care if they currently have no service-connected rating. I'll post an update once that comes through.
Regarding C&P evaluations, it is possible that some VHA facilities are still doing things since VHA is still operational. However, if VBA is no longer working at that VARO, then it is equally likely that no new C&P evaluations will be scheduled until this is over.
VSO's have had to relocate as of today due to the mass closure. Here are the listings for the changing locations for DAV. No other VSO has a similar listing:
DAV has otherwise published some posts this week about the shutdown. The posts generally deal with DAV letting veterans know they will still be open. Click on the image here to check out their website: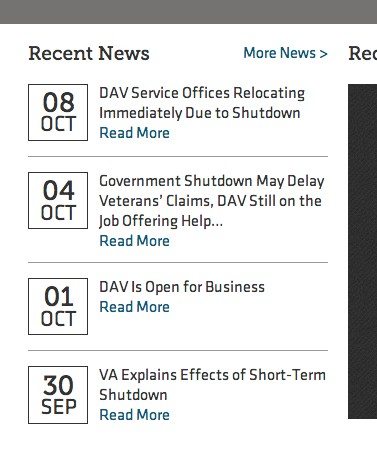 Shutdown top 10
Here is a short list of ideas that I published yesterday in the MMQB to give veterans ideas on how to handle issues outside of VA.  Here is a list of the top 10 things to do in a shutdown:
Email or call your US Representative, Senator and President to let them know this is unacceptable
Take out a credit card if you lack access to cash – use in emergency
Call creditors, landlords and utility companies to alert them about the potential cut
Call your university financial aid office to request an emergency scholarship
Keep enough cash on hand to live for one month
Keep enough food on hand to live for one month
Call family members or friends who may be able to help
Identify available resources for food and shelter
Identify VA resources that could be available, veterans centers
Develop a spending plan and reduce all unnecessary expenses
Top freebies and discounts to help you get by
Beyond this, some private businesses are banding together to help veterans who are harmed by this shutdown. One veteran posted this on Facebook, and I thought I'd repeat it on this post.
Here is a listing:
USAA: the company has allegedly offered 0% interest loans to military and veterans who bank with them to offset the lack of funding from the government until the shutdown is over.
Sam's Club: Some Sam's Club locations (mostly those near military installations) are waiving membership requirements for military personnel, retirees, and their families so they can continue to save on groceries without a commissary.
ACME Food Stores: To help military families cover grocery costs while the commissary is closed, ACME food stores are providing a 10% discount to military families from October 6 – October 10.
United Supermarkets: United Supermarkets are expanding their already existing military discount program to seven days a week. The discount is offered to all active, retired, and civilian military in the United States.
AMC Theatres: Free small popcorn with a government or military ID through Thursday, October 10.
Fat Patty's: Fat Patty's in Port Royal, SC is offering a 25% discount on dining to all military and government employees seven days a week through the duration of the shutdown.
Boston Market: Boston Market is offering a free rotisserie chicken for any military and federal employees with the purchase of a family meal from October 6 thru October 13.
Naked Pizza: Naked Pizza is offering a 15% discount on all items through the duration of the shutdown. Valid government ID is required.
Whole Foods: All Whole Foods stores in DC, Virginia, and Maryland are offering a free family dinner from 5:30 – 7:00 pm.
The Greene Turtle: The Greene Turtle has a $5 menu for all government employees at noon on Monday thru Friday. A valid ID is required to claim the discount.
From MilitaryandVeteransDIscounts.com.
Aside from this, how are you doing in light of the shutdown?
Are you confident it will not impact you?
Do you think VA should have done more to prepare veterans?
Would you like me to write a more detailed guide on 'just in case' type scenarios and strategies to help with finances and other issues?
Should VSO's be helping more through online publishing to alert veterans about these issues?
Please comment below.