Shulkin Out At Veterans Affairs, Trump Nominee Lacks Management Experience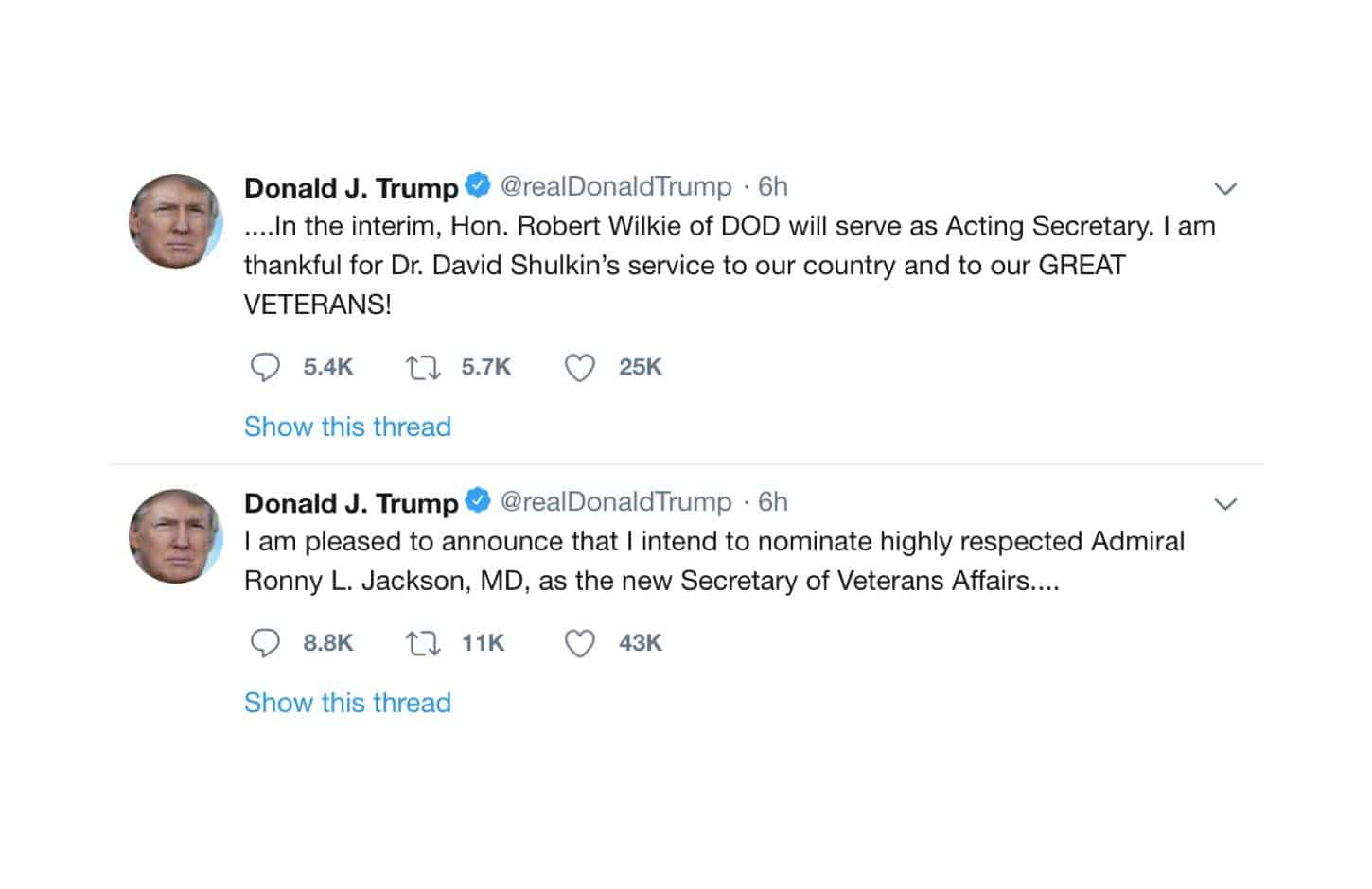 President Trump pulled a fast one on Veterans Affairs today by terminating David Shulkin and announcing his replacement by another doctor without significant management experience.
On Twitter, Trump announced the termination of Shulkin and his replacement, Rear Adm. Ronny Jackson. This is the Navy doctor who announced Trump was physically and mentally fit as President. Trump, in turn, selected Jackson, a doctor with limited management experience, to run the most political and dysfunctional organization in the government.
It is important to note Jackson is not a veteran (he is technically, but has not used VA services since he is active duty), making him the second non-veteran President Trump selected to run the agency. Since 2006, Jackson has served as White House physician.
There is not a lot of lost love from lawmakers at the departure of Shulkin.
RELATED: Shulkin, Staff Misled Ethics Advisors
"Dr. Shulkin came from within the VA and did nothing to clean up the culture of bureaucratic incompetence that has defined leadership at the VA," said Rep. Mike Coffman (R-Co). "I'm absolutely convinced that only someone from outside the VA can clean up the VA, and I hope that Admiral Jackson will be Marine Corps tough in getting that mission accomplished. Our veterans deserve better."
A report is coming out in the next few weeks about Shulkin using services from his security detail to run personal errands. This report follows the IG report into his misuse of taxpayer funds to pay for a vacation for his wife to Europe while he worked part-time.
Senator Lindsey Graham (R-SC) believes the pick is a winner, "If there ever was a homerun pick, Admiral Jackson fits the bill – combat surgeon, career military officer who loves his country and will provide the highest quality healthcare and services to our wonderful veterans."
Many of the veteran organizations are wary of the pick.
"We have a lot of questions about the nominee," said Joseph Chenelly, National Executive Director of American Veterans, or AmVets, the fourth-largest veterans service organization. "We think the White House has a tall order ahead of it in showing that this doctor is qualified to lead a $200 billion agency."
One former VA official said his "first reaction was OMG. That's still my reaction."
"The replacement has no experience," the official added. "The VA is the hardest department to manage as it is so political."
House Committee on Veterans Affairs chairman Phil Roe had nice words to share about Shulkin after the announcement was made.
"At the end of the day, Cabinet secretaries serve at the pleasure of the president. I have enjoyed getting to know Secretary Shulkin, and I'm glad to call David a friend. I think he's done a fantastic job and I hate to see him go," Roe said in a statement.
But Roe added he would "work with anyone committed to doing the right thing on behalf of our nation's veterans."
RELATED: Veterans Choice Vendor Healthnet 'Miserable'
US Navy Biography Of Admiral Ronny Jackson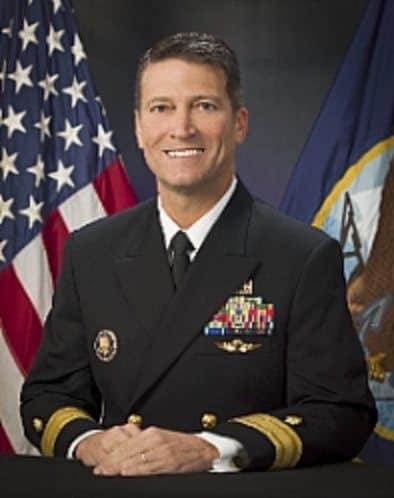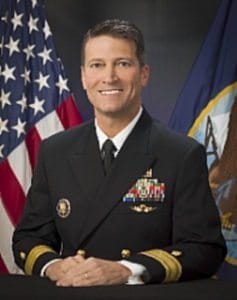 Rear Adm. Ronny L. Jackson is a native of Levelland, Texas, and graduated from Texas A&M University in 1991 with a Bachelor of Science in Marine Biology. He then went on to attend medical school at the University of Texas Medical Branch, graduating in 1995 with his Doctor of Medicine. He began his active duty naval service in 1995 at the Portsmouth Naval Medical Center in Virginia, where he completed his internship in transitional medicine.
After completing his first year of residency training in 1996, he went on to become the honor graduate of the Navy's Undersea Medical Officer Program in Groton, Connecticut. Uniquely qualified in submarine and hyperbaric medicine, his subsequent operational assignments included, instructor at the Naval Diving and Salvage Training Center in Panama City, Florida; det. officer in charge and diving medical officer at Explosive Ordnance Disposal Mobile Unit 8 in Sigonella, Italy; and diving safety officer at the Naval Safety Center in Norfolk.
In 2001, Jackson returned to Portsmouth Naval Medical Center to begin his residency in emergency medicine, finishing at the top of his class and receiving the honor graduate designation. Upon completing his residency in 2004, he was assigned as clinical faculty in the Emergency Medicine Residency Program at the Naval Hospital in Portsmouth, Virginia. In 2005 he joined the 2nd Marines, Combat Logistics Regiment 25, in Camp Lejeune, North Carolina. From there he deployed in support of Operation Iraqi Freedom as the emergency medicine physician in charge of resuscitative medicine for a forward deployed Surgical Shock Trauma Platoon in Taqaddum, Iraq.
In 2006, while still in Iraq, Jackson was selected as a White House physician. Since arriving at the White House, he has directed the Executive Health Care for the President's Cabinet and Senior Staff, served as physician supervisor for the Camp David Presidential Retreat, held the position of physician to the White House and led the White House Medical Unit as its director. He has served as White House physician during the past three administrations and was the appointed physician to the president for President Barack Obama. He currently serves as the appointed physician to the president for President Donald J. Trump.
His awards include, the Defense Superior Service Medal, the Legion of Merit, the Navy/Marine Corps Commendation Medal (four awards), the Navy/Marine Corps Achievement Medal (three awards), as well as other individual, unit and campaign awards. He is also designated as a diving and undersea medical officer, naval parachutist, Fleet Marine Force Warfare qualified officer, and submarine warfare qualified medical officer.
Jackson is a board certified diplomate of the American Board of Emergency Medicine and is designated as a fellow of the American Academy of Emergency Medicine. He currently holds faculty clinical appointments with the Uniformed Services University of the Health Sciences and the Harvard School of Medicine affiliated Beth Israel Deaconess Disaster Medicine Fellowship Program.
My Thoughts On Trump Pick
The President has a way of selecting the most photogenic individuals sometimes ahead of their own qualifications.
Jackson is a good looking doctor who provided medical care to three presidents. The honor of earning such a role no doubt reflects highly on his abilities and professionalism as a medical doctor in the US Navy.
Does he possess the management experience previously considered necessary at the Department of Veterans Affairs? No way.
RELATED: Audit Shows VA Not Keeping Employees Safe
But we have historically selected VA secretaries with a great deal of management experience and/or military experience without the successes promised.
Look at our past three VA secretaries and the enormous scandals the erupted under their leadership regardless of their past management and training experiences.
Eric Shinseki was a four-star general in the US Army who managed lots of troops in and out of combat. After retirement, he ran VA and presided over the disability compensation backlog scandal, numerous shredder scandals where documents were destroyed, and the wait list scandal where many veterans died.
Bob McDonald was CEO of Procter and Gamble, one of the largest corporations in the country who was a veteran and West Point educated. McDonald was unable to oust criminal leadership engaged in active corruption and conspiracies against veterans and against the interest of taxpayers.
RELATED: Pelosi, Democrats Block Veterans Affairs Funding
David Shulkin was a medical doctor, business owner, hospital executive and a non-veteran. He made very poor business decisions and misused taxpayer funds for his own personal gain. He was also unable to reign in the corrupt elements of the agency that persisted despite implementation of the Accountability Act.
Now, Trump selected a wild card to run the agency. Jackson is a Rear Admiral who is also a medical doctor without substantive management experience.
Has management experience proved effective in fixing problems at the Department of Veterans Affairs in the past? Not really.
Based on revelations over the past two months, it seems clear Concerned Veterans for America are now at the helm of VA. Good or bad, I am confident the agency will be pulled in one direction whether it comes peacefully or kicking and screaming.
Jackson will be flanked by a team that likely has significant management experience well capable of handling any curveball corrupt VA leadership throws its way.
Personally, I am going to sit back and watch the show, and I would encourage all of you to do the same. Do not lose any sleep over this transition. Do not hold your breath that any significant headway will occur. If it happens, great. If not, you won't be disappointed.
RELATED: VA Disability Examiner Barred From Doing Business With Gov
VA is a corrupt agency rooted in failure since its inception as a unified agency in the 1930's. Failures over the past 80 years only serve to solidify my position. Instead, what we can do is focus on individual victories pushing back against corrupt leaders in your respective VA and exposing those problems in the media. Only by shining a light on the corruption can our agency be changed.
That aside, I am thankful Trump finally made a decision about the direction he plans to take for veterans. The back and forth on Shulkin was driving everyone a little batty.
I'll bet one thing. Shulkin may be disappointed about the outcome by his ouster, but I'll bet he is also relieved.