The Fed may be Shutdown, but They are Hiring!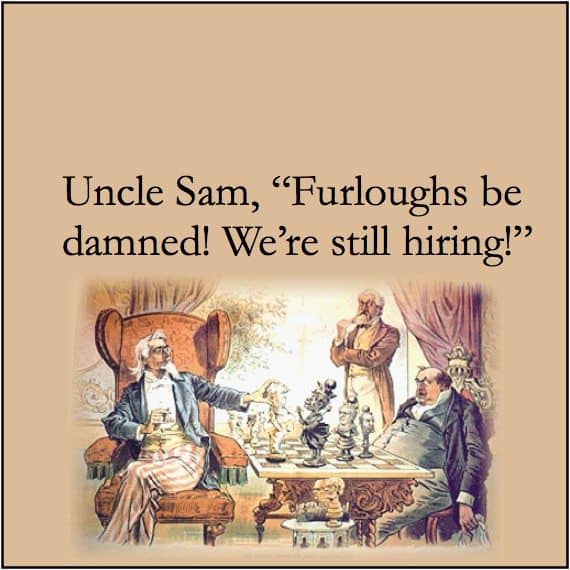 While they Fed may or may not be hiring, depending on the agency or government contractor, they are certainly acting like the Fed is open for business.
One look at USAJobs.gov reveals recent job postings for good paying jobs. Many of these postings were made after the October 1 shutdown with closing dates of this month, such as a posting by DoD's Defense Media Activity Branch for Stars and Stripes on October 3.
The Washington Times ran a story two days ago about government hiring, "Obama wants you! Feds hiring for thousands of open jobs amid shutdown." While interesting, the article raises bigger questions than just hiring.
"It's more of a slowdown or a selective shutdown where they're shutting down things that are getting the biggest bang for the PR buck," Mr. Williams said. "It's a strange thing to be shutting down memorials and, at the same time, they keep trying to hire people. That makes no sense."
In the past couple months, there were over 300 job postings for public affairs specialists across the federal government.
Many people are generally unaware of what a public affairs specialist does. To explain, a public affairs specialist is an expert at communicating any employer's position on a subject in a light that will generally be positive to the consuming audience. Some call them "masters of spin."
For a recent example of what they do, BP employed many public affairs specialists after it polluted all living life in and around the Gulf Coast following the Deep Sea Horizon catastrophe. While BP supposedly cleaned up the physical mess, public affairs personnel cleaned up the public perception of the clean up.
Through media coverage of House debates and national park shutdowns, the American taxpayer may be under the impression that the government has fully shutdown. Parks are closed. Veterans are being threatened. KIA military personnel are not getting their death benefits. All the things abhorrent to the nation that could be made public are happening.
It is no small coincidence that these same people groups are the most vocal groups to target. They will yell loud and the American public will hear (though they may not listen).
Targeted actions like these may give the impression that the government is in fact shut down. But in reality, the situation in the Fed is more of a slowdown rather than a shutdown. Or, as Grover Norquist put it, a "slimming." All the while, the federal government is still growing its numbers.
According to the Washington Times:
"On Tuesday alone, agencies posted at least 182 new job ads, including a supervisory information technology specialist at the Office of the Comptroller of the Currency offering a salary of $98,000 to $182,000 per year.

"While many ads offered jobs at the Department of Veterans Affairs, which the House has voted to exempt from the shutdown, other agencies posting ads included the departments of defense, energy, homeland security, justice and Treasury."
Currently, the Department of Veterans Affairs has over 2000 jobs open. In the past 5 days alone, Veterans Affairs has posted over 400 jobs on USAJobs.gov. Some of these, mainly health care related, pay up to $375,000 (Cardiothoracic Surgeon). The lowest listed yearly salary was $22,851 for a student trainee.
This should shock no one since we know the Health side of VA is still fully operational. However, it should also cause veterans and the public at large to think more deeply about what is really happening in VA and in the Fed.
We see images all around us of a shutdown. This is the first shutdown to my knowledge where they closed all the open-air memorials – memorials with no gates, open 24/7 without guards. Now, these same memorials are blocked off and guarded. The American public that does travel is outraged. Veterans are outraged.
Veterans Affairs is threatening to shut down its benefits side and to stop making payments. This shutdown would be a first. Veterans are outraged. The American public is becoming outraged. Military personnel are concerned.
Military personnel killed in action are having their death benefits cut. Parents are not getting funding to help with burials all the while we are fighting numerous wars across the world. Military families, veterans, and the general public are outraged. This of course gets a vote in Congress to be resolved ASAP – too much negative heat.
With public affairs strategies to manage these issues, it should come as no surprise that the federal government is beefing up its public affairs, public relations, marketing and media personnel. These are the salesmen and women of the 21st Century.
The Washington Times reported various high paid vacancies in the field:
"The vacancies include some high-priced positions: a media relations officer job paying up to $155,000 at the Centers for Medicare & Medicaid Services, the agency in charge of implementing Obamacare, and a senior communications and marketing specialist for the Patent and Trademark Office, making up to $136,000."
Currently, the federal government has numerous jobs specifically for public affairs and related media type positions. One such position is with the Defense Department's media outlet to the troops called Stars and Stripes.
Keep in mind that while USAJobs.gov can give us a bead on Federal direct hires, jobs like these are not just limited to federal employment.
The federal government also employs legions of journalists and public affairs professionals through private contractors, much like corporations hiring lobbying firms. Except, here, the federal government is selling its position to the mass public rather than the other way around.
One search on Indeed.com, Google's aggregate job finder, reveals over 1,000 pending job opening for public affairs type jobs in just the Washington DC area.
The company with the most openings in public affairs related fields in Washington DC is FedSys Secure. Who do you think their client is? According to their website,
"FedSys is a worldwide professional services corporation dedicated to providing operational support to government customers throughout the United States as well as within the most austere and hostile global operating environments. Areas of focus include organizational development, training and mentoring, military intelligence, information operations, information technology, cyber security, threat assessment, interpretation and translation, and administrative support."
So, when you hear stories of the government shutting down, just ask yourself, "What part?" It would appear from a casual search online that the government is still growing. And, for the jobs the Fed cannot directly approve, it hires out through government contractors.
Food for thought.
###
Sources:
Washington Times – Obama wants you! Feds hiring for thousands of open jobs amid shutdown
https://www.washingtontimes.com/news/2013/oct/8/thousands-of-federal-job-openings-posted-in-spite-/
USAJobs.gov
Indeed.com