MMQB: House Committee to Investigate More Veterans Deaths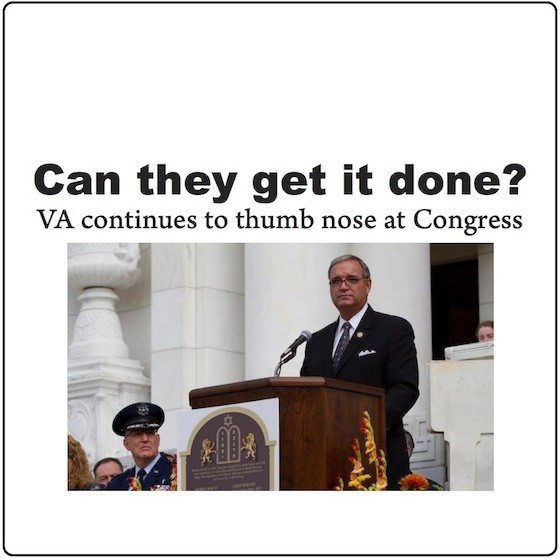 Here is the current news as I see it affecting veterans right this second. COLA numbers and veteran deaths at VA hospitals are front and center followed by curious articles written by journalists working for Gannett Company.
Hi and welcome to another edition of the Monday Morning Quarterback for Veterans. I am your host, Benjamin Krause.
Today, we are covering a few things:
Congressional Investigation into Georgia Veteran Deaths
Pro-VA Health Care puff pieces from A Gannett Company
COLA numbers from Tom Philpott
Miller and HCVA focus on cooperation to investigate deaths
Rep. Jeff Miller claims cooperation will be at the center of any successful investigation of past veterans' deaths at VA hospitals in Augusta and Columbia. Delays have played a large part of the problem at the two facilities.
Recently, 21 veterans have either died or experienced other complications due to preventable situations at VA hospitals. Rep. Miller said:
"Given that the tragic events in Augusta and Columbia are part of a pattern of at least 21 recent preventable veteran deaths and other patient-safety issues at VA hospitals nationwide, the Department of Veterans Affairs' full cooperation with the committee's investigation is absolutely essential to ensuring the VA delivers the top-quality medical care America's veterans deserve."
Miller's upcoming trip will evaluate VA executive compensation records and medical appointment backlogs at the two facilities. However, VA seems to be dragging its feet in supplying the documents.
"When the department drags its feet in providing information requested by Congress, it inhibits our ability to ensure America's veterans are receiving the care and benefits they have earned," Miller said. "Our veterans deserve a VA that sets the standard for openness, honesty and transparency. When the department fails to do so, we will make sure it has to answer for that failure."
Perhaps Congress would benefit from being more assertive with VA. Some advocates have called on Congress to require VA officials provide testimony under oath. While it may not eliminate problems, it could help increase accountability.
Veterans would surely benefit from any move in some direction that goes beyond mere grandstanding.
Source: The Augusta Chronicle
Jeff Miller calls for cooperation as Augusta VA congressional visit looms
Gannett potentially pushing PR pieces supporting VA health care
While VA hospitals across the country are receiving a lot of heat for killing veterans, companies like Gannett are helping turn the tide of public perception.
If Gannett's articles were the full reality of VA health care quality, all veterans would get perfect care in a timely manner. Unfortunately, as noted in Georgia, this is not the reality.
For some time, Gannett's publishing companies have been pushing out tons of "pro-VA" pieces about VA health care. Sometimes, journalists working for the company have even come to VA's defense despite clear breaches of the public trust.
Two months ago, I filed a FOIA with VA to release information about Gannett and payments made from VA to the company.
The amounts paid to Gannett are not shocking necessarily, but the way the company is publishing pro-VA stories does raise an eyebrow.
For those who do not know, Gannett is a for-profit company responsible for numerous publications across the country ranging from USA Today to Army Times. Perhaps Gannett has an undiscovered PR contract with VA to compensate for its 40% profit drop from last year?
Most recently, I found a publication from the Coshocton Tribune. It was certainly the least "newsworthy" piece I have read in a while. So when I noticed the publication was A Gannett Company, I wasn't surprised.
The writer covered the Columbus region over five counties: Perry, Morgan, Muskingum, Coshocton and Licking. The article was supporting Zanesville Veterans Affairs Clinic.
I find these puff pieces interesting, and thought I'd give you a little flavor of its contents here. Let me know if you find any similar Gannett non-newsworthy articles by other Gannett publications:
Public awareness advertisements have opened dialogue for many older veterans. A host of baby boomers are just now being treated for post-traumatic stress disorders suffered during the Vietnam War, Bope said.

According to the National Institute of Mental Health, PTSD occurs when a person's natural "fight or flight" response is changed or damaged after a terrifying ordeal that involved physical harm or the threat of physical harm. People who have PTSD might feel threatened even when they are no longer in danger.

Tackling PTSD in younger soldiers is of interest to the Department of Veterans Affairs as well, which is why all recently discharged veterans are eligible for five years of VA care.

"The idea is to intervene early," Bope said. "That way we can help people cope with any re-entry problems."

Zanesville is staffed with three full-time physicians — each of whom is assigned a registered nurse, practical nurse and receptionist. Public Affairs Specialist Carl Higginbotham said the clinic has been able to accommodate more people since moving from the former facility on Bethesda Drive five years ago.

Bope encourages veterans of all ages who are experiencing health problems to stop in for an assessment.
Source: Coshocton Tribune
VA clinic serving thousands across the region
Military pay raise lowest in 50 years
Journalist Tom Philpott, a former reporter and editor for Army Times (yes, a Gannett Company), covered the issue of the COLA cap and military pay recently.
I want you all to think long and hard about the implications of these cuts and the individuals who support them. I contend that anyone supporting the cuts also supports weakening our country's national security.
In his article, Philpott points out the following:
The military this month is getting its smallest annual pay raise in 50 years, 1 percent versus 1.8 percent needed to match private sector wages.  No big deal, pay officials contend.  Military pay still exceeds earnings for 90 percent of civilians of like age and education level, thanks to the string of raises that, starting in 2001, exceeded private sector wage growth.  Also, recruiting is strong and average housing allowances rose 5 percent Jan. 1.

Military careerists and younger retirees got a harder hit in December when the first "bipartisan" budget in years included a cap on annual cost-of-living adjustments for retirees below age 62, starting in January 2016.

Projected savings –$6.3 billion over just the first decade – helped Congress to ease automatic defense spending cuts set for 2014 and 2015.  But advocates for military folks worry the COLA cap signals that lawmakers, who continue to oppose tax increases or cuts in more popular entitlement programs, no longer view military compensation promises as sacrosanct.

"The COLA [cap] is huge," said retired Army Col. Robert F. Norton of Military Officers Association of America. "Because contrary to public assertions from the president, the chairman of the joint chiefs, [Defense Secretary Chuck] Hagel and leaders on Capitol Hill, this retirement cut is a hit on currently serving career members."

That includes, he said, a Marine gunnery sergeant or Army platoon sergeant "on a third or fourth tour in Afghanistan" who expect to retire soon.
This election cycle, let's fire all the Congressmen who support these cuts – Republican or Democrat. It's time we retake DC by taking action at the ballot box.
Source: Military.com