MMQB: Shocking Report claims over 1,000 Veteran Waitlist Deaths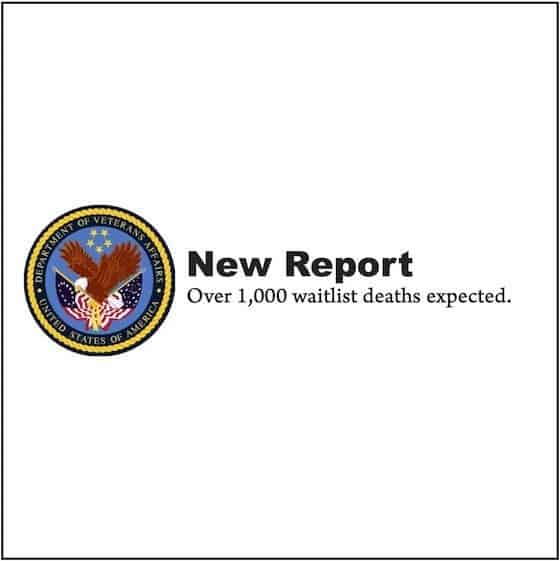 The Daily News just came out with a report claiming data from lawsuits suggests the number of veteran waitlist deaths may be over 1,000 veterans.
Meanwhile, VA plays politics over the health care crisis, while stories of crimes against veterans fail to inspire President Obama to investigate the perpetrators.
After the media fall out from the Senate hearing last week, most Americans are now aware of the crimes VA committed against veterans by the agency charged with giving us care. It is making most local news investigations at this point, and the issue will likely be in play for elections this November.
So let's hit them while the iron is hot. This November, we need to vote out the fakers and vote in real American leaders.
Hi and welcome to Monday Morning Quarterback for Veterans. I am your host, Benjamin Krause, Veterans Law attorney, investigative reporter, and creator of DisabledVeterans.org. This is the number one source of authentic and nonpartisan news affecting veterans across the country.
DisabledVeterans.org was founded with one purpose in mind, to give veterans the information they need to make educated choices about their benefits and about politics. Political parties and VA are well adept at manipulating the mass public, and this is where we cut through their manipulations to get our Square Deal after military service.
This week, we will cover the VA health care scandal with a slant. That slant will discuss how VA manipulates the headlines to sway public opinion and diminish veteran outcry amidst scandals.
Here are the topics this MMQB:
Veteran waitlist deaths alleged to be more than 1,000
Thanks, Senate hearing gave VA the sound byte it needed
Robert Petzel 'resignation' a media ploy
Upcoming Congressional Hearings
Veteran waitlist deaths may be higher than 1,000
VA has thus far admitted to 23 deaths related to waitlist deaths, but one quick look at VA lawsuits for malpractice paints another picture.
Daily News and WST-TV in Atlanta have taken on this task in light of Congress's inability to get us timely information on the subject. The news agencies filed FOIA requests for malpractice settlements from 2002-2013. (Check out their database: Death Claims Against VA).
They found that over 100 payments per year were made where the veteran died while waiting for care. These are confirmed deaths where VA paid money for its failure. This means over 1,100 veterans died while waiting for care. The actual number is likely much, much higher based on aggregates where veteran families just gave up without suing.
After watching the Senate hearing last Thursday, it is painfully obvious VA is playing a word game on this one. Specifically, the agency is not clearly defining what it considers a "death caused by a delay in care while on a list" and what a "secret list" would be.
The question remains, how is VA defining the criteria of its searches for scheduling deaths?
The answer can be found when looking at how VA spins scandals. According to Robert Petzel (former VA health care head) some weeks ago, no deaths were found. However, CNN uncovered that the agency later admitted it was not searching for delays in follow-up appointments. It admitted this after grabbing numerous headlines that no deaths had been found yet.
According to VA's old criteria, it would mean a veteran seen by the emergency room and scheduled for needed follow up care, but who died while waiting for care, would not be included in his search.
This issue is like the old studies looking for black swans amidst pools of white swans. By changing search parameters, one can potentially conclude no black swans exist – at least for your search. You can perhaps do this by limiting the areas for the search or the season during which you search.
Chemical companies have been accused of doing this. So have other manipulators. Why not the VA?
My fear is that VA using the white swan black swan test to avoid finding deaths, and judging from the earlier manipulations of Petzel to grab headlines, my guess is they are doing exactly that.
Read More: https://www.newsmax.com/Newsfront/veteran-deaths-delay-treatment/2014/05/18/id/571963/?ns_mail_uid=37935091&ns_mail_job=1569662_05182014&promo_code=bkfryoc9
Thanks, Senate hearing gave VA the sound byte it needed
"We didn't conclude, so far, that the delay caused the death," said Richard Griffin at a Senate hearing Thursday on the state of the VA's health care.
Are they not looking for black swans? It may be impossible to truly conclude that the delay caused the death. It really just depends on how you define "delay caused the death."
The result of that quote was that numerous sound bytes across the country. For the second time in three weeks, the Associated Press has given VA another sound byte to cycle across all forms of medial, "Watchdog: No proof treatment delays killed vets."
VA then sent across a mass email containing the following headline, "Independent IG: No proof so far Veterans died as a result of delayed care."
The email included summaries that repeated the Associated Press title in a few different variations:
New York Times: Allegations of deaths due to delayed care have not been verified says independent IG
Mr. Griffin also indicated that the most serious allegations — that as many as 40 veterans died because of delays in treatment while they were on illicit waiting lists in Phoenix — had not been verified.
Navy Times: IG preliminary results: of cases reviewed, none conclusively show that the delays contributed to their deaths
[Mr. Griffin] added that the review to date has pulled together an initial list of 17 people who experienced delays of care in Phoenix, although none conclusively show that the delays contributed to their deaths.
"It's one thing to be on a waiting list. And it's another thing to conclude that as a result of being on the waiting list, that's the cause of death," Griffin said.
AP:Watchdog: No proof treatment delays killed vets
"It's one thing to be on a waiting list, and it's another thing to conclude that as a result of being on the waiting list that's the cause of death, depending on what your illness might have been at the beginning," [Inspector General Richard] Griffin told the Senate Veterans Affairs Committee.
Wall Street Journal:VA Inspector General Says No Evidence Yet Linking Deaths to Wait Times
The acting inspector general for the Department of Veterans Affairs said no evidence had been found so far of patient deaths attributed to long wait times at the Phoenix VA Health Care System.
On April 30, 2014, the same manipulation tactic occurred. Petzel told reporters that no evidence was found to support the waitlist scandal. Major media outlets ran with the sound byte.
Here is the result of this game as it works in the media via grabbing headlines of major press agencies and outlets:
The Associated Press piece is broadcast across thousands of news media platforms across the internet – ABC, Washington Post, Boston Herald, Yahoo, Fox, etc. To give you an idea of scope regarding that specific headline, Google shows 8,650 results for "VA: We found no evidence of allegations in Phoenix" when you press search.
VA has been working to perfect the impact of its sound bytes since it became legal for the federal government to use propaganda schemes to influence public opinion last year. The agency spends at least $20 million every year on swaying public opinion through its Office of Public and Intergovernmental Affairs.
One company that helps with this mission is a DoD and VA contractor called Barbaricum, LLC. The company provides media tracking data to VA. The data allows VA to measure the effectiveness of its public relations team in diminishing dissent and negative press against the agency.
I just received a FOIA response back this past Friday that confirm VA uses basic propaganda techniques to influence public opinion and dissent about the agency.
Robert Petzel 'resignation' a media ploy
News media was a-buzz Friday with the resignation of Under Secretary Robert Petzel. "Wee-haw justice!" we all thought. However, there are some underlying concerns with this move since Petzel was set to retire this month, anyway.
Here is a little chronology.
First, Petzel was set to retire as of last September when he made the announcement. At that point, he was supposed to retire by the end of 2013 while the Administration searched for his replacement.
The reason for his retirement did not have to do with veteran deaths or other scandals related to harmed veterans. No, the reason he was set to resign was because he had given favored treatment to a government contractor for over $1 million.
Second, his retirement was extended to whenever VA found a replacement, which was announced May 1. President Obama selected a Chicago VA executive to replace Petzel.
Fast forward to Friday. The day after the Senate hearing, Robert Petzel's resignation was blasted across all media outlets. Most of us felt like it was a victory, but was it really?
Petzel was already set to retire. He will likely get his pension. What I wonder is if this will be the first in a long sequence of events set to bury the scandal before the election cycle. Democrats will have a tough time this 2014 justifying the scandals and the Executive's apparent inability to protect veterans. Congressional Democrats are likely nervous and seeking a few quick blood sacrifices like Petzel's to satisfy the calls for justice.
But in Petzel's case, where he was set to retire anyway, I think the move is really nothing more than a rouse. The rouse is a media move. The mass public will think justice was had. When coupled with other sound bytes that no evidence of deaths were found yet, the mass public go back to sleep.
One friend mentioned a curious question. Will Petzel's "resignation" make it hard for Congress to call him back for questioning later? Good question.
Read More: https://www.dailymail.co.uk/news/article-2631695/Veterans-Affairs-chief-Robert-Petzl-didnt-resign-FORCED-OUT-Obama-administration-amid-deadly-health-care-scandal-blamed-40-deaths.html
House Committee on Veterans Affairs Hearings