MMQB: What did VA, DoD Cover Up with incomplete Thailand Agent Orange Report?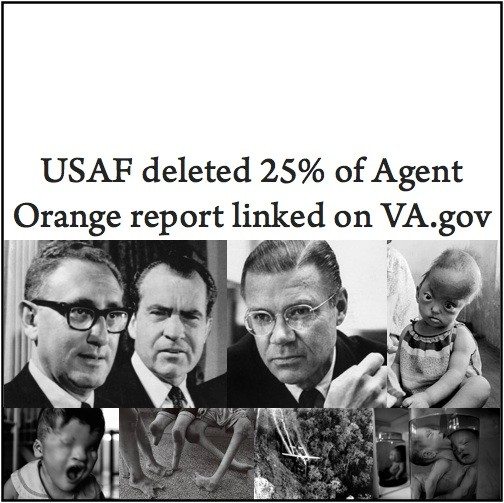 CAUGHT 'EM – VA.gov linked to a declassified DoD report on use of Agent Orange in Thailand. Upon closer examination, we learned that 25% of the report was deleted. Luckily, we just found those pages and explain what it may mean here.
The original turned up on a DoD website after a lot of digging, and I think I have a theory as to why they did it. This MMQB covers what I found and why it could impact your disability claim.
Hi and welcome to another edition of the Monday Morning Quarterback for Veterans. I am your host, Benjamin Krause.
This week, I am writing about my research into the USAF's use of herbicides in Thailand and what it could mean for veterans fighting with VA to prove exposure.
From what I can tell, there may be a coverup regarding the documentation VA has provided to veterans. The information was supposedly given to help prove disability claims. Meanwhile, the documentation is incomplete and leads any casual reader away from potentially better resources to prove their claim.
Here is what I'll cover today:
Fed admits to Agent Orange use in Thailand
VA's Thailand fails the smell test
Index of missing files
Where to find records about Agent Orange usage
What it could mean for your disability claim
Before I jump into it, let me first say, "I'm sorry," to all of the Vietnam War veterans out there. My uncle is one. Many of us have loved ones who served in this war. My research over this past week pains my heart when you realize what we did to our troops during that time.
When you read through the Rules of Engagement pages that were omitted from the report mentioned above, it is apparent that what we forced our servicemembers to endure during the Vietnam War was appalling.
What we have done since then in covering up our misdeeds since that war is even worse. It is a fraud against the American people and America's heroes.
How long will we be kept from the truth by the likes of dead or old politicians like Nixon, Kissinger, and McNamara?
Fed admits use of Agent Orange type herbicides in Thailand
Yes, I know many of you are probably saying "old news." I covered this last week but did not realize at that time how screwed up the situation was.
What kind of entity looking out for the best interests of veterans would leave out vital information a veteran could use in their claim? That, my friends, is a rhetorical question.
The entity is not actually helping in the way it is supposed to.
First of all, VA had this to say about the CHECO report that was released which is linked from an Air Force website. Click on the link above or go to VA's website to download the PDF CHECO report reference below:
Vietnam-era Veterans whose service involved duty on or near the perimeters of military bases in Thailand anytime between February 28, 1961 and May 7, 1975 may have been exposed to herbicides and may qualify for VA benefits.

The following Veterans may have been exposed to herbicides:

– U.S. Air Force Veterans who served on Royal Thai Air Force (RTAF) bases at U-Tapao, Ubon, Nakhon Phanom, Udorn, Takhli, Korat, and Don Muang, near the air base perimeter anytime between February 28, 1961 and May 7, 1975.
– U.S. Army Veterans who provided perimeter security on RTAF bases in Thailand anytime between February 28, 1961 and May 7, 1975.
– U.S. Army Veterans who were stationed on some small Army installations in Thailand anytime between February 28, 1961 and May 7, 1975. However, the Army Veteran must have been a member of a military police (MP) unit or was assigned an MP military occupational specialty whose duty placed him/her at or near the base perimeter.

Source: Thailand Military Bases and Agent Orange Exposure: https://www.publichealth.va.gov/exposures/agentorange/thailand.asp
The links above can lead you to the resources wherein DoD admitted to Agent Orange type usage both in Vietnam and elsewhere in the word, including the United States (check Exposure to Agent Orange by Location).
Now, most of you are probably saying, "Who gives a damn?" That's what I thought too once I realized the documents were declassified years ago. Old news.
But this is where the story begins.
VA's Thailand release fails the smell test
Follow my research logic.
Check out VA.gov on the usage of Agent Orange in Thailand. Click on the linked text above to download their incomplete CHECO report.
On VA's website, it links to a very curious version of the quoted CHECO report (download CHECO Report here) which is hosted on an Air Force website. Take a quick look at page 15, 26, 32 and a few others.
You will notice that those pages are missing. In fact, the report VA links to has many errors and problems.
In total, 21 pages were missing from a report that is only 78 pages long. Basically, more than 25% of the total report is missing from the link VA.gov used. That raised my eyebrow.
But why would they do that since the report is declassified?
Here is a link to all the pages missing from VA's linked report that I collected from the full version of that same CHECO report from DTIC.mil after digging for hours; we'll call it the Missing CHECO Files. These are just the missing pages.
Here is a link to the full document on DTIC if you want to do a full comparison of all three PDF's.
VA's linked report is not searchable
First of all, the report VA linked to is a PDF that was not OCR'd for text recognition. This is strange especially in light of the fact that the other version I found on DTIC.mill was of the same document and was in fact OCR'd.
Failure to OCR a document makes it impossible for internet search engines like Google to search the document and register it for veterans and others possible searching for help with their disability claim.
Data on herbicide use is buried in report
It further makes it impossible for any researcher to quick search for topic specific terms such as "herbicide" or "vegetation control." Instead, you would need to read the entire 120-page document to learn about a scenario that is only noted toward the end of the document – i.e. the spraying of herbicides within the perimeters of the bases in question.
For example, pages 58-75 talk about herbicide usage. Most people would have given up the search after thumbing through the pages after 30 minutes.
Take a closer look at the pages you just downloaded that were omitted from the CHECO copy VA linked to. I spent some time over the weekend comparing the documents.
Rules of Engagement and troop location omitted
While doing that, it became clear that the document VA linked to had pages that were omitted. The likely reason was to cover up problems base command was having with Rules of Engagement (ROE). They also omitted troop sizes at certain base locations.
The most important thing to realize is that ROE required approval from the US Embassy prior to using Agent Orange once it was largely prohibited due to fears that spraying it would be classified as a War Crime.
This could mean that there are additional files that may indicate use of Agent Orange in Thailand was more widespread than what VA and DoD are willing to admit.
I touch more on that below the actual page index here.
Index of missing pages
Page
v – List of Air Base Distribution List
15 – Commentary on attacks against US Forces in Thailand around Ubon RTAFB by the North Vietnamese Army's sapper units.
25-27 – Letter from general about poor support from Thai forces in deterring NVA sapper units. AF forces were totally dependent on host government for external defenses. AF attempts to pay off local civilians to help were limited by US Embassy policy. AF unaccustomed to total base defense prior to attacks in 1965-66. AF developed combat SP force, but disbanded it in 71 due to lack of funding.
31-34 – Limitations on base defense due to policy issues from US Embassy. Discussion of how political constraints known as "Rules of Engagement" made base defense difficult. US forces could not use weapons outside of base parameters for political reasons. Insurgency problems led to change of rules
39 – Information on Korat RTAFB having poor defenses
42 – Nakhon Phanom RTAFB had poor flight line security and circulation control of base visitors. (97) Takhli RATFB had a wing of F-4s and squadron of KC-135s. 340 SP's were there on TDY with 22 sentry dogs. There was a 1000-man infantry unit in training there for base perimeter security.
46-51 – Takhli RATFB USAF teams defended MMS area and POL dump. SPECS Units were poorly prepared to defend base perimeters. Ubon RTAFB – Close to Laotian boarder. 363 SPs and 507 TSGs assigned to 8th SPS. 35 SPs from Clark AFB on TDY. AC-130's were 200 meters from fence. Augmentees failed to defend base well. Udorn RTAFB – 297 USAF SPs and 427 TSG's, 25 SP's TDY from Clark
54 – U-Tapao RTNAF: largest USAF facility, 450 SPs, 46 from Clark AFB; 537 TSG's; 49 sentry/patrol dogs
63 – ROE prohibition of "claymore" mines but Embassy allowed use of "pop-up" mines at all bases except Korat and Don Muang Airfield. ROE prohibited use of any USAF firepower or aircraft in any suppression role.
67-68 – Security personnel required to construct defensive structures. Soil sterilization and herbicide use approved in 1969 required permission from Embassy – could only be used within perimeters. Korat RTAFB – vegetation problems at runway  and around perimeter. Embassy permission in June to use herbicides (vegetation control – "that program" in June)
Where to find new Agent Orange files
Many times, VA denies Agent Orange usage because it cannot confirm spraying in certain locations. However, if the US Air Force in Thailand was required to gain Embassy approval, there may be more documents that prove wider usage than previously admitted.
According to another USAF CHECO report, "Finally, the excessive time required to obtain clearance for herbicide operation remained. All defoliation projects required US Embassy and RVNAF Joint General Staff approval. The time delay was sometimes as much as two and one-half months." (Project CHECO Report: The Air War in Vietnam, 1968-1969, pg 72)
Since VA has a duty to assist in obtaining copies of files that it reasonably could expect would help prove a veteran's claim, it may need to help all veterans obtain more information than it currently is doing.
Specifically, a prudent veteran may request that VA seek all documents from the US Embassies in Thailand, Vietnam and Laos that would concern use of herbicides like Agent Orange during the war.
Other reports worth mentioning
Here are some additional reports to check out from the DTIC.mil site below, too:
113. CHECO Rprt, Hq PACAF, DOTEC, "Herbicide Operations in Southeast Asia, Jul 61-Jun 67," 11 Oct 67.
114. Rprt, 7AF, "Combined Campaign Quarterly Report (FY 1/70)," Tab J, Herbicide. (Hereafter cited: Combined Campaign Qtrly Rprt.)
121. Msg, COMUSMACV to 7AF, subj: Herbicide Project 2/2D/5/68, 181635Z Jun 68. CHECO MICROFILM 210, frame 81.
Data points for research
Here are some additional data resources anyone with concerns about Agent Orange should look through beyond materials VA provides:
State Department Gold Mine
While digging through the State Department files available online, I found many interesting documents.
There is some value there because they outline the sequence of events that led to US stopping its use of herbicides in Vietnam and Asia.
I downloaded many of the documents I found interesting, and linked to them below:
Interdepartmental Political-Military Group – US Policy on Chemical and Biological Warfare and Agents, October 15, 1969: Sweden proposed outlawing use of chemical and biological agents through the Geneva Protocol. US forced to evaluate canceling its program using Agent Orange type herbicides. Report states position of US allies.
Interdepartmental Political-Military Group – Annual Review of US Chemical Warfare and Biological Research Programs, November 10, 1969: Outlines specific costs and debate on usage of herbicides. Very detailed debate.
CIA – National Security Decision Memorandum, November 17, 1969: State Department to write opinion letter outlining that US does not believe use of Chemical Herbicides violates Protocol. This report is referencing the Geneva Protocol from Sweden.
State Department – Memo from Kissinger to Secretary on Geneva Protocol Options and Herbicide Usage, February 18, 1970: Memo discussed three primary options on how to handle the herbicide issue. Defense sought to stop public announcement for fear that it would reveal Rules of Engagement.
Interdepartmental Political-Military Group – Annual Review of US Chemical Warfare and Biological Research Programs, November 1, 1970: Outlines cost of Agent Orange program in Vietnam and whether or not US should continue its herbicide program there. (pg 59)
State Department – Letter to Melvin Laird from William Rogers, February 2, 1971: Letter was to encourage President to phase out use of chemical herbicides early. Position was supported by Ambassador Bunker and General Abrams.
NSC Under Secretaries Committee – Annual Review of US Chemical Warfare and Biological Research Program, February 4, 1971: "That DOD make every effort to obtain a formal agreement by the National Academy of Sciences (NAS) that it will undertake the herbicide study requested by Public Law 91-441 and that a public announcement be made before commencement of hearings on the Geneva Protocol."
State Department – Letter to President, February 11, 1971: Letter strongly suggests to President that US should discontinue use of chemical herbicides due to the Geneva Protocol of 1925.
State Department – Action Memo Review of US Position, August 15, 1972: Report from Ronald Spiers about US policy on chemical weapons.
Operation Ranch Hand experiment in Thailand?
Regarding Thailand, the Operation Ranch Hand Report covers why the US started spraying in that country. Secretary Robert McNamara received his first "clear" presentation on our defoliation program from General Delmore around 1964.
McNamara stated that a country like Thailand might be a better location to conduct final experimentation on the US defoliation program (using Agent Orange type herbicides). The presentation by General Delmore did not mention the full cost of spraying herbicides (it was 35% higher than Delmore estimated).
Use of herbicides at the beginning of the Vietnam War was focused on controlling Viet Cong crop and farming production. US had been conducting experiments since at least the 1950's on anticrop research at Fort Detrick.
The report also stated, "Destruction of Viet Cong food crops in the field could be one of the most effective means of defeating the enemy. The Viet Congs [sic] currently are living on food crops grown in the areas that they control. If these crops are destroyed, the Viet Congs [sic] would be required to obtain food from other sources or starve."
Of interest about this position is that US politics prohibited usage of Agent Orange type chemicals as the war progressed. From 1969-1972, US policy heads like Kissinger debated how US should cease its defoliation programs.
Thailand – US Embassy information
Here is a short list of the Ambassadors who were supposedly stationed at the US Embassy in Thailand during the years that our herbicide program would have been in effect.
Correspondence with these individuals could reveal information that is useful regarding approval of herbicide use in areas that were not revealed in the CHECO report VA linked to.
Source: https://bangkok.usembassy.gov/relation/175usth/timeline-of-u/american-ambassadors-to-thailand.html
Thailand: 67-70. State of Residency: Maryland Title: Ambassador Extraordinary and Plenipotentiary Appointment: August 11, 1967 Presentation of Credentials: October 4, 1967 Termination of Mission: Left post November 19, 1973.
Unger lived from 1917 to 2010 and was a diplomat and United States Ambassador to Laos (1962–64), Thailand (1967), and was the last US ambassador to the Republic of China (1974–79).
Thailand: 63-67. State of Residency: Florida Title: Ambassador Extraordinary and Plenipotentiary Appointment: September 10, 1963 Presentation of Credentials: November 7, 1963 Termination of Mission: Left post September 9, 1967.
Martin lived from 1912–1990, and succeeded Ellsworth Bunker as United States Ambassador to South Vietnam in 1973. He would be the last person to hold that position. Martin previously served as ambassador to Thailand and as U.S. representative to SEATO.
Kenneth Todd Young
State of Residency: New York Title: Ambassador Extraordinary and Plenipotentiary Appointment: March 29, 1961 Presentation of Credentials: June 22, 1961 Termination of Mission: Left post August 19, 1963.
(1916-1972) After leaving post, Young wrote the book, Negotiating with Chinese Communists: The United States Experience, 1953-1967.
What this means for Agent Orange disability claims
If you are still reading, these resources probably interest you and have an impact on your disability claim or someone else's you know.
What this information could mean is that there may be many more documents in existence that could impact your benefits claim. They are possibly within the files from the Thailand US Embassy.
As previously stated, all programs where Agent Orange was used needed high-level approval. In Thailand, the approval needed to come from the US Embassy there.
Veterans interested could request a FOIA from the State Department on any communications between their respective base and the US Embassy wherein the following were mentioned:
vegetation control
herbicide program
perimeter vegetation program
As for places like Fort Detrick, a government contractor was just hired to remediate the property there last month.
Veterans who may have been exposed during that time may want to access those files through a FOIA to learn more about their own exposure.
Going back to the point of this MMQB, VA.gov linked to an Air Force document that was missing 25% from the main body of the report.
I find that to be suspicious and can only conclude that the omitted pages reveal something. I will leave it up to you to find out what.
Please comment below if you find anything useful.